Abstract
The proteasomal dysfunction and mitochondrial impairment has been implicated in neuronal degeneration. Taxifolin has antioxidant and anti-inflammatory effects. However, the effect of taxifolin on the neuronal cell death induced by proteasome inhibition has not been studied. Therefore, in the respect of cell death process, we assessed the effect of taxifolin on the proteasome inhibition-induced apoptosis in neuronal cell injury using differentiated PC12 cells. The proteasome inhibitors MG132 and MG115 induced a decrease in Bid, Bcl-2, and survivin protein levels, an increase in Bax, loss of the mitochondrial transmembrane potential, cytochrome c release, activation of caspases(-8, -9 and -3), an increase in the tumor suppressor p53 levels and cleavage of PARP-1. The addition of taxifolin attenuated the proteasome inhibitor-induced changes in the apoptosis-related protein levels, formation of reactive oxygen species, depletion and oxidation of GSH, formations of malondialdehyde and carbonyls, and cell death. The results show that taxifolin may attenuate the proteasome inhibitor-induced apoptosis in PC12 cells by suppressing the activation of the mitochondrial pathway and the caspase-8- and Bid-dependent pathways. The preventive effect of taxifolin appears to be attributed to its inhibitory effect on the formation of reactive oxygen species, and depletion and oxidation of GSH.
Access options
Buy single article
Instant access to the full article PDF.
USD 39.95
Price excludes VAT (USA)
Tax calculation will be finalised during checkout.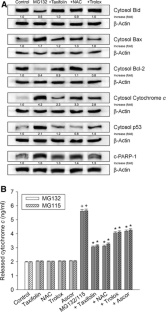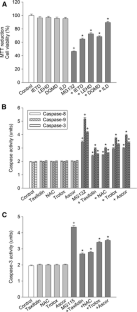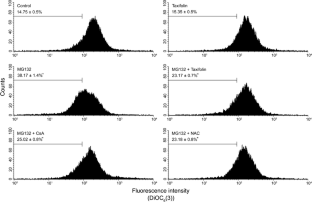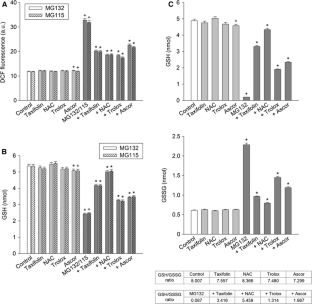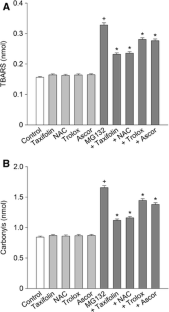 References
Dimant H, Ebrahimi-Fakhari D, McLean PJ (2012) Molecular chaperones and co-chaperones in Parkinson disease. Neuroscientist 18:589–601. doi:10.1177/1073858412441372

Ebrahimi-Fakhari D, Saidi LJ, Wahlster L (2013) Molecular chaperones and protein folding as therapeutic targets in Parkinson's disease and other synucleinopathies. Acta Neuropathol Comun 1:79. doi:10.1186/2051-5960-1-79

Osellame LD, Duchen MR (2014) Quality control gone wrong: mitochondria, lysosomal storage disorders and neurodegeneration. Br J Pharmacol 171:1958–1972. doi:10.1111/bph.12453

Miwa H, Kubo T, Suzuki A, Nishi K, Kondo T (2005) Retrograde dopaminergic neuron degeneration following intrastriatal proteasome inhibition. Neurosci Lett 380:93–98. doi:10.1016/j.neulet.2005.01.024

Sun F, Anantharam V, Zhang D, Latchoumycandane C, Kanthasamy A, Kanthasamy AG (2006) Proteasome inhibitor MG-132 induces dopaminergic degeneration in cell culture and animal models. Neurotoxicology 27:807–815. doi:10.1016/j.neuro.2006.06.006

Suh J, Lee YA, Gwag BJ (2005) Induction and attenuation of neuronal apoptosis by proteasome inhibitors in murine cortical cell cultures. J Neurochem 95:684–694. doi:10.1111/j.1471-4159.2005.03393.x

Sun F, Kanthasamy A, Song C, Yang Y, Anantharam V, Kanthasamy AG (2008) Proteasome inhibitor-induced apoptosis is mediated by positive feedback amplification of PKCδ proteolytic activation and mitochondrial translocation. J Cell Mol Med 12:2381–2467. doi:10.1111/j.1582-4934.2008.00293.x

Chong KW, Chen MJ, Koay ES, Wong BS, Lee AY, Russo-Marie F, Cheung NS (2010) Annexin A3 is associated with cell death in lactacystin-mediated neuronal injury. Neurosci Lett 485:129–133. doi:10.1016/j.neulet.2010.08.089

Papa L, Gomes E, Rockwell P (2007) Reactive oxygen species induced by proteasome inhibition in neuronal cells mediate mitochondrial dysfunction and a caspase-independent cell death. Apoptosis 12:1389–1405. doi:10.1007/s10495-007-0069-5

Ott M, Gogvadze V, Orrenius S, Zhivotovsky B (2007) Mitochondria, oxidative stress and cell death. Apoptosis 12:913–922. doi:10.1007/s10495-007-0756-2

Mignotte B, Vayssière JL (1998) Mitochondria and apoptosis. Eur J Biochem 252:1–15. doi:10.1046/j.1432-1327.1998.2520001.x

Circu ML, Aw TY (2008) Glutathione and apoptosis. Free Radic Res 42:689–706. doi:10.1080/10715760802317663

Franco R, Cidlowski JA (2006) SLCO/OATP-like transport of glutathione in FasL-induced apoptosis: glutathione efflux is coupled to an organic anion exchange and is necessary for the progression of the execution phase of apoptosis. J Biol Chem 281:29542–29557. doi:10.1074/jbc.M602500200

Takahashi H, Hirata S, Minami H, Fukuyama Y (2001) Triterpene and flavanone glycoside from Rhododendron simsii. Phytochemistry 56:875–879. doi:10.1016/S0031-9422(00)00493-3

Kim NC, Graf TN, Sparacino CM, Wani MC, Wall ME (2003) Complete isolation and characterization of silybins and isosilybins from milk thistle (Silybum marianum). Org Biomol Chem 1:1684–1689

Chen L, Yin Y, Yi H, Xu Q, Chen T (2007) Simultaneous quantification of five major bioactive flavonoids in Rhizoma Smilacis Glabrae by high-performance liquid chromatography. J Pharm Biomed Anal 43:1715–1720. doi:10.1016/j.jpba.2007.01.007

Dok-Go H, Lee KH, Kim HJ, Lee EH, Lee J, Song YS, Lee YH, Jin C, Lee YS, Cho J (2003) Neuroprotective effects of antioxidative flavonoids, quercetin, (+)-dihydroquercetin and quercetin 3-methyl ether, isolated from Opuntia ficus-indica var. saboten. Brain Res 965:130–136. doi:10.1016/S0006-8993(02)04150-1

Sasaki N, Toda T, Kaneko T, Baba N, Matsuo M (2003) Protective effects of flavonoids on the cytotoxicity of linoleic acid hydroperoxide toward rat pheochromocytoma PC12 cells. Chem Biol Interact 145:101–116. doi:10.1016/S0009-2797(02)00248-X

Dajas F, Rivera F, Blasina F, Arredondo F, Echeverry C, Lafon L, Morquio A, Heinzen H (2003) Cell culture protection and in vivo neuroprotective capacity of flavonoids. Neurotox Res 5:425–432

Wang YH, Wang WY, Chang CC, Liou KT, Sung YJ, Liao JF, Chen CF, Chang S, Hou YC, Chou YC, Shen YC (2006) Taxifolin ameliorates cerebral ischemia–reperfusion injury in rats through its anti-oxidative effect and modulation of NF-kappa B activation. J Biomed Sci 13:127–141

Kim YJ, Choi SE, Lee MW, Lee CS (2008) Taxifolin glycoside inhibits dendritic cell responses stimulated by lipopolysaccharide and lipoteichoic acid. J Pharm Pharmacol 60:1465–1472. doi:10.1211/jpp/60.11.0007

Bonuccelli U, Del Dotto P (2006) New pharmacological horizons in the treatment of Parkinson disease. Neurology 67(7 Suppl 2):S30–S38

Tatton WG, Chalmers-Redman RME, Ju WJH, Mammen M, Carlil GW, Pong AW, Tatton NA (2002) Propargylamines induce antiapoptotic new protein synthesis in serum-and nerve growth factor (NGF)-withdrawn, NGF-differentiated PC-12 cells. J Pharmacol Exp Ther 301:753–764. doi:10.1124/jpet.301.2.753

Mosmann T (1983) Rapid colorimetric assay for cellular growth and survival: application to proliferation and cytotoxicity assays. J Immunol Methods 65:55–63. doi:10.1016/0022-1759(83)90303-4

Andrisano V, Ballardini R, Hrelia P, Cameli N, Tosti A, Gotti R, Cavrini V (2001) Studies on the photostability and in vitro phototoxicity of Labetalol. Eur J Pharm Sci 12:495–504. doi:10.1016/S0928-0987(00)00218-9

Berthier A, Lemaire-Ewing S, Prunet C, Monier S, Athias A, Bessede G, Pais de Barros JP, Laubriet A, Gambert P, Lizard G, Néel D (2004) Involvement of a calcium-dependent dephosphorylation of BAD associated with the localization of Trpc-1 within lipid rafts in 7-ketocholesterol-induced THP-1 cell apoptosis. Cell Death Differ 11:897–905. doi:10.1038/sj.cdd.440143

Fu W, Luo H, Parthasarathy S, Mattson MP (1998) Catecholamines potentiate amyloid β-peptide neurotoxicity: involvement of oxidative stress, mitochondrial dysfunction, and perturbed calcium homeostasis. Neurobiol Dis 5:229–243. doi:10.1006/nbdi.1998.0192

van Klaveren RJ, Hoet PHM, Pype JL, Demedts M, Nemery B (1997) Increase in γ-glutamyltransferase by glutathione depletion in rat type II pneumocytes. Free Radic Biol Med 22:525–534. doi:10.1016/S0891-5849(96)00375-9

Hissin PJ, Hilf R (1976) A fluorometric method for determination of oxidized and reduced glutathione in tissues. Anal Biochem 74:214–226. doi:10.1016/0003-2697(76)90326-2

Gutteridge JMC, Rowley DA, Halliwell B (1982) Superoxide dependent formation of hydroxyl radicals and lipid peroxidation in the presence of iron salts. Detection of 'catalytic' iron and antioxidant activity in extracellular fluids. Biochem J 201:605–609

Levine RL, Garland D, Oliver CN, Amici A, Climent I, Lenz A-G, Ahn BW, Shaltiel S, Stadtman ER (1993) Determination of carbonyl content in oxidatively modified proteins. Oxygen radicals in biological systems. Methods Enzymol 186:464–478. doi:10.1016/0076-6879(90)86141-H

Armstrong JS (2006) Mitochondria: a target for cancer therapy. Br J Pharmacol 147:239–248. doi:10.1038/sj.bjp.0706556

Jin Z, El-Deiry WS (2005) Overview of cell death signaling pathways. Cancer Biol Ther 4:139–163

Camins A, Pallas M, Silvestre JS (2008) Apoptotic mechanisms involved in neurodegenerative diseases: experimental and therapeutic approaches. Methods Fin Exp Clin Pharmacol 30:43–65. doi:10.1358/mf.2008.30.1.1090962

Chipuk JE, Green DR (2006) Dissecting p53-dependent apoptosis. Cell Death Differ 13:994–1002. doi:10.1038/sj.cdd.4401908

Zhang HG, Wang J, Yang X, Hsu HC, Mountz JD (2004) Regulation of apoptosis proteins in cancer cells by ubiquitin. Oncogene 23:2009–2015. doi:10.1038/sj.onc.1207373

Misiti F, Orsini F, Clementi ME, Lattanzi W, Giardina B, Michetti F (2008) Mitochondrial oxygen consumption inhibition importance for TMT-dependent cell death in undifferentiated PC12 cells. Neurochem Int 52:1092–1099. doi:10.1016/j.neuint.2007.11.008

Ramalingam M, Kim SJ (2012) Reactive oxygen/nitrogen species and their functional correlations in neurodegenerative diseases. J Neural Transm 119(8):891–910. doi:10.1007/s00702-011-0758-7

Franco R, Cidlowski JA (2009) Apoptosis and glutathione: beyond an antioxidant. Cell Death Differ 16:1303–1314. doi:10.1038/cdd.2009.107

Calabrese V, Guagliano E, Sapienza M, Panebianco M, Calafato S, Puleo E, Pennisi G, Mancuso C, Butterfield DA, Stella AG (2007) Redox regulation of cellular stress response in aging and neurodegenerative disorders: role of vitagenes. Neurochem Res 32:757–773

Calabrese V, Cornelius C, Mancuso C, Lentile R, Stella AM, Butterfield DA (2010) Redox homeostasis and cellular stress response in aging and neurodegeneration. Methods Mol Biol 610:285–308. doi:10.1007/978-1-60327-029-8_17

Calabrese V, Cornelius C, Dinkova-Kostova AT, Iavicoli I, Di Paola R, Koverech A, Cuzzocrea S, Rizzarelli E, Calabrese EJ (2012) Cellular stress responses, hormetic phytochemicals and vitagenes in aging and longevity. Biochim Biophys Acta 1822:753–783. doi:10.1016/j.bbadis.2011.11.002

Cornelius C, Trovato Salinaro A, Scuto M, Fronte V, Cambria MT, Pennisi M, Bella R, Milone P, Graziano A, Crupi R, Cuzzocrea S, Pennisi G, Calabrese V (2013) Cellular stress response, sirtuins and UCP proteins in Alzheimer disease: role of vitagenes. Immun Ageing 10:41. doi:10.1186/1742-4933-10-41

Calabrese V, Cornelius C, Mancuso C, Barone E, Calafato S, Bates T, Rizzarelli E, Kostova AT (2009) Vitagenes, dietary antioxidants and neuroprotection in neurodegenerative diseases. Front Biosci 14:376–397

Young JT, Heikkila JJ (2010) Proteasome inhibition induces hsp30 and hsp70 gene expression as well as the acquisition of thermotolerance in Xenopus laevis A6 cells. Cell Stress Chaperones 15:323–334. doi:10.1007/s12192-009-0147-4

Stankova K, Ivanova K, Nikolov V, Aneva N, Georgieva R, Boteva R (2013) Proteasome inhibition protects human peripheral blood mononuclear cells from radiation-induced oxidative stress. Int J Radiat Biol 89:493–500. doi:10.3109/09553002.2013.782451
Acknowledgments
This research was supported by the Chung-Ang University Research Scholarship Grants in 2014, Chung-Ang University, Seoul, South Korea.
About this article
Cite this article
Nam, Y.J., Lee, D.H., Shin, Y.K. et al. Flavanonol Taxifolin Attenuates Proteasome Inhibition-Induced Apoptosis in Differentiated PC12 Cells by Suppressing Cell Death Process. Neurochem Res 40, 480–491 (2015). https://doi.org/10.1007/s11064-014-1493-x
Received:

Revised:

Accepted:

Published:

Issue Date:

DOI: https://doi.org/10.1007/s11064-014-1493-x
Keywords