Abstract
Trans-caryophyllene (TC), a component of essential oil found in many flowering plants, has shown its neuroprotective effects in various neurological disorders. However, the effects of TC on epilepsy haven't been reported before. In this study, we investigated the effect of TC on kainic acid-induced seizure activity caused by oxidative stress and pro-inflammation. We found that TC pretreatment significantly decreased seizure activity score compared to kainic acid treated group. Importantly, TC pretreatment leads to lowering the mortality in kainic acid treated mice. In addition, TC was found to significantly inhibit KA-induced generation of malondialdehyde. TC pretreatment also preserved the activity of GPx, SOD, and CAT. Notably, our data shows that an important property of TC is its capacity to exert cerebral anti-inflammatory effects by mitigating the expression of proinflammatory cytokines, such as TNF-α and IL-1β. These data suggest that TC has a potential protective effect on chemical induced seizure and brain damage.
This is a preview of subscription content, log in to check access.
Access options
Buy single article
Instant access to the full article PDF.
US$ 39.95
Price includes VAT for USA
Subscribe to journal
Immediate online access to all issues from 2019. Subscription will auto renew annually.
US$ 199
This is the net price. Taxes to be calculated in checkout.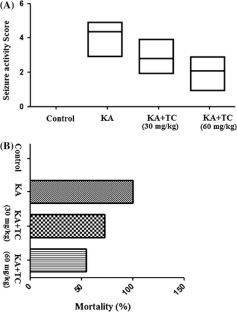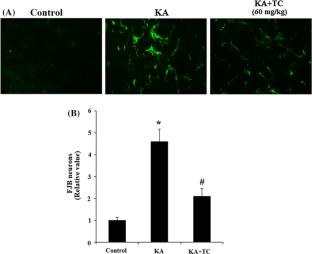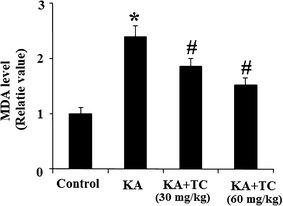 References
1.

Simon RP, Greenberg DA, Aminof MJ (2009) Clinical neurology, 7th edn. McGraw-Hill, New York

2.

Rao RS, Medhi B, Khanduja KL, Pandhi P (2010) Correlation of seizures and biochemical parameters of oxidative stress in experimentally induced inflammatory rat models. Fundam Clin Pharmacol 24(3):325–331

3.

Gupta YK, Briyal S (2006) Protective effect of vineatrol against kainic acid induced seizures, oxidative stress and on the expression of heat shock proteins in rats. Eur Neuropsychopharmacol 16(2):85–91

4.

Yalcin A, Kilinc E, Kocturk S, Resmi H, Sozmen EY (2004) Effect of melatonin cotreatment against kainic acid on coenzyme Q10, lipid peroxidation and Trx mRNA in rat hippocampus. Int J Neurosci 114(9):1085–1897

5.

Choi IY, Ju C, Anthony Jalin AM et al (2013) Activation of cannabinoid CB2 receptor-mediated AMPK/CREB pathway reduces cerebral ischemic injury. Am J Pathol 182:928–939

6.

Chang HJ, Kim HJ, Chun HS (2007) Quantitative structure-activity relationship (QSAR) for neuroprotective activity of terpenoids. Life Sci 80:835–841

7.

Guo K, Mou X, Huang J, Xiong N, Li H (2014) Trans-caryophyllene suppresses hypoxia-induced neuroinflammatory responses by inhibiting NF-κB activation in microglia. J Mol Neurosci [Epub ahead of print]

8.

Kim HJ, Chung JI, Lee SH, Jung YS, Moon CH, Baik EJ (2008) Involvement of endogenous prostaglandin F2alpha on kainic acid-induced seizure activity through FP receptor: the mechanism of proconvulsant effects of COX-2 inhibitors. Brain Res 1193:153–161

9.

Souza MA, Oliveira MS, Furian AF, Rambo LM, Ribeiro LR, Lima FD, Dalla Corte LC, Silva LF, Retamoso LT, Dalla Corte CL, Puntel GO, de Avila DS, Soares FA, Fighera MR, de Mello CF, Royes LF (2009) Swimming training prevents pentylenetetrazol-induced inhibition of Na?, K?-ATPase activity, seizures, and oxidative stress. Epilepsia 50:811–823

10.

Sheng B, Wang X, Su B, Lee HG, Casadesus G, Perry G, Zhu X (2012) Impaired mitochondrial biogenesis contributes to mitochondrial dysfunction in Alzheimer's disease. J Neurochem 120(3):419–429

11.

Zhang XM, Zhu J (2011) Kainic Acid-induced neurotoxicity: targeting glial responses and glia-derived cytokines. Curr Neuropharmacol 9(2):388–398

12.

Shin EJ, Jeong JH, Chung YH, Kim WK, Ko KH, Bach JH, Hong JS, Yoneda Y, Kim HC (2011) Role of oxidative stress in epileptic seizures. Neurochem Int 59:122–137

13.

Wang Q, Xu J, Rottinghaus GE, Simonyi A, Lubahn D, Sun GY, Sun AY (2002) Resveratrol protects against global cerebral ischemic injury in gerbils. Brain Res 958:439–447

14.

Wallace MJ, Martin BR, DeLorenzo RJ (2002) Evidence for a physiological role of endocannabinoids in the modulation of seizure threshold and severity. Eur J Pharmacol 452:295–301

15.

Marsicano G, Goodenough S, Monory K et al (2003) CB1 cannabinoid receptors and on-demand defense against excitotoxicity. Science 302:84–88

16.

Wallace MJ, Blair RE, Falenski KW, Martin BR, DeLorenzo RJ (2003) The endogenous cannabinoid system regulates seizure frequency and duration in a model of temporal lobe epilepsy. J Pharmacol Exp Ther 307:129–137

17.

Gross DW, Hamm J, Ashworth NL, Quigley D (2004) Marijuana use and epilepsy: prevalence in patients of a tertiary care epilepsy center. Neurology 62:2095–2097

18.

Goffin K, Bormans G, Casteels C et al (2008) An in vivo [18F]MK-9470 microPET study of type 1 cannabinoid receptor binding in Wistar rats after chronic administration of valproate and levetiracetam. Neuropharmacology 54(7):1103–1106

19.

Sinha S, Patil SA, Jayalekshmy V, Satishchandra P (2008) Do cytokines have any role in epilepsy? Epilepsy Res 82:171–176

20.

Dube C, Vezzani A, Behrens M et al (2005) Interleukin-1beta contributes to the generation of experimental febrile seizures. Ann Neurol 57:152–155
About this article
Cite this article
Liu, H., Song, Z., Liao, D. et al. Neuroprotective Effects of Trans-Caryophyllene Against Kainic Acid Induced Seizure Activity and Oxidative Stress in Mice. Neurochem Res 40, 118–123 (2015). https://doi.org/10.1007/s11064-014-1474-0
Received:

Accepted:

Published:

Issue Date:
Keywords
Epilepsy

Kainic acid

Trans-caryophyllene

Oxidative stress

Inflammation