Abstract
Current therapies for Parkinson's disease (PD) offer symptomatic relief but do not provide a cure or slow the disease process. Treatments that could halt progression of the disease or help restore function to damaged neurons would be of substantial benefit. Calcitriol, the active metabolite of vitamin D, has been shown to have significant effects on the brain. These effects include upregulating trophic factor levels, and reducing the severity of some central nervous system lesions. While previous studies have shown that calcitriol can be neuroprotective in 6-hydroxydopamine (6-OHDA) rodent models of PD, the present experiments were designed to examine the ability of calcitriol to promote restoration of extracellular dopamine (DA) levels and tissue content of DA in animals previously lesioned with 6-OHDA. Male Fischer-344 rats were given a single injection of 12 µg 6-OHDA into the right striatum. Four weeks later the animals were administered vehicle or calcitriol (0.3 or 1.0 µg/kg, s.c.) once a day for eight consecutive days. Three weeks after the calcitriol treatments in vivo microdialysis experiments were conducted to measure potassium and amphetamine evoked overflow of DA from both the left and right striata. In control animals treated with 6-OHDA and vehicle there were significant reductions in both potassium and amphetamine evoked overflow of DA on the lesioned side of the brain compared to the contralateral side. In animals treated with 6-OHDA followed by calcitriol there was significantly greater potassium and amphetamine evoked overflow of DA from the lesioned striatum compared to that from the control animals. The calcitriol treatments also led to increases in postmortem tissue levels of DA in the striatum and substantia nigra. These results suggest that calcitriol may help promote recovery of dopaminergic functioning in injured nigrostriatal neurons.
Access options
Buy single article
Instant access to the full article PDF.
US$ 39.95
Tax calculation will be finalised during checkout.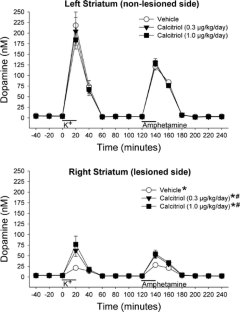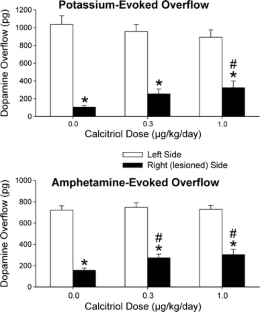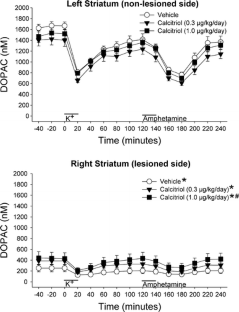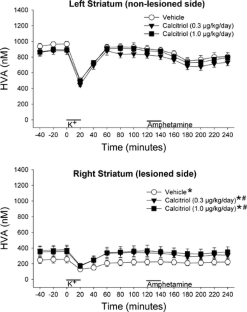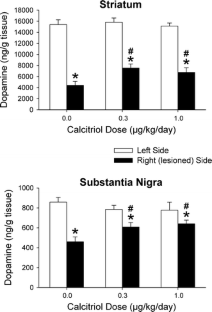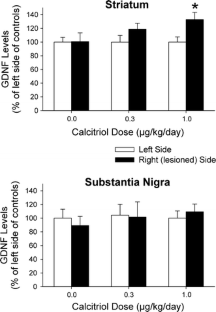 References
1.

Fernandes de Abreu DA, Eyles D, Feron F (2009) Vitamin D, a neuro-immunomodulator: implications for neurodegenerative and autoimmune diseases. Psychoneuroendocrinology 34S:S265–S277

2.

Garcion E, Wion-Barbot N, Montero-Menei CN, Berger F, Wion D (2002) New clues about vitamin D functions in the nervous system. Trends Endocrinol Metab 13:100–105

3.

Kesby JP, Eyles DW, Burne THJ, McGrath JJ (2011) The effects of vitamin D on brain development and adult brain function. Mol Cell Endocrinol 347:121–127

4.

Neveu I, Naveilhan P, Baudet C, Brachet P, Metsis M (1994) 1,25-Dihydroxyvitamin D3 regulates NT-3, NT-4 but not BDNF mRNA in astrocytes. NeuroReport 6:124–126

5.

Saporito MS, Brown ER, Hartpence KC, Wilcox HM, Vaught JL, Carswell S (1994) Chronic 1,25-dihydroxyvitamin D3-mediated induction of nerve growth factor mRNA and protein in L929 fibroblasts and in adult rat brain. Brain Res 633:189–196

6.

Veenstra TD, Londowski JM, Windebank AJ, Brimijoin S, Kumar R (1997) Effects of 1,25-dihydroxyvitamin D3 on growth of mouse neuroblastoma cells. Dev Brain Res 99:53–60

7.

Veenstra TD, Windebank AJ, Kumar R (1997) 1,25-Dihydroxyvitamin D3 regulates expression of N-myc, c-myc, protein kinase C, and transforming growth factor-ß2 in neuroblastoma cells. Biochem Biophys Res Commun 235:15–18

8.

Stumpf WE, O'Brien LP (1987) 1,25(OH)2 vitamin D3 sites of action in the brain. An autoradiographic study. Histochemistry 87:393–406

9.

Prufer K, Veenstra TD, Jirikowski GF, Kumar R (1999) Distribution of 1,25-dihydroxyvitamin D3 receptor immunoreactivity in rat brain and spinal cord. J Chem Neuroanat 16:135–145

10.

Eyles DW, Smith S, Kinobe R, Hewison M, McGrath JJ (2005) Distribution of the vitamin D receptor and 1α-hydroxylase in human brain. J Clin Neuroanat 29:21–30

11.

Gascon-Barre M, Huet PM (1983) Apparent [3H]1,25-dihydroxyvitamin D3 uptake by canine and rodent brain. Am J Physiol 244:E266–E271

12.

Pardridge WM, Sakiyama R, Coty WA (1985) Restricted transport of vitamin D and A derivatives through the rat blood–brain barrier. J Neurochem 44:1138–1141

13.

Neveu I, Naveilhan P, Menaa C, Wion D, Brachet P, Garabedian M (1994) Synthesis of 1,25-dihydroxyvitamin D3 by rat brain macrophages in vitro. J Neurosci Res 38:214–220

14.

Naveilhan P, Neveu I, Wion D, Brachet P (1996) 1,25-Dihydroxyvitamin D3, an inducer of glial cell line-derived neurotrophic factor. NeuroReport 7:2171–2175

15.

Orme RP, Bhangal MS, Fricker RA (2013) Calcitriol imparts neuroprotection in vitro to midbrain dopaminergic neurons by upregulating GDNF expression. PLoS ONE 8(4):e62040. doi:10.1371/journal.pone.0062040

16.

Verity AN, Wyatt TL, Lee W, Hajos B, Baecker PA, Eglen RM, Johnson RM (1999) Differential regulation of glial cell line-derived neurotrophic factor (GDNF) expression in human neuroblastoma and glioblastoma cell lines. J Neurosci Res 55:187–197

17.

Cass WA, Peters LE, Fletcher AM, Yurek DM (2012) Evoked dopamine overflow is augmented in the striatum of calcitriol treated rats. Neurochem Int 60:186–191

18.

Sanchez B, Lopez-Martin E, Segura C, Labandeira-Garcia JL, Perez-Fernandez R (2002) 1,25-Dihydroxyvitamin D3 increases striatal GDNF mRNA and protein expression in adult rats. Mol Brain Res 108:143–146

19.

Sanchez B, Relova JL, Gallego R, Ben-Batalla I, Perez-Fernandez R (2009) 1,25-Dihydroxyvitamin D3 administration to 6-hydroxydopamine-lesioned rats increases glial cell line-derived neurotrophic factor and partially restores tyrosine hydroxylase expression in substantia nigra and striatum. J Neurosci Res 87:723–732

20.

Wang Y, Chiang Y-H, Su T-P, Hayashi T, Morales M, Hoffer BJ, Lin S-Z (2000) Vitamin D3 attenuates cortical infarction induced by middle cerebral artery ligation in rats. Neuropharmacology 39:873–880

21.

Bjorklund A, Kirik D, Rosenblad C, Georgievska B, Lundberg C, Mandel RJ (2000) Towards a neuroprotective gene therapy for Parkinson's disease: use of adenovirus, AAV and lentivirus vectors for gene transfer of GDNF to the nigrostriatal system in the rat Parkinson model. Brain Res 886:82–98

22.

Cass WA, Kearns CM, Gash DM (1998) Protective and regenerative properties of GDNF in the central nervous system. In: Mattson MP (ed) Neuroprotective signal transduction. Humana, Totowa, pp 145–161

23.

Gash DM, Zhang Z, Gerhardt GA (1998) Neuroprotective and neurorestorative properties of GDNF. Ann Neurol 44(suppl. 1):S121–S125

24.

Grondin R, Zhang Z, Yi A, Cass WA, Maswood N, Andersen AH, Elsberry DD, Klein MC, Gerhardt GA, Gash DM (2002) Chronic, controlled GDNF infusion promotes structural and functional recovery in advanced Parkinsonian monkeys. Brain 125:2191–2201

25.

Kordower JH, Emborg ME, Bloch J, Ma SY, Chu Y, Leventhal L, McBride J, Chen E-Y, Palfi S, Roitberg BZ, Brown WD, Holden JE, Pyzalski R, Taylor MD, Carvey P, Ling Z, Trono D, Hantraye P, Deglon N, Aebisher P (2000) Neurodegeneration prevented by lentiviral vector delivery of GDNF in primate models of Parkinson's disease. Science 290:767–773

26.

Gill SS, Patel NK, Hotton GR, O'Sullivan K, McCarter R, Bunnage M, Brooks DJ, Svendsen CN, Heywood P (2003) Direct brain infusion of glial cell line-derived neurotrophic factor in Parkinson disease. Nat Med 9:589–595

27.

Slevin JT, Gerhardt GA, Smith CD, Gash DM, Kryscio R, Young B (2005) Improvement of bilateral motor functions in patients with Parkinson disease through the unilateral intraputaminal infusion of glial cell line-derived neurotrophic factor. J Neurosurg 102:216–222

28.

Lang AE, Gill S, Patel NK, Lozano A, Nutt JG, Penn R, Brooks DJ, Hotton G, Moro E, Heywood P, Brodsky MA, Burchiel K, Kelly P, Dalvi A, Scott B, Stacy M, Turner D, Wooten VGF, Elias WJ, Laws ER, Dhawan V, Stoessl AJ, Matcham J, Coffey RJ, Traub M (2006) Randomized controlled trial of intraputamenal glial cell line-derived neurotrophic factor infusion in Parkinson disease. Ann Neurol 59:459–466

29.

Kim J-S, Ryu S-Y, Yun I, Kim W-J, Lee K-S, Park J-W, Kim Y-I (2006) 1α,25-Dihydroxyvitamin D3 protects dopaminergic neurons in rodent models of Parkinson's disease through inhibition of microglial activation. J Clin Neurol 2:252–257

30.

Smith MP, Fletcher-Turner A, Yurek DM, Cass WA (2006) Calcitriol protection against dopamine loss induced by intracerebroventricular administration of 6-hydroxydopamine. Neurochem Res 31:533–539

31.

Wang J-Y, Wu J-N, Cherng T-L, Hoffer BJ, Chen H–H, Borlongan CV, Wang Y (2001) Vitamin D3 attenuates 6-hydroxydopmaine-induced neurotoxicity in rats. Brain Res 904:67–75

32.

Cass WA, Harned ME, Peters LE, Nath A, Maragos WF (2003) HIV-1 Protein tat potentiation of methamphetamine-induced decreases in evoked overflow of dopamine in the striatum of the rat. Brain Res 984:133–142

33.

Yurek DM, Fletcher-Turner A (2001) Differential expression of GDNF, BDNF, and NT-3 in the aging nigrostriatal system following a neurotoxic lesion. Brain Res 891:228–235

34.

Glick SD, Dong N, Keller RWJr, Carlson JN (1994) Estimating extracellular concentrations of dopamine and 3,4-dihydroxyphenylacetic acid in nucleus accumbens and striatum using microdialysis: relationships between in vitro and in vivo recoveries. J Neurochem 62:2017–2021

35.

Chavhan SG, Brar RS, Banga HS, Sandhu HS, Sodhi S, Gadhave PD, Kothule VR, Kammon AM (2011) Clinicopathological studies on vitamin D3 toxicity and therapeutic evaluation of aloe vera in rats. Toxicol Int 18:35–43

36.

Cass WA, Peters LE (2010) Neurturin effects on nigrostriatal dopamine release and content: comparison with GDNF. Neurochem Res 35:727–734

37.

Hebert MA, Van Horne CG, Hoffer BJ, Gerhardt GA (1996) Functional effects of GDNF in normal rat striatum: presynaptic studies using in vivo electrochemistry and microdialysis. J Pharmacol Exp Ther 279:1181–1190

38.

Hebert MA, Gerhardt GA (1997) Behavioral and neurochemical effects of intranigral administration of glial cell line-derived neurotrophic factor on aged Fischer 344 rats. J Pharmacol Exp Ther 282:760–768

39.

Robertson GS, Robertson HA (1989) Evidence that L-dopa-induced rotational behavior is dependent on both striatal and nigral mechanisms. J Neurosci 9:3326–3331

40.

Gerhardt GA, Cass WA, Yi A, Zhang Z, Gash DM (2002) Changes in somatodendritic but not terminal dopamine regulation in aged rhesus monkeys. J Neurochem 80:168–177

41.

Andersson DR, Nissbrandt H, Bergquist F (2006) Partial depletion of dopamine in substantia nigra impairs motor performance without altering striatal dopamine neurotransmission. Eur J Neurosci 24:617–624

42.

Salvatore MF, Pruett BS, Spann SL, Dempsey C (2009) Aging reveals a role for nigral tyrosine hydroxylase ser31 phosphorylation in locomotor activity generation. PLoS One 4(12):e8466. doi:10.1371/journal.pone.0008466

43.

Bowenkamp KE, Lapchak PA, Hoffer BJ, Miller PJ, Bickford PC (1997) Intracerebroventricular glial cell line-derived neurotrophic factor improves motor function and supports nigrostriatal dopamine neurons in bilaterally 6-hydroxydopamine lesioned rats. Exp Neurol 145:104–117

44.

Zheng J-S, Tang L–L, Zheng S–S, Zhan R-Y, Zhou Y-Q, Goudreau J, Kaufman D, Chen AF (2005) Delayed gene therapy of glial cell line-derived neurotrophic factor is efficacious in a rat model of Parkinson's disease. Mol Brain Res 134:155–161

45.

Aoi M, Date I, Tomita S, Ohmoto T (2000) The effect of intrastriatal single injection of GDNF on the nigrostriatal dopaminergic system in hemiparkinsonian rats: behavioral and histological studies using two different dosages. Neurosci Res 36:319–325

46.

Naveilhan P, Neveu I, Baudet C, Funakoshi H, Wion D, Brachet P, Metsis M (1996) 1,25-Dihydroxyvitamin D3 regulates the expression of the low-affinity neurotrophin receptor. Mol Brain Res 41:259–268

47.

Puchacz E, Stumpf WE, Stachowiak EK, Stachowiak MK (1996) Vitamin D increases expression of the tyrosine hydroxylase gene in adrenal medullary cells. Mol Brain Res 36:193–196

48.

Garcion E, Sindji L, Montero-Menei C, Andre C, Brachet P, Darcy F (1998) Expression of inducible nitric oxide synthase during rat brain inflammation: regulation by 1,25-dihydroxyvitamin D3. Glia 22:282–294

49.

Garcion E, Sindji L, Leblondel G, Brachet P, Darcy F (1999) 1,25-Dihydroxyvitamin D3 regulates the synthesis of γ-glutamyl transpeptidase and glutathione levels in rat primary astrocytes. J Neurochem 73:859–866

50.

Shinpo K, Kikuchi S, Sasaki H, Moriwaka F, Tashiro K (2000) Effect of 1,25-dihydroxyvitamin D3 on cultured mesencephalic dopaminergic neurons to the combined toxicity caused by L-buthionine sulfoximine and 1-methyl-4-phenylpyridine. J Neurosci Res 62:374–382

51.

Ibi M, Sawada H, Nakanishi M, Kume T, Katsuki H, Kaneko S, Shimohama S, Akaike A (2001) Protective effects of 1α,25-(OH)2D3 against the neurotoxicity of glutamate and reactive oxygen species in mesencephalic culture. Neuropharmacology 40:761–771

52.

Harms LR, Burne THJ, Eyles DW, McGrath JJ (2011) Vitamin D and the brain. Best Pract Res Clin Endocinol Metab 25:657–669

53.

de Viragh PA, Haglid KG, Celio MR (1989) Parvalbumin increases in the caudate putamen of rats with vitamin D hypervitaminosis. Proc Natl Acad Sci USA 86:3887–3890

54.

Brewer LD, Porter NM, Kerr DS, Landfield PW, Thibault O (2006) Chronic 1α,25-(OH)2vitamin D3 treatment reduces Ca2+-mediated hippocampal biomarkers of aging. Cell Calcium 40:277–286

55.

Newmark HL, Newmark J (2007) Vitamin D and Parkinson disease–a hypothesis. Mov Disord 22:461–468

56.

Evatt ML, DeLong MR, Khazai N, Rosen A, Triche S, Tangpricha V (2008) Prevalence of vitamin D insufficiency in patients with Parkinson disease and Alzheimer disease. Arch Neurol 65:1348–1352

57.

Butler MW, Burt A, Edwards TL, Zuchner S, Scott WK, Martin ER, Vance JM, Wang L (2011) Vitamin D receptor gene as a candidate gene for Parkinson disease. Ann Hum Genet 75:201–210

58.

Suzuki M, Yoshioka M, Hashimoto M, Murakami M, Noya M, Takahashi D, Urashima M (2013) Randomized, double-blind, placebo-controlled trial of vitamin D supplementation in Parkinson disease. Am J Clin Nutr 97:1004–1013
Acknowledgments
This study was supported in part by United States Public Health Service Grants NS60924 and NS75871. None of the authors have a conflict of interest of any type in association with this work.
About this article
Cite this article
Cass, W.A., Peters, L.E., Fletcher, A.M. et al. Calcitriol Promotes Augmented Dopamine Release in the Lesioned Striatum of 6-Hydroxydopamine Treated Rats. Neurochem Res 39, 1467–1476 (2014). https://doi.org/10.1007/s11064-014-1331-1
Received:

Revised:

Accepted:

Published:

Issue Date:
Keywords
Striatum

Substantia nigra

Dopamine

Calcitriol

6-OHDA

GDNF