Abstract
The present study investigated the long-lasting effects of prenatal repeated restraint stress on social behavior and anxiety, as well as its repercussions on oxytocin (OT) and vasopressin (VP)-positive neurons of the paraventricular (PVN) and supraoptic (SON) nuclei from stressed pups in adulthood. Female Wistar rats were exposed to restraint stress in the last 7 days of pregnancy. At birth, pups were cross-fostered and assigned to the following groups: prenatally non-stressed offspring raised by prenatally non-stressed mothers (NS:NS), prenatally non-stressed offspring raised by prenatally stressed mothers (S:NS), prenatally stressed offspring raised by prenatally non-stressed mothers (NS:S), prenatally stressed offspring raised by prenatally stressed mothers (S:S). As adults, male prenatally stressed offspring raised both by stressed mothers (S:S group) and non-stressed ones (NS:S group) showed impaired social memory and interaction. In addition, when both adverse conditions coexisted (S:S group), increased anxiety-like behavior and aggressiveness was observed in association with a decrease in the number of OT-positive magnocellular neurons, VP-positive magnocellular and parvocellular neurons of the PVN. The NS:S group exhibited a reduction in the amount of VP-positive magnocellular neurons compared to the S:NS. Thus, the social behavior deficits observed in the S:S and NS:S groups may be only partially associated with these alterations to the peptidergic systems. No changes were shown in the OT and VP cellular composition of the SON nucleus. Nevertheless, it is clear that a special attention should be given to the gestational period, since stressful events during this time may be related to the emergence of behavioral impairments in adulthood.
Access options
Buy single article
Instant access to the full article PDF.
USD 39.95
Price excludes VAT (USA)
Tax calculation will be finalised during checkout.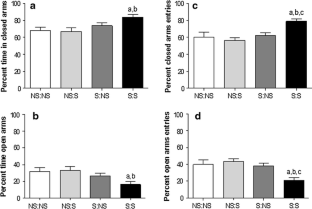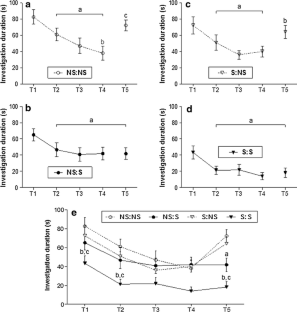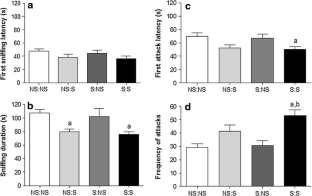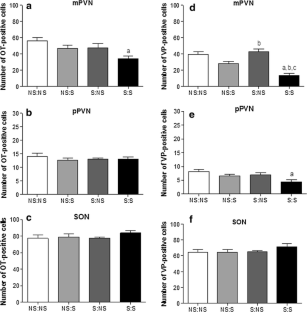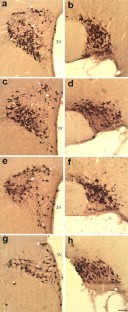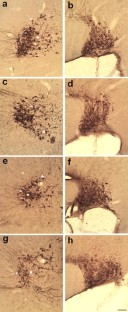 References
Ferguson JN, Young LJ, Insel TR (2002) The neuroendocrine basis of social recognition. Front Neuroendocrinol 23:200–224

Bielsky IF, Young LJ (2004) Oxytocin, vasopressin, and social recognition in mammals. Peptides 25:1565–1574

Lukas M, Neumann ID (2012) Oxytocin and vasopressin in rodent behaviors related to social dysfunctions in autism spectrum disorders. Behav Brain Res. doi:10.1016/j.bbr.2012.08.011

Ebstein RP, Knafo A, Mankuta D et al (2012) The contributions of oxytocin and vasopressin pathway genes to human behavior. Horm Behav 61:359–379

Young LJ, Flanagan-Cato LM (2012) Editorial comment: oxytocin, vasopressin and social behavior. Horm Behav 61:227–229

Young KA, Gobrogge KL, Liu Y et al (2011) The neurobiology of pair bonding: insights from a socially monogamous rodent. Front Neuroendocrinol 32:53–69

Bosch OJ, Meddle SL, Beiderbeck DI et al (2005) Brain oxytocin correlates with maternal aggression: link to anxiety. J Neurosci 25:6807–6815

Goodson JL, Schrock SE, Klatt JD et al (2009) Mesotocin and nonapeptide receptors promote estrildid flocking behavior. Science 325:862–866

Winslow JT, Hastings N, Carter CS et al (1993) A role for central vasopressin in pair bonding in monogamous prairie voles. Nature 365:545–548

Todeschin AS, Winkelmann-Duarte EC, Jacob MH et al (2009) Effects of neonatal handling on social memory, social interaction, and number of oxytocin and vasopressin neurons in rats. Horm Behav 56:93–100

Tobin VA, Hashimoto H, Wacker DW et al (2010) An intrinsic vasopressin system in the olfactory bulb is involved in social recognition. Nature 464:413–417

Patin V, Lordi B, Vincent A et al (2005) Effects of prenatal stress on anxiety and social interactions in adult rats. Brain Res Dev Brain Res 160:265–274

Lee PR, Brady DL, Shapiro RA et al (2007) Prenatal stress generates deficits in rat social behavior: reversal by oxytocin. Brain Res 1156:152–167

Weller A, Glaubman H, Yehuda S et al (1988) Acute and repeated gestational stress affect offspring learning and activity in rats. Physiol Behav 43:139–143

Grimm VE, Frieder B (1987) The effects of mild maternal stress during pregnancy on the behavior of rat pups. Int J Neurosci 35:65–72

Smith BL, Wills G, Naylor D (1981) The effects of prenatal stress on rat offsprings' learning ability. J Psychol 107:45–51

Dickerson PA, Lally BE, Gunnel E et al (2005) Early emergence of increased fearful behavior in prenatally stressed rats. Physiol Behav 86:586–593

Ward HE, Johnson EA, Salm AK et al (2000) Effects of prenatal stress on defensive withdrawal behavior and corticotropin releasing factor systems in rat brain. Physiol Behav 70:359–366

Morley-Fletcher S, Darnaudery M, Koehl M et al (2003) Prenatal stress in rats predicts immobility behavior in the forced swim test. Effects of a chronic treatment with tianeptine. Brain Res 989:246–251

Poltyrev T, Gorodetsky E, Bejar C et al (2005) Effect of chronic treatment with ladostigil (TV-3326) on anxiogenic and depressive-like behaviour and on activity of the hypothalamic-pituitary-adrenal axis in male and female prenatally stressed rats. Psychopharmacology 181:118–125

de Souza MA, Szawka RE, Centenaro LA et al (2012) Prenatal stress produces sex differences in nest odor preference. Physiol Behav 105:850–855

Del Cerro MC, Perez-Laso C, Ortega E et al (2010) Maternal care counteracts behavioral effects of prenatal environmental stress in female rats. Behav Brain Res 208:593–602

Korte SM, De Boer SF (2003) A robust animal model of state anxiety: fear-potentiated behaviour in the elevated plus-maze. Eur J Pharmacol 463:163–175

Bhattacharya SK, Satyan KS (1997) Experimental methods for evaluation of psychotropic agents in rodents: I-Anti-anxiety agents. Indian J Exp Biol 35:565–575

Winslow JT, Camacho F (1995) Cholinergic modulation of a decrement in social investigation following repeated contacts between mice. Psychopharmacology 121:164–172

Centenaro LA, Jaeger Mda C, Ilha J et al (2011) Olfactory and respiratory lamina propria transplantation after spinal cord transection in rats: effects on functional recovery and axonal regeneration. Brain Res 1426:54–72

Winkelmann-Duarte EC, Todeschin AS, Fernandes MC et al (2007) Plastic changes induced by neonatal handling in the hypothalamus of female rats. Brain Res 1170:20–30

Mandarim-de-Lacerda CA (2003) Stereological tools in biomedical research. An Acad Bras Cienc 75:469–486

Hogg S (1996) A review of the validity and variability of the elevated plus-maze as an animal model of anxiety. Pharmacol Biochem Behav 54:21–30

Maccari S, Piazza PV, Kabbaj M et al (1995) Adoption reverses the long-term impairment in glucocorticoid feedback induced by prenatal stress. J Neurosci 15:110–116

Lui CC, Wang JY, Tain YL et al (2011) Prenatal stress in rat causes long-term spatial memory deficit and hippocampus MRI abnormality: differential effects of postweaning enriched environment. Neurochem Int 58:434–441

Wu J, Song TB, Li YJ et al (2007) Prenatal restraint stress impairs learning and memory and hippocampal PKCbeta1 expression and translocation in offspring rats. Brain Res 1141:205–213

Schulz KM, Pearson JN, Neeley EW et al (2011) Maternal stress during pregnancy causes sex-specific alterations in offspring memory performance, social interactions, indices of anxiety, and body mass. Physiol Behav 104:340–347

Welberg LA, Seckl JR (2001) Prenatal stress, glucocorticoids and the programming of the brain. J Neuroendocrinol 13:113–128

Kapoor A, Petropoulos S, Matthews SG (2008) Fetal programming of hypothalamic-pituitary-adrenal (HPA) axis function and behavior by synthetic glucocorticoids. Brain Res Rev 57:586–595

Weinstock M (2008) The long-term behavioural consequences of prenatal stress. Neurosci Biobehav Rev 32:1073–1086

Weinstock M (2001) Alterations induced by gestational stress in brain morphology and behaviour of the offspring. Prog Neurobiol 65:427–451

Gotz AA, Stefanski V (2007) Psychosocial maternal stress during pregnancy affects serum corticosterone, blood immune parameters and anxiety behaviour in adult male rat offspring. Physiol Behav 90:108–115

Veenema AH (2012) Toward understanding how early-life social experiences alter oxytocin- and vasopressin-regulated social behaviors. Horm Behav 61:304–312

Storm EE, Tecott LH (2005) Social circuits: peptidergic regulation of mammalian social behavior. Neuron 47:483–486

Popik P, Vetulani J (1991) Opposite action of oxytocin and its peptide antagonists on social memory in rats. Neuropeptides 18:23–27

Popik P, Wolterink G, De Brabander H et al (1991) Neuropeptides related to [Arg8]vasopressin facilitates social recognition in rats. Physiol Behav 49:1031–1035
Acknowledgments
This study was supported by grants from CNPq, FAPESP, FAPERGS and CAPES.
Conflict of interest
There was no conflict of interests.
About this article
Cite this article
de Souza, M.A., Centenaro, L.A., Menegotto, P.R. et al. Prenatal Stress Produces Social Behavior Deficits and Alters the Number of Oxytocin and Vasopressin Neurons in Adult Rats. Neurochem Res 38, 1479–1489 (2013). https://doi.org/10.1007/s11064-013-1049-5
Received:

Revised:

Accepted:

Published:

Issue Date:

DOI: https://doi.org/10.1007/s11064-013-1049-5
Keywords
Prenatal stress

Cross-fostering

Social memory

Social interaction

Oxytocin

Vasopressin