Abstract
In order to observe antinociceptive effect of Oxymatrine (OMT) and its effect on voltage-activated K+ channel, the acetic acid-induced abdominal contraction model of mouse was used to test the antinociceptive effect in vivo, and in vitro, the delayed rectifier K+ currents (Ik) in PC12 cells (rat pheochromocytoma cells) was recorded using the automated patch-clamp method. The results indicated that after application of OMT, the number of acetic acid-induced animal abdominal contraction was significantly decreased, Ik in PC12 cells was significantly decreased, and showed a concentration-dependent manner. After application of OMT, both the activation and inactivation curves of Ik of PC12 cells were shifted to negative potentials. This study revealed that OMT showed antinociceptive effect in mice. The inhibition of voltage-activated K+ channel might be one of mechanisms in which the enhanced both activation and inactivation of K+ channel were involved and might play important roles.
Access options
Buy single article
Instant access to the full article PDF.
US$ 39.95
Tax calculation will be finalised during checkout.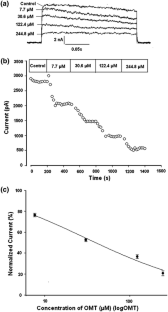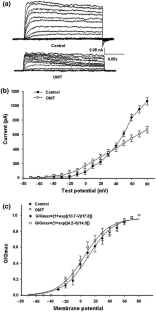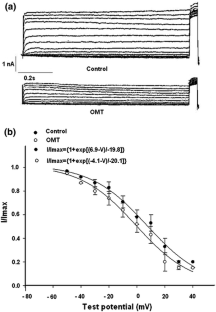 References
1.

Kamei J, Xiao P, Ohsawa M, Kubo H et al (1997) Antinociceptive effects of (+)-matrine in mice. Eur J Pharmacol 337:223–226

2.

Kobashi S, Kubo H, Yamauchi T et al (2002) Antinociceptive effects of 1-acyl-4-dialkylaminopiperidine and 1-alkyl-4-dialkylaminopiperidine in mice: structure-activity relation study of matrine-type alkaloids. Biol Pharm Bull 25:1030–1034

3.

Kobashi S, Takizawa M, Kubo H et al (2003) Antinociceptive effects of N-acyloctahydropyrido [3,2,1-ij] [1,6] naphthyridine in mice: structure-activity relation study of matrine-type alkaloids part II. Biol Pharm Bull 26:375–379

4.

Zimmerman SA, Jones MV, Harrison N (1994) Potentiation of g-aminobutyric acid A receptor Cl2 current correlates with in vivo anesthetic potency. J Pharmacol Exp Ther 270:987–989

5.

Friederich P, Benzenberg D, Urban BW (2001) Ketamine and propofol differentially inhibit human neuronal K+ channels. Eur J Anaesthesiol 18:177–183

6.

Ficker E, Heinemann U (1992) Slow and fast transient potassium currents in cultured rat hippocampus cells. J Physiol 445:431–455

7.

Wu LG, Saggau P (1997) Presynaptic inhibition of elicited neurotransmitter release. Trend Neurosci 20:204–212

8.

Tian YT, Liu ZW, Yao Y et al (2008) Effects of alpha- and theta cypermethrin insecticide on transient outward potassium current in rat hippocampal CA3 neurons. Pesticide Biochem Physiol 90:1–7

9.

Tian YT, Liu ZW, Yao Y et al (2009) Effect of alpha-cypermethrin and theta-cypermethrin on delayed rectier potassium currents in rat hippocampal neurons. Neurotoxicology 30:269–273

10.

Farre C, Haythornthwaite A, Haarmann C et al (2009) Port-a-patch and patchliner: high fidelity electrophysiology for secondary screening and safety pharmacology. Comb Chem High Throughput Screen 12:24–37

11.

Bridgland-Taylor MH, Hargreaves AC, Easter A et al (2006) Optimisation and validation of amedium-throughput electrophysiology-based hERG assay using IonWorks. HT J Pharmacol Toxicol Methods 54:189–199

12.

Ly JQ, Shyy G, Misner DL (2007) Assessing hERG channel inhibition using PatchXpress. Clin Lab Med 27:210–218

13.

Soukupová M, Doležal T, Kršiak M (2009) The synergistic inter action between rilmenidine and paracetamol in the writhing test in mice. Naunyn Schmiedebergs Arch Pharmacol 379:575–580

14.

Greene LA, Tischler AS (1976) Establishment of a noradrenergic clonal line of rat adrenal pheochromocytoma cells which respond to nerve growth factor. Proc Natl Acad Sci USA 73:2424–2428

15.

Hoshi T, Aldrich RW (1988) Voltage-dependent K+ currents and underlying single K+ channels in pheochromocytoma cells. J Gen Physiol 91:73–106

16.

Nakazawa K, Ito K, Koizumi S et al (1995) Characterization of inhibition by haloperidol and chlorpromazine of a voltage-activated K+ current in rat phaeochromocytoma cells. Br J Pharmacol 116:2603–2610

17.

Everill B, Kocsis JD (1999) Reduction in potassium currents in identified cutaneous afferent dorsal root ganglion neurons after axotomy. J Neurophysiol 82:700–708

18.

Friederich P, Urban BW (1999) Interaction of intravenous anesthetics with human neuronal potassium currents in relation to concentrations. Anesthesiology 91:1853–1860

19.

Pardo LA (2004) Voltage-gated potassium channels in cell proliferation. Physiology 19:285–292

20.

Szabo I, Adams C, Gulbins E (2004) Ion channels and membrane rafts in apoptosis. Pugers Arch 448:304–312

21.

Liu H, Sun Y, Gao Y et al (2010) The analgesic effect and mechanism of the combination of sodium ferulate and oxymatrine. NeurochemRes 35:1368–1375

22.

Cao YG, Jing S, Li L et al (2010) Antiarrhythmic effects and ionic mechanisms of oxymatrine from Sophora flavescens. Phytother Res 24:1844–1849

23.

Zhao L, Lou J, Wu H et al (2012) Effects of taurine-magnesium coordination compound on ionic channels in rat ventricular myocytes of arrhythmia induced by ouabain. Biol Trace Elem Res 147:275–284
Acknowledgments
We thank Dr. Peter Zhang of MediAlliance Inc for his valuable comments. This work was supported with the grants of the innovative strategy plan of significant new drugs researches program from Ministry of Science and Technology of the People's Republic of China (program No. 2008ZX09101-Z-017).
Additional information
Yuyun Wang and Jing Yuan contributed equal work for this study.
About this article
Cite this article
Wang, Y., Yuan, J., Yuan, X. et al. Observation of Antinociceptive Effects of Oxymatrine and its Effect on Delayed Rectifier K+ Currents (Ik) in PC12 Cells. Neurochem Res 37, 2143–2149 (2012). https://doi.org/10.1007/s11064-012-0836-8
Received:

Revised:

Accepted:

Published:

Issue Date:
Keywords
Oxymatrine

Antinociceptive effect

PC12 cells

Automated patch-clamp

K+ channel