Abstract
Early prenatal or post natal exposure to environmental insults such as valproic acid (VPA), thalidomide and ethanol could induce behavioral alterations similar to autistic symptoms. Bacopa monniera, a renowned plant in ayurvedic medicine is useful in several neurological disorders. The purpose of the present study was to evaluate the effect of B. monniera on VPA induced autism. On 12.5 day of gestation the female pregnant rats were divided into control and VPA treated groups. They were administered saline/VPA (600 mg/kg, i.p.) respectively and allowed to raise their own litters. Group I—male pups of saline treated mothers. On postnatal day (PND) 21 VPA induced autistic male pups were divided into two groups (n = 6); Group II—received saline and Group III—received B. monniera (300 mg/kg/p.o.) from PND 21–35. Behavioral tests (nociception, locomotor activity, exploratory activity, anxiety and social behavior) were performed in both adolescence (PND 30–40) and adulthood (PND 90–110) period. At the end of behavioral testing animals were sacrificed, brain was isolated for biochemical estimations (serotonin, glutathione, catalase and nitric oxide) and histopathological examination. Induction of autism significantly affected normal behavior, increased oxidative stress and serotonin level, altered histoarchitecture of cerebellum (decreased number of purkinje cells, neuronal degeneration and chromatolysis) when compared with normal control group. Treatment with B. monniera significantly (p < 0.05) improved behavioral alterations, decreased oxidative stress markers and restored histoarchitecture of cerebellum. In conclusion, the present study suggests that B. monniera ameliorates the autistic symptoms possibly due to its anti-anxiety, antioxidant and neuro-protective activity.
Access options
Buy single article
Instant access to the full article PDF.
USD 39.95
Price excludes VAT (USA)
Tax calculation will be finalised during checkout.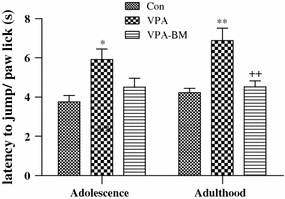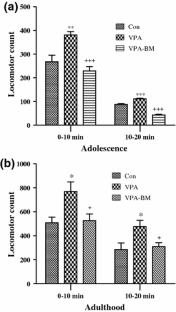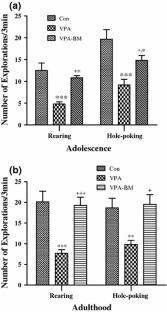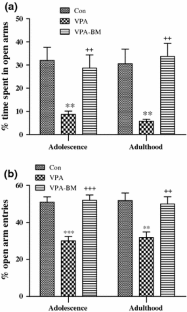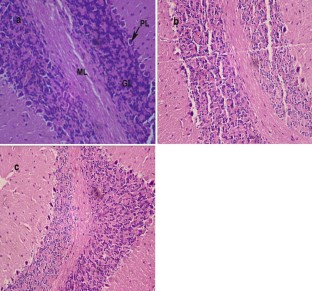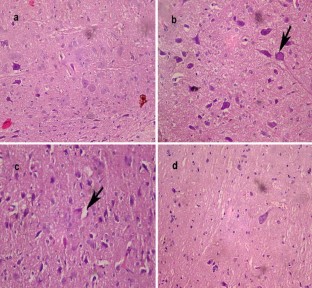 References
Mathew J, Gangadharan G, Paulose KP, Kuruvilla CS (2011) Behavioral deficit and decreased GABA receptor functional regulation in the hippocampus of epileptic rats: effect of Bacopa monnieri. Neurochem Res 36:7–16

Paulose CS, Chathu Finla, Reas Khan S, Krishnakumar A (2008) Neuroprotective role of Bacopa monnieri extract in epilepsy and effect of glucose supplementation during hypoxia: glutamate receptor gene expression. Neurochem Res 33:1663–1671

Bhattacharya SK, Ghoshal S (1998) Axiolytic activity of a standardized extract of Bacopa monniera: an experimental study. Phytomedicine 5(2):77–82

Sairam K, Dorababu M, Goel RK, Bhattacharya SK (2002) Antidepressant activity of standardized extract of Bacopa monniera in experimental models of depression in rats. Phytomedicine 9:207–211

Manish Kumar S, Sudesh P, Krishan Lal K, Akshay A (2011) Bacopa monniera attenuates scopolamine-induced impairment of spatial memory in mice. Evid Based Complement Alternat Med 2011:236186

Russo A, Borrelli F (2005) Bacopa monniera, a reputed nootropic drug: an overview. Phytomedicine 12:305–317

Rehni AK, Pantlya HS, Shri R, Singh M (2007) Effect of chlorophyll and aqueous extracts of Bacopa monniera and Valeriana wallichii on ischaemia and reperfusion- induced cerebral injury in mice. Indian J Exp Biol 45:764–769

Bhattacharya SK, Bhattacharya A, Kumar A, Ghosal S (2000) Antioxidant activity of Bacopa monniera in rat frontal cortex, striatum and hippocampus. Phytother Res 14:174–179

Shinomol GK, Muralidhara (2011) Bacopa monnieri modulates endogenous cytoplasmic and mitochondrial oxidative markers in prepubertal mice brain. Phytomedicine 18:317–326

Singhal HK, Neetu, kumar A, Rai M (2010) Ayurvedic approach for improving reaction time of attention deficit hyperactivity disorder affected children. AYU 31(3):338–342

Mathew J, Paul J, Nandhu MS, Paulose CS (2010) Bacopa monniera and bacoside- A for ameliorating epilepsy associated behavioral deficits. Fitoterpia 81(5):315–322

Rodier PM, Ingram JL, Tisdale B, Croog VJ (1997) Linking etiologies in humans and animal models: studies of autism. Reprod Toxicol 11:417–422

Schneider T, Przewłocki R (2005) Behavioral alterations in rats prenatally exposed to valproic acid: animal model of autism. Neuropsychopharmacology 30:80–89

Wagner CG, Reuhl KR, Cheh M, McRae P, Halladay AK (2006) A new neurobehavioral model of autism in mice: pre- and postnatal exposure to sodium valproate. J Autism Dev Disord 36:779–793

Schneider T, Turczak J, Przewłocki R (2006) Environmental enrichment reverses behavioral alterations in rats prenatally exposed to valproic acid: issues for a therapeutic approach in autism. Neuropsychopharmacology 31:36–46

Markram K, Rinaldi T, Mendola DL, Sandi C, Markram H (2007) Abnormal fear conditioning and amygdala processing in an animal model of autism. Neuropsychopharmacology 33:901–912

Narita M, Oyabu A, Imura Y, Kamada N, Yokoyama T, Tano K, Uchida A, Narita N (2010) Nonexploratory movement and behavioral alterations in a thalidomide or valproic acid-induced autism model rat. Neurosci Res 66:2–6

Schneider T, Roman A, Basta-Kaim A, Kubera M, Budziszewska B, Schneider K, Przewłocki R (2008) Gender-specific behavioral and immunological alterations in an animal model of autism induced by prenatal exposure to valproic acid. Psychoneuroendocrinology 33:728–740

Markram H, Rinaldi T, Markram K (2007) The intense world syndrome—an alternative hypothesis for autism. Front Neurosci 1(1):77–96

Narita N, Kato M, Tazoe M, Miyazaki K, Narita M, Okado N (2002) Increased monoamine concentration in the brain and blood of fetal thalidomide- and valproic acid-exposed rat: putative animal models for autism. Pediatr Res 52:576–579

Ming X, Cheh MA, Halladay AK, Wagner GC (2008) Evidence of oxidative stress in autism derived from animal models. Am J Biochem Biotechnol 4:218–225

Banjia D, Banjia OJF, Abbagonia S, Hayathb MS, Kambama S, Chilukaa VL (2011) Amelioration of behavioral aberrations and oxidative markers by green tea extract in valproate induced autism in animals. Brain Res 1410:141–151

Maickel RP, Cox RH, Saillant J, Miller FP (1968) A method for the determination of serotonin and norepinephrine in discrete areas of rat brain. Int J Neuropharmacol 7:275–281

Jacobowitz DM, Richardson JS (1978) Method for the rapid determination of norepinephrine, dopamine and serotonin in the same brain region. Pharmacol Biochem Behav 8(5):515–519

Green LCDA, Wagner DA (1982) Analysis of nitrate, nitrite and [15 N] nitrate in biological fluids. Anal Biochem 126(1):131–138

Tsikas D (2007) Analysis of nitrite and nitrate in biological fluids by assays based on the Gries reaction: appraisal of the Gries reaction in the l-arginine/nitric oxide area of research. J Chromatogr B Anal Technol Biomed Life Sci 851(1–2):51–70

Ellman GL (1959) Tissue sulfhdryl groups. Arch Biochem Biophys 82(1):70–77

Maehly AC, Chance B (1954) The assay of catalase and peroxidase. Methods Biochem Anal 1:357–424

Ingram JL, Peckham SM, Tisdale B, Rodier PM (2000) Prenatal exposure of rats to valproic acid reproduces the cerebellar anomalies associated with autism. Neurotoxicol Teratol 22:319–324

Schneider T, Labuz D, Przewlocki R (2001) Nociceptive changes in rats prenatal exposure to valproic acid. Pol J Pharmacol 53:531–534

Przewlocki R, Schneider T, Ziolkowska B, Gieryk A, Tyminska A (2007) Prenatal exposure to valproic acid disturbs the enkephalinergic system functioning, basal hedonic tone, and emotional responses in an animal model of autism. Psychopharmacology (Berl) 193:547–555

Rinaldi T, Silberberg G, Markram H (2008) Hyperconnectivity of local neocortical microcircuitry induced by prenatal exposure to valproic acid. Cereb Cortex 18:763–770

Tsujino N, Nakatani Y, Seki Y, Nakasato A, Nakamura M, Sugawara M, Arita H (2007) Abnormality of circadian rhythm accompanied by an increase in frontal cortex serotonin in animal model of autism. Neurosci Res 57:289–295

Miyazaki K, Narita N, Narita M (2005) Maternal administration of thalidomide or valproic acid causes abnormal serotonergic neurons in the offspring: implication for pathogenesis of autism. Int J Dev Neurosci 23:287–297

Charles PD, Ambigapathy G, Geraldine P, Akbarsha MA, Rajan KE (2011) Bacopa monniera leaf extract up-regulates tryptophan hydroxylase (TPH2) and serotonin transporter (SERT) expression: Implications in memory formation. J Ethnopharmacol 134:55–61

Sheikh N, Ahmada A, Siripurapu KB, Kuchibhotla VK, Singh S, Palit G (2007) Effect of Bacopa monniera on stress induced changes in plasma corticosterone and brain monoamines in rats. J Ethnopharmacol 111:671–676

Chauhan A, Chauhan V (2006) Oxidative stress in autism. Pathophysiology 13(3):171–181

Jyoti A, Sharma D (2006) Neuroprotective role of Bacopa monniera extract against aluminium induced oxidative stress in the hippocampus of rat brain. Neurotoxicology 27(4):451–457

Yochum CL, Dowling P, Reuhl KR, Wagner GC, Ming X (2008) VPA-induced apoptosis and behavioral deficits in neonatal mice. Brain Res 1203:126–132

Uabundit N, Wattanathorn J, Mucimapura S, Ingkaninan K (2010) Cognitive enhancement and neuroprotective effects of Bacopa monniera in alzheimer's disease model. J Ethnopharmacol 127:26–31
Acknowledgments
We express our sincere gratitude towards Dr. B. Madhava Reddy Garu, Principal, G. Pulla Reddy College of Pharmacy, Hyderabad for his keen interest and support during the course of the study and we thank Dr. A. Anand kumar, Department of pathology, College of veterinary science, Sri Venkateshwara university, Hyderabad for his support in technological aspect.
About this article
Cite this article
Sandhya, T., Sowjanya, J. & Veeresh, B. Bacopa monniera (L.) Wettst Ameliorates Behavioral Alterations and Oxidative Markers in Sodium Valproate Induced Autism in Rats. Neurochem Res 37, 1121–1131 (2012). https://doi.org/10.1007/s11064-012-0717-1
Received:

Revised:

Accepted:

Published:

Issue Date:

DOI: https://doi.org/10.1007/s11064-012-0717-1
Keywords
Autism

Valproic acid

Bacopa monniera

Behavioral alterations