Abstract
Vitamin A, beyond its biological role, is an alternative choice in treating some life threatening pathologies, for instance leukemia and immunodeficiency. On the other hand, vitamin A therapy at moderate to high doses has caused concern among public health researchers due to the toxicological aspect resulting from such habit. It has been described hepatotoxicity, cognitive disturbances and increased mortality rates among subjects ingesting increased levels of vitamin A daily. Then, based on the previously reported data, we investigated here receptor for advanced glycation endproducts (RAGE) immunocontent and oxidative damage levels in cerebral cortex of vitamin A-treated rats at clinical doses (1,000–9,000 IU/kg day−1). RAGE immunocontent, as well as oxidative damage levels, were observed increased in cerebral cortex of vitamin A-treated rats. Whether increased RAGE levels exert negative effects during vitamin A supplementation it remains to be investigated, but it is very likely that deleterious consequences may arise from such alteration.
Access options
Buy single article
Instant access to the full article PDF.
USD 39.95
Price includes VAT (USA)
Tax calculation will be finalised during checkout.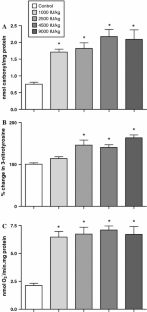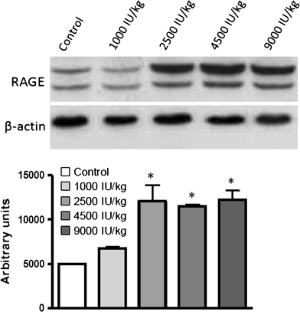 References
1.

Palace VP, Khaper N, Qin Q, Singal PK (1999) Antioxidant potentials of vitamin A and carotenoids and their relevance to heart disease. Free Radic Biol Med 26:746–761. doi:10.1016/S0891-5849(98)00266-4

2.

De Botton S, Dombret H, Sanz M, San Miguel J, Caillot D, Zittoun R, Gardembas M, Stamatoulas A, Condé E, Guerci A, Gardin C, Geiser K, Cony Makhoul D, Reman O, de la Serna J, Lefrere F, Chomienne C, Chastang C, Degos L, Fenaux P, APL the European Group (1998) Incidence, clinical features, and outcome of all trans-retinoic acid syndrome in 413 cases of newly diagnosed acute promyelocytic leukemia. Blood 92:2712–2718

3.

Allen LH, Haskell M (2002) Estimating the potential for vitamin A toxicity in women and young children. J Nutr 132:2907S–2919S

4.

Myhre AM, Carlsen MH, Bohn SK, Wold HL, Laake P, Blomhoff R (2003) Water-miscible, emulsified, and solid forms of retinol supplements are more toxic than oil-based preparations. Am J Clin Nutr 78:1152–1159

5.

Mactier H, Weaver LT (2005) Vitamin A and preterm infants: what we know, what we don't know, and what we need to know. Arch Dis Child Fetal Neonatal Ed 90:103–108. doi:10.1136/adc.2004.057547

6.

Fawzi WW, Msamanga GI, Spiegelman D, Urassa EJ, Hunter DJ (1999) Rationale and design of the Tanzania vitamin and HIV infection trial. Control Clin Trials 20:75–90. doi:10.1016/S0197-2456(98)00045-2

7.

Coutsoudis A, Pillay K, Spooner E, Kuhn L, Coovadia HM (1999) Randomized trial testing the effect of vitamin A supplementation on pregnancy outcomes and early mother-to-child HIV-1 transmission in Durban, South Africa. AIDS 13:1517–1524. doi:10.1097/00002030-199908200-00012

8.

Kumwenda N, Miotti PG, Taha TE et al (2002) Antenatal vitamin A supplementation increases birth weight and decreases anemia among infants born to human immunodeficiency virus-infected women in Malawi. Clin Infect Dis 35:618–624. doi:10.1086/342297

9.

Humphrey JH, Iliff PJ, Marinda ET, Mutasa K, Moulton LH, Chidawanyika H, Ward BJ, Nathoo KJ, Malaba LC, Zijenah LS, Zvandasara P, Ntozini R, Mzengeva F, Mahomva AI, Ruff AJ, Mbizvo MT, Zunzuga CD, ZVITAMBO Study Group (2006) Effects of a single large dose of vitamin A, given during postpartum period to HIV-positive women and their infants, on child HIV infection, HIV-free survival, and mortality. J Infect Dis 193:860–871. doi:10.1086/500366

10.

Dreosti LM, Bezwoda W, Gunter K (1994) Bone marrow necrosis following all-trans retinoic acid therapy for acute promyelocytic laukaemia. Leuk Lymphoma 13:353–356. doi:10.3109/10428199409056301

11.

De Oliveira MR, Moreira JCF (2007) Acute and chronic vitamin A supplementation at therapeutic doses induces oxidative stress to submitochondrial particles isolated from cerebral cortex and cerebellum of adult rats. Toxicol Lett 173:145–150. doi:10.1016/j.toxlet.2007.07.002

12.

De Oliveira MR, Pasquali MAB, Silvestrin RB, Mello e Souza T, Moreira JCF (2007) Vitamin A supplementation induces a prooxidative state in the striatum and impairs locomotory and exploratory activity of adult rats. Brain Res 1169:112–119. doi:10.1016/j.brainres.2007.07.008

13.

De Oliveira MR, Silvestrin RB, Mello e Souza T, Moreira JCF (2007) Oxidative stress in the hippocampus, anxiety-like behavior and decreased locomotory and exploratory activity of adult rats: effects of sub acute vitamin A supplementation at therapeutic doses. Neurotoxicology 28:1191–1199. doi:10.1016/j.neuro.2007.07.008

14.

De Oliveira MR, Silvestrin RB, Mello e Souza T, Moreira JCF (2008) Therapeutic vitamin A doses increase the levels of markers of oxidative insult in substantia nigra and decrease locomotory and exploratory activity in rats after acute and chronic supplementation. Neurochem Res 33:378–383. doi:10.1007/s11064-007-9438-2

15.

De Oliveira MR, Oliveira MWS, Behr GA, Moreira JCF (2008) Vitamin A supplementation at clinical doses induces a dysfunction in the redox and bioenergetics states, but did not change neither caspases activities nor TNF-alpha levels in the frontal cortex of adult Wistar rats. J Psychiatr Res. doi:10.1016/j.psychires.2008.10.002

16.

Dal-Pizzol F, Klamt F, Frota MLC Jr, Moraes LF, Moreira JCF, Benfato MS (2000) Retinol supplementation induces DNA damage and modulates iron turnover in rat Sertoli cells. Free Radic Res 33:677–687. doi:10.1080/10715760000301191

17.

Dal-Pizzol F, Klamt F, Benfato MS, Bernard EA, Moreira JCF (2001) Retinol supplementation induces oxidative stress and modulate antioxidant enzyme activities in rat Sertoli cells. Free Radic Res 34:395–404. doi:10.1080/10715760100300331

18.

Klamt F, Dal-Pizzol F, Ribeiro NC, Bernard EA, Benfato MS, Moreira JCF (2000) Retinol-induced elevation in ornithine decarboxylase activity in cultured Sertoli cells is attenuated by free radical scavenger and by iron chelator. Mol Cell Biochem 208:71–76. doi:10.1023/A:1007081703928

19.

Klamt F, De Oliveira MR, Moreira JCF (2005) Retinol induces permeability transition and cytochrome c release from rat liver mitochondria. Biochim Biophys Acta 1726:14–20

20.

Frota MLC, da Silva EG, Behr GA, de Oliveira MR, Dal-Pizzol F, Klamt F, Moreira JCF (2006) All-trans retinoic acid induces free radical generation and modulate antioxidant enzyme activities in rat Sertoli cells. Mol Cell Biochem 285:173–179. doi:10.1007/s11010-005-9077-3

21.

Pasquali MA, Gelain DP, Zanotto-Filho A, de Souza LF, de Oliveira RB, Klamt F, Moreira JC (2008) Retinol and retinoic acid modulate catalase activity in Sertoli cells by distinct and gene expression-independent mechanisms. Toxicol In Vitro 22:1177–1183. doi:10.1016/j.tiv.2008.03.007

22.

Zanotto-Filho A, Schröder R, Moreira JCF (2008) Xanthine oxidase-dependent ROS production mediates vitamin A pro-oxidant effects in cultured Sertoli cells. Free Radic Res 42:593–601. doi:10.1080/10715760802144422

23.

De Oliveira MR, Moreira JCF (2008) Impaired redox state and respiratory chain enzyme activities in the cerebellum of vitamin A-treated rats. Toxicology 253:125–130. doi:10.1016/j.tox.2008.09.003

24.

Brownlee M (2000) Negative consequences of glycation. Metabolism 49:9–13. doi:10.1016/S0026-0495(00)80078-5

25.

Schmidt AM, Yan SD, Yan SF, Stern DM (2001) The multiligand receptor RAGE as a progression factor amplifying immune and inflammatory responses. J Clin Invest 108:949–955

26.

Bierhaus A, Humpert PM, Morcos M, Wendt T, Chavakis T, Arnold B, Stern DM, Nawroth PP (2005) Understanding RAGE, the receptor for advanced glycation end products. J Mol Med 83:876–886. doi:10.1007/s00109-005-0688-7

27.

Sato T, Shimogaito N, Wu X, Kikuchi S, Yamagishi S-I, Takeuchi M (2006) Toxic advanced glycation end products (TAGE) theory in Alzheimer's disease. Am J Alzheimers Dis Other Demen 21:197–208. doi:10.1177/1533317506289277

28.

Deane R, Yan SD, Submamaryan RK, LaRue B et al (2003) RAGE mediates amyloid-β peptide transport across the blood-brain barrier and accumulation in brain. Nat Med 9:907–913. doi:10.1038/nm890

29.

Lowry OH, Rosebrough AL, Randal RJ (1951) Protein measurement with the folin phenol reagent. J Biol Chem 193:265–275

30.

Levine RL, Garland D, Oliver CN, Amici A, Climent I, Lenz AG, Ahn BW, Shaltiel S, Stadman ER (1990) Determination of carbonyl content in oxidatively modified proteins. Methods Enzymol 186:464–478. doi:10.1016/0076-6879(90)86141-H

31.

Poderoso JJ, Carreras MC, Lisdero C, Riobo N, Schopfer F, Boveris A (1996) Nitric oxide inhibits electron transfer and increases superoxide radical production in rat heart mitochondria and submitochondrial particles. Arch Biochem Biophys 328:85–92. doi:10.1006/abbi.1996.0146

32.

Smith MA, Sayre LM, Monnier VM, Perry G (1995) Radical AGEing in Alzheimer's disease. Trends Neurosci 18:172–176. doi:10.1016/0166-2236(95)93897-7

33.

Halliwell B (2006) Oxidative stress and neurodegeneration: where are we now? J Neurochem 97:1634–1658. doi:10.1111/j.1471-4159.2006.03907.x

34.

Lam HS, Chow CM, Poon WT, Lai CK, Chan KCA, Yeung WL, Hui J, Chan AYW, Ng PC (2006) Risk of vitamin A toxicity from candy-like chewable vitamin supplements for children. Pediatrics 118:820–824. doi:10.1542/peds.2006-0167

35.

Norum KR (1993) Acute myeloid leukaemia and retinoids. Eur J Clin Nutr 47:77–87

36.

Fenaux P, Chomienne C, Degos L (2001) Treatment of acute promyelocytic leukaemia. Best Pract Res Clin Haematol 14:153–174. doi:10.1053/beha.2000.0121

37.

Napoli JL (1999) Interactions of retinoids binding proteins and enzymes in retinoids metabolism. Biochim Biophys Acta 1440:139–162

38.

Ellis JK, Russel RM, Makrauer FL, Schaefer EJ (1986) Increased risk for vitamin A toxicity in severe hypertriglyceridemia. Ann Intern Med 105:877–879

39.

Croquet V, Pilette C, Lespine A (2000) Hepatic hypervitaminosis A: importance of retinyl ester level determination. Eur J Gastroenterol Hepatol 12:361–364. doi:10.1097/00042737-200012030-00016
Acknowledgments
This work was supported by grants of CNPq. M. R. de Oliveira, M. W. S. Oliveira, G. A. Behr, and M. A. B. Pasquali are recipients of a CNPq fellowship.
About this article
Cite this article
de Oliveira, M.R., Oliveira, M.W.S., Behr, G.A. et al. Increased Receptor for Advanced Glycation Endproducts Immunocontent in the Cerebral Cortex of Vitamin A-Treated Rats. Neurochem Res 34, 1410–1416 (2009). https://doi.org/10.1007/s11064-009-9927-6
Accepted:

Published:

Issue Date:
Keywords
Vitamin A

Cerebral cortex

RAGE

Oxidative stress