Abstract
This essay presents a much-needed exploration of the impact of the woodcuts of the first German Melusine edition on the iconography of the larger, Western European Mélusine tradition. Although the debt owed by printers of early German Melusine editions to Bernhard Richel's editio princeps has been acknowledged, the influence of Richel's images on the woodcuts of early editions printed in other languages—French, Castilian, Dutch, and English—as yet remains largely unexplored. By examining the impact of one of Richel's woodcuts in particular—that depicting Melusine's transformation into a half-serpent—this essay will trace how Richel's iconography came to play such an important role that his depiction of Melusine's hybrid body eventually became one of her defining and most recognisable characteristics. In so doing, it reveals a number of interesting transcultural connections between early Mélusine printers and the clever image-recycling strategies they employed. This case study will also give us valuable insight into the production and illustration of early printed books, as the cross-cultural reuse and copying of prototype images challenge modern ideas of coherence between text and image.
Access options
Buy single article
Instant access to the full article PDF.
USD 39.95
Price excludes VAT (USA)
Tax calculation will be finalised during checkout.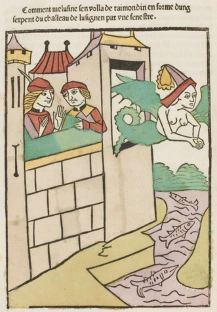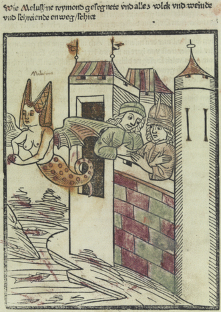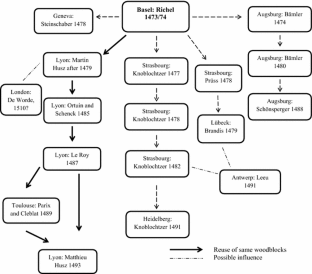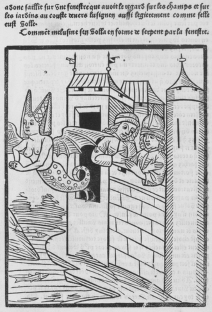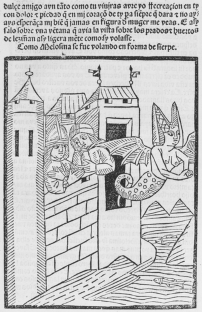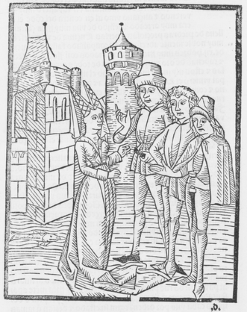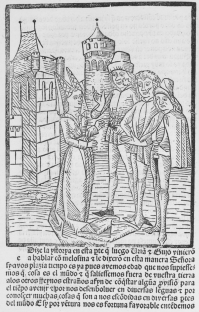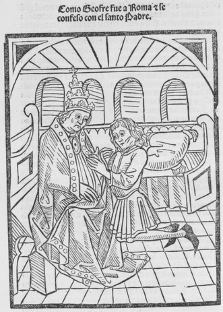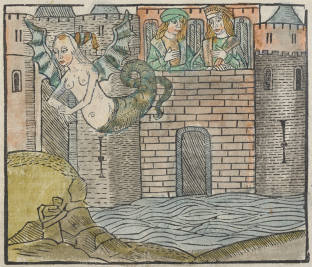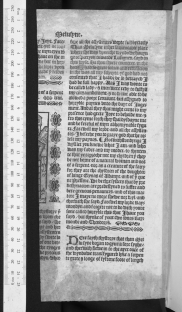 Notes
There are also versions in Danish, Czech, Polish, Swedish, and Russian, but these stem from the German translation. My research here focuses on the translations of the two French versions by Jean and Coudrette.

Incunabula Short Title Catalogue (hereafter referred to as ISTC): im00476000, Universal Short Title Catalogue (hereafter USTC): 747181, Gesamtkatalog der Wiegendrucke (hereafter GW): 12656. The edition printed by Johann Bämler in Augsburg in 1474 was long thought to be the first German Melusine edition, but Richel's is now generally regarded as the editio princeps (Backes 2004, 177–178; Rautenberg 2006, 61–77).

Translations of quotations from the various Mélusine versions into modern English are mine.

(ISTC): ij00218380, (USTC): 71174, (GW): 12649. The comparison of the various early Mélusine editions is based on my personal consultation of copies found in various libraries and in the microfiche collection edited by Hellinga (1992).

The English edition survives in only a few cropped fragments; see my discussion below.

Steinschaber's woodcuts were copied from those of Richel's edition, although only 63 of Richel's 67 woodcuts reappear and the images have been reversed. The style of the cuts is different and there is a minor change in the order. The four woodcuts which do not appear in Steinschaber's edition depict episodes found in the German translation, but not in Jean's version. See my discussion below for details of these episodes.

There are some minor textual variations between the Lyon editions, primarily concerning the abbreviation of particular words.

ISTC: ij00218385, USTC: 71175, GW: 12560. Hélène Bouquin notes that the only known—and imperfect—copy of Husz's edition has disappeared (2000, 211), but the copy is in fact in the Bibliothèque nationale de France, Res Fol-NFR-129. I have examined this copy: the 30 remaining woodcuts are the same as in the Le Roy and Ortuin-Schenck editions, but the woodcut on folio t7v is upside down.

ISTC: ij00218390, USTC: 71176, GW: 12651.

ISTC: ij00218400, USTC: 71177, GW: 12562.

ISTC: ij00218405, USTC: 71178, GW: 12654. I have consulted the copy in the Biblothèque du Château de Chantilly (formerly Musée Condé). Some secondary sources confuse Matthias (or Mathieu) with Martin Husz, probably because they were related, both learned their craft in Basel and had ties to Bernhard Richel, and Matthias inherited much of Martin's printing material after his death. This, presumably, is how Matthias obtained Richel's Mélusine woodblocks.

With the exception of the woodcut depicting Horrible's death.

ISTC: ij00218410, USTC: 71179, GW: 12653. Folio q1r.

ISTC: ij00218415, USTC: 26044, GW: 11 Sp.218a. Two of Le Caron's woodcuts are not repeated; on the placement of the woodcuts see (Bouquin 2000, 278).

The image is found on the title page of the editions printed by Philippe Le Noir around 1525; Jean II Trepperel after 1526; two editions by Alain Lotrian and Denis Janot printed around 1531–1532 and 1533–1534; and two undated editions by Jean Bonfons or his widow. Bouquin suggests that the title woodcut can be traced back to Michel Le Noir's edition of 1517, of which no copy survives (2000, 217). Interestingly, the French editions are not the first to put an image of Mélusine in hybrid form on their title page: it is likely that the missing title page of Gheraert Leeu's Dutch edition would have featured a woodcut of Meluzine in the bath (Schorbach 1905, 147).

These images have much in common with the Ars Moriendi images discussed by Driver, which she argues "are images with a history, with associations" and which "retained their potency because they were immediately recognisable to contemporary readers, identifying and introducing the contents of the text" (2012, 16).

Hereafter shortened to Melosina (ISTC: ij00218430, USTC: 344879, GW: 12666). I have consulted the copies of this edition found in London, British Library IB.42463, and Brussels, Royal Library of Belgium INC B840.

A later edition was printed by Jacobo and Juan Cromberger in Seville in 1526 (USTC: 337807). The 1526 edition is not an independent translation but a reworking of the 1489 edition. It contains 52 woodcuts not specific to the story of Mélusine. Another possible Castilian edition—printed in Valencia in 1512—is presumed lost (USTC: 347537).

It has been suggested that Martin Husz may have worked in Toulouse before settling in Lyon. Le Roy was no longer working from Buyer's workshop at the time he printed his Mélusine (Fau et al. 2003).

The most popular chivalric romance of the time was of course Amadís de Gaula. On the popularity and readership of chivalric romances, see Eisenberg (1982).

Ivy Corfis follows suggestions made by Louis Stouff and Alan Deyermond in speculating that the reference to Cardona might have influenced the Count of Cardona to give asylum to Thomas of Lusignan—a supposed descendant of Mélusine—after he was removed from rule in Cyprus (1986, v).

The new cuts are found on folios q7v, q8v, r1v, r2v, r3v, r5v, r6r, and s5r.

The quotation is from the edition by Frontón Simón (1996, 898).

The woodcuts of the copy of Richel's edition in Karlsruhe, Badische Landesbibliothek St. Peter 23, have been coloured in, possibly by a reader. The son on the right has been given a red face, which identifies him as Gedes.

The same has been done to the woodcut in the Chantilly copy of Matthieu Husz's edition of 1493.

ISTC: ij00218420, USTC: 436129, GW: 12665. Leeu's edition is the earliest surviving witness to the Dutch translation. Karl Schorbach suggests that Leeu translated the work himself, but there is no direct evidence to support this idea (1905).

The translation is here referred to under the abbreviated title of Meluzine. The adjectives 'schoene' and 'ghenuechlike' likely refer to the presentation of the text rather than its contents.

The woodcuts illustrate the marriage of Raymondijn and Meluzine, the tournament following Meluzine's marriage, and the marriage of Anthonis and Kerstine.

Brussels, Royal Library, INC B 1.369. Folios 1, 10, 105, 134 and 135 are missing.

The USTC (436815) states that there are no surviving copies of this edition, but this is incorrect. There is a copy in the Washington Library of Congress, entry 1118 of the Lessing J. Rosenwald Collection, shelf mark PQ1486 J25 M413. The 1510 edition is sometimes misattributed to Govaert Bac. Moreover, some bibliographies mistakenly mention that Homberch's edition was printed in Delft. The confusion is understandable, as the printer's colophon mentions the House of Delft—the location of Homberch's workshop in Antwerp.

Leeu's woodcuts also reappear in the third Dutch edition, printed by Hieronymus Verdussen in 1602, again in Antwerp. Verdussen's edition contains only 25 woodcuts; 17 of these are derived from Leeu's set. Verdussen's edition has so far escaped scholarly attention. A copy of this edition is found in the Niedersächsische Staats- und Universitätsbibliothek Göttingen, 8 FAB III, 2011.

William Martin Conway suggests that the woodcuts were made by the man he calls 'the first Antwerp woodcutter', who also designed the printing device Leeu used whilst in Antwerp (1884, 53–59).

Some scenes illustrated in Richel's edition do not appear in Leeu's edition, and vice versa. For instance, Leeu has no image of Godefroy's discovery of his grandfather's tomb but it features an image of Raymond returning to Poitiers, which is not found in Richel's set.

Richel's image of the English knight hacking various animals to pieces is not repeated in Leeu's edition.

This explains, for instance, why Steinschaber's edition has 63 woodcuts.

The USTC lists four Melusine editions printed by Knoblochtzer (No. 747182, 747183, 747185, and 747187). The Low German edition was printed in Lübeck around 1477–1478 (ISTC: im00475200, USTC: 747179, GW: 12664). Kees Gnirrep has discussed Leeu's connections to other printers (1993).

Bob Duijvestein argues that Leeu's edition has far more in common with Steinschaber's edition than with the manuscripts (1996, 42). To Duijvestein's overview of similarities, I would add that the Dutch translation also matches Steinschaber's edition in that it does not feature count Aimery's digression on the seven liberal arts and the description of the preparations for Raymondin's funeral.

The Dutch version appears more 'complete' than either Jean's or Coudrette's version, since it not only contains the episodes added but also those removed by Coudrette, such as Raymondin claiming his inheritance, Mélusine's advice to her sons, Geoffroy's adventures in Ireland, and the episode of the Knight of the Pommel.

Oxford, Bodleian Library, Vet. A1 d.18. USTC: 501139.

For an overview of the collections in which the various fragments were found, see (Colwell 2014, 276, note 6).

London, British Library, ms Royal, 18. B. II. Robert Nolan argues the fragments represent an abridgment of the manuscript version (1970, 20–22). Carol Meale argues that the commonalities between the two texts are the result not of one version being modelled on the other, but of a common exemplar (1992, 287).

Colwell's comment that the iconography of the Lyon editions "was closely modelled" on Richel's edition (2014, 262) should of course be modified, since the woodcuts actually come from the same woodblocks.

Rau even suggests that Husz's edition was among the books Caxton imported to England in 1488 (1956, 431).

This also raises several interesting questions concerning the dating and attribution of the printed fragments. For instance, does the presence of Husz's edition in a London workshop indicate that there might have been a now-lost, earlier Melusine edition? Is De Worde's Melusine edition one of his many reprints of works first printed by his former master Caxton? Could this explain why this edition is in folio—a format favoured by Caxton—whilst most of the romances newly printed by De Worde were in quarto format?

Compare folio 72r (Schnyder and Rautenberg 2006).

Compare folio 73v (Schnyder and Rautenberg 2006).

Compare the heading in the English prose manuscript, which describes "how Melusyne in fourme of a Serpent flough out at a wyndowe" (folio 187v).
References
Backes, M. (2004). Fremde Historien: Untersuchungen zur Überlieferungs- und Rezeptionsgeschichte französischer Erzählstoffe im deutschen Spätmittelalter. Tübingen: Niemeyer.

Bock, N. (2013). Bildtransfer und Textinnovation. Zur Stellung der französischen Erstausgabe der »Mélusine« des Jean d'Arras von Adam Steinschaber 1478. In U. Rautenberg, et al. (Eds.), Zeichensprachen des literarischen Buchs in der frühen Neuzeit: Die »Melusine« des Thüring von Ringoltingen. Berlin: De Gruyter.

Bouquin, H. (2000). Éditions et adaptations de 'l'Histoire de Mélusine' de Jean d'Arras (Xve-XIXe siècle): Les aventures d'un roman medieval. Doctoral thesis, L'École nationale des chartes.

Bourdillon, F. W. (1920). Some notes on two early romances: Huon de Bordeaux and Melusine. The Library, The Transactions of the Bibliographical Society, 4(1), 36–37.

Clier-Colombani, F. (1991). La fée Mélusine au Moyen Age: Images, mythes et symboles. Paris: Le Léopard d'Or.

Clier-Colombani, F. (2013). Die Darstellung des Wunderbaren zur Ikonographie der Illustrationen in den französischen und deutschen Handschriften und Wiegendrucken des »Melusine«- Romans. In U. Rautenberg, et al. (Eds.), Zeichensprachen des literarischen Buchs in der frühen Neuzeit: Die »Melusine« des Thüring von Ringoltingen. Berlin: De Gruyter.

Colwell, T. (2014). The Middle English Melusine: Evidence for an early edition of the prose romance in the Bodleian library. Journal of the Early Book Society for the Study of Manuscripts and Printing History, 17, 259–287.

Conway, W. M. (1884). The woodcutters of the Netherlands in the fifteenth century. Cambridge: Cambridge University Press.

Corfis, I. A. (1986). Historia de la linda Melosina: Edition, study, and notes. Madison: The Hispanic Seminary of Medieval Studies.

Driver, M. (2004). The image in print: Book illustration in late medieval England and its sources. London: British Library.

Duijvestein, B. (1996). Der niederländische Prosaroman von Meluzine; eine Orienterung. In D. Buschinger & W. Spiewok (Eds.), Melusine. Actes du colloque du Centre d'études médiévales de l'Université de Picardie Jules Verne, 13 et 14 Janvier. Greifswald: Reineke Verlag.

Eisenberg, D. (1982). Romances of chivalry in the Spanish Golden Age. Newark: Juan de la Cuesta.

Fau, G. et al. (2003). Dictionnaire des imprimeurs et libraires lyonnais du XVe siècle. In Le berceau du livre: Autour des incunables. Etudes et essais offerts au professeur Pierre Aquilon par ses élèves, ses collègues et ses amis. Geneva: Libraire Droz. Entries 29, 74, and 87.

Febvre, L., & Henri-Jean M. (1976). The coming of the book: The impact of printing 1450–1800. (D. Gerard (Transl.). London: New Left Books.

Feraudi-Denier, B. (2013). Drucke für die Kunst end Drucke für den Kunden. Wandlung der »Melusine«-Illustrationen während vier Jahrhunderten. In U. Rautenberg, et al. (Eds.), Zeichensprachen des literarischen Buchs in der frühen Neuzeit: Die »Melusine« des Thüring von Ringoltingen. Berlin: De Gruyter.

Frontón Simón, M. Á. (1996). La historia de la Linda Melosina: edición y estudio de los textos españoles. Doctoral thesis, Complutense University Madrid.

Gagliardi, D. (1998). La Historia de la Linda Melosina: Una o due versioni Castigliane del romanzo di Jean d'Arras? Medioevo Romanzo, 22, 116–141.

Gnirrep, K. (1993). Relaties van Leeu met andere drukkers en met boekverkopers. In K. Goudriaan (Ed.), Een drukker zoekt publiek: Gheraert Leeu te Gouda (pp. 1477–1484). Delft: Eburon.

Harf-Lancner, L. (1989). L'illustration du Roman de Mélusine de Jean d'Arras dans les éditions du XVe et du XVIe siècle. In Nicole Cazauran (Ed.), Le livre et l'image en France au XVI e siècle. Paris: Presses de l'Ecole normale supérieure.

Hellinga, L. (Ed.). (1992). Incunabula: The printing revolution in Europe 1455–1500. Fiches: RM 125–127, RM 203–204, RM 137, DU 42, BA 124, GV 44, GV 53–57. Reading: Gale.

Hespers, S. (2010). Das Repräsentationssystem Bild im gedruckten Buch. Kunsthistorische Überlegungen zu Überlieferungssträngen und Rezeptionsästhetik der Illustrationen im Melusinenroman Thürings von Ringoltingen (15. und 16. Jahrhundert). Daphnis, 39, 135–220.

Hodnett, E. (1973). English woodcuts, 1480–1535. Oxford: Oxford University Press.

Kok, I. (2013). Woodcuts in incunabula printed in the Low Countries. Houten: Hes en De Graaf.

Kuiper, W. (Ed.). (2008). Meluzine: Leeu 1491. Bibliotheek van Middelnederlandse Letterkunde. Resource document. http://cf.hum.uva.nl/dsp/scriptamanent/bml/Meluzine/Leeu1491.pdf. Accessed May 6 2015.

Meale, C. M. (1992). Caxton, de Worde and the publication of romance in late medieval England. The Library, The Transactions of the Bibliographical Society, 6(14), 283–289.

Nolan, R. J. (1970). An introduction to the English version of Mélusine. A medieval prose romance. Doctoral thesis, New York University.

Pairet, A. (2012). Intervernacular translation in the early decades of print: Chivalric romance and the marvelous in the Spanish Melusine (1489–1526). In K. L. Fresco & C. D. Wright (Eds.), Translating the Middle Ages. London: Ashgate.

Rau, A. (1956). La première édition Lyonnaise de Mélusine. Bibliothèque d'Humanisme et Renaissance, 18(3), 429–431.

Rautenberg, U. (2006). Die ,Melusine' des Thüring von Ringoltingen und der Basler Erstdruck des Bernhard Richel. In A. Schnyder & U. Rautenberg (Eds.), Thüring von Ringoltingen: Melusine (1456). Nach dem Erstdruck Basel, Richel um 1473/74. Wiesbaden: Reichert.

Rautenberg, U. et al. (Eds.). (2013). Zeichensprachen des literarischen Buchs in der frühen Neuzeit: Die »Melusine« des Thüring von Ringoltingen. Berlin: De Gruyter.

Roach, E. (Ed.). (1982). Le roman de Mélusine ou histoire de Lusignan par Coudrette. Paris: Klincksieck.

Schneider, K. (Ed.). (1958). Thüring von Ringoltingen: Melusine. Berlin: Erich Schmidt Verlag.

Schnyder, A., & Rautenberg, U. (Eds.). (2006). Thüring von Ringoltingen: Melusine (1456). Nach dem Erstdruck Basel, Richel um 1473/74. Wiesbaden: Reichert.

Schorbach, K. (1905). Eine Buchanzeige des Antwerpener Druckers Geraert Leeu in niederländischer Sprache (1491). Zeitschrift für Bücherfreunde, 9, 146–147.

Tobar, L. R. (1987). Ediciones en castellano de la Melusina de Jean d'Arras. In F. J. A. G. de Durana (Ed.), Homenaje a Justo García Morales: miscellanea de estudios con motive de su jubilación. Madrid: ANABAD.

Vincensini, J.-J. (Ed.). (2003). Jean d'Arras: Mélusine ou La Noble Histoire de Lusignan. Paris: Librairie Générale Française.
About this article
Cite this article
Zeldenrust, L. Serpent or Half-Serpent? Bernhard Richel's Melusine and the Making of a Western European Icon. Neophilologus 100, 19–41 (2016). https://doi.org/10.1007/s11061-015-9458-0
Published:

Issue Date:

DOI: https://doi.org/10.1007/s11061-015-9458-0
Keywords