Abstract
Purpose
The efficacy of salvage resection (SR) of recurrent brain metastases (rBrM) following stereotactic radiosurgery (SRS) is undefined. We sought to describe local recurrence (LR) and radiation necrosis (RN) rates in patients undergoing SR, with or without adjuvant post-salvage radiation therapy (PSRT).
Methods
A retrospective cohort study evaluated patients undergoing SR of post-SRS rBrM between 3/2003–2/2020 at an NCI-designated cancer center. Cases with histologically-viable malignancy were stratified by receipt of adjuvant PSRT within 60 days of SR. Clinical outcomes were described using cumulative incidences in the clustered competing-risks setting, competing risks regression, and Kaplan–Meier methodology.
Results
One-hundred fifty-five rBrM in 135 patients were evaluated. The overall rate of LR was 40.2% (95% CI 34.3–47.2%) at 12 months. Thirty-nine (25.2%) rBrM treated with SR + PSRT trended towards lower 12-month LR versus SR alone [28.8% (95% CI 17.0–48.8%) versus 43.9% (95% CI 36.2–53.4%), p = .07 by multivariate analysis]. SR as re-operation (p = .03) and subtotal resection (p = .01) were independently associated with higher rates of LR. On univariate analysis, tumor size (p = .48), primary malignancy (p = .35), and PSRT technique (p = .43) bore no influence on LR. SR + PSRT was associated with an increased risk of radiographic RN at 12 months versus SR alone [13.4% (95% CI 5.5–32.7%) versus 3.5% (95% CI 1.5–8.0%), p = .02], though the percentage with symptomatic RN remained low (5.1% versus 0.9%, respectively). Median overall survival from SR was 13.4 months (95% CI 10.5–17.7).
Conclusion
In this largest-known series evaluating SR outcomes in histopathologically-confirmed rBrM, we identify a significant LR risk that may be reduced with adjuvant PSRT and with minimal symptomatic RN. Prospective analysis is warranted.
Access options
Buy single article
Instant access to the full article PDF.
USD 39.95
Price includes VAT (USA)
Tax calculation will be finalised during checkout.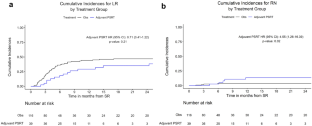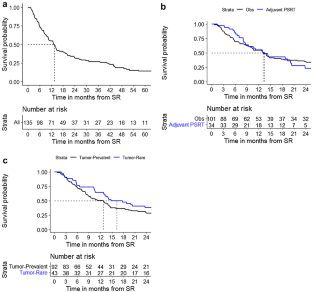 References
1.

Fox BD, Cheung VJ, Patel AJ et al (2011) Epidemiology of metastatic brain tumors. Neurosurg Clin N Am 22(1):1–6

2.

Nayak L, Lee EQ, Wen PY (2012) Epidemiology of brain metastases. Curr Oncol Rep 14(1):48–54

3.

Aoyama H, Shirato H, Tago M et al (2006) Stereotactic radiosurgery plus whole-brain radiation therapy vs stereotactic radiosurgery alone for treatment of brain metastases: a randomized controlled trial. JAMA 295(21):2483–2491

4.

Chang EL, Wefel JS, Hess KR et al (2009) Neurocognition in patients with brain metastases treated with radiosurgery or radiosurgery plus whole-brain irradiation: a randomised controlled trial. Lancet Oncol 10(11):1037–1044

5.

Brown PD, Jaeckle K, Ballman KV et al (2016) Effect of radiosurgery alone vs radiosurgery with whole brain radiation therapy on cognitive function in patients with 1 to 3 brain metastases: a randomized clinical trial. JAMA 316(4):401–409

6.

Yamamoto M, Serizawa T, Shuto T et al (2014) Stereotactic radiosurgery for patients with multiple brain metastases (JLGK0901): a multi-institutional prospective observational study. Lancet Oncol 15(4):387–395

7.

Baschnagel AM, Meyer KD, Chen PY et al (2013) Tumor volume as a predictor of survival and local control in patients with brain metastases treated with Gamma Knife surgery. J Neurosurg 119(5):1139–1144

8.

Hughes RT, Black PJ, Page BR et al (2016) Local control of brain metastases after stereotactic radiosurgery: the impact of whole brain radiotherapy and treatment paradigm. J Radiosurg SBRT 4(2):89–96

9.

Lim SH, Lee JY, Lee MY et al (2015) A randomized phase III trial of stereotactic radiosurgery (SRS) versus observation for patients with asymptomatic cerebral oligo-metastases in non-small-cell lung cancer. Ann Oncol 26(4):762–768

10.

Minniti G, Clarke E, Lanzetta G et al (2011) Stereotactic radiosurgery for brain metastases: analysis of outcome and risk of brain radionecrosis. Radiat Oncol 6(1):48

11.

Newman WC, Goldberg J, Guadix SW et al (2021) The effect of surgery on radiation necrosis in irradiated brain metastases: extent of resection and long-term clinical and radiographic outcomes. J Neurooncol 153(3):507–518

12.

Ju L, Han M (2016) Isolated brain metastasis as a late recurrence of completely resected non-small cell lung cancer. Oncol Lett 12(1):731–733

13.

Niwińska A (2016) Brain metastases as site of first and isolated recurrence of breast cancer: the role of systemic therapy after local treatment. Clin Exp Metastasis 33(7):677–685

14.

Palmieri D, Chambers AF, Felding-Habermann B et al (2007) The biology of metastasis to a sanctuary site. Clin Cancer Res 13(6):1656–1662

15.

Bander ED, Yuan M, Carnevale JA et al (2021) Melanoma brain metastasis presentation, treatment, and outcomes in the age of targeted and immunotherapies. Cancer 127(12):2062–2073

16.

Peters S, Bexelius C, Munk V et al (2016) The impact of brain metastasis on quality of life, resource utilization and survival in patients with non-small-cell lung cancer. Cancer Treat Rev 45:139–162

17.

Wong J, Hird A, Kirou-Mauro A et al (2008) Quality of life in brain metastases radiation trials: a literature review. Curr Oncol 15(5):25–45

18.

Wilcox J, DeAngelis L (2020) Epidemiology and socioeconomic impact of CNS metastases. In: Ramakrishna E (ed) Central nervous system metastases. Springer, Cham

19.

Shaw E, Scott C, Souhami L et al (2000) Single dose radiosurgical treatment of recurrent previously irradiated primary brain tumors and brain metastases: final report of RTOG protocol 90–05. Int J Radiat Oncol Biol Phys 47(2):291–298

20.

Terakedis BE, Jensen RL, Boucher K et al (2014) Tumor control and incidence of radiation necrosis after reirradiation with stereotactic radiosurgery for brain metastases. J Radiosurg SBRT 3(1):21–28

21.

McKay WH, McTyre ER, Okoukoni C et al (2017) Repeat stereotactic radiosurgery as salvage therapy for locally recurrent brain metastases previously treated with radiosurgery. J Neurosurg 127(1):148–156

22.

Kurtz G, Zadeh G, Gingras-Hill G et al (2014) Salvage radiosurgery for brain metastases: prognostic factors to consider in patient selection. Int J Radiat Oncol Biol Phys 88(1):137–142

23.

Kim I-Y, Jung S, Jung T-Y et al (2018) Repeat stereotactic radiosurgery for recurred metastatic brain tumors. J Korean Neurosurg Soc 61(5):633–639

24.

Balermpas P, Stera S, Müller von der Grün J et al (2018) Repeated in-field radiosurgery for locally recurrent brain metastases: feasibility, results and survival in a heavily treated patient cohort. PLoS One 13(6):e0198692

25.

Vecil GG, Suki D, Maldaun MV et al (2005) Resection of brain metastases previously treated with stereotactic radiosurgery. J Neurosurg 102(2):209–215

26.

Brennan C, Yang TJ, Hilden P et al (2014) A phase 2 trial of stereotactic radiosurgery boost after surgical resection for brain metastases. Int J Radiat Oncol Biol Phys 88(1):130–136

27.

Mahajan A, Ahmed S, McAleer MF et al (2017) Post-operative stereotactic radiosurgery versus observation for completely resected brain metastases: a single-centre, randomised, controlled, phase 3 trial. Lancet Oncol 18(8):1040–1048

28.

Choi CYH, Chang SD, Gibbs IC et al (2012) Stereotactic radiosurgery of the postoperative resection cavity for brain metastases: prospective evaluation of target margin on tumor control. Int J Radiat Oncol Biol Phys 84(2):336–342

29.

Bander ED, Yuan M, Reiner AS et al (2021) Durable 5-year local control for resected brain metastases with early adjuvant SRS: the effect of timing on intended-field control. Neuro-Oncol Pract 8:279–289

30.

Lin NU, Lee EQ, Aoyama H et al (2015) Response assessment criteria for brain metastases: proposal from the RANO group. Lancet Oncol 16(6):e270–e278

31.

Okuchi S, Rojas-Garcia A, Ulyte A et al (2019) Diagnostic accuracy of dynamic contrast-enhanced perfusion MRI in stratifying gliomas: A systematic review and meta-analysis. Cancer Med 8(12):5564–5573

32.

Langleben DD, Segall GM (2000) PET in differentiation of recurrent brain tumor from radiation injury. J Nucl Med 41(11):1861–1867

33.

Hatzoglou V, Yang TJ, Omuro A et al (2015) A prospective trial of dynamic contrast-enhanced MRI perfusion and fluorine-18 FDG PET-CT in differentiating brain tumor progression from radiation injury after cranial irradiation. Neuro Oncol 18(6):873–880

34.

Patchell R, Tibbs P, Regine W et al (1998) Postoperative radiotherapy in the treatment of single metastases to the brain: a randomized trial. JAMA 280:1485–1489

35.

Lehrer EJ, Peterson JL, Zaorsky NG et al (2019) Single versus multifraction stereotactic radiosurgery for large brain metastases: an international meta-analysis of 24 trials. Int J Radiat Oncol Biol Phys 103(3):618–630

36.

Minniti G, Esposito V, Clarke E et al (2013) Multidose stereotactic radiosurgery (9 Gy × 3) of the postoperative resection cavity for treatment of large brain metastases. Int J Radiat Oncol Biol Phys 86(4):623–629

37.

Jhaveri J, Chowdhary M, Zhang X et al (2018) Does size matter? Investigating the optimal planning target volume margin for postoperative stereotactic radiosurgery to resected brain metastases. J Neurosurg 130(3):797–803

38.

Wernicke AG, Yondorf MZ, Peng L et al (2014) Phase I/II study of resection and intraoperative cesium-131 radioisotope brachytherapy in patients with newly diagnosed brain metastases. J Neurosurg 121(2):338–348

39.

Wernicke AG, Hirschfeld CB, Smith AW et al (2017) Clinical outcomes of large brain metastases treated with neurosurgical resection and intraoperative cesium-131 brachytherapy: results of a prospective trial. Int J Radiat Oncol Biol Phys 98(5):1059–1068

40.

Wernicke AG, Smith AW, Taube S et al (2017) Cesium-131 brachytherapy for recurrent brain metastases: durable salvage treatment for previously irradiated metastatic disease. J Neurosurg 126(4):1212–1219

41.

Nakaji P, Smith K, Youssef E et al (2020) Resection and surgically targeted radiation therapy for the treatment of larger recurrent or newly diagnosed brain metastasis: results from a prospective trial. Cureus 12(11):e11570

42.

Rao MS, Hargreaves EL, Khan AJ et al (2014) Magnetic resonance-guided laser ablation improves local control for postradiosurgery recurrence and/or radiation necrosis. Neurosurgery 74(6):658–67

43.

Ahluwalia M, Barnett GH, Deng D et al (2018) Laser ablation after stereotactic radiosurgery: a multicenter prospective study in patients with metastatic brain tumors and radiation necrosis. J Neurosurg 130(3):804–811

44.

Bastos DCA, Rao G, Oliva ICG et al (2020) Predictors of local control of brain metastasis treated with laser interstitial thermal therapy. Neurosurgery 87(1):112–122

45.

Carnevale JA, Imber BS, Winston GM et al (2021) Risk of tract recurrence with stereotactic biopsy of brain metastases: an 18-year cancer center experience. J Neurosurg 1–7. https://doi.org/10.3171/2021.3.JNS204347

46.

Brown PD, Ballman KV, Cerhan JH et al (2017) Postoperative stereotactic radiosurgery compared with whole brain radiotherapy for resected metastatic brain disease (NCCTG N107C/CEC·3): a multicentre, randomised, controlled, phase 3 trial. Lancet Oncol 18(8):1049–1060

47.

Kayama T, Sato S, Sakurada K et al (2018) Effects of surgery with salvage stereotactic radiosurgery versus surgery with whole-brain radiation therapy in patients with one to four brain metastases (JCOG0504): a phase III, noninferiority, randomized controlled trial. J Clin Oncol 33:3282–3289
Funding
This study was supported in part by the National Institutes of Health and National Cancer Institute Cancer Center Support Grant P30 CA008748 to Craig B. Thompson.
Ethics declarations
Conflict of interest
NSM has consulted for AstraZeneca and has received trial support from GT Medical Technologies (to institution). RJY has consulted for Agios, Puma, ICON and NordicNeuroLab, and received grant funding (to institution) from Agios.
Ethical approval
The Memorial Sloan Kettering Institutional Review Board approved this study and granted a waiver of consent.
Consent to participate
Not applicable.
Consent for publication
Each author (JAW, SB, ASR, RJY, JC, TAB, MKR, WCN, CWB, VT, KB, NSM) approves of the content and provides consent to publish.
Additional information
Publisher's Note
Springer Nature remains neutral with regard to jurisdictional claims in published maps and institutional affiliations.
Supplementary Information
Below is the link to the electronic supplementary material.
About this article
Cite this article
Wilcox, J.A., Brown, S., Reiner, A.S. et al. Salvage resection of recurrent previously irradiated brain metastases: tumor control and radiation necrosis dependency on adjuvant re-irradiation. J Neurooncol (2021). https://doi.org/10.1007/s11060-021-03872-x
Received:

Accepted:

Published:
Keywords
Brain metastasis

Radiation necrosis

Local recurrence

Salvage resection

Stereotactic radiosurgery