Abstract
Purpose
To investigate incidence and survival of childhood tumours of the central nervous system (CNS) by histological subtype, tumour behaviour and tumour grade.
Methods
National, population-based data on all children under 15 years old diagnosed with a CNS tumour between 1983 and 2016 were sourced from the Australian Childhood Cancer Registry. Incidence rate trends were calculated using Joinpoint regression. Relative survival was calculated using the cohort method, with changes in survival over time by cancer type and tumour grade assessed by multivariable flexible parametric survival modelling.
Results
The study cohort included 4914 patients, with astrocytoma (n = 2181, 44%) and embryonal tumours (n = 931, 19%) the most common diagnostic subgroups. Almost half (n = 2181, 44%) of all tumours were classified as high grade (III or IV). Incidence rates increased by 29% between 1983 and 2016, with high grade tumours rising by an annual average of + 1.1% (95% CI =  + 0.7%, + 1.5%, p < 0.001). 5-year survival for all patients combined was 72% (95% CI = 71–74%), ranging from 50% (46–54%) for those with other gliomas to 81% (79–83%) for astrocytoma (p < 0.001). Survival improved over time for grade II and III ependymomas but not for patients with astrocytoma irrespective of grade.
Conclusion
Improvements in diagnostic technology leading to more precise tumour classification are likely to explain some of the differences in incidence rate trends by histological type and grade. While improvements in survival over time were noted for some tumours, outcomes remained poor among patients with high-grade astrocytoma.
Access options
Buy single article
Instant access to the full article PDF.
USD 39.95
Price includes VAT (USA)
Tax calculation will be finalised during checkout.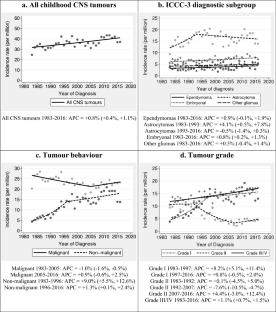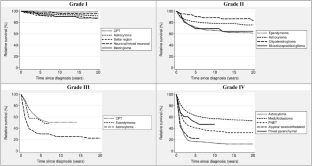 Data availability
Access to de-identified unit record data from the Australian Childhood Cancer Registry is limited to named investigators on the study protocol.
Code availability
All programs used to generate the results are available on request.
Abbreviations
ACCR:

Australian Childhood Cancer Registry

APC:

Annual percentage change

CI:

Confidence interval

CNS:

Central nervous system

HR:

Hazard ratio

ICCC-3:

International classification of childhood cancers, version 3

ICD-O:

International classification of diseases for oncology

WHO:

World Health Organisation
References
1.

Steliarova-Foucher E, Colombet M, Ries LAG et al (2017) International incidence of childhood cancer, 2001–10: a population-based registry study. Lancet Oncol 18:719–731

2.

Smith MA, Altekruse SF, Adamson PC, Reaman GH, Seibel NL (2014) Declining childhood and adolescent cancer mortality. Cancer 120:2497–2506

3.

Public Health England (2018) Childhood cancer statistics, England: annual report 2018. PHE, London. http://www.ncin.org.uk/publications/reports/, Accessed 16 Apr 2021

4.

Youlden DR, Baade PD, Valery PC, Ward LJ, Green AC, Aitken JF (2012) Childhood cancer mortality in Australia. Cancer Epidemiol 36:476–480

5.

Steliarova-Foucher E, Stiller C, Lacour B, Kaatsch P (2005) International Classification of Childhood Cancer, third edition. Cancer 103:1457–1467

6.

Gurney JG, Wall DA, Jukich PJ, Davis FG (1999) The contribution of nonmalignant tumors to CNS tumor incidence rates among children in the United States. Cancer Causes Control 10:101–105

7.

Australia New Zealand Clinical Trials Registry (2021). Trial review. https://www.anzctr.org.au/Trial/Registration/TrialReview.aspx?id=374062. Accessed 27 Sept 2021

8.

Australian Bureau of Statistics (2020) National, State and Territory Population. ABS, Canberra. https://www.abs.gov.au/statistics/people/population/national-state-and-territory-population/latest-release. Accessed 7 Jan 2021

9.

Australian Bureau of Statistics (2018) Australian Statistical Geography Standard (ASGS): Volume 5—remoteness structure, July 2016. Cat No. 1270.0.55.005. ABS, Canberra. https://www.abs.gov.au/ausstats/abs@.nsf/mf/1270.0.55.005. Accessed 10 June 2019

10.

Louis D, Perry A, Reifenberger G et al (2016) The 2016 world health organization classification of tumors of the central nervous system: a summary. Acta Neuropathol 131:803–820

11.

Louis DN, Perry A, Wesseling P et al (2021) The 2021 WHO classification of tumors of the central nervous system: a summary. Neuro Oncol 23:1231–1251

12.

Dickman PW, Sloggett A, Hills M, Hakulinen T (2004) Regression models for relative survival. Stat Med 23:51–64

13.

Ederer F, Axtell LM, Cutler SJ (1961) The relative survival rate: a statistical methodology. NCI Monogr 6:101–121

14.

Australian Bureau of Statistics (2020) Deaths, Australia. ABS, Canberra. https://www.abs.gov.au/statistics/people/population/deaths-australia/2019. Accessed 23 Apr 2021

15.

Royston P, Lambert P (2011) Flexible parametric survival analysis using stata: beyond the cox model. Stata Press, College Station

16.

Desandes E, Guissou S, Chastagner P, Lacour B (2014) Incidence and survival of children with central nervous system primitive tumors in the French national registry of childhood solid tumors. Neuro Oncol 16:975–983

17.

Stiller CA, Bayne AM, Chakrabarty A, Kenny T, Chumas P (2019) Incidence of childhood CNS tumours in Britain and variation in rates by definition of malignant behaviour: population-based study. BMC Cancer 19:139

18.

Schmidt LS, Schmiegelow K, Lahteenmaki P et al (2011) Incidence of childhood central nervous system tumors in the Nordic countries. Pediatr Blood Cancer 56:65–69

19.

Ostrom QT, Cioffi G, Gittleman H et al (2019) CBTRUS statistical report: primary brain and other central nervous system tumors diagnosed in the United States in 2012–2016. Neuro Oncol 21:v1–v100

20.

Williams LA, Hubbard AK, Scheurer ME, Spector LG, Poynter JN (2021) Trends in paediatric central nervous system tumour incidence by global region from 1988 to 2012. Int J Epidemiol 50:116–127

21.

Omuro AM, Leite CC, Mokhtari K, Delattre JY (2006) Pitfalls in the diagnosis of brain tumours. Lancet Neurol 5:937–948

22.

Smith MA, Freidlin B, Ries LA, Simon R (1998) Trends in reported incidence of primary malignant brain tumors in children in the United States. J Natl Cancer Instit 90:1269–1277

23.

Fangusaro J, Witt O, Hernáiz Driever P et al (2020) Response assessment in paediatric low-grade glioma: recommendations from the response assessment in pediatric neuro-oncology (RAPNO) working group. Lancet Oncol 21:e305–e316

24.

Avula S, Peet A, Morana G, Morgan P, Warmuth-Metz M, Jaspan T (2021) European society for paediatric oncology (SIOPE) MRI guidelines for imaging patients with central nervous system tumours. Childs Nerv Syst 37:2497–2508

25.

Kleihues P, Louis DN, Scheithauer BW et al (2002) The WHO classification of tumors of the nervous system. J Neuropathol Exp Neurol 61:215–225

26.

McKinney PA (2005) Central nervous system tumours in children: epidemiology and risk factors. Bioelectromagnetics 26(Suppl 7):S60-68

27.

Ostrom QT, Adel Fahmideh M, Cote DJ et al (2019) Risk factors for childhood and adult primary brain tumors. Neuro Oncol 21:1357–1375

28.

Johnson KJ, Cullen J, Barnholtz-Sloan JS et al (2014) Childhood brain tumor epidemiology: a brain tumor epidemiology consortium review. Cancer Epidemiol Biomark Prev 23:2716–2736

29.

Johnson KJ, Carozza SE, Chow EJ et al (2009) Parental age and risk of childhood cancer: a pooled analysis. Epidemiology 20:475–483

30.

Dahlhaus A, Prengel P, Spector L, Pieper D (2017) Birth weight and subsequent risk of childhood primary brain tumors: an updated meta-analysis. Pediatr Blood Cancer. https://doi.org/10.1002/pbc.26299

31.

Georgakis MK, Kalogirou EI, Liaskas A et al (2017) Anthropometrics at birth and risk of a primary central nervous system tumour: a systematic review and meta-analysis. Eur J Cancer 75:117–131

32.

Johnson KJ, Lee JM, Ahsan K et al (2017) Pediatric cancer risk in association with birth defects: a systematic review. PLoS One 12:e0181246

33.

Lupo PJ, Schraw JM, Desrosiers TA et al (2019) Association between birth defects and cancer risk among children and adolescents in a population-based assessment of 10 million live births. JAMA Oncol 5:1150–1158

34.

Glinianaia SV, Morris JK, Best KE, Santoro M, Coi A, Armaroli A, Rankin J (2020) Long-term survival of children born with congenital anomalies: a systematic review and meta-analysis of population-based studies. PLoS Med 17:e1003356

35.

Marcotte EL, Schraw JM, Desrosiers TA et al (2020) Male sex and the risk of childhood cancer: the mediating effect of birth defects. JNCI Cancer Spectr 4:52

36.

Gatta G, Peris-Bonet R, Visser O et al (2017) Geographical variability in survival of European children with central nervous system tumours. Eur J Cancer 82:137–148

37.

Zebian B, Vergani F, Lavrador JP et al (2017) Recent technological advances in pediatric brain tumor surgery. CNS Oncol 6:71–82

38.

Malbari F (2021) Pediatric neuro-oncology. Neurol Clin 39:829–845

39.

Qiu B, Kline C, Mueller S (2021) Radiation in combination with targeted agents and immunotherapies for pediatric central nervous system tumors—progress, opportunities, and challenges. Front Oncol 11:596

40.

Aldape K, Brindle KM, Chesler L et al (2019) Challenges to curing primary brain tumours. Nat Rev Clin Oncol 16:509–520

41.

Capper D, Jones DTW, Sill M et al (2018) DNA methylation-based classification of central nervous system tumours. Nature 555:469–474

42.

Gajjar A, Bowers DC, Karajannis MA, Leary S, Witt H, Gottardo NG (2015) Pediatric brain tumors: innovative genomic information is transforming the diagnostic and clinical landscape. J Clin Oncol 33:2986–2998

43.

Pagès M, Masliah-Planchon J, Bourdeaut F (2020) Embryonal tumors of the central nervous system. Curr Opin Oncol 32:623–630
Acknowledgements
The authors wish to thank Leisa O'Neill and Leanne Keeley for their work in the Australian Childhood Cancer Registry. We also acknowledge the assistance of staff at all Australian State and Territory Cancer Registries, the Australian Institute of Health and Welfare and the Medical Records Department at each of the major paediatric oncology treating hospitals throughout Australia.
Ethics declarations
Conflict of interest
The authors have no competing interests to disclose.
Ethical approval
Approval for the ongoing operation of the Australian Childhood Cancer Registry is obtained from the University of Queensland Behavioural and Social Sciences Ethical Review Committee (reference number 2004000302).
Consent to participate
A waiver of informed consent has been approved for the ACCR. There is strictly no contact made with any individual included in the study. No information is released by which it would be possible to identify an individual person.
Consent for publication
Not applicable.
Additional information
Publisher's Note
Springer Nature remains neutral with regard to jurisdictional claims in published maps and institutional affiliations.
Supplementary Information
Below is the link to the electronic supplementary material.
About this article
Cite this article
Youlden, D.R., Henshaw, C., Gottardo, N.G. et al. Incidence and survival for childhood central nervous system tumours in Australia, 1983–2016. J Neurooncol 155, 203–213 (2021). https://doi.org/10.1007/s11060-021-03869-6
Received:

Accepted:

Published:

Issue Date:
Keywords
Childhood cancer

Central nervous system

Incidence

Survival

Australia

Population-based registry