Abstract
Introduction
Glioblastoma is an aggressive cancer with a notoriously poor prognosis. Recent advances in treatment have increased overall survival, though this may be accompanied by an increased incidence of leptomeningeal disease (LMD). LMD carries a particularly severe prognosis and remains a late stage manifestation of glioblastoma without satisfactory treatment. The objective of this review is to survey the literature on treatment of LMD in glioblastoma and to more fully characterize the current therapeutic strategies.
Methods
The authors performed a systematic review following PRISMA criteria on PubMed and OVID databases. Articles that included adult patients with LMD from glioblastoma were retrieved and reviewed.
Results
LMD in glioblastoma patients is increasing in incidence, with reports of up to 21%. The overall survival without treatment is alarmingly brief, with patients surviving between 1.6–3.8 months. All studies showed that treatment does improve overall survival significantly, increasing to 11.7 months in one study. However, no one adjuvant or surgical therapy has been shown to improve survival in LMD significantly over another. Direct treatment methods include chemotherapy (standard, anti-angiogenic, intrathecal, immunotherapy), and radiation. Hydrocephalus is a complication in LMD that can be treated with ventriculoperitoneal shunt placement, however treating hydrocephalus and delivering intrathecal chemotherapy is a challenge.
Conclusion
Though evidence remains lacking and there is no consensus, treatments show a trend towards improving survival and should be considered on a case-by-case basis. Further studies are necessary in the pursuit of a standard of care.
Access options
Buy single article
Instant access to the full article PDF.
USD 39.95
Price includes VAT (USA)
Tax calculation will be finalised during checkout.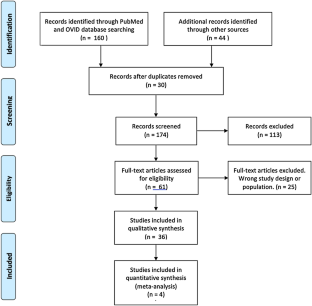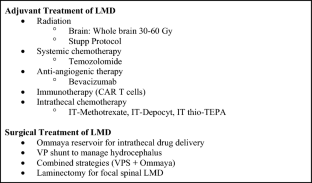 Abbreviations
GBM:

Glioblastoma

LMD:

Leptomeningeal disease

CSF:

Cerebrospinal fluid

KPS:

Karnofsky performance status

WBRT:

Whole brain radiotherapy

BEV:

Bevacizumab

VEGF:

Vascular endothelial growth factor

IT-MTX:

Intrathecal methotrexate

VP:

Ventriculoperitoneal
References
1.

Zong H, Parada LF, Baker SJ (2015) Cell of origin for malignant gliomas and its implication in therapeutic development. Cold Spring Harb Perspect Biol 7:a020610. https://doi.org/10.1101/cshperspect.a020610

2.

Iacob G, Dinca EB (2009) Current data and strategy in glioblastoma multiforme. J Med Life 2:386–393

3.

Young RM, Jamshidi A, Davis G, Sherman JH (2015) Current trends in the surgical management and treatment of adult glioblastoma. Ann Transl Med 3:121. https://doi.org/10.3978/j.issn.2305-5839.2015.05.10

4.

Goel A, Shah A, Redhu R, Nadkarni T (2010) Supratentorial glioblastoma multiforme with spinal metastases. J Craniovert Jun Spine 1:126. https://doi.org/10.4103/0974-8237.77678

5.

Leal T, Chang JE, Mehta M, Robins HI (2011) Leptomeningeal Metastasis: Challenges in Diagnosis and Treatment. Curr Cancer Ther Rev 7:319–327. https://doi.org/10.2174/157339411797642597

6.

Andersen BM, Miranda C, Hatzoglou V et al (2019) Leptomeningeal metastases in glioma: the memorial sloan kettering cancer center experience. Neurology 92:e2483–e2491. https://doi.org/10.1212/WNL.0000000000007529

7.

Dardis C, Milton K, Ashby L, Shapiro W (2014) Leptomeningeal metastases in high-grade adult glioma: development, diagnosis, management, and outcomes in a series of 34 patients. Front Neurol. https://doi.org/10.3389/fneur.2014.00220

8.

Mandel JJ, Yust-Katz S, Cachia D et al (2014) Leptomeningeal dissemination in glioblastoma; an inspection of risk factors, treatment, and outcomes at a single institution. J Neurooncol 120:597–605. https://doi.org/10.1007/s11060-014-1592-1

9.

Vollmer K, Pantazis G, Añon J et al (2019) Spinal metastases of supratentorial glioblastoma with primitive neuronal component. World Neurosurg X 2:100019. https://doi.org/10.1016/j.wnsx.2019.100019

10.

Amitendu S, Mak SKD, Ling JM, Ng WH (2012) A single institution experience of the incidence of extracranial metastasis in glioma. J Clin Neurosci 19:1511–1515. https://doi.org/10.1016/j.jocn.2011.08.040

11.

Sibanda Z, Farahani N, Ogbonnaya E, Albanese E (2020) Glioblastoma multiforme: a rare case of spinal drop metastasis. World Neurosurg 144:24–27. https://doi.org/10.1016/j.wneu.2020.08.086

12.

Schwartz C, Romagna A, Machegger L et al (2018) Extensive leptomeningeal intracranial and spinal metastases in a patient with a supratentorial glioblastoma multiforme, IDH-wildtype. World Neurosurg 120:442–447. https://doi.org/10.1016/j.wneu.2018.09.082

13.

Masters LT, Miller DC, Nelson PK (2000) Cerebral vasculopathy secondary to leptomeningeal gliomatosis: angiography. Neuroradiology 42:139–141. https://doi.org/10.1007/s002340050033

14.

Serrano L, Archavlis E, Januschek E et al (2017) Spinal intradural intramedullary dissemination in the absence of intracranial relapse of a previously radically treated temporal lobe glioblastoma multiforme. Case Rep Oncol 10:281–289. https://doi.org/10.1159/000464279

15.

Witoonpanich P, Bamrungrak K, Jinawath A et al (2011) Glioblastoma multiforme at the corpus callosum with spinal leptomeningeal metastasis. Clin Neurol Neurosurg 113:407–410. https://doi.org/10.1016/j.clineuro.2010.12.001

16.

Birzu C, Tran S, Bielle F et al (2020) Leptomeningeal spread in glioblastoma: diagnostic and therapeutic challenges. Oncologist. https://doi.org/10.1634/theoncologist.2020-0258

17.

Mistry AM, Kelly PD, Gallant J-N et al (2019) Comparative analysis of subventricular zone glioblastoma contact and ventricular entry during resection in predicting dissemination, hydrocephalus, and survival. Neurosurgery 85:E924–E932. https://doi.org/10.1093/neuros/nyz144

18.

You HJ, Park H-Y, Kim J et al (2016) Integrative radiogenomic analysis for genomic signatures in glioblastomas presenting leptomeningeal dissemination. Medicine 95:e4109

19.

Intriago B, Danús M, Añaños M et al (2011) 18F-FDG PET detection of spinal leptomeningeal metastases from cerebral glioblastoma multiforme. Eur J Nucl Med Mol Imaging 38:1392–1392. https://doi.org/10.1007/s00259-011-1750-z

20.

Nunn A, Polyzoidis S, Piechowski-Jozwiak B et al (2017) Primary glioblastoma multiforme of the conus medullaris with leptomeningeal metastasis. J Neurol Sci 381:315–317. https://doi.org/10.1016/j.jns.2017.09.004

21.

Routman DM, Yan E, Vora S et al (2018) Preoperative stereotactic radiosurgery for brain metastases. Front Neurol 9:959. https://doi.org/10.3389/fneur.2018.00959

22.

Buszek SM, Chung C (2019) Radiotherapy in leptomeningeal disease: a systematic review of randomized and non-randomized trials. Front Oncol. https://doi.org/10.3389/fonc.2019.01224

23.

Kwon J-E, Hwang K, Go K-O et al (2020) Clinical characteristics of high-grade glioma with primary leptomeningeal seeding at initial diagnosis in a single center study. Brain Tumor Res Treat 8:77. https://doi.org/10.14791/btrt.2020.8.e18

24.

Burger MC, Zeiner PS, Jahnke K et al (2016) Addition of anti-angiogenetic therapy with bevacizumab to chemo- and radiotherapy for leptomeningeal metastases in primary brain tumors. PLoS ONE 11:e0155315. https://doi.org/10.1371/journal.pone.0155315

25.

Toh CH, Liau C-T, Wei K-C, Castillo M (2019) Baseline multicentric tumors, distant recurrences and leptomeningeal dissemination predict poor survival in patients with recurrent glioblastomas receiving bevacizumab. J Neurooncol 142:149–159. https://doi.org/10.1007/s11060-018-03075-x

26.

Okita Y, Nonaka M, Umehara T et al (2015) Efficacy of temozolomide and bevacizumab for the treatment of leptomeningeal dissemination of recurrent glioblastoma: a case report. Oncol Lett 9:1885–1888. https://doi.org/10.3892/ol.2015.2940

27.

Engelhard HH, Corsten LA (2005) Leptomeningeal metastasis of primary central nervous system (CNS) neoplasms. In: Abrey LE, Chamberlain MC, Engelhard HH (eds) Leptomeningeal metastases. Springer-Verlag, New York, pp 71–85

28.

Herrlinger U, Förschler H, Küker W et al (2004) Leptomeningeal metastasis: survival and prognostic factors in 155 patients. J Neurol Sci 223:167–178. https://doi.org/10.1016/j.jns.2004.05.008

29.

Noh J-H, Lee MH, Kim WS et al (2015) Optimal treatment of leptomeningeal spread in glioblastoma: analysis of risk factors and outcome. Acta Neurochir 157:569–576. https://doi.org/10.1007/s00701-015-2344-5

30.

Witham TF, Fukui MB, Meltzer CC et al (1999) Survival of patients with high grade glioma treated with intrathecal thiotriethylenephosphoramide for ependymal or leptomeningeal gliomatosis. Cancer 86:1347–1353

31.

Engelhard HH, Willis AJ, Hussain SI et al (2020) Etoposide-bound magnetic nanoparticles designed for remote targeting of cancer cells disseminated within cerebrospinal fluid pathways. Front Neurol 11:596632. https://doi.org/10.3389/fneur.2020.596632

32.

Brown CE, Alizadeh D, Starr R et al (2016) Regression of glioblastoma after chimeric antigen receptor T-cell therapy. N Engl J Med 375:2561–2569. https://doi.org/10.1056/nejmoa1610497

33.

Hong B, Polemikos M, Heissler HE et al (2018) Challenges in cerebrospinal fluid shunting in patients with glioblastoma. Fluids Barriers CNS 15:16. https://doi.org/10.1186/s12987-018-0101-x

34.

Fischer CM, Neidert MC, Péus D et al (2014) Hydrocephalus after resection and adjuvant radiochemotherapy in patients with glioblastoma. Clin Neurol Neurosurg 120:27–31. https://doi.org/10.1016/j.clineuro.2014.02.012

35.

Inamasu J, Nakamura Y, Saito R et al (2003) Postoperative communicating hydrocephalus in patients with supratentorial malignant glioma. Clin Neurol Neurosurg 106:9–15. https://doi.org/10.1016/S0303-8467(03)00060-X

36.

Onuma K, Ishikawa E, Matsuda M et al (2013) Clinical characteristics and neuroimaging findings in 12 cases of recurrent glioblastoma with communicating hydrocephalus. Neurol Med Chir 53:474–481. https://doi.org/10.2176/nmc.53.474

37.

Kim HS, Park JB, Gwak H-S et al (2019) Clinical outcome of cerebrospinal fluid shunts in patients with leptomeningeal carcinomatosis. World J Surg Oncol. https://doi.org/10.1186/s12957-019-1595-7

38.

Woo PYM, Zhuang JTF, Ho JMK et al (2018) Intraventricular urokinase to treat a blocked ventriculoperitoneal shunt in a glioblastoma patient with leptomeningeal spread. Acta Neurochir 160:1073–1077. https://doi.org/10.1007/s00701-018-3509-9

39.

Zada G, Chen TC (2010) A novel method for administering intrathecal chemotherapy in patients with leptomeningeal metastases and shunted hydrocephalus: case report. Oper Neurosurg. https://doi.org/10.1227/01.neu.0000383138.78632.ba

40.

Burger M, Wagner M, Franz K et al (2018) Ventriculoperitoneal shunts equipped with on-off valves for intraventricular therapies in patients with communicating hydrocephalus due to leptomeningeal metastases. J Clin Med 7:216. https://doi.org/10.3390/jcm7080216

41.

Rinaldo L, Brown D, Lanzino G, Parney IF (2018) Outcomes following cerebrospinal fluid shunting in high-grade glioma patients. J Neurosurg 129:984–996. https://doi.org/10.3171/2017.6.JNS17859
Ethics declarations
Conflict of interest
On behalf of all authors, the corresponding author states that there is no conflict of interest.
Ethical approval
Not applicable.
Consent to participate
Not applicable.
Consent for publication
Not applicable.
Additional information
Publisher's Note
Springer Nature remains neutral with regard to jurisdictional claims in published maps and institutional affiliations.
About this article
Cite this article
Akmal, S., Ginalis, E.E., Patel, N.V. et al. Leptomeningeal disease in glioblastoma: endgame or opportunity?. J Neurooncol 155, 107–115 (2021). https://doi.org/10.1007/s11060-021-03864-x
Received:

Accepted:

Published:

Issue Date:
Keywords
Glioblastoma

Leptomeningeal disease

Leptomeningeal metastasis

Neuro-oncology