Abstract
Introduction
Choroid Plexus Tumours (CPTs) account for 1–4% of all brain tumours in children. Atypical choroid plexus papillomas (aCPPs) are a subset of these tumours, defined over a decade ago, yet no consensus exists on the optimal approach to their management.
Methods
We conducted a retrospective analysis of all patients treated for CPTs at the Hospital for Sick Children between January 1, 2000, and December 31, 2018, and focused on patients with aCPP. Data extracted from the patient records for analysis included: demographic and clinical features, radiological imaging, surgical and adjuvant therapies, key pathological features, immunohistochemical staining for TP53 and tumour karyotype. Six of seven aCPP samples were profiled using Illumina HumanMethylationEPIC arrays and the top 10,000 most variably methylated probes were visualized using tSNE. Copy number inferencing was also performed.
Results
Twenty-nine patients were diagnosed with CPT, seven of whom had a diagnosis of aCPP as confirmed by histological review. Methylation profiling demonstrated that aCPPs clustered with both choroid plexus papillomas (CPPs) and choroid plexus carcinomas (CPCs). Complete resection of the tumour was pursued in all cases of aCPP and no patient received adjuvant therapy. All aCPP patients were alive at last follow up.
Conclusions
This limited case series suggests that paediatric aCPP can be successfully managed with surgical resection alone, followed by a 'watch and wait' approach thus avoiding adjuvant therapies. A deeper understanding of the biology of aCPP is required to identify objective markers which can help provide robust risk stratification and inform treatment strategies.
Access options
Buy single article
Instant access to the full article PDF.
USD 39.95
Price includes VAT (USA)
Tax calculation will be finalised during checkout.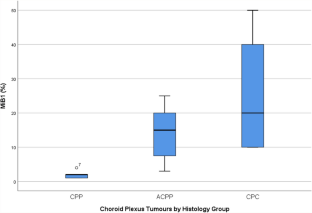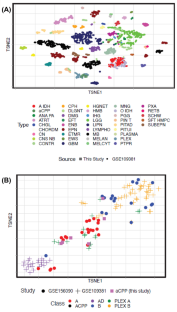 Data Availability
The data that support the findings of this study are available from the corresponding author upon reasonable request.
References
1.

Berger C, Thiesse P, Lellouch-Tubiana A et al (1998) Choroid plexus carcinomas in childhood: clinical features and prognostic factors. Neurosurgery 42:470–475

2.

WHO classification of tumors of the Central Nervous System (2016) WHO/IARC Classification of Tumors, Revised 4th Edition, 1; 124–129

3.

Jeibmann A, Hasselbatt M, Gerss J et al (2006) Prognostic implications of atypical histological features in choroid plexus papilloma. J Neuropathol Exp Neurol 65(11):1069–1073

4.

Wrede B, Hasselblatt M et al (2009) Atypical choroid plexus papilloma: clinical experience in the CPT-SIOP-2000 study. J Neurooncol 95(3):383–392

5.

Scala M, Morana G et al (2017) Atypical choroid plexus papillomas: spontaneous resolution of diffuse leptomeningeal contrast enhancement after primary tumor removal in 2 pediatric cases. J Neurosurg Pediatr 20(3):284–288

6.

Louis DN, Ohgaki H, Wiestler OD, Cavenee WK (2016) WHO classification of the central nervous system; Revised 4th Edition. IARC

7.

Mansouri S, Suppiah S, Mamatjan Y et al (2021) Epigenomic, genomic, and transcriptomic landscape of schwannomatosis. Acta Neuropathol 141:101–116. https://doi.org/10.1007/s00401-020-02230-x

8.

Cavalli F, Hübner J, Sharma T et al (2018) Heterogeneity within the PF-EPN-B ependymoma subgroup. Acta Neuropathol 136:227–237. https://doi.org/10.1007/s00401-018-1888-x

9.

Amer N, Taha H, Hesham D et al (2021) Aggresomes predict poor outcomes and implicate proteostasis in the pathogenesis of pediatric choroid plexus tumors. J Neurooncol 52:67–78

10.

Capper D, Jones D, Sill M et al (2018) DNA methylation-based classification of central nervous system tumours. Nature 555:469–474. https://doi.org/10.1038/nature26000 (Epub 2018 Mar 14)

11.

Bahar M, Hashem H, Tekautz T et al (2017) Choroid plexus tumors in adult and pediatric populations: the Cleveland clinic and university hospitals experience. J Neurooncol 132(3):427–432

12.

Lafay-Cousin L, Keene D, Carret A et al (2011) Choroid plexus tumours in children less than 36 months: the Canadian pediatric brain tumour consortium (CPBTC) experience. Childs Nerv Syst 27:259–264

13.

Wolff J, Sajedi M, Brandt R et al (2002) Choroid plexus tumours. Br J Cancer 87(10):1086–1091

14.

Thomas C, Ruland V, Kordes U et al (2015) Pediatric atypical choroid plexus papilloma reconsidered: increased mitotic activity is prognostic in only older children. Acta Neuropathol 129(6):925–927

15.

Thomas C, Sill M, Ruland V et al (2016) Methylation profiling of choroid plexus tumors reveals 3 clinically distinct subgroups. Neuro Oncol 18(6):790–796

16.

Merino D, Shlien A, Vilani A et al (2015) Molecular characterization of choroid plexus tumors reveals novel clinically relevant subgroups. Clin Cancer Res 21(1):184–192

17.

Japp A, Gessi M, Messing-Junger M et al (2015) High-resolution genomic analysis does not qualify atypical plexus papilloma as a separate entity among choroid plexus tumors. J Neuropathol Exp Neurol 74(2):110–120

18.

Pienkowska M, Choufani S, Turinsky A et al (2019) DNA methylation signature is prognostic of choroid plexus tumour aggressiveness. Clin Epigenetics 11(1):117. https://doi.org/10.1186/s13148-019-0708-z

19.

Tabori U, Shlien A, Baskin B et al (2010) TP53 Alterations determine clinical subgroups and survival of patients with choroid plexus tumours. J Clin Oncol 28(12):1995–2001

20.

Siegfried A, Munzer MS et al (2017) A French retrospective study on clinical outcome in 102 choroid plexus tumors in children. J Neurooncol 135:151–160

21.

Hosmann A, Hinker F, Dorfer C et al (2019) Management of choroid plexus tumors-an institutional experience. Acta Neurochir (Wien) 161(4):745–754. https://doi.org/10.1007/s00701-019-03832-5

22.

Zhou WJ, Wang X, Peng JY et al (2018) Clinical features and prognostic risk factors of choroid plexus tumors in children. Chin Med J (Engl) 131(24):2938–2946. https://doi.org/10.4103/0366-6999.247195

23.

Dash C, Moorthy S, Garg K et al (2019) Management of choroid plexus tumors in infants and young children up to 4 years of age: an institutional experience. World Neurosurg 121:e237–e245. https://doi.org/10.1016/j.wneu.2018.09.089
Funding
The authors received no financial support for this research, authorship and/or publications of this article.
Ethics declarations
Conflict of interest
The authors have no conflicts of interest to disclose.
Additional information
Publisher's Note
Springer Nature remains neutral with regard to jurisdictional claims in published maps and institutional affiliations.
About this article
Cite this article
Browne-Farmer, C., Hazrati, LN., Mamatjan, Y. et al. Paediatric atypical choroid plexus papilloma: is adjuvant therapy necessary?. J Neurooncol 155, 63–70 (2021). https://doi.org/10.1007/s11060-021-03843-2
Received:

Accepted:

Published:

Issue Date:
Keywords
Paediatric atypical choroid plexus papilloma

Choroid plexus tumour

Management

Outcomes