Abstract
Introduction
We aimed to investigate the role of upfront whole-brain radiation therapy (RT), with a reduced dose of 23.4 Gy, following high-dose methotrexate (HD-MTX) in patients with primary central nervous system lymphoma (PCNSL).
Methods
We retrospectively reviewed 185 patients with PCNSL treated with HD-MTX between January 2013 and January 2020; 145 patients underwent no RT and 40 patients underwent upfront RT. Using propensity score matching (PSM) to adjust for clinical factors, 40 patients were selected from each treatment group. Event-free survival (EFS) and overall survival (OS) were compared between treatment groups.
Results
At baseline, patients in the upfront RT group were younger, had higher LDH levels, received less frequent rituximab and stem cell transplantation than those in the no-RT group. Patients in the upfront RT group also showed a lower response rate after initial HD-MTX than those in the no-RT group (73% vs. 88%, p = 0.038). The median follow-up was 25.1 (interquartile range 13.7–43.0) months. Comparable 2-year EFS and OS rates were observed between the upfront RT and no-RT groups (56.6% vs. 53.8%, p = 0.170; and 81.7% vs. 75.3%, p = 0.097, respectively). Upfront RT was related to improved EFS and OS in patients with stable disease or progressive disease after HD-MTX, but not in patients with complete or partial response after HD-MTX. Upfront RT was also an independent predictor of EFS and OS in the PSM cohort. The cumulative incidences of treatment-related neurotoxicity at 3 years were 20.2% and 21.2% in the upfront RT and no-RT groups, respectively (p = 0.630).
Conclusions
Upfront RT with a reduced dose of 23.4 Gy, showed favorable outcomes in patients with stable disease or progressive disease after initial HD-MTX. In addition, upfront RT appears to be an effective treatment for PCNSL when rituximab or stem cell transplantation is not feasible.
This is a preview of subscription content,
to check access.
Access this article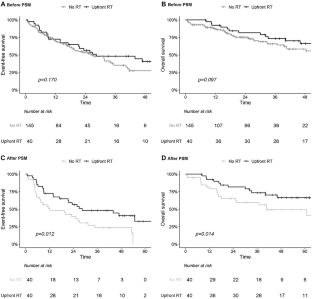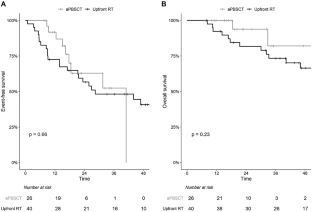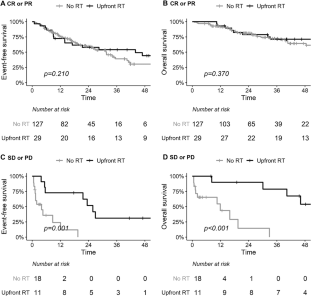 Data availability
It is limited due to institutional data protection law and confidentiality of patient data.
Ethics declarations
Conflict of interest
All authors declare that they have no conflict of interest or financial ties to disclose.
Ethical approval
Health Institutional Review Boards of Samsung Medical Center (No. 2021-02-001).
Informed consent
The requirement for informed consent was waived because of the retrospective nature of this study.
Additional information
Publisher's Note
Springer Nature remains neutral with regard to jurisdictional claims in published maps and institutional affiliations.
The original version of this article has been revised: The second author's name has been corrected.
Supplementary Information
Below is the link to the electronic supplementary material.
About this article
Cite this article
Kim, N., Lim, D.H., Yoon, S.E. et al. Role of 23.4 Gy upfront whole-brain radiation therapy following high-dose methotrexate for primary central nervous system lymphoma: a comparative analysis of whole-brain radiation therapy versus no radiation therapy. J Neurooncol 154, 207–217 (2021). https://doi.org/10.1007/s11060-021-03815-6
Received:

Accepted:

Published:

Issue Date:

DOI: https://doi.org/10.1007/s11060-021-03815-6
Keywords