Abstract
Objective
Radiation therapy is a cornerstone of brain metastasis (BrM) management but carries the risk of radiation necrosis (RN), which can require resection for palliation or diagnosis. We sought to determine the relationship between extent of resection (EOR) of pathologically-confirmed RN and postoperative radiographic and symptomatic outcomes.
Methods
A single-center retrospective review was performed at an NCI-designated Comprehensive Cancer Center to identify all surgically-resected, previously-irradiated necrotic BrM without admixed recurrent malignancy from 2003 to 2018. Clinical, pathologic and radiographic parameters were collected. Volumetric analysis determined EOR and longitudinally evaluated perilesional T2-FLAIR signal preoperatively, postoperatively, and at 3-, 6-, 12-, and 24-months postoperatively when available. Rates of time to 50% T2-FLAIR reduction was calculated using cumulative incidence in the competing risks setting with last follow-up and death as competing events. The Spearman method was used to calculate correlation coefficients, and continuous variables for T2-FLAIR signal change, including EOR, were compared across groups.
Results
Forty-six patients were included. Most underwent prior stereotactic radiosurgery with or without whole-brain irradiation (N = 42, 91%). Twenty-seven operations resulted in gross-total resection (59%; GTR). For the full cohort, T2-FLAIR edema decreased by a mean of 78% by 6 months postoperatively that was durable to last follow-up (p < 0.05). EOR correlated with edema reduction at last follow-up, with significantly greater T2-FLAIR reduction with GTR versus subtotal resection (p < 0.05). Among surviving patients, a significant proportion were able to decrease their steroid use: steroid-dependency decreased from 54% preoperatively to 15% at 12 months postoperatively (p = 0.001).
Conclusions
RN resection conferred both durable T2-FLAIR reduction, which correlated with EOR; and reduced steroid dependency.
Access options
Buy single article
Instant access to the full article PDF.
USD 39.95
Price excludes VAT (USA)
Tax calculation will be finalised during checkout.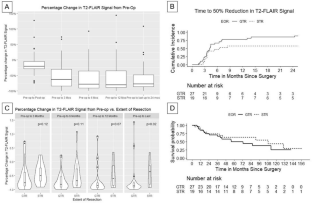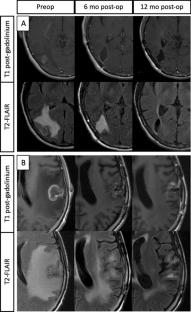 Data availability
The datasets generated during and/or analyzed during the current study are not publicly available to decrease the risk of breach of patient privacy but available from the corresponding author on reasonable request.
Abbreviations
BrM:

Brain metastasis

EOR:

Extent of resection

GTR:

Gross total resection

LITT:

Laser interstitial thermal therapy

RN:

Radiation necrosis

RT:

Radiation therapy

SRS:

Stereotactic radiosurgery

STR:

Subtotal resection

WBRT:

Whole brain radiation therapy
Funding
This research was funded in part through the NIH/NCI Cancer Center Support Grant P30 CA008748.
Ethics declarations
Conflict of interest
NSM has consulted for AstraZeneca and received grant support from GT Medical Technologies. RJY has consulted for Agios, Puma, NordicNeuroLab and ICON plc, and received grant support from Agios, unrelated to this report.
Ethical approval
This study was approved by the institutional review board (IRB# 16-1531) and performed in accordance with the ethical standards as laid down in the 1964 Declaration of Helsinki and its later amendments or comparable ethical standards.
Consent to participate
The institutional review board (IRB# 16-1531) granted this study a wavier of consent.
Consent for publication
The institutional review board (IRB# 16-1531) granted this study a wavier of consent. No patient identifiers are presented in this study.
Additional information
Publisher's Note
Springer Nature remains neutral with regard to jurisdictional claims in published maps and institutional affiliations.
About this article
Cite this article
Newman, W.C., Goldberg, J., Guadix, S.W. et al. The effect of surgery on radiation necrosis in irradiated brain metastases: extent of resection and long-term clinical and radiographic outcomes. J Neurooncol 153, 507–518 (2021). https://doi.org/10.1007/s11060-021-03790-y
Received:

Accepted:

Published:

Issue Date:

DOI: https://doi.org/10.1007/s11060-021-03790-y
Keywords
Brain metastasis

Radiation necrosis

Radiation therapy

Surgical resection