Abstract
Introduction
Effective glioblastoma (GBM) treatment is limited by high invasiveness and heterogeneity. Current therapies target proliferating Glioma Stem Cell (GSC) subpopulations while sparing invading GSCs, which eventually engender tumor recurrence after treatment. Surface receptor CD97/ADRGE5 is associated with invasion and metastasis regulation in non-CNS cancers. Although CD97 expression level positively correlates with poor GBM patient prognosis, its role in this tumor is unclear.
Methods
Here, we examined CD97 function in primary patient-derived GSCs (pdGSCs) obtained from five GBM tumors, belonging to three major genetic subtypes. We compared endogenous CD97 levels in pdGSCs to the corresponding patient MRI's radiographic invasion pattern aggressiveness. We manipulated CD97 levels in these pdGSCs by knockdown and overexpression and analyzed: (i) stem and subtype marker expression, (ii) in vitro invasive properties, and (iii) cell proliferation.
Results
Endogenous CD97 levels in pdGSCs positively correlated with radiographic invasion pattern aggressiveness on patient MRIs, and in vitro invasion rate. CD97 knockdown decreased pdGSC invasion rates in vitro, most markedly in mesenchymal subtype pdGSCs, as well as classical subtype pdGSCs. Invasion rates in vitro increased after CD97 overexpression predominately in proneural subtype pdGSCs. In the pdGSC line with the lowest endogenous CD97 level, CD97 overexpression increased the proliferation rate almost threefold.
Conclusions
For the first time in pdGSCs, we have shown that CD97 knockdown decreases and overexpression increases invasion rate in vitro. The effect of CD97 on invasion is pdGSC subtype-dependent. Future in vivo and mechanistic studies are needed for validation. Pharmacologic CD97 inhibitors should be identified, as they may potentially therapeutically diminish GBM invasion.
Access options
Buy single article
Instant access to the full article PDF.
USD 39.95
Price excludes VAT (USA)
Tax calculation will be finalised during checkout.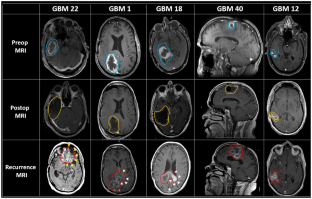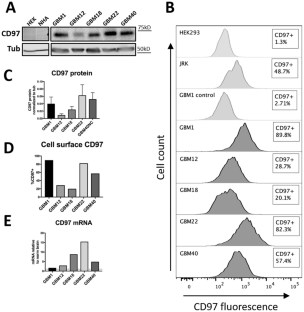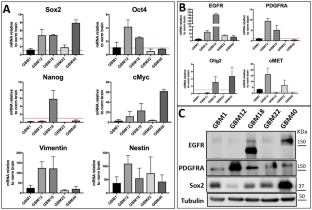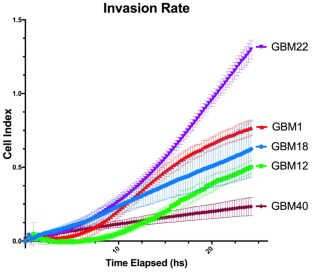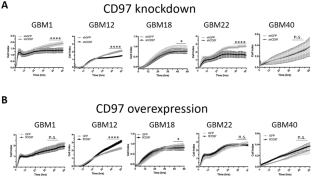 Data availability
The data generated and analyzed in this study are provided in the text and in the figure, tables, and supplementary tables. Any additional data needed can be requested from the corresponding author.
Funding
Dr. Daniel Eichberg and this work are supported by the Neurosurgery Research & Education Foundation (2021-22 NREF & StacheStrong Research Fellowship Grant on behalf of the AANS/CNS Section on Tumors). Dr. Daniel Eichberg is supported by training grant T32-CA-211034 from the National Cancer Institute. The content is solely the responsibility of the authors and does not necessarily represent the official views of the National Institutes of Health. Dr. Michael Ivan is funded by the Elsa U. Pardee Foundation Cancer Grant and the American Cancer Society Institutional Grant for this work.
Ethics declarations
Conflict of interest
Dr. Michael Ivan reports being a consultant to and receiving research funding from Medtronic and the NX Development Corporation.
Consent for publication
No individual patient data is reported in this study.
Ethical approval
University of Miami Institutional Review Board for human research (IRB #20190521). Both written and verbal informed preoperative consent were provided from all patients.
Informed consent
Informed consent was obtained.
Additional information
Publisher's Note
Springer Nature remains neutral with regard to jurisdictional claims in published maps and institutional affiliations.
Supplementary Information
Below is the link to the electronic supplementary material.
About this article
Cite this article
Eichberg, D.G., Slepak, T.I., Pascoini, A.L. et al. Genetic manipulation of adhesion GPCR CD97/ADGRE5 modulates invasion in patient-derived glioma stem cells. J Neurooncol 153, 383–391 (2021). https://doi.org/10.1007/s11060-021-03778-8
Received:

Accepted:

Published:

Issue Date:

DOI: https://doi.org/10.1007/s11060-021-03778-8
Keywords
CD97/ADGRE5

Invasion

Glioblastoma

Adhesion GPCR

G protein coupled receptor

Cancer stem cell