Abstract
Introduction
Stereotactic radiosurgery (SRS) has been increasingly employed to treat patients with intracranial metastasis, both as a salvage treatment after failed whole brain radiation therapy (WBRT) and as an initial treatment. "Several studies have shown that SRS may be as effective as WBRT with the added benefit of preserving neuro-cognition". However, some patients may have local failure following SRS for intracranial metastasis, defined as increase in total lesion volume by 25% after at least 3 months of follow up.
Methods
The SRS registry, established by the Neuro point alliance (NPA) under the auspices of the American Association of Neurological Surgeons (AANS), was queried for patients with intracranial metastasis receiving SRS at the participating sites. Demographic, clinical symptoms, tumor, and treatment characteristics as well as follow up status were summarized for the cohort. A multivariable explanatory cox- regression was performed to evaluate the impact of each of the factors on time to local failure.at last follow-up.
Results
A total of 441 patients with 1255 intracranial metastatic lesions undergoing SRS were identified. The most common primary cancer histology was non-small cell lung cancer (43.8%, n = 193). More than half of the cohort had more than 1 metastatic lesion (2–3 lesions: 29.5%, n = 130; more than 3 lesions: 25.2% (n = 111). The average duration of follow-up for the cohort was found to be 8.4 months (SD = 7.61). The mean clinical treatment volume (CTV), after adding together the volume of each lesion for each patient was 5.39 cc (SD = 7.6) at baseline. A total of 20.2% (n = 89) had local failure (increase in volume by  > 25%) with a mean time to progression of 7.719 months (SD = 6.09). The progression free survival (PFS) for the cohort at 3, 6 and 12 months were found to be 94.9%, 84.3%, and 69.4%, respectively. On multivariable cox regression analysis, factors associated with increased hazard of local failure included male gender (HR 1.65, 95% CI 1.03–2.66, p = 0.037), chemotherapy at or before SRS (HR = 2.39, 95% CI 1.41–4.05, p = 0.001), WBRT at or before SRS (HR = 2.21, 95% CI 1.16- 4.22, p = 0.017), while surgical resection (HR 0.45, 95% CI 0.21–0. 97, p = 0.04) and immunotherapy (0.34, 95% CI 0.16–0.50, p = 0.014) were associated with lower hazard of local failure.
Conclusion
Factors found to be predictive of local failure included higher RPA score and those receiving chemotherapy, while patients undergoing surgical resection and those with occipital lobe lesions were less likely to experience local failure. Our analyses not only corroborate those previously reported but also demonstrate the utility of a multi-institutional registry to advance real-world SRS research for patients with intracranial metastatic lesions.
Access options
Buy single article
Instant access to the full article PDF.
US$ 39.95
Tax calculation will be finalised during checkout.
Subscribe to journal
Immediate online access to all issues from 2019. Subscription will auto renew annually.
US$ 119
Tax calculation will be finalised during checkout.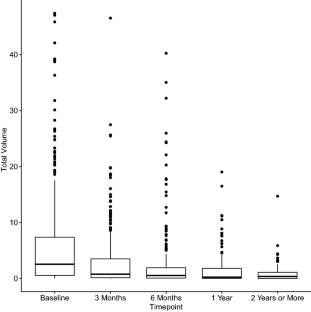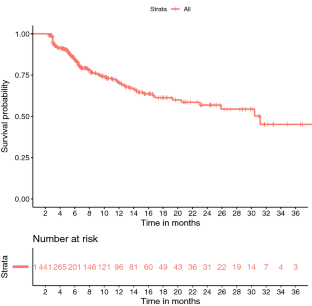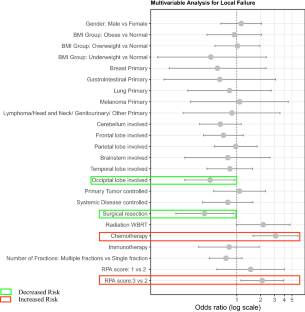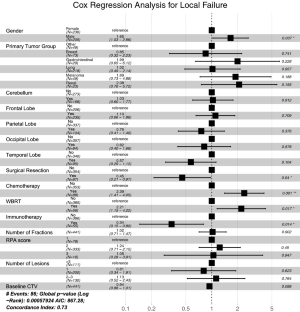 References
1.

Sheehan JP, Grills I, Chiang VL et al (2018) Quality of life outcomes for brain metastasis patients treated with stereotactic radiosurgery: pre-procedural predictive factors from a prospective national registry. J Neurosurg 131:1–7

2.

Ostrom QT, Wright CH, Barnholtz-Sloan JS (2018) Chapter 2 - brain metastases: epidemiology. In: Schiff D, van den Bent MJ (eds) Handbook of clinical neurology. Elsevier, Amsterdam, pp 27–42

3.

Davis FG, Dolecek TA, McCarthy BJ, Villano JL (2012) Toward determining the lifetime occurrence of metastatic brain tumors estimated from 2007 United States cancer incidence data. Neuro Oncol 14:1171–1177

4.

Harris KB, Corbett MR, Mascarenhas H et al (2017) A single-institution analysis of 126 patients treated with stereotactic radiosurgery for brain metastases. Front Oncol 7:90

5.

Kann BH, Park HS, Johnson SB et al (2017) Radiosurgery for brain metastases: changing practice patterns and disparities in the United States. J Natl Compr Canc Netw 15:1494–1502

6.

Bhatnagar AK, Flickinger JC, Kondziolka D, Lunsford LD (2006) Stereotactic radiosurgery for four or more intracranial metastases. Int J Radiat Oncol Biol Phys 64:898–903

7.

Pirzkall A, Debus J, Lohr F et al (1998) Radiosurgery alone or in combination with whole-brain radiotherapy for brain metastases. J Clin Oncol 16:3563–3569

8.

Brown PD, Jaeckle K, Ballman KV et al (2016) Effect of radiosurgery alone vs radiosurgery with whole brain radiation therapy on cognitive function in patients with 1 to 3 brain metastases: a randomized clinical trial. JAMA 316:401–409

9.

Lucas JT, Colmer HG, White GL et al (2013) A competing risk analysis of neurologic versus nonneurologic death in patients undergoing radiosurgical salvage following whole brain radiation therapy failure (WBRT): who actually dies of their brain metastases? Int J Radiat Oncol Biol Phys 87:S52

10.

Lucas JT, Ayala-Peacock DN, Piazza M et al (2014) A propensity score adjusted analysis of patients receiving up-front SRS versus WBRT: does the use of upfront WBRT really affect neurologic death? Int J Radiat Oncol Biol Phys 90:S315–S316

11.

Marchan EM, Peterson J, Sio TT et al (2018) Postoperative cavity stereotactic radiosurgery for brain metastases. Front Oncol 8:342

12.

Keller A, Doré M, Cebula H et al (2017) Hypofractionated stereotactic radiation therapy to the resection bed for intracranial metastases. Int J Radiat Oncol Biol Phys 99:1179–1189

13.

Brennan C, Yang TJ, Hilden P et al (2014) A phase 2 trial of stereotactic radiosurgery boost after surgical resection for brain metastases. Int J Radiat Oncol Biol Phys 88:130–136

14.

Ahmed KA, Freilich JM, Abuodeh Y et al (2014) Fractionated stereotactic radiotherapy to the post-operative cavity for radioresistant and radiosensitive brain metastases. J Neurooncol 118:179–186

15.

Keller A, Doré M, Antoni D et al (2017) Risk of radionecrosis after hypofractionated stereotactic radiotherapy targeting the postoperative resection cavity of brain metastases. Cancer Radiother 21:377–388

16.

Abu-Hejleh T, Chrischilles EA, Halfdanarson TR et al (2016) The effect of receiving treatment within a clinical trial setting on survival and quality of care perception in advanced stage non-small cell lung cancer. Am J Clin Oncol 39:126–131

17.

Gliklich RE, Dreyer NA, Leavy MB (2014) Patient registries, Agency for Healthcare Research and Quality (US), Rockville, USA

18.

Sheehan JP, Kavanagh BD, Asher A, Harbaugh RE (2016) Inception of a national multidisciplinary registry for stereotactic radiosurgery. J Neurosurg 124:155–162

19.

Gaspar L, Scott C, Rotman M et al (1997) Recursive partitioning analysis (RPA) of prognostic factors in three radiation therapy oncology group (RTOG) brain metastases trials. Int J Radiat Oncol Biol Phys 37:745–751

20.

Hughes RT, Black PJ, Page BR et al (2016) Local control of brain metastases after stereotactic radiosurgery: the impact of whole brain radiotherapy and treatment paradigm. J Radiosurg SBRT 4:89–96

21.

Siegel R, Ma J, Zou Z, Jemal A (2014) Cancer statistics, 2014. CA Cancer J Clin 64:9–29

22.

Nieder C, Spanne O, Mehta MP et al (2011) Presentation, patterns of care, and survival in patients with brain metastases: what has changed in the last 20 years? Cancer 117:2505–2512

23.

Balermpas P, Stera S, Müller von der Grün J et al (2018) Repeated in-field radiosurgery for locally recurrent brain metastases: feasibility, results and survival in a heavily treated patient cohort. PLoS ONE 13:e0198692

24.

Halasz LM, Rockhill JK (2013) Stereotactic radiosurgery and stereotactic radiotherapy for brain metastases. Surg Neurol Int 4:S185–S191

25.

Choi CYH, Chang SD, Gibbs IC et al (2012) Stereotactic radiosurgery of the postoperative resection cavity for brain metastases: prospective evaluation of target margin on tumor control. Int J Radiat Oncol Biol Phys 84:336–342

26.

Soltys SG, Adler JR, Lipani JD et al (2008) Stereotactic radiosurgery of the postoperative resection cavity for brain metastases. Int J Radiat Oncol Biol Phys 70:187–193

27.

Steinmann D, Maertens B, Janssen S et al (2012) Hypofractionated stereotactic radiotherapy (hfSRT) after tumour resection of a single brain metastasis: report of a single-centre individualized treatment approach. J Cancer Res Clin Oncol 138:1523–1529

28.

Ojerholm E, Lee JYK, Thawani JP et al (2014) Stereotactic radiosurgery to the resection bed for intracranial metastases and risk of leptomeningeal carcinomatosis. J Neurosurg 121(Suppl):75–83

29.

Hartford AC, Paravati AJ, Spire WJ et al (2013) Postoperative stereotactic radiosurgery without whole-brain radiation therapy for brain metastases: potential role of preoperative tumor size. Int J Radiat Oncol Biol Phys 85:650–655

30.

Minniti G, Esposito V, Clarke E et al (2013) Multidose stereotactic radiosurgery (9 Gy × 3) of the postoperative resection cavity for treatment of large brain metastases. Int J Radiat Oncol Biol Phys 86:623–629

31.

Ogiwara H, Kalakota K, Rakhra SS et al (2012) Intracranial relapse rates and patterns, and survival trends following post-resection cavity radiosurgery for patients with single intracranial metastases. J Neurooncol 108:141–146

32.

Prabhu R, Shu H-K, Hadjipanayis C et al (2012) Current dosing paradigm for stereotactic radiosurgery alone after surgical resection of brain metastases needs to be optimized for improved local control. Int J Radiat Oncol Biol Phys 83:e61–e66

33.

Quigley MR, Fuhrer R, Karlovits S et al (2008) Single session stereotactic radiosurgery boost to the post-operative site in lieu of whole brain radiation in metastatic brain disease. J Neurooncol 87:327–332

34.

Do L, Pezner R, Radany E et al (2009) Resection followed by stereotactic radiosurgery to resection cavity for intracranial metastases. Int J Radiat Oncol Biol Phys 73:486–491

35.

Iwai Y, Yamanaka K, Yasui T (2008) Boost radiosurgery for treatment of brain metastases after surgical resections. Surg Neurol 69:181–186

36.

Karlovits BJ, Quigley MR, Karlovits SM et al (2009) Stereotactic radiosurgery boost to the resection bed for oligometastatic brain disease: challenging the tradition of adjuvant whole-brain radiotherapy. Neurosurg Focus 27:E7

37.

Jensen CA, Chan MD, McCoy TP et al (2011) Cavity-directed radiosurgery as adjuvant therapy after resection of a brain metastasis. J Neurosurg 114:1585–1591

38.

Patchell RA, Tibbs PA, Walsh JW et al (1990) A randomized trial of surgery in the treatment of single metastases to the brain. N Engl J Med 322:494–500

39.

Willett A, Wilkinson JB, Shah C, Mehta MP (2015) Management of solitary and multiple brain metastases from breast cancer. Indian J Med Paediatr Oncol 36:87–93

40.

Brem SS, Bierman PJ, Black P et al (2005) Central nervous system cancers: clinical practice guidelines in oncology. J Natl Compr Canc Netw 3:644–690

41.

Yuan M, Behrami E, Pannullo S et al (2019) The relationship between tumor volume and timing of post-resection stereotactic radiosurgery to maximize local control: a critical review. Cureus 11:e5762

42.

Kyeong S, Cha YJ, Ahn SG et al (2017) Subtypes of breast cancer show different spatial distributions of brain metastases. PLoS ONE 12:e0188542

43.

Schroeder T, Bittrich P, Kuhne JF et al (2020) Mapping distribution of brain metastases: does the primary tumor matter? J Neuro Oncol 147:229–235

44.

Hamel-Perreault E, Mathieu D, Masson-Cote L (2019) Factors influencing the outcome of stereotactic radiosurgery in patients with five or more brain metastases. Curr Oncol 26:e64–e69

45.

van Opijnen MP, Dirven L, Coremans IEM et al (2020) The impact of current treatment modalities on the outcomes of patients with melanoma brain metastases: a systematic review. Int J Cancer 146:1479–1489

46.

Kaidar-Person O, Zagar TM, Deal A et al (2017) The incidence of radiation necrosis following stereotactic radiotherapy for melanoma brain metastases: the potential impact of immunotherapy. Anticancer Drugs 28:669–675

47.

Nardin C, Mateus C, Texier M et al (2018) Tolerance and outcomes of stereotactic radiosurgery combined with anti-programmed cell death-1 (pembrolizumab) for melanoma brain metastases. Melanoma Res 28:111–119

48.

Skrepnik T, Sundararajan S, Cui H, Stea B (2017) Improved time to disease progression in the brain in patients with melanoma brain metastases treated with concurrent delivery of radiosurgery and ipilimumab. Oncoimmunology 6:e1283461

49.

Lonser RR, Song DK, Klapper J et al (2011) Surgical management of melanoma brain metastases in patients treated with immunotherapy. J Neurosurg 115:30–36

50.

Hamilton A, Sibson NR (2013) Role of the systemic immune system in brain metastasis. Mol Cell Neurosci 53:42–51

51.

Higuchi Y, Yamamoto M, Serizawa T et al (2018) Modern management for brain metastasis patients using stereotactic radiosurgery: literature review and the authors' gamma knife treatment experiences. Cancer Manag Res 10:1889–1899

52.

Cruz-Orengo L, Daniels BP, Dorsey D et al (2014) Enhanced sphingosine-1-phosphate receptor 2 expression underlies female CNS autoimmunity susceptibility. J Clin Invest 124:2571–2584
Acknowledgements
We wish to acknowledge the support of Michele Anderson at NeuroPoint Alliance (NPA), and Joel Fuchs and Bogdan Valcu at Brainlab. The SRS registry was supported by a grant from Brainlab to NeuroPoint Alliance/NREF. We would also like to acknowledge the following participating centers in the registry: (1) Beaumont Hospital, Royal Oak, MI (2) Carolina Neurosurgery & Spine Associates: Brain & Spine Care, Charlotte, NC (3) Huntsman Cancer Institute, University of Utah, Salt Lake City, Utah (4) Stereotactic Radiosurgery Center, University of Southern California, Los Angeles, CA (5) The Jewish Hospital–Mercy Health, Cincinnati, OH (6) Long Island Jewish Medical Center | Northwell Health, Lake Success, NY (7) Norton Cancer Institute | Norton Healthcare Louisville, KY (8) New York University (NYU) Langone Medical Center, New York City, NY (9) Oregon Health and Sciences University Hospital, Portland, OR (10) Penn State Hershey Medical Center, Hershey, PA (11) Precision Radiotherapy Center, Mayfield Brain and Spine, Cincinnati, OH (12) Ronald Reagan UCLA Medical Center, Los Angeles, CA (13) The Valley Hospital, Ridgewood, NJ (14) Thomas Jefferson University Hospital, Philadelphia, PA (15) University of Colorado Health (UCHealth) Radiation Oncology, Anschutz Medical Campus, Aurora, CO (16) University of Florida Health Cancer Center, Gainesville, Florida (17) University of Rochester Medical Center, Rochester, NY (18) University of Virginia Medical Center, Charlottesville, VA (19) University of Texas Southwestern Medical Center, Dallas, TX (20) Radiation Oncology Center at Vanderbilt-Ingram Cancer Center, Nashville, TN (21) Radiation Oncology–Yale New Haven Hospital, New Haven, CT.
Ethics declarations
Conflict of interest
None of the authors have any conflicts of interests to disclose. None of the authors have any relevant financial disclosures.
Additional information
Publisher's Note
Springer Nature remains neutral with regard to jurisdictional claims in published maps and institutional affiliations.
About this article
Cite this article
Asher, A.L., Alvi, M.A., Bydon, M. et al. Local failure after stereotactic radiosurgery (SRS) for intracranial metastasis: analysis from a cooperative, prospective national registry. J Neurooncol 152, 299–311 (2021). https://doi.org/10.1007/s11060-021-03698-7
Received:

Accepted:

Published:

Issue Date:
Keywords
Stereotactic radiosurgery

Gamma knife

Linear accelerator

Cyber Knife

SRS

GK

LINAC: intracranial metastasis

Brain metastasis

Local control

Local failure