Abstract
Purpose
Meningiomas are the most common intracranial tumors, accounting for 20–30% of central nervous system tumors. Recently, the European Medicines Agency issued an alert on cyproterone acetate (CPA) based on the results of a study that found an increased risk of meningioma 7 to 20 times higher when a patient is on CPA.
The primary objective of this study was to determine the prevalence of CPA exposure in patients who had one or more intracranial meningiomas treated surgically or with radiation therapy. The secondary objectives were to establish a description of the patients who had intracranial meningioma in Nantes and to establish whether there was a difference in the intrinsic and tumoral characteristics of patients exposed to CPA compared with patients who had no hormonal exposure and patients who had been exposed to other hormones.
Methods
Monocentric, retrospective study including all patients treated by surgery or radiotherapy for intracranial meningioma from 2014 to 2017 excluding those with a history of exposure to ionizing radiation or neurofibromatosis type 2.
Results
388 patients were included, 277 were treated by surgery and 111 by radiotherapy. 3.9% of the patients had a history or current use of CPA, 16.2% were taking other hormonal treatment. Compared with the group without hormonal exposure, the CPA-exposed group had significantly an earlier onset of meningiomas at 48.9 vs. 61.9 years (p = 0.0005) and had more multiple meningiomas, 26.7% vs. 6.1% (p = 0.0115).
Conclusions
In our study, patients with a history or current use of CPA had significantly more meningiomas and were significantly younger at the onset.
Access options
Buy single article
Instant access to the full article PDF.
US$ 39.95
Tax calculation will be finalised during checkout.
Subscribe to journal
Immediate online access to all issues from 2019. Subscription will auto renew annually.
US$ 119
Tax calculation will be finalised during checkout.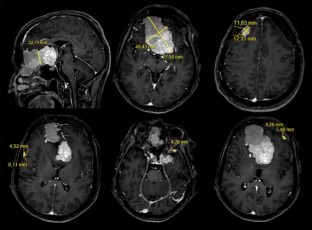 References
1.

Marosi C, Hassler M, Roessler K, Reni M, Sant M, Mazza E et al (2008) Meningioma. Crit Rev Oncol Hematol 67:153–171. https://doi.org/10.1016/j.critrevonc.2008.01.010

2.

Wiemels J, Wrensch M, Claus EB (2010) Epidemiology and etiology of meningioma. J Neurooncol 99:307–314. https://doi.org/10.1007/s11060-010-0386-3

3.

Ostrom QT, Gittleman H, Fulop J, Liu M, Blanda R, Kromer C et al (2015) CBTRUS statistical report: primary brain and central nervous system tumors diagnosed in the United States in 2008–2012. Neuro-Oncol 17(Suppl 4):iv1-i62. https://doi.org/10.1093/neuonc/nov189

4.

Cea-Soriano L, Wallander M-A, García Rodríguez LA (2012) Epidemiology of meningioma in the United Kingdom. Neuroepidemiology 39:27–34. https://doi.org/10.1159/000338081

5.

Zouaoui S, Darlix A, Rigau V, Mathieu-Daudé H, Bauchet F, Bessaoud F et al (2018) Descriptive epidemiology of 13,038 newly diagnosed and histologically confirmed meningiomas in France: 2006–2010. Neurochirurgie 64:15–21. https://doi.org/10.1016/j.neuchi.2014.11.013

6.

Yamanaka R, Hayano A, Kanayama T (2017) Radiation-induced meningiomas: an exhaustive review of the literature. World Neurosurg 97:635–644

7.

Yonehara S, Brenner AV, Kishikawa M, Inskip PD, Preston DL, Ron E et al (2004) Clinical and epidemiologic characteristics of first primary tumors of the central nervous system and related organs among atomic bomb survivors in Hiroshima and Nagasaki, 1958–1995. Cancer 101:1644–1654. https://doi.org/10.1002/cncr.20543

8.

Kotecha RS, Pascoe EM, Rushing EJ, Rorke-Adams LB, Zwerdling T, Gao X et al (2011) Meningiomas in children and adolescents: a meta-analysis of individual patient data. Lancet Oncol 12:1229–1239. https://doi.org/10.1016/S1470-2045(11)70275-3

9.

Baldi I, Engelhardt J, Bonnet C, Bauchet L, Berteaud E, Grüber A et al (2018) Epidemiology of meningiomas. Neurochirurgie 64:5–14. https://doi.org/10.1016/j.neuchi.2014.05.006

10.

Carroll RS, Glowacka D, Dashner K, Black PM (1993) Progesterone receptor expression in meningiomas. Cancer Res 53:1312–1316

11.

Neumann F (2009) The antiandrogen cyproterone acetate: discovery, chemistry, basic pharmacology, clinical use and tool in basic research. Exp Clin Endocrinol Diabetes 102:1–32. https://doi.org/10.1055/s-0029-1211261

12.

Custer B, Longstreth W, Phillips LE, Koepsell TD, Van Belle G (2006) Hormonal exposures and the risk of intracranial meningioma in women: a population-based case-control study. BMC Cancer 6:152. https://doi.org/10.1186/1471-2407-6-152

13.

Lee E, Grutsch J, Persky V, Glick R, Mendes J, Davis F (2006) Association of meningioma with reproductive factors. Int J Cancer 119:1152–1157. https://doi.org/10.1002/ijc.21950

14.

Claus EB, Calvocoressi L, Bondy ML, Wrensch M, Wiemels JL, Schildkraut JM (2013) Exogenous hormone use, reproductive factors, and risk of intracranial meningioma in females: Clinical article. J Neurosurg 118:649–656. https://doi.org/10.3171/2012.9.JNS12811

15.

Gazzeri R, Galarza M, Gazzeri G (2007) Growth of a meningioma in a transsexual patient after estrogen–progestin therapy. N Engl J Med 357:2411–2412. https://doi.org/10.1056/NEJMc071938

16.

Bernat AL, Oyama K, Hamdi S, Mandonnet E, Vexiau D, Pocard M et al (2015) Growth stabilization and regression of meningiomas after discontinuation of cyproterone acetate: a case series of 12 patients. Acta Neurochir (Wien) 157:1741–1746. https://doi.org/10.1007/s00701-015-2532-3

17.

Gil M, Oliva B, Timoner J, Maciá MA, Bryant V, de Abajo FJ (2011) Risk of meningioma among users of high doses of cyproterone acetate as compared with the general population: evidence from a population-based cohort study. Br J Clin Pharmacol 72:965–968. https://doi.org/10.1111/j.1365-2125.2011.04031.x

18.

SIMPSON D (1957) The recurrence of intracranial meningiomas after surgical treatment. J Neurol Neurosurg Psychiatry 20:22–39. https://doi.org/10.1136/jnnp.20.1.22

19.

Cebula H, Pham TQ, Boyer P, Froelich S (2010) Regression of meningiomas after discontinuation of cyproterone acetate in a transsexual patient. Acta Neurochir (Wien) 152:1955–1956. https://doi.org/10.1007/s00701-010-0787-2

20.

ter Wengel PV, Martin E, Gooren L, Den Heijer M, Peerdeman SM (2016) Meningiomas in three male-to-female transgender subjects using oestrogens/progestogens and review of the literature. Andrologia 48(10):1130–1137. https://doi.org/10.1111/and.12550

21.

Mancini I, Rotilio A, Coati I, Seracchioli R, Martelli V, Meriggiola MC (2018) Presentation of a meningioma in a transwoman after nine years of cyproterone acetate and estradiol intake: case report and literature review. Gynecol Endocrinol Off J Int Soc Gynecol Endocrinol 34:456–459. https://doi.org/10.4103/sni.sni_22_18

22.

Bergoglio MT, Gómez-Balaguer M, Almonacid Folch E, Hurtado Murillo F, Hernández-Mijares A (2013) Symptomatic meningioma induced by cross-sex hormone treatment in a male-to-female transsexual. Endocrinol Nutr 60:264–267. https://doi.org/10.1016/j.endonu.2012.07.004

23.

Anda T, Honda M, Ishihara T, Kamei T (2014) Progression of intracranial meningioma during luteinizing hormone-releasing hormone agonist treatment for prostate cancer: case report. Neurol Med Chir (Tokyo) 54:327–330. https://doi.org/10.2176/nmc.cr2012-0417

24.

Boetto J, Apra C, Bielle F, Peyre M, Kalamarides M (2018) Selective vulnerability of the primitive meningeal layer to prenatal Smo activation for skull base meningothelial meningioma formation. Oncogene 37:4955–4963. https://doi.org/10.1038/s41388-018-0328-7

25.

Passeri T, Champagne P-O, Bernat A-L, Hanakita S, Salle H, Mandonnet E et al (2019) Spontaneous regression of meningiomas after interruption of nomegestrol acetate: a series of three patients. Acta Neurochir (Wien) 61:761–765. https://doi.org/10.1007/s00701-019-03848-x

26.

Peyre M, Gaillard S, de Marcellus C, Giry M, Bielle F, Villa C et al (2018) Progestin-associated shift of meningioma mutational landscape. Ann Oncol 29:681–686. https://doi.org/10.1093/annonc/mdx763

27.

Peyre M, Salaud C, Clermont-Taranchon E, Niwa-Kawakita M, Goutagny S, Mawrin C et al (2015) PDGF activation in PGDS-positive arachnoid cells induces meningioma formation in mice promoting tumor progression in combination with Nf2 and Cdkn2ab loss. Oncotarget 6:32713–32722. https://doi.org/10.18632/oncotarget.5296

28.

Shimizu J, Matsumoto M, Yamazaki E, Yasue M (2008) Spontaneous regression of an asymptomatic meningioma associated with discontinuation of progesterone agonist administration. Neurol Med Chir (Tokyo) 48:227–230. https://doi.org/10.2176/nmc.48.227

29.

Kalamarides M, Peyre M (2017) Dramatic shrinkage with reduced vascularization of large meningiomas after cessation of progestin treatment. World Neurosurg 101:814.e7-814.e10. https://doi.org/10.1016/j.wneu.2017.03.013

30.

Islim AI, Mohan M, Moon RDC, Srikandarajah N, Mills SJ, Brodbelt AR et al (2019) Incidental intracranial meningiomas: a systematic review and meta-analysis of prognostic factors and outcomes. J Neurooncol 142:211–221. https://doi.org/10.1007/s11060-019-03104-3

31.

Hatch EE, Linet MS, Zhang J, Fine HA, Shapiro WR, Selker RG et al (2005) Reproductive and hormonal factors and risk of brain tumors in adult females. Int J Cancer 114:797–805. https://doi.org/10.1002/ijc.20776

32.

Jhawar BS, Fuchs CS, Colditz GA, Stampfer MJ (2003) Sex steroid hormone exposures and risk for meningioma. J Neurosurg 99:848–853. https://doi.org/10.3171/jns.2003.99.5.0848

33.

Wigertz A, Lönn S, Mathiesen T, Ahlbom A, Hall P, Feychting M et al (2006) Risk of brain tumors associated with exposure to exogenous female sex hormones. Am J Epidemiol 164:629–636. https://doi.org/10.1093/aje/kwj254

34.

Blitshteyn S, Crook JE, Jaeckle KA (2008) Is there an association between meningioma and hormone replacement therapy? J Clin Oncol Off J Am Soc Clin Oncol 26:279–282. https://doi.org/10.1200/JCO.2007.14.2133

35.

Shahin MN, Magill ST, Dalle Ore CL, Viner JA, Peters PN, Solomon DA et al (2019) Fertility treatment is associated with multiple meningiomas and younger age at diagnosis. J Neurooncol 143:137–144. https://doi.org/10.1007/s11060-019-03147-6

36.

Roux A, Tauziede-Espariat A, Zanello M, Gareton A, Malaize H, Benzakoun J, Zah-Bi G, Oppenheim C, Plu-Bureau G, Chretien F, Pallud J (2020) Symptomatic progestin-associated atypical grade II meningioma. A first case report. Neurochirurgie 66:174–178. https://doi.org/10.1016/j.neuchi.2019.12.013

37.

Apra C, Roblot P, Alkhayri A, Le Guérinel C, Polivka M, Chauvet D (2020) Female gender and exogenous progesterone exposition as risk factors for spheno-orbital meningiomas. J Neurooncol 149:95–101. https://doi.org/10.1007/s11060-020-03576-8

38.

Weill A, Cadier B, Nguyen P, Coste J (2019) Exposition à de fortes doses d'acétate de cyprotérone. Amélie Santé. https://www.ameli.fr/l-assurance-maladie/statistiques-et-publications/etudes-en-sante-publique/etudes-pharmaco-epidemiologiques/acetate-de-cyproterone-et-risque-de-meningiome.php
Acknowledgements
We thank Mr Peter Tucker for English language editing.
Ethics declarations
Conflict of interest
The authors declare that they have no conflict of interest.
Ethical approval
The local ethics committee (GNEDS: Groupe Nantais d'Ethique dans le Domaine de la Santé) approved the collection and use of this data (approval on November 12, 2018).
Additional information
Publisher's Note
Springer Nature remains neutral with regard to jurisdictional claims in published maps and institutional affiliations.
Supplementary Information
Below is the link to the electronic supplementary material.
About this article
Cite this article
Samarut, E., Lugat, A., Amelot, A. et al. Meningiomas and cyproterone acetate: a retrospective, monocentric cohort of 388 patients treated by surgery or radiotherapy for intracranial meningioma. J Neurooncol 152, 115–123 (2021). https://doi.org/10.1007/s11060-020-03683-6
Received:

Revised:

Accepted:

Published:

Issue Date:
Keywords
Meningioma

Cyproterone acetate

Progestative

Hirsutism

Polycystic ovary syndrome