Abstract
Background
Brainstem high-grade gliomas (HGG) are rare lesions with aggressive behavior that pose significant treatment challenges. The operative use of brainstem safe entry zones has made such lesions surgically accessible, though the benefits of aggressive resection have been unclear. This study aimed to clarify the survival in adult patients.
Methods
We utilized the SEER database (1973–2015) to analyze the association between survival and demographic data, tumor characteristics, and treatment factors in adult patients with brainstem HGGs. Patients without surgical intervention were excluded. Overall survival (OS) was analyzed using univariable and multivariable Cox regression.
Results
Our dataset included a total of 502 brainstem HGG patients of which only those who had undergone surgical intervention were included in the analysis, totaling 103. Mean age was 42.4 ± 14.1 years with 57.2% (n = 59) male. Median OS of the entire cohort was 11.0 months. Median OS for patients receiving biopsy, subtotal resection, and gross total resection were 8, 11, and 16 months, respectively. Age, extent of resection, and radiation therapy were selected into the multivariable model. A significant decrease in survival was seen in older patients, 50–60 years (HR = 2.77, p = 0.002) and ≥ 60 years (HR = 5.30, p < 0.001), compared to younger patients (18–30 years). Partial resection (HR = 0.32, p = 0.006) and GTR (HR = 0.24, p < 0.001) sustained survival benefits compared to patients with biopsy only. Patients receiving postoperative radiation demonstrated no survival benefit (HR = 1.57, p = 0.161) in multivariable regression.
Conclusions
While survival of brainstem HGG patients remains poor, for surgically accessible HGGs, STR and GTR were associated with a three and fourfold increase in overall survival when compared to biopsy only.
Access options
Buy single article
Instant access to the full article PDF.
USD 39.95
Price includes VAT (USA)
Tax calculation will be finalised during checkout.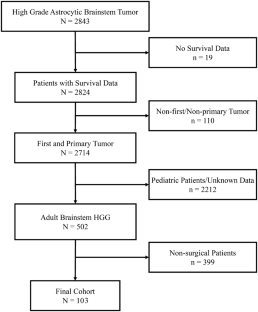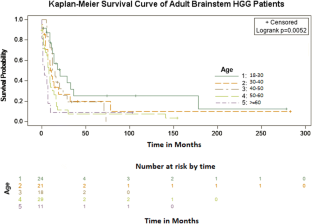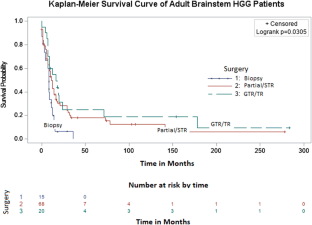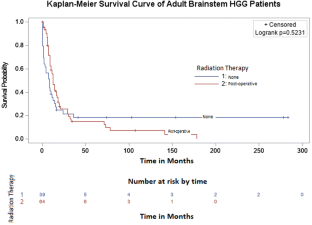 References
1.

Tokuriki Y, Handa H, Yamashita J, Okumura T, Paine JT (1986) Brainstem glioma: an analysis of 85 cases. Acta Neurochir (Wien) 79(2–4):67–73

2.

Babu R, Kranz PG, Agarwal V et al (2014) Malignant brainstem gliomas in adults: clinicopathological characteristics and prognostic factors. J Neurooncol 119(1):177–185

3.

Guillamo JS, Monjour A, Taillandier L et al (2001) Brainstem gliomas in adults: prognostic factors and classification. Brain 124(Pt 12):2528–2539

4.

Ostrom QT, Bauchet L, Davis FG et al (2014) The epidemiology of glioma in adults: a "state of the science" review. Neuro-oncology 16(7):896–913

5.

Theeler BJ, Gilbert MR (2015) Advances in the treatment of newly diagnosed glioblastoma. BMC Med 13(1):293

6.

Eisele SC, Reardon DA (2016) Adult brainstem gliomas. Cancer 122(18):2799–2809

7.

Hassan H, Pinches A, Picton SV, Phillips RS (2017) Survival rates and prognostic predictors of high grade brain stem gliomas in childhood: a systematic review and meta-analysis. J Neurooncol 135(1):13–20

8.

Mukherjee D, Antar V, Soylemez B et al (2018) High-resolution diffusion tensor magnetic resonance imaging of the brainstem safe entry zones. Neurosurg Rev 68(2):403–415

9.

Dey M, Lin Y, Melkonian S, Lam S (2014) Prognostic factors and survival in primary adult high grade brainstem astrocytoma: a population based study from 1973–2008. J Clin Neurosci 21(8):1298–1303

10.

deLeeuw J (1992) Introduction to Akaike (1973) information theory and an extension of the maximum likelihood principle (PDF). In: Kotz S, Johnson NL (eds) Breakthroughs in statistics I. Springer, New York, pp 599–609

11.

Bozdogan H (1987) Model selection and Akaike's information criterion (AIC): the general theory and its analytical extensions. Psychometrika 52:345

12.

Fisher PG, Breiter SN, Carson BS et al (2000) A clinicopathologic reappraisal of brain stem tumor classification Identification of pilocystic astrocytoma and fibrillary astrocytoma as distinct entities. Cancer 89(7):1569–1576

13.

Bricolo A (2000) Surgical management of intrinsic brain stem gliomas. Oper Techn Neurosurg 3(2):137–154

14.

Reyes-Botero G, Mokhtari K, Martin-Duverneuil N, Delattre J-Y, Laigle-Donadey F (2012) Adult brainstem gliomas. Oncologist 17(3):388–397

15.

Theeler BJ, Ellezam B, Melguizo-Gavilanes I et al (2015) Adult brainstem gliomas: correlation of clinical and molecular features. J Neurol Sci 353(1–2):92–97

16.

Hu J, Western S, Kesari S (2016) Brainstem glioma in adults. Front Oncol 6(26):180

17.

Lesniak MS, Klem JM, Weingart J, Carson BS (2003) Surgical outcome following resection of contrast-enhanced pediatric brainstem gliomas. Pediatr Neurosurg 39(6):314–322

18.

Cavalheiro S, Yagmurlu K, da Costa MDS et al (2015) Surgical approaches for brainstem tumors in pediatric patients. Childs Nerv Syst 31(10):1815–1840

19.

Lassiter KR, Alexander E, Davis CH, Kelly DL (1971) Surgical treatment of brain stem gliomas. J Neurosurg 34(6):719–725

20.

Epstein F, McCleary EL (1986) Intrinsic brain-stem tumors of childhood: surgical indications. J Neurosurg 64(1):11–15

21.

Kestle J, Townsend JJ, Brockmeyer DL, Walker ML (2004) Juvenile pilocytic astrocytoma of the brainstem in children. J Neurosurg 101(1 Suppl):1–6

22.

Teo C, Siu TL (2008) Radical resection of focal brainstem gliomas: is it worth doing? Childs Nerv Syst 24(11):1307–1314

23.

McGirt MJ, Mukherjee D, Chaichana KL, Than KD, Weingart JD, Quinones-Hinojosa A (2009) association of surgically acquired motor and language deficits on overall survival after resection of glioblastoma multiforme. Neurosurgery 65(3):463–470

24.

Rahman M, Abbatematteo J, Leo EKD et al (2016) The effects of new or worsened postoperative neurological deficits on survival of patients with glioblastoma. J Neurosurg 127(1):123–131

25.

Killela PJ, Reitman ZJ, Jiao Y et al (2013) TERT promoter mutations occur frequently in gliomas and a subset of tumors derived from cells with low rates of self-renewal. Proc Natl Acad Sci USA 110(15):6021–6026

26.

Eckel-Passow JE, Lachance DH, Molinaro AM et al (2015) Glioma groups based on 1p/19q, IDH, and TERT promoter mutations in tumors. N Engl J Med 372(26):2499–2508

27.

Network Cancer Genome Atlas Research, Brat DJ, Verhaak RGW et al (2015) Comprehensive, integrative genomic analysis of diffuse lower-grade gliomas. N Engl J Med 372(26):2481–2498

28.

Kim H, Zheng S, Amini SS et al (2015) Whole-genome and multisector exome sequencing of primary and post-treatment glioblastoma reveals patterns of tumor evolution. Genome Res 25(3):316–327

29.

Louis DN, Perry A, Reifenberger G et al (2016) The 2016 World Health Organization classification of tumors of the central nervous system: a summary. Acta Neuropathol 131(6):803–820
Funding
The authors received no financial support for the research, authorship, and/or publication of this article.
Ethics declarations
Conflict of interest
The authors have no conflict of interest or financial disclosures.
Additional information
Publisher's Note
Springer Nature remains neutral with regard to jurisdictional claims in published maps and institutional affiliations.
Importance of the study
In this study, we utilized the SEER database to explore the survival of adult patients with brainstem astrocytic HGGs. This study is the largest study to date to elucidate survival postsurgical intervention for this extremely rare disease. We managed to find that age and extent of resection were associated with survival in this patient cohort. GTR/TR was associated with double the survival of biopsy patients. This study provides a more reliable overall survival estimate for these patients due to the large sample size.
Electronic supplementary material
Below is the link to the electronic supplementary material.
About this article
Cite this article
Doyle, J., Khalafallah, A.M., Yang, W. et al. Association between extent of resection on survival in adult brainstem high-grade glioma patients. J Neurooncol 145, 479–486 (2019). https://doi.org/10.1007/s11060-019-03313-w
Received:

Accepted:

Published:

Issue Date:
Keywords
Brainstem

High-grade glioma

Glioblastoma

SEER

Survival