Abstract
Purpose
This is the first single-institution study of its size to characterize the treatment impact and to address the question of whether hemangioblastoma treatment with Gamma Knife Stereotactic Radiosurgery (GKRS) in both sporadic and VHL patients changes the characteristic saltatory hemangioblastoma growth pattern.
Methods
The authors reviewed a single-institution tumor registry to identify patients who had received GKRS for hemangioblastomas between January 1st, 1999, and December 31st, 2017.
Results
15 patients with 101 lesions met search criteria with a median age of first GKRS of 39.2 years (interquartile range [IQR] of 25.7–57.4 years), including 96 VHL and 5 sporadic lesions. The median time from GKRS to last follow-up was 5.4 years (IQR 2.3–11.5 years). 4 lesions (4%) and 3 patients (20%) experienced a local failure. The 1-year, 3-year, and 5-year freedom from new hemangioblastoma formation rates were 97%, 80%, and 46% respectively. Multivariate analysis revealed a reduction in tumor volume after GKRS. Several variables associated with a greater percent reduction in volume from GKRS to last follow-up: non-cystic status (p = .01), no prior craniotomy (p = .04), and follow-up time from GKRS (p < .0001).
Conclusions
GKRS is a successful long-term treatment option for hemangioblastomas changing the clinical course from saltatory growth to reduction in tumor volume. Non-cystic tumors and those without prior craniotomy were associated with a greater percent reduction in volume from GKRS at last follow-up.
This is a preview of subscription content,
to check access.
Access this article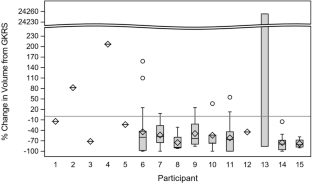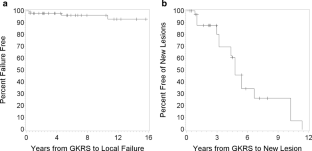 Funding
Funding was provided by Comprehensive Cancer Center at Wake Forest Baptist Medical Center (Grant No. P30 CA012197-40).
Ethics declarations
Conflict of interest
We have no conflict of interest to disclose.
Informed consent
informed consent was obtained from all human participants in compliance with our IRB standards.
Additional information
Publisher's Note
Springer Nature remains neutral with regard to jurisdictional claims in published maps and institutional affiliations.
Electronic supplementary material
Below is the link to the electronic supplementary material.
About this article
Cite this article
Liebenow, B., Tatter, A., Dezarn, W.A. et al. Gamma Knife Stereotactic Radiosurgery favorably changes the clinical course of hemangioblastoma growth in von Hippel-Lindau and sporadic patients. J Neurooncol 142, 471–478 (2019). https://doi.org/10.1007/s11060-019-03118-x
Received:

Accepted:

Published:

Issue Date:

DOI: https://doi.org/10.1007/s11060-019-03118-x
Keywords