Abstract
Introduction
Chromosomes 1p/19q co-deletion is a robust molecular marker for the diagnosis of oligodendroglial tumors, and has been included in the 2016 WHO modified classification. Although treatment for oligodendroglioma is controversial, upfront chemotherapy is regarded as one of the treatment option for low-grade tumor. We have treated all the 1p/19q co-deleted oligodendrogliomas, both grades II and III, with upfront chemotherapy without conventional radiotherapy for 20 years. The clinical experience from this trial may be suggestive for understanding of the biological features of oligodendroglioma with 1p/19q co-deletion toward precision medicine.
Methods
This is a long-term retrospective data of the non-selected patients with 1p/19q co-deleted oligodendrogliomas uniformly treated with up-front chemotherapy. Seventy consecutive patients (48 with grade II and 22 with grade III tumors) were included.
Results
The median follow-up period was 13 years. The 5-, 10-, and 15-year progression-free survival (PFS) rates were 85.7%, 54.8%, and 31.5%, respectively, and the median PFS was 146 months. In most cases, tumor recurrence was remained local and could be controlled by salvage surgery and/or chemotherapy. The 5-, 10-, and 15-year overall survival (OS) rates were 96.8%, 88.7%, and 80.0%, respectively, and the median OS was not reached. These survival data compared favorably with previous large clinical studies employing radiotherapy. Tumor grades based on World Health Organization classification, extent of surgery, and age affected neither PFS nor OS. Most patients were able to return to their premorbid social life.
Conclusions
The long-term results drawn from 20-years of single institution experience show that the patients with 1p/19q co-deleted oligodendrogliomas can be successfully treated with up-front chemotherapy alone without compromising OS.
This is a preview of subscription content, log in to check access.
Access options
Buy single article
Instant access to the full article PDF.
US$ 39.95
Price includes VAT for USA
Subscribe to journal
Immediate online access to all issues from 2019. Subscription will auto renew annually.
US$ 199
This is the net price. Taxes to be calculated in checkout.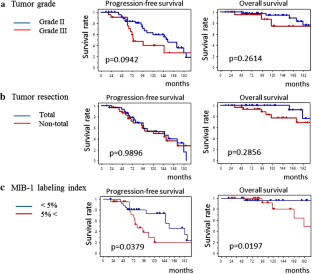 References
1.

Reifenberger G, Wirsching HG, Knobbe-Thomsen CB, Weller M (2017) Advances in the molecular genetics of gliomas—implications for classification and therapy. Nat Rev Clin Oncol 14:434–452

2.

Mason WP, Krol GS, DeAngelis LM (1996) Low-grade oligodendrogliomas respond to chemotherapy. Neurology 46:203–207

3.

Celli P, Nofrone I, Palma L, Cantore G, Fortuna A (1994) Cerebral oligodendroglioma: prognostic factors and life history. Neurosurgery 35:1018–1034

4.

Leonardi MA, Lumenta CB (2001) Oligodendrogliomas in CT/MR-era. Acta Neurochir 143:1195–1203

5.

Lebrun C, Fontaine D, Ramaioli A et al (2004) Long-term outcome of oligodendrogliomas. Neurology 62:1783–1787

6.

Ozyigit G, Onal C, Gurkaynak M, Soylemezoklu F, Zorlu F (2005) Postoperative radiotherapy and chemotherapy in the management of oligodendroglioma: single institutional review of 88 patiengts. J Neurooncol 75:189–193

7.

Rusthoven CG, Carlson JA, Waxweiler TV et al (2014) The impact of adjuvant radiation therapy for high-grade gliomas by histology in the United States population. Int J Radiat Oncol Biol Phys 90:894–902

8.

Wick W, Roth P, Hartmann C et al (2016) Long-term analysis of the NOA-04 randomized phase III trial of sequential radiochemotherapy of anaplastic glioma with PCV or temozolomide. Neuro Oncol 18:1529–1537

9.

Iwadate Y, Fukuda K, Matsutani T, Saeki N (2016) Intrinsic protective mechanisms of neuron-glia network against glioma invasion. J Clin Neurosci 26:19–25

10.

Postma TJ, van Groeningen CJ, Witjes RJ, Weerts JG, Kralendonk JH, Heimans JJ (1998) Neurotoxicity of combination chemotherapy with procarbazine, CCNU and vincristine (PCV) for recurrent glioma. J Neurooncol 38:69–75

11.

Behin A, Hoang-Xuan K, Carpentier AF, Delattre J-Y (2003) Primary brain tumors in adults. Lancet 361:323–331

12.

Iwadate Y, Matsutani T, Shinozaki N, Saeki N (2011) Anaplastic oligodendroglial tumors harboring 1p/19q deletion can be successfully treated without radiotherapy. Anticancer Res 31:4475–4479

13.

Caincross G, Macdonald D, Ludwin S et al (1994) Chemotherapy for anaplastic oligodendroglioma. J Clin Oncol 12:2013–2021

14.

Bromberg JEC, van den Bent MJ (2009) Oligodendrogliomas: molecular biology and treatment. Oncologist 14:155–163

15.

Baumert BG, Hegi ME, van den Bent MJ et al (2016) Temozolomide chemotherapy versus radiotherapy in high-risk low-grade glioma (EORTC 22033–26033): a randomised, open-label, phase 3 intergroup study. Lancet Oncol 17(11):1521–1532

16.

Louis DN, Perry A, Reifenberger G et al (2016) The 2016 World Health Organization classification of tumors of the central nervous system: a summary. Acta Neuropathol 131:803–820

17.

Giannini C, Burger PC, Berkey BA et al (2008) Anaplastic oligodendroglial tumors: refining the correlation among histopathology, 1p 19q deletion and clinical outcome in Intergroup Radiation Therapy Oncology Group Trial 9402. Brain Pathol 18:360–369

18.

Gadji M, Fortin D, Tsanaclis AM et al (2009) Is 1p/19q deletion a diagnostic marker of oligodendrogliomas ? Cancer Genet Cytogenet 194:12–22

19.

Jenkins RB, Blair H, Ballman KV et al (2006) A t(1; 19)(q10; p10) mediates the combined deletions of 1p and 19q and predicts a better prognosis of patients with oligodendroglioma. Cancer Res 66:9852–9861

20.

Cairncross JG, Macdonald DR, Ramsay DA (1992) Aggressive oligodendroglioma: a chemosensitive tumor. Neurosurgery 31:78–82

21.

Ino Y, Cairncross JG, Louis DN et al (2001) Molecular subtypes of anaplastic oligodendroglioma: implications for patient management at diagnosis. Clin Cancer Res 7:839–845

22.

DeAngelis LM, Delattre JY, Posner JB (1989) Radiation-induced dementia in patients cured of brain metastases. Neurology 39:789–796

23.

Chang EL, Wefel JS, Hess KR et al (2009) Neurocognition in patients with brain metastases treated with radiosurgery or radiosurgery plus whole-brain irradiation: a randomized controlled trial. Lancet Oncol 10:1037–1044

24.

Douw L, Klein M, Fagel SS et al (2009) Cognitive and radiological effects of radiotherapy in patients with low-grade glioma: long-term follow-up. Lancet Neurol 8:810–818

25.

Abrey LE, Louis DN, Paleologos N et al (2007) Survey of treatment recommendation for anaplastic oligodendroglioma. Neuro-oncology 9:314–318

26.

Panageas KS, Iwamoto FM, Cloughesy TM et al (2012) Initial treatment patterns over time for anaplastic oligodendroglial tumors. Neuro-oncology 14:761–767

27.

Lassman AB, Iwamoto FM, Cloughesy TM et al (2011) International retrospective study of over 1000 adults with anaplastic oligodendroglial tumors. Neuro-oncology 13:649–659

28.

Lecavalier-Barsoum M, Quon H, Abdulkarim B (2014) Adjuvant treatment of anaplastic oligodendrogliomas and oligoastrocytomas. Cochrane Database Syst Rev 15(5):CD007104

29.

Taliansky-Aronov A, Bokstein F, Lavon I et al (2006) Temozolomide treatment for newly diagnosed anaplastic oligodendrogliomas: a clinical efficacy trial. J Neurooncol 79:153–157

30.

Thomas AA, Abrey LE, Terziev R, Raizer J, Omuro A et al (2017) Multicenter phase II study of temozolomide and myeloablative chemotherapy with autologous stem cell transplant for newly diagnosed anaplastic oligodendroglioma. Neuro-oncology 19:1380–1390

31.

Abrey LE, Childs BH, Paicologos Z et al (2006) High-dose chemotherapy with stem cell rescue as an initial therapy for anaplastic oligodendroglioma: long-term follow-up. Neuro-oncology 8:183–188

32.

Higuchi Y, Iwadate Y, Yamaura A (2004) Treatment of low-grade oligodendroglial tumors without radiotherapy. Neurology 63:2384–2386

33.

Iwadate Y, Matsutani T, Hasegawa Y et al (2011) Favorable long-term outcome of low-grade oligodendrogliomas irrespective of 1p/19q status when treated without radiotherapy. J Neurooncol 102:443–449

34.

Ty AU, See SJ, Rao JP, Khoo JB, Wong MC (2006) Oligodendroglial tumor chemotherapy using "decreased-dose-intensity" PCV: a Singapore experience. Neurology 66:247–249

35.

Sunyach MP, Jouvet A, Perol D et al (2007) Role of exclusive chemotherapy as first line treatment in oligodendroglioma. J Neurooncol 85:319–328

36.

Taal W, van der Rijt CC, Dinjens WN et al (2015) Treatment of low-grade oligodendroglial tumors with upfront procarbazine, lomustine, and vincristine chemotherapy with long follow-up: a retrospective cohort study with growth kinetics. J Neurooncol 121:365–372

37.

van den Bent MJ, Brandes AA, Taphoorn MJ et al (2013) Adjuvant procarbazine, lomustine, and vincristine chemotherapy in newly diagnosed anaplastic oligodendroglioma: long-term follow-up of EORTC Brain Tumor Group study 26951. J Clin Oncol 31:344–350

38.

Cairncross G, Wang M, Shaw E et al (2013) Phase III trial of chemoradiotherapy for anaplastic oligodendroglioma: long-term results of RTOG 9402. J Clin Oncol 31:337–343
Ethics declarations
Conflict of interest
The authors declare no conflicts of interest.
About this article
Cite this article
Iwadate, Y., Matsutani, T., Hara, A. et al. Eighty percent survival rate at 15 years for 1p/19q co-deleted oligodendroglioma treated with upfront chemotherapy irrespective of tumor grade. J Neurooncol 141, 205–211 (2019). https://doi.org/10.1007/s11060-018-03027-5
Received:

Accepted:

Published:

Issue Date:
Keywords
Oligodendroglioma

Glioma

1p19q

1p/19q

PAV