Abstract
Purpose
Molecular data has become an essential part of the updated World Health Organization (WHO) grading of central nervous system tumors. However, stereotactic needle biopsies provide only small volume specimens and limit the extent of histologic and molecular testing that can be performed. We assessed the use of a tubular retractor-based minimally invasive biopsy technique to provide improved tissue yield and diagnostic data compared to needle biopsy.
Methods
Eighteen patients underwent an open transtubular biopsy compared to 146 stereotactic biopsies during the years of 2010–2018.
Results
Tubular biopsies resulted in a higher volume of tissue provided to the pathologist than needle biopsies (1.26 cm3 vs. 0.3 cm3; p < 0.0001). There was a higher rate of non-diagnostic sample with stereotactic compared to transtubular biopsy (13% vs. 0%; p = 0.13). Six patients who underwent stereotactic biopsy required reoperation for diagnosis, while no transtubular biopsy patient required reoperation in order to obtain a diagnostic specimen. Postoperative hematoma was the most common post-operative complication in both groups.
Conclusions
Stereotactic transtubular biopsies are a viable alternative to stereotactic needle biopsies with excellent rates of diagnostic success and acceptable morbidity relative to the needle biopsy technique. As molecular data begins to increasingly drive treatment decisions, additional biopsy techniques that afford large tissue volumes may be necessary to adapt to the new needs of pathologists and treating oncologists.
Access options
Buy single article
Instant access to the full article PDF.
US$ 39.95
Tax calculation will be finalised during checkout.
Subscribe to journal
Immediate online access to all issues from 2019. Subscription will auto renew annually.
US$ 119
Tax calculation will be finalised during checkout.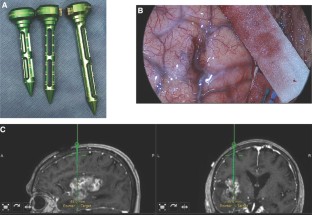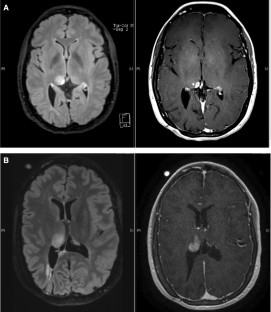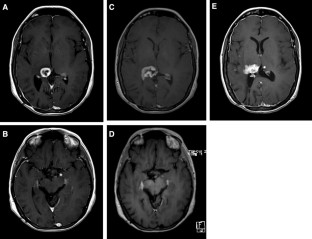 References
1.

Rahman M, Murad GJA, Mocco J (2009) Early history of the stereotactic apparatus in neurosurgery. Neurosurg Focus 27:E12. https://doi.org/10.3171/2009.7.FOCUS09118

2.

Krieger MD, Chandrasoma PT, Zee C-S, Apuzzo MLJ (1998) Role of stereotactic biopsy in the diagnosis and management of brain tumors. Semin Surg Oncol 14:13–25. https://doi.org/10.1002/(SICI)1098-2388(199801/02)14:1%3C13::AID-SSU3%3E3.0.CO;2-5

3.

Kickingereder P, Willeit P, Simon T, Ruge MI (2013) Diagnostic value and safety of stereotactic biopsy for brainstem tumors: a systematic review and meta-analysis of 1480 cases. Neurosurgery 72:873–881. https://doi.org/10.1227/NEU.0b013e31828bf445 (discussion 882; quiz 882)

4.

Reithmeier T, Lopez WO, Doostkam S et al (2013) Intraindividual comparison of histopathological diagnosis obtained by stereotactic serial biopsy to open surgical resection specimen in patients with intracranial tumours. Clin Neurol Neurosurg 115:1955–1960. https://doi.org/10.1016/j.clineuro.2013.05.019

5.

Lu Y, Yeung C, Radmanesh A et al (2015) Comparative effectiveness of frame-based, frameless, and intraoperative magnetic resonance imaging-guided brain biopsy techniques. World Neurosurg 83:261–268. https://doi.org/10.1016/j.wneu.2014.07.043

6.

Hall WA (1998) The safety and efficacy of stereotactic biopsy for intracranial lesions. Cancer 82:1749–1755. https://doi.org/10.1002/(SICI)1097-0142(19980501)82:9%3C1756::AID-CNCR23%3E3.0.CO;2-2

7.

Dammers R, Haitsma IK, Schouten JW et al (2008) Safety and efficacy of frameless and frame-based intracranial biopsy techniques. Acta Neurochir (Wien) 150:23–29. https://doi.org/10.1007/s00701-007-1473-x

8.

Khatab S, Spliet W, Woerdeman PA (2014) Frameless image-guided stereotactic brain biopsies: emphasis on diagnostic yield. Acta Neurochir (Wien) 156:1441–1450. https://doi.org/10.1007/s00701-014-2145-2

9.

Castle M, Nájera E, Samprón N et al (2014) Frameless stereotactic biopsy: diagnostic yield and complications. Neurocirugia (Asturias) 25:56–61. https://doi.org/10.1016/j.neucir.2013.11.003

10.

Muragaki Y, Chernov M, Maruyama T et al (2008) Low-grade glioma on stereotactic biopsy: how often is the diagnosis accurate? Minim Invasive Neurosurg MIN 51:275–279. https://doi.org/10.1055/s-0028-1082322

11.

Slowiński J, Harabin-Slowińska M, Mrówka R (1999) Smear technique in the intra-operative brain tumor diagnosis: its advantages and limitations. Neurol Res 21:121–124

12.

Herrera SR, Shin JH, Chan M et al (2010) Use of transparent plastic tubular retractor in surgery for deep brain lesions: a case series. Surg Technol Int 19:47–50

13.

Recinos PF, Raza SM, Jallo GI, Recinos VR (2011) Use of a minimally invasive tubular retraction system for deep-seated tumors in pediatric patients. J Neurosurg Pediatr 7:516–521. https://doi.org/10.3171/2011.2.PEDS10515

14.

Jo K-W, Shin HJ, Nam D-H et al (2011) Efficacy of endoport-guided endoscopic resection for deep-seated brain lesions. Neurosurg Rev 34:457–463. https://doi.org/10.1007/s10143-011-0319-4

15.

Ichinose T, Goto T, Morisako H et al (2010) Microroll retractor for surgical resection of brainstem cavernomas. World Neurosurg 73:520–522. https://doi.org/10.1016/j.wneu.2010.06.049

16.

Ratre S, Yadav YR, Parihar VS, Kher Y (2016) Microendoscopic removal of deep-seated brain tumors using tubular retraction system. J Neurol Surg A 77:312–320. https://doi.org/10.1055/s-0036-1580595

17.

Jo K-I, Chung SB, Jo K-W et al (2011) Microsurgical resection of deep-seated lesions using transparent tubular retractor: pediatric case series. Childs Nerv Syst 27:1989–1994. https://doi.org/10.1007/s00381-011-1529-3

18.

Kreth FW, Muacevic A, Medele R et al (2001) The risk of haemorrhage after image guided stereotactic biopsy of intra-axial brain tumours–a prospective study. Acta Neurochir (Wien) 143:539–545 (discussion 545–546)

19.

Akai T, Shiraga S, Sasagawa Y et al (2008) Intra-parenchymal tumor biopsy using neuroendoscopy with navigation. Minim Invasive Neurosurg MIN 51:83–86. https://doi.org/10.1055/s-2007-1004562

20.

Almenawer SA, Crevier L, Murty N et al (2013) Minimal access to deep intracranial lesions using a serial dilatation technique: case-series and review of brain tubular retractor systems. Neurosurg Rev 36:321–330. https://doi.org/10.1007/s10143-012-0442-x

21.

Fahim DK, Relyea K, Nayar VV et al (2009) Transtubular microendoscopic approach for resection of a choroidal arteriovenous malformation. J Neurosurg Pediatr 3:101–104. https://doi.org/10.3171/2008.11.PEDS08280

22.

Greenfield JP, Cobb WS, Tsouris AJ, Schwartz TH (2008) Stereotactic minimally invasive tubular retractor system for deep brain lesions. Neurosurgery 63:334–339. https://doi.org/10.1227/01.neu.0000334741.61745.72 (discussion 339–340)

23.

Jho H-D, Alfieri A (2002) Endoscopic removal of third ventricular tumors: a technical note. Minim Invasive Neurosurg MIN 45:114–119. https://doi.org/10.1055/s-2002-32487

24.

Kassam AB, Engh JA, Mintz AH, Prevedello DM (2009) Completely endoscopic resection of intraparenchymal brain tumors. J Neurosurg 110:116–123. https://doi.org/10.3171/2008.7.JNS08226

25.

Kelly PJ (1989) Future perspectives in stereotactic neurosurgery: stereotactic microsurgical removal of deep brain tumors. J Neurosurg Sci 33:149–154

26.

Kelly PJ, Goerss SJ, Kall BA (1988) The stereotaxic retractor in computer-assisted stereotaxic microsurgery. Technical note. J Neurosurg 69:301–306. https://doi.org/10.3171/jns.1988.69.2.0301

27.

Moshel YA, Link MJ, Kelly PJ (2007) Stereotactic volumetric resection of thalamic pilocytic astrocytomas. Neurosurgery 61:66–75. https://doi.org/10.1227/01.neu.0000279725.13521.a3 (discussion 75)

28.

Nishihara T, Nagata K, Tanaka S et al (2005) Newly developed endoscopic instruments for the removal of intracerebral hematoma. Neurocrit Care 2:67–74. https://doi.org/10.1385/NCC:2:1:067

29.

Otsuki T, Jokura H, Yoshimoto T (1990) Stereotactic guiding tube for open-system endoscopy: a new approach for the stereotactic endoscopic resection of intra-axial brain tumors. Neurosurgery 27:326–330

30.

Patil A-A (1987) Stereotactic excision of deep brain lesions using probe guided brain retractor. Acta Neurochir (Wien) 87:150–152. https://doi.org/10.1007/BF01476067

31.

Raza SM, Recinos PF, Avendano J et al (2011) Minimally invasive trans-portal resection of deep intracranial lesions. Minim Invasive Neurosurg MIN 54:5–11. https://doi.org/10.1055/s-0031-1273734

32.

Ross DA (1993) A simple stereotactic retractor for use with the Leksell stereotactic system. Neurosurgery 32:475–476 (discussion 476)

33.

Constantini S, Mohanty A, Zymberg S et al (2013) Safety and diagnostic accuracy of neuroendoscopic biopsies: an international multicenter study. J Neurosurg Pediatr 11:704–709. https://doi.org/10.3171/2013.3.PEDS12416

34.

Chrastina J, Novak Z, Riha I et al (2014) Diagnostic value of brain tumor neuroendoscopic biopsy and correlation with open tumor resection. J Neurol Surg A 75:110–115. https://doi.org/10.1055/s-0032-1320032

35.

Bander ED, Jones SH, Kovanlikaya I, Schwartz TH (2016) Utility of tubular retractors to minimize surgical brain injury in the removal of deep intraparenchymal lesions: a quantitative analysis of FLAIR hyperintensity and apparent diffusion coefficient maps. J Neurosurg 124:1053–1060. https://doi.org/10.3171/2015.4.JNS142576

36.

Day JD (2017) Transsulcal parafascicular surgery using brain path® for subcortical lesions. Neurosurgery 64:151–156. https://doi.org/10.1093/neuros/nyx324

37.

Moussazadeh N, Tsiouris AJ, Ramakrishna R (2016) Advanced imaging for biopsy guidance in primary brain tumors. Cureus. https://doi.org/10.7759/cureus.504

38.

Chiang GC, Kovanlikaya I, Choi C et al (2018) Magnetic resonance spectroscopy, positron emission tomography and radiogenomics—relevance to glioma. Front Neurol. https://doi.org/10.3389/fneur.2018.00033

39.

Salama GR, Heier LA, Patel P et al (2018) Diffusion weighted/tensor imaging, functional MRI and perfusion weighted imaging in glioblastoma—foundations and future. Front Neurol. https://doi.org/10.3389/fneur.2017.00660

40.

Sottoriva A, Spiteri I, Piccirillo SGM et al (2013) Intratumor heterogeneity in human glioblastoma reflects cancer evolutionary dynamics. Proc Natl Acad Sci 110:4009–4014. https://doi.org/10.1073/pnas.1219747110

41.

Patel AP, Tirosh I, Trombetta JJ et al (2014) Single-cell RNA-seq highlights intratumoral heterogeneity in primary glioblastoma. Science 344:1396–1401. https://doi.org/10.1126/science.1254257

42.

Warnick RE, Longmore LM, Paul CA, Bode LA (2003) Postoperative management of patients after stereotactic biopsy: results of a survey of the AANS/CNS section on tumors and a single institution study. J Neurooncol 62:289–296

43.

Favre J, Taha JM, Burchiel KJ (2002) An analysis of the respective risks of hematoma formation in 361 consecutive morphological and functional stereotactic procedures. Neurosurgery 50:48–56 (discussion 56–57)

44.

Tannock IF, Hickman JA (2016) Limits to personalized cancer medicine. N Engl J Med 375:1289–1294. https://doi.org/10.1056/NEJMsb1607705

45.

Pisapia DJ, Magge R, Ramakrishna R (2017) Improved pathologic diagnosis—forecasting the future in glioblastoma. Front Neurol. https://doi.org/10.3389/fneur.2017.00707

46.

Tourneau CL, Delord J-P, Gonçalves A et al (2015) Molecularly targeted therapy based on tumour molecular profiling versus conventional therapy for advanced cancer (SHIVA): a multicentre, open-label, proof-of-concept, randomised, controlled phase 2 trial. Lancet Oncol 16:1324–1334. https://doi.org/10.1016/S1470-2045(15)00188-6
Acknowledgements
The authors would like to acknowledge Debra D'Angelo for her contributions to the statistical analyses performed in this research.
Electronic supplementary material
Below is the link to the electronic supplementary material.
Supplementary material video (MP4 19628 KB)
About this article
Cite this article
Bander, E.D., Jones, S.H., Pisapia, D. et al. Tubular brain tumor biopsy improves diagnostic yield for subcortical lesions. J Neurooncol 141, 121–129 (2019). https://doi.org/10.1007/s11060-018-03014-w
Received:

Accepted:

Published:

Issue Date:
Keywords
Stereotactic

Tubular

Biopsy

Neurosurgery

Complication

Hemorrhage