Abstract
Epilepsy is a common symptom in patients with glioblastoma (GB). 213 patients with GB from RedLANO follow-up registry were included. All patients underwent surgery, if feasible, followed by chemoradiation based on temozolomide (Stupp platform). Information was recorded regarding demographics, seizure timing, anti-epileptic drugs (AEDs), dosage, time to next seizure, total seizures in 6 months, and main side effects of AEDs. The relationship between epilepsy treatment and overall survival (OS) was evaluated. Mean age was 53 years old and 56.8% were male. Seventy-eight patients (37%) were treated with levetiracetam (LEV), 27% were given another AED and 36% did not require any AED. Choice of AED was not associated with age (p = 0.67), performance status (p = 0.24) or anatomic tumor site (p = 0.34). Seizures and AED requirement were greater in those having primary GB (p = 0.04). After starting an AED, the mean time until next crisis was 9.9 days (SD ± 6.3), which was shorter in those receiving LEV (p = 0.03); mean number of seizures during the first 3 and 6 months were 2.9 and 4, respectively. Most patients treated with LEV (n = 46) required less than two medication adjustments compared to those treated with other AEDs (p = 0.02). Likewise, less patients exposed to LEV required a coadjuvant drug (p = 0.04). Additionally, patients receiving LEV had significantly less adverse effects compared to patients treated with another AED. OS was significantly higher in the group treated with LEV compared to other AEDs (25.5 vs. 17.9 months; p = 0.047). Patients treated with LEV had better seizure control and longer OS compared to other AEDs.
This is a preview of subscription content, log in to check access.
Access options
Buy single article
Instant access to the full article PDF.
US$ 39.95
Price includes VAT for USA
Subscribe to journal
Immediate online access to all issues from 2019. Subscription will auto renew annually.
US$ 199
This is the net price. Taxes to be calculated in checkout.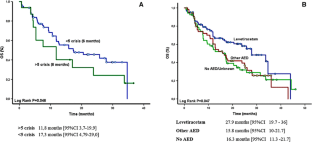 References
1.

van Breemen MS, Wilms EB, Vecht CJ (2007) Epilepsy in patients with brain tumours: epidemiology, mechanisms, and management. Lancet Neurol 6(5):421–430

2.

Glantz MJ, Cole BF, Forsyth PA, Recht LD, Wen PY, Chamberlain MC et al (2000) Practice parameter: anticonvulsant prophylaxis in patients with newly diagnosed brain tumors. Report of the Quality Standards Subcommittee of the American Academy of Neurology. Neurology 54(10):1886–1893

3.

Herman ST (2002) Epilepsy after brain insult: targeting epileptogenesis. Neurology 59(9 Suppl 5):S21-S26

4.

Englot DJ, Berger MS, Barbaro NM, Chang EF (2011) Predictors of seizure freedom after resection of supratentorial low-grade gliomas: a review. J Neurosurg 115(2):240–244

5.

Kim OJ, Yong Ahn J, Chung YS, Chung SS, Lee KS, Choi JU et al (2004) Significance of chronic epilepsy in glial tumors and correlation with surgical strategies. J Clin Neurosci 11(7):702–705

6.

Lee JW, Wen PY, Hurwitz S, Black P, Kesari S, Drappatz J et al (2010) Morphological characteristics of brain tumors causing seizures. Arch Neurol 67(3):336–342

7.

Englot DJ, Berger MS, Chang EF, Garcia PA (2012) Characteristics and treatment of seizures in patients with high-grade glioma: a review. Neurosurg Clin N Am 23(2):227–235. vii-viii

8.

Rosati A, Tomassini A, Pollo B, Ambrosi C, Schwarz A, Padovani A et al (2009) Epilepsy in cerebral glioma: timing of appearance and histological correlations. J Neurooncol 93(3):395–400

9.

Lynam LM, Lyons MK, Drazkowski JF, Sirven JI, Noe KH, Zimmerman RS et al (2007) Frequency of seizures in patients with newly diagnosed brain tumors: a retrospective review. Clin Neurol Neurosurg 109(7):634–638

10.

Haglund MM, Berger MS, Kunkel DD, Franck JE, Ghatan S, Ojemann GA (1992) Changes in gamma-aminobutyric acid and somatostatin in epileptic cortex associated with low-grade gliomas. J Neurosurg 77(2):209–216

11.

Rudà R, Trevisan E, Soffietti R (2010) Epilepsy and brain tumors. Curr Opin Oncol 22(6):611–620

12.

Kim JH, Guimaraes PO, Shen MY, Masukawa LM, Spencer DD (1990) Hippocampal neuronal density in temporal lobe epilepsy with and without gliomas. Acta Neuropathol 80(1):41–45

13.

Pallud J, Audureau E, Blonski M, Sanai N, Bauchet L, Fontaine D et al (2014) Epileptic seizures in diffuse low-grade gliomas in adults. Brain 137(Pt 2):449–462

14.

Shamji MF, Fric-Shamji EC, Benoit BG (2009) Brain tumors and epilepsy: pathophysiology of peritumoral changes. Neurosurg Rev 32(3):275–284 (discussion 84–86).

15.

de Groot J, Sontheimer H (2011) Glutamate and the biology of gliomas. Glia 59(8):1181–1189

16.

Liubinas SV, O'Brien TJ, Moffat BM, Drummond KJ, Morokoff AP, Kaye AH (2014) Tumour associated epilepsy and glutamate excitotoxicity in patients with gliomas. J Clin Neurosci 21(6):899–908

17.

Campbell SL, Robel S, Cuddapah VA, Robert S, Buckingham SC, Kahle KT et al (2015) GABAergic disinhibition and impaired KCC2 cotransporter activity underlie tumor-associated epilepsy. Glia 63(1):23–36

18.

Vecht CJ, Kerkhof M, Duran-Pena A (2014) Seizure prognosis in brain tumors: new insights and evidence-based management. Oncologist 19(7):751–759

19.

Sirven JI, Wingerchuk DM, Drazkowski JF, Lyons MK, Zimmerman RS (2004) Seizure prophylaxis in patients with brain tumors: a meta-analysis. Mayo Clin Proc 79(12):1489–1494

20.

Kerrigan S, Grant R (2011) Antiepileptic drugs for treating seizures in adults with brain tumours. Cochrane Database Syst Rev. https://doi.org/10.1002/14651858.CD008586.pub2

21.

Sabers A, Gram L (2000) Newer anticonvulsants: comparative review of drug interactions and adverse effects. Drugs 60(1):23–33

22.

Kivistö KT, Kroemer HK, Eichelbaum M (1995) The role of human cytochrome P450 enzymes in the metabolism of anticancer agents: implications for drug interactions. Br J Clin Pharmacol 40(6):523–530

23.

Perucca E (2006) Clinically relevant drug interactions with antiepileptic drugs. Br J Clin Pharmacol 61(3):246–255

24.

Vecht CJ, Wagner GL, Wilms EB (2003) Interactions between antiepileptic and chemotherapeutic drugs. Lancet Neurol 2(7):404–409

25.

Kerkhof M, Dielemans JC, van Breemen MS, Zwinkels H, Walchenbach R, Taphoorn MJ et al (2013) Effect of valproic acid on seizure control and on survival in patients with glioblastoma multiforme. Neuro Oncol 15(7):961–967

26.

Simó M, Velasco R, Graus F, Verger E, Gil M, Pineda E et al (2012) Impact of antiepileptic drugs on thrombocytopenia in glioblastoma patients treated with standard chemoradiotherapy. J Neurooncol 108(3):451–458

27.

Bourg V, Lebrun C, Chichmanian RM, Thomas P, Frenay M (2001) Nitroso-urea-cisplatin-based chemotherapy associated with valproate: increase of haematologic toxicity. Ann Oncol 12(2):217–219

28.

Blackburn SC, Oliart AD, García Rodríguez LA, Pérez Gutthann S (1998) Antiepileptics and blood dyscrasias: a cohort study. Pharmacotherapy 18(6):1277–1283

29.

Tohen M, Castillo J, Baldessarini RJ, Zarate C, Kando JC (1995) Blood dyscrasias with carbamazepine and valproate: a pharmacoepidemiological study of 2,228 patients at risk. Am J Psychiatry 152(3):413–418

30.

Chavez-Blanco A, Perez-Plasencia C, Perez-Cardenas E, Carrasco-Legleu C, Rangel-Lopez E, Segura-Pacheco B et al (2006) Antineoplastic effects of the DNA methylation inhibitor hydralazine and the histone deacetylase inhibitor valproic acid in cancer cell lines. Cancer Cell Int 6:2

31.

Li XN, Shu Q, Su JM, Perlaky L, Blaney SM, Lau CC (2005) Valproic acid induces growth arrest, apoptosis, and senescence in medulloblastomas by increasing histone hyperacetylation and regulating expression of p21Cip1, CDK4, and CMYC. Mol Cancer Ther 4(12):1912–1922

32.

Tang R, Faussat AM, Majdak P, Perrot JY, Chaoui D, Legrand O et al (2004) Valproic acid inhibits proliferation and induces apoptosis in acute myeloid leukemia cells expressing P-gp and MRP1. Leukemia 18(7):1246–1251

33.

Bähr O, Hermisson M, Rona S, Rieger J, Nussbaum S, Körtvelyessy P et al. (2012) Intravenous and oral levetiracetam in patients with a suspected primary brain tumor and symptomatic seizures undergoing neurosurgery: the HELLO trial. Acta Neurochir 154(2):229–235 (discussion 35)

34.

Bodalia PN, Grosso AM, Sofat R, Macallister RJ, Smeeth L, Dhillon S et al (2013) Comparative efficacy and tolerability of anti-epileptic drugs for refractory focal epilepsy: systematic review and network meta-analysis reveals the need for long term comparator trials. Br J Clin Pharmacol 76(5):649–667

35.

Perucca E (2013) Optimizing antiepileptic drug treatment in tumoral epilepsy. Epilepsia 54(Suppl 9):97–104

36.

de Groot M, Douw L, Sizoo EM, Bosma I, Froklage FE, Heimans JJ et al (2013) Levetiracetam improves verbal memory in high-grade glioma patients. Neuro Oncol 15(2):216–223

37.

Gu J, Lynch BA, Anderson D, Klitgaard H, Lu S, Elashoff M et al (2004) The antiepileptic drug levetiracetam selectively modifies kindling-induced alterations in gene expression in the temporal lobe of rats. Eur J Neurosci 19(2):334–345

38.

Patsalos PN (2000) Pharmacokinetic profile of levetiracetam: toward ideal characteristics. Pharmacol Ther 85(2):77–85

39.

Potschka H, Volk HA, Löscher W (2004) Pharmacoresistance and expression of multidrug transporter P-glycoprotein in kindled rats. Neuroreport 15(10):1657–1661

40.

Engh JA (2010) Anti-convulsants and gene expression in malignant gliomas. Neurosurgery 67(6):N24–N26

41.

Bobustuc GC, Baker CH, Limaye A, Jenkins WD, Pearl G, Avgeropoulos NG et al (2010) Levetiracetam enhances p53-mediated MGMT inhibition and sensitizes glioblastoma cells to temozolomide. Neuro Oncol 12(9):917–927

42.

Curran WJ Jr, Scott CB, Horton J, Nelson JS, Weinstein AS, Fischbach AJ et al (1993) Recursive partitioning analysis of prognostic factors in three radiation therapy oncology group malignant glioma trials. J Natl Cancer Inst 85(9):704–710

43.

Rosati A, Buttolo L, Stefini R, Todeschini A, Cenzato M, Padovani A (2010) Efficacy and safety of levetiracetam in patients with glioma: a clinical prospective study. Arch Neurol 67(3):343–346

44.

Merrell RT, Anderson SK, Meyer FB, Lachance DH (2010) Seizures in patients with glioma treated with phenytoin and levetiracetam. J Neurosurg 113(6):1176–1181

45.

Lim DA, Tarapore P, Chang E, Burt M, Chakalian L, Barbaro N et al (2009) Safety and feasibility of switching from phenytoin to levetiracetam monotherapy for glioma-related seizure control following craniotomy: a randomized phase II pilot study. J Neurooncol 93(3):349–354

46.

Usery JB, Michael LM, Sills AK, Finch CK (2010) A prospective evaluation and literature review of levetiracetam use in patients with brain tumors and seizures. J Neurooncol 99(2):251–260

47.

Jaeckle KA, Ballman K, Furth A, Buckner JC (2009) Correlation of enzyme-inducing anticonvulsant use with outcome of patients with glioblastoma. Neurology 73(15):1207–1213

48.

Weller M, Gorlia T, Cairncross JG, van den Bent MJ, Mason W, Belanger K et al (2011) Prolonged survival with valproic acid use in the EORTC/NCIC temozolomide trial for glioblastoma. Neurology 77(12):1156–1164

49.

Guthrie GD, Eljamel S (2013) Impact of particular antiepileptic drugs on the survival of patients with glioblastoma multiforme. J Neurosurg 118(4):859–865

50.

Barker CA, Bishop AJ, Chang M, Beal K, Chan TA (2013) Valproic acid use during radiation therapy for glioblastoma associated with improved survival. Int J Radiat Oncol Biol Phys 86(3):504–509

51.

Happold C, Gorlia T, Chinot O, Gilbert MR, Nabors LB, Wick W et al (2016) Does valproic acid or levetiracetam improve survival in glioblastoma? A Pooled analysis of prospective clinical trials in newly diagnosed glioblastoma. J Clin Oncol 34(7):731–739

52.

Stupp R, Mason WP, van den Bent MJ, Weller M, Fisher B, Taphoorn MJ et al (2005) Radiotherapy plus concomitant and adjuvant temozolomide for glioblastoma. N Engl J Med 352(10):987–996
Funding
The study received financial funding from an independent grant from the Foundation for Clinical and Applied Cancer Research (FICMAC -2013-009).
Ethics declarations
Conflict of interest
Andrés F. Cardona has received Consulting fees or honorarium and payment for lectures including service on speakers' bureaus from Roche, Pfizer, Bristol Myers Squib, Merck, MSD and Astra Zeneca. The other authors declare thay have no conflict of interest.
Ethical approval
All procedures performed in studies involving human participants were in accordance with the ethical standards of the institutional and/or national research committee and with the 1964 Helsinki declaration and its later amendments or comparable ethical standards.
Informed consent
Informed consent was obtained from all individual participants included in the study.
About this article
Cite this article
Cardona, A.F., Rojas, L., Wills, B. et al. Efficacy and safety of Levetiracetam vs. other antiepileptic drugs in Hispanic patients with glioblastoma. J Neurooncol 136, 363–371 (2018). https://doi.org/10.1007/s11060-017-2660-0
Received:

Accepted:

Published:

Issue Date:
Keywords
Efficacy

Safety

Antiepileptic drugs

Hispanic

Glioblastoma