Abstract
Malignant gliomas, the most frequent primary brain tumors, are characterized by a dismal prognosis. Reliable biomarkers complementary to neuroradiology in the differential diagnosis of gliomas and monitoring for post-surgical progression are unmet needs. Altered expression of several microRNAs in tumour tissues from patients with gliomas compared to normal brain tissue have been described, thus supporting the rationale of using microRNA-based biomarkers. Although different circulating microRNAs were proposed in association with gliomas, they have not been introduced into clinical practice so far. Blood samples were collected from patients with high and low grade gliomas, both before and after surgical resection, and the expression of miR-21, miR-222 and miR-124-3p was measured in exosomes isolated from serum. The expression levels of miR-21, miR-222 and miR-124-3p in serum exosomes of patients with high grade gliomas were significantly higher than those of low grade gliomas and healthy controls and were sharply decreased in samples obtained after surgery. The analysis of miR-21, miR-222 and miR-124-3p in serum exosomes of patients affected by gliomas can provide a minimally invasive and innovative tool to help the differential diagnosis of gliomas at their onset in the brain and predict glioma grading and non glial metastases before surgery.
Access options
Buy single article
Instant access to the full article PDF.
USD 39.95
Price excludes VAT (USA)
Tax calculation will be finalised during checkout.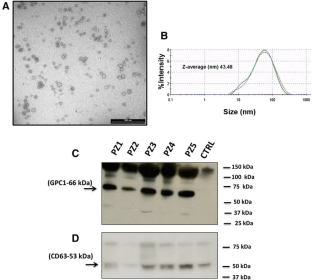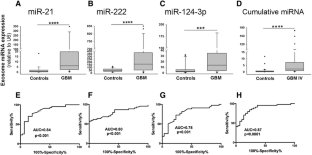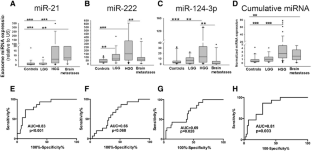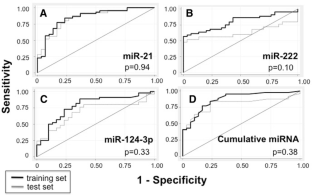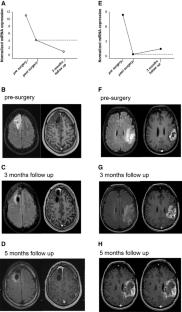 References
Schwartzbaum JA, Fisher JL, Aldape KD et al (2006) Epidemiology and molecular pathology of glioma. Nat Clin Pract Neurol 2:494–503

Louis DN, Perry A, Reifenberger G et al (2016) The 2016 World Health Organization classification of tumors of the central nervous system: a summary. Acta Neuropathol 131(6):803–820

Stupp R (2006) Temozolomide: a milestone in neuro-oncology and beyond? Expert Rev Anticancer Ther 6(8):1187–1204

Brandsma D, Stalpers L, Taal W et al, 2008. Clinical features, mechanisms, and management of pseudoprogression in malignant gliomas. Lancet Oncol 9(5):453–461

Westphal M, Lamszus K (2015) Circulating biomarkers for gliomas. Nat Rev Neurol 11(10):556–566

Kosaka N, Yoshioka Y, Fujita Y et al (2016) Versatile roles of extracellular vesicles in cancer. J Clin Invest 126(49):1163–1172

Kalluri R (2016) The biology and function of exosomes in cancer. J Clin Invest 126(4):1208–1215

Skog J, Würdinger T, van Rijn S et al (2008) Glioblastoma microvesicles transport RNA and proteins that promote tumour growth and provide diagnostic biomarkers. Nat Cell Biol 10(12):1470–1476

Jonas S, Izaurralde E (2015) Towards a molecular understanding of microRNA-mediated gene silencing. Nat Rev Genet 7:421–433

Touat M, Duran-Peña A, Alentorn A et al (2015) Emerging circulating biomarkers in glioblastoma: promises and challenges. Expert Rev Mol Diagn 15(10):1311–1323

Siegal T, Charbit H, Paldor I et al (2016) Dynamics of circulating hypoxia-mediated miRNAs and tumor response in patients with high-grade glioma treated with bevacizumab. J Neurosur 125(4):1008–1015

Li C, Sun J, Xiang Q et al (2016) Prognostic role of microRNA-21 expression in gliomas: a meta-analysis. J Neuroncol 130:11–17

Zhang R, Pang B, Xin T et al (2016) Plasma miR-221/222 family as novel descriptive and prognostic biomarkers for glioma. Mol Neurobiol 53:1452–1460

Khalil S, Fabbri E, Santangelo A et al (2016) miRNA array screening reveals cooperative MGMT-regulation between miR-181d-5p and miR-409-3p in glioblastoma. Oncotarget 7(19):28195–28206

Hayes J, Thygesen H, Gregory W et al (2016) A validated microRNA profile with predictive potential in glioblastoma patients treated with bevacizumab. Mol Oncol 10(8):1296–1304

Thery C, Amigorena S, Raposo G et al (2016) Isolation and characterization of exosomes from cell culture supernatants and biological fluids. Curr Protoc Cell Biol. doi:10.1002/0471143030.cb0322s30

Laurent LC, Alexander RP (2015) Exosome isolation from serum using Exoquick reagent Protocol Exchange, Extracellular RNA Communication Consortium

Edh M, Lotvall J, Malmhall C et al (2012) Importance of RNA isolation methods for analysis of exosomal RNA: evaluation of different methods. Molecular Immunol 50(4):278–286

Moldoval L, Battle K, Wang Y et al (2013) Analyzing the circulating miRNAs in exosomes/extracellular vescicles from serum or plasma by qRT-PCR. Methods Mol Biol 1024:129–145

Marka I, Terejanszky P, Gyurcsanyi RE (2015) A method based on light scattering to estimate the concentration of virus particles without the need for virus particle standards. MethodsX 2:91–99

Jia S, Zocco D, Samuels ML et al (2014) Emerging technologies in extracellular vesicle-based molecular diagnostics. Expert Rev Mol Diagn (3):307–321

Kumar D, Gupta D, Shankar S et al (2015) Biomolecular characterization of exosomes released from cancer stem cells: possible implications for biomarker and treatment of cancer. Oncotarget 6(5):3280–3291

Melo SA, Luecke LB, Kahlert C et al (2015) Glypican-1 identifies cancer exosomes and detects early pancreatic cancer. Nature 523:178–184

Wang Q, Li P, Li A et al (2012) Plasma specific miRNAs as predictive biomarkers for diagnosis and prognosis of glioma. J Exp Clin Cancer Res 31:97

Berthois Y, Delfino C, Metellus P et al (2014) Differential expression of miR200a-3p and miR21 in grade II-III and grade IV gliomas: evidence that miR200a-3p is regulated by O6-methylguanine methyltransferase and promotes temozolomide responsiveness. Cancer Biol Ther 15(7):938–950

Qu S, Guan J, Liu Y (2015) Identification of microRNAs as novel biomarkers for glioma detection: a meta-analysis based on 11 articles. J Neurol Sci 348:181–187

Mc Lendon R, Friedman A, Bigner D et al (2008) Comprehensive genomic characterization defines human glioblastoma genes and core pathways. Nature 455(7216):1061–1068

Roth P, Wischhusen J, Happold C et al (2011) A specific miRNA signature in the peripheral bllod of glioblastoma patients. J Neurochem 118(3):449–457

Ilhan-Mutlu A, Wagner L, Wohrer A et al (2012) Plasma MicroRNA-21 concentration may be a useful biomarker in glioblastoma patients. Cancer Invest 30(8):615–621

Manterola L, Guruceaga E, Gallego Perez-Larraya J et al (2014) A small noncoding RNA signature found in exosomes of GBM patient serum as a diagnostic tool. Neuro Oncol 16(4):520–527

Dong L, Li Y, Han C et al (2014) miRNA microarray reveals specific expression in the peripheral blood of glioblastoma patients. Int J Oncol 45(2):746–756

Zhi F, Shao N, Wang R et al (2015) Identification of 9 serum microRNAs as potential noninvasive biomarkers of human astrocytoma. Neuro Oncol 17(3):383–391

Regazzo G, Terrenato I, Spagnuolo M et al (2016) A restricted signature of serum miRNAs distinguishes glioblastoma from lower grade gliomas. J Exp Clin Cancer Res 35(1):124–135

Tumilson CA, Lea RW, Alder JE et al (2014) Circulating MicroRNA biomarkers for glioma and predicting response to therapy. Mol Neurobiol 50(2):545–558

Feng Y-H, Tsao C-J (2016) Emerging role of microRNA-21 in cancer (Review). Biomed Rep 5:395–402

Chan JA, Krichevsky AM, Kosik KS (2005) MicroRNA-21 is an antiapoptotic factor in human glioblastoma cells. Cancer Res 65:6029–6033

D'Urso PI, D'Urso OF, Gianfreda CD et al (2015) miR-15b and miR-21 as circulating biomarkers for diagnosis of glioma. Curr Genomics 16:304–311

Garofalo M, Quintavalle C, Romano G et al (2012) miR221/222 in cancer: their role in tumor progression and response to therapy. Curr Mol Med 12:27–33

Yu S, Liu X, Zhang Y et al (2016) Circulating microRNA124-3p, microRNA9-3p and microRNA196b-5p may be potential signatures for differential diagnosis of thyroid nodules. Oncotarget 7(51):84165–84177
Acknowledgements
We wish to thank all patients and healthy controls who participated in this study, the neurosurgeons, nurses and staff of the Institute of Neurosurgery, the Colleagues and the personnel of Neuroradiology, of Pathology, of Neurology, of Oncology and Radiotherapy of the University Hospital of Verona for help in the organization of patient recruitment and blood collection, diagnosis and clinical management of the patients, Giuseppe Moretto and Alberto Beltramello for helpful discussions. AMB thanks Centro Piattaforme Tecnologiche (CPT), University of Verona for the use of the facility DLS and Riccardo Tognato for skilful assistance.
Funding
Supported by Brain Research Foundation, Verona, Italy.
Ethics declarations
Conflict of interest
The authors declare that they have no conflict of interest.
Electronic supplementary material
Below is the link to the electronic supplementary material.
About this article
Cite this article
Santangelo, A., Imbrucè, P., Gardenghi, B. et al. A microRNA signature from serum exosomes of patients with glioma as complementary diagnostic biomarker. J Neurooncol 136, 51–62 (2018). https://doi.org/10.1007/s11060-017-2639-x
Received:

Accepted:

Published:

Issue Date:

DOI: https://doi.org/10.1007/s11060-017-2639-x
Keywords