Abstract
The standard of care for glioblastoma (GBM) is maximal safe resection followed by concurrent chemoradiation (CRT). For several neoplasms, receipt of radiation treatment at high-volume facilities has been associated with improved overall survival (OS). The purpose of the present investigation was to determine if there was an association between receipt of CRT for GBM at facilities with a higher case volume and improved OS. The National Cancer Data Base was queried for patients with GBM diagnosed between 2006 and 2012 that received full-course CRT. Statistics included Kaplan–Meier analysis to compare OS between patients treated facilities with the highest quartile volume (HVF) to those treated at lower case volume facilities, multivariate logistic regression to determine factors associated with treatment at a HVF, and Cox proportional hazards modeling to determine variables associated with OS. A total of 4892 patients met the specified criteria. Fourteen facilities (9.9%) treated the highest quartile volume of patients, while 69 (48.6%) treated the lowest quartile volume (LVF) of patients. Treatment at the HVF was associated with improved median OS (16.5 vs. 14.1 months, p < 0.001). Treatment at a LVF also independently predicted for worse OS on multivariate analysis, along with age >70 years, and a resection limited to a biopsy. This is the first study to demonstrate that treatment of GBM with CRT at a HVF is associated with improved survival. Major goals of future oncologic care should be to achieve greater standardization of quality of treatment across facilities with different case volumes.
This is a preview of subscription content, log in to check access.
Access options
Buy single article
Instant access to the full article PDF.
US$ 39.95
Price includes VAT for USA
Subscribe to journal
Immediate online access to all issues from 2019. Subscription will auto renew annually.
US$ 199
This is the net price. Taxes to be calculated in checkout.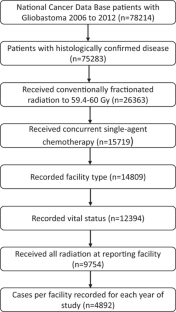 References
1.

Brain Tumor Statistics. http://www.abta.org/about-us/news/brain-tumor-statistics/. Accessed 1 Nov 2016

2.

Stupp R, Mason WP, van den Bent MJ et al (2005) Radiotherapy plus concomitant and adjuvant temozolomide for glioblastoma. N Engl J Med 352:987–996

3.

National Comprehensive Cancer Network. Central nervous system cancers. Version 1.2016. https://www.nccn.org/professionals/physician_gls/pdf/cns.pdf. Accessed 26 Oct 2016

4.

Stupp R, Hegi ME, Mason WP et al (2009) Effects of radiotherapy with concomitant and adjuvant temozolomide versus radiotherapy alone on survival in glioblastoma in a randmoised phase III study: 5-year analysis of the EORTC-NCIC trial. Lancet Oncol 10:459–466

5.

Gilbert MR, Wang M, Aldape KD et al (2013) Dose-dense temozolomide for newly diagnosed glioblastoma: a randomized phase III clinical trial. J Clin Oncol 32:4085–4091

6.

Gilbert MR, Dignam JJ, Armstrong TS et al (2014) A randomized trial of bevacizumab for newly diagnosed glioblastoma. New Engl. J Med 370:699–708

7.

Chinot OL, Wick W, Henriksoon R et al (2014) Bevacizumab plus radiotherapy-temozolomide for newly diagnosed glioblastoma. N Engl J Med 370:709–722

8.

Stupp R, Taillibert S, Kanner AA et al (2015) Maintenance therapy with tumor-treaing fields plus temozolomide vs temozolomide alone for glioblastoma: a randomized clinical trial. JAMA 314:2535–2543

9.

Bernard-Arnoux F, Lamure M, Ducray F et al (2016) The cost-effectiveness of tumor-treating fields therapy in patients with newly diagnosed glioblastoma. Neuro Oncol 18:1129–1136

10.

Liu CJ, Chou YJ, Teng CJ et al (2015) Association of surgeon volume and hospital volume with the outcome of patients receiving definitive surgery for colorectal cancer: a nationwide population-based study. Cancer 121:2782–2790

11.

Tuggle CT, Patel A, Broer N et al (2014) Increased hospital volume is associated with improved outcomes following abdominal-based breast reconstruction. J Plast Surg Hand Surg 48:382–388

12.

Gratian L, Pura J, Dinan M et al (2014) Treatment patterns and outcomes for patients with adrenocortical carcinoma associated with hospital case volume in the United States. Ann Surg Oncol 21:3509–3514

13.

Wang EH, Rutter CE, Corso CD et al (2015) Patients selected for definitive concurrent chemoradiation at high-volume facilities achieve improved survival in stage III non-small-cell lung cancer. J Thorac Oncol 10:937–943

14.

Amini A, Jones BL, Ghosh D et al (2017) Impact of facility volume on outcomes in patients with squamous cell carcinoma of the anal canal: analysis of the National Cancer Data Base. Cancer 123:228–236

15.

Chen YW, Mahal BA, Muralidhar V et al (2016) Association between treatment at a high-volume facility and improved survival for radiation-treated men with high-risk prostate cancer. Int J Radiat Oncol Biol Phys 15:683–690

16.

Kann BH, Park HS, Lester-Coll NH et al (2016) Postoperative radiotherapy patterns of care and survival implications for medulloblastoma in young children. JAMA Oncol 2:1574–1581

17.

Lin JF, Berger JL, Krivak TC et al (2014) Impact of facility volume on therapy and survival for locally advanced cervical cancer. Gynecol Oncol 132:416–422

18.

Chen AY, Fedewa S, Pavluch A et al (2010) Improved survival is associated with treatment at high-volume teaching facilities for patients with advanced stage laryngeal cancer. Cancer 116:4744–4752

19.

Bilimoria K, Stewart A, Winchester D, Ko C (2008) The National Cancer Data Base: a powerful initiative to improve cancer care in the United States. Ann Surg Oncol 15:683–690

20.

Haque W, Verma V, Butler EB, Teh BS (2017) Patterns of care and outcomes of multi-agent versus single-agent chemotherapy as part of multimodal management of low grade glioma. J Neurooncol. doi:10.1007/s11060-017-2443-7

21.

Haque W, Verma V, Fakhreddine M et al (2017) Addition of chemotherapy to definitive radiotherapy for IB1 and IIA1 cervical cancer: analysis of he National Cancer Data Base. Gynecol Oncol 144:28–33

22.

Moreno AC, Verma V, Hofstetter WL, Lin SH (2017) Patterns of care and treatment outcomes of elderly patients with stage I esophageal cancer: analysis of the National Cancer Data Base. J Thorac Oncol 12:1152–1160

23.

Aneja S, Smith BD, Gross CP et al (2012) Geographic analysis of the radiation oncology workforce. Int J Radiat Oncol Biol Phys 82:1723–1729

24.

Thumma SR, Fairbanks RK, Lamoreaux WT et al (2012) Effect of pretreatment clinical factors on overall survival in glioblastoma multiforme: a Surveillance Epidemiology and End Results (SEER) population analysis. World J Surg Oncol 10:75

25.

Barnholtz-Sloan JS, Maldonado JL, Williams VL et al (2007) Racial/ethnic differences in survival among older patients with a primary glioblastoma. J Neurooncol 85:171–180

26.

Das A, Tan WL, Teo J, Smith DR (2002) Glioblatoma multiforme in an Asian population: evidence for a distinct genetic pathway. J Neuroncol 60:117–125
Funding
There was no research support for this study.
Ethics declarations
Conflict of interest
All authors declare that conflicts of interest do not exist.
About this article
Cite this article
Haque, W., Verma, V., Butler, E.B. et al. Definitive chemoradiation at high volume facilities is associated with improved survival in glioblastoma. J Neurooncol 135, 173–181 (2017). https://doi.org/10.1007/s11060-017-2563-0
Received:

Accepted:

Published:

Issue Date:
Keywords
Glioblastoma

Radiation therapy

Chemotherapy

Survival