Abstract
A recent nomogram for glioblastoma (GBM) was designed to incorporate methylguanine-DNA methyltransferase (MGMT) methylation status in trial patients receiving temozolomide. Since clinical trial patients are strictly selected, compared to the general population, we performed a multi-institutional, external, independent assessment of the nomogram. Consecutive adult patients with supratentorial GBM diagnosed between June 2007 and December 2014 who initiated TMZ-based concurrent chemoradiotherapy (CRT) and were not enrolled on RTOG 0525 or 0825 were eligible. We collected age, gender, MGMT status, performance status, resection extent, race, and tumor site and Cox regression analysis of overall survival (OS) was conducted with the 1-year nomogram-predicted survival (NPS). The predictive accuracy was quantified by the concordance index (c-index) as well as by separating patients into quintile-groups of the population distribution of NPS and comparing mean NPS and observed OS. Of 514 patients with GBM, 309 had all nomogram factors. Median OS was 18.7 months. NPS and observed OS demonstrated a c-index of 0.695. On univariate analysis, the NPS and all included factors except gender were significant. On multivariable analysis (MVA) the only significant factor for worse survival was lower NPS. When separated into quintile-groups of NPS, the observed survival was slightly better than the predicted survival for all but the worst prognostic group. Our multi-institutional cohort provides independent external validation of a novel GBM nomogram incorporating MGMT methylation status. No individual factor included in the nomogram retained significance on MVA after adjusting for NPS.
This is a preview of subscription content, log in to check access.
Access options
Buy single article
Instant access to the full article PDF.
US$ 39.95
Price includes VAT for USA
Subscribe to journal
Immediate online access to all issues from 2019. Subscription will auto renew annually.
US$ 199
This is the net price. Taxes to be calculated in checkout.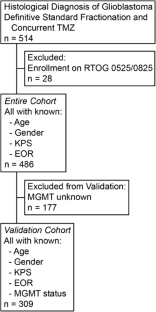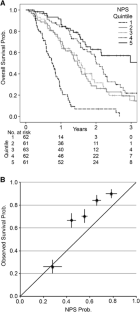 References
1.

Chinot OL, Macdonald DR, Abrey LE, Zahlmann G, Kerloeguen Y, Cloughesy TF (2013) Response assessment criteria for glioblastoma: practical adaptation and implementation in clinical trials of antiangiogenic therapy. Curr Neurol Neurosci Rep 13:347. doi:10.1007/s11910-013-0347-2

2.

Ostrom QT, Gittleman H, Fulop J, Liu M, Blanda R, Kromer C, Wolinsky Y, Kruchko C, Barnholtz-Sloan JS (2015) CBTRUS statistical report: primary brain and central nervous system tumors diagnosed in the United States in 2008–2012. Neuro Oncol 17(Suppl 4):iv1–iv62. doi:10.1093/neuonc/nov189

3.

Stupp R, Mason WP, van den Bent MJ, Weller M, Fisher B, Taphoorn MJ, Belanger K, Brandes AA, Marosi C, Bogdahn U et al (2005) Radiotherapy plus concomitant and adjuvant temozolomide for glioblastoma. N Engl J Med 352:987–996

4.

Hegi ME, Diserens A, Gorlia T, Hamou M, de Tribolet N, Weller M, Kros JM, Hainfellner JA, Mason W, Mariani L (2005) MGMT gene silencing and benefit from temozolomide in glioblastoma. N Engl J Med 352:997–1003

5.

Barnholtz-Sloan JS, Yu C, Sloan AE, Vengoechea J, Wang M, Dignam JJ, Vogelbaum MA, Sperduto PW, Mehta MP, Machtay M et al (2012) A nomogram for individualized estimation of survival among patients with brain metastasis. Neuro Oncol 14:910–918. doi:10.1093/neuonc/nos087

6.

Gorlia T, van den Bent MJ, Hegi ME, Mirimanoff RO, Weller M, Cairncross JG, Eisenhauer E, Belanger K, Brandes AA, Allgeier A et al (2008) Nomograms for predicting survival of patients with newly diagnosed glioblastoma: prognostic factor analysis of EORTC and NCIC trial 26981-22981/CE.3. Lancet Oncol 9:29–38. doi:10.1016/S1470-2045(07)70384-4

7.

Etcheverry A, Aubry M, Idbaih A, Vauleon E, Marie Y, Menei P, Boniface R, Figarella-Branger D, Karayan-Tapon L, Quillien V (2014) DGKI methylation status modulates the prognostic value of MGMT in glioblastoma patients treated with combined radio-chemotherapy with temozolomide. PLoS ONE 9:e104455

8.

Gilbert MR, Wang M, Aldape KD, Stupp R, Hegi ME, Jaeckle KA, Armstrong TS, Wefel JS, Won M, Blumenthal DT et al (2013) Dose-dense temozolomide for newly diagnosed glioblastoma: a randomized phase III clinical trial. J Clin Oncol 31:4085–4091. doi:10.1200/JCO.2013.49.6968

9.

Gilbert MR, Dignam JJ, Armstrong TS, Wefel JS, Blumenthal DT, Vogelbaum MA, Colman H, Chakravarti A, Pugh S, Won M et al (2014) A randomized trial of bevacizumab for newly diagnosed glioblastoma. N Engl J Med 370:699–708. doi:10.1056/NEJMoa1308573

10.

Gittleman H, Lim D, Kattan MW, Chakravarti A, Gilbert MR, Lassman AB, Lo SS, Machtay M, Sloan AE, Sulman EP et al (2016) An independently validated nomogram for individualized estimation of survival among patients with newly diagnosed glioblastoma: NRG oncology RTOG 0525 and 0825. Neuro Oncol. doi:10.1093/neuonc/now208

11.

Kennedy-Martin T, Curtis S, Faries D, Robinson S, Johnston J (2015) A literature review on the representativeness of randomized controlled trial samples and implications for the external validity of trial results. Trials 16:495-015-1023-4. doi:10.1186/s13063-015-1023-4

12.

Harrell FE Jr, Lee KL, Mark DB (1996) Multivariable prognostic models: issues in developing models, evaluating assumptions and adequacy, and measuring and reducing errors. Stat Med 15:361–387. doi:10.1002/(SICI)1097-0258(19960229)15:43.0.CO;2-4

13.

Filippini G, Falcone C, Boiardi A, Broggi G, Bruzzone MG, Caldiroli D, Farina R, Farinotti M, Fariselli L, Finocchiaro G et al (2008) Prognostic factors for survival in 676 consecutive patients with newly diagnosed primary glioblastoma. Neuro Oncol 10:79–87. doi:10.1215/15228517-2007-038

14.

Lacroix M, Abi-Said D, Fourney DR, Gokaslan ZL, Shi W, DeMonte F, Lang FF, McCutcheon IE, Hassenbusch SJ, Holland E (2001) A multivariate analysis of 416 patients with glioblastoma multiforme: prognosis, extent of resection, and survival. J Neurosurg 95:190–198

15.

Stummer W, van den Bent, Martin J, Westphal M (2011) Cytoreductive surgery of glioblastoma as the key to successful adjuvant therapies: new arguments in an old discussion. Acta Neurochir 153:1211–1218

16.

Siker ML, Wang M, Porter K, Nelson DF, Curran WJ, Michalski JM, Souhami L, Chakravarti A, Yung WA, DelRowe J (2011) Age as an independent prognostic factor in patients with glioblastoma: a Radiation Therapy Oncology Group and American College of Surgeons National Cancer Data Base comparison. J Neurooncol 104:351–356

17.

Thakkar JP, Dolecek TA, Horbinski C, Ostrom QT, Lightner DD, Barnholtz-Sloan JS, Villano JL (2014) Epidemiologic and molecular prognostic review of glioblastoma. Cancer Epidemiol Biomark Prev 23:1985–1996. doi:10.1158/1055-9965.EPI-14-0275

18.

Sanson M, Marie Y, Paris S, Idbaih A, Laffaire J, Ducray F, El Hallani S, Boisselier B, Mokhtari K, Hoang-Xuan K (2009) Isocitrate dehydrogenase 1 codon 132 mutation is an important prognostic biomarker in gliomas. J Clin Oncol 27:4150–4154

19.

Yan H, Parsons DW, Jin G, McLendon R, Rasheed BA, Yuan W, Kos I, Batinic-Haberle I, Jones S, Riggins GJ (2009) IDH1 and IDH2 mutations in gliomas. N Engl J Med 360:765–773

20.

Ichimura K, Pearson DM, Kocialkowski S, Backlund LM, Chan R, Jones DT, Collins VP (2009) IDH1 mutations are present in the majority of common adult gliomas but rare in primary glioblastomas. Neuro Oncol 11:341–347. doi:10.1215/15228517-2009-025

21.

Brennan CW, Verhaak RG, McKenna A, Campos B, Noushmehr H, Salama SR, Zheng S, Chakravarty D, Sanborn JZ, Berman SH et al (2013) The somatic genomic landscape of glioblastoma. Cell 155:462–477. doi:10.1016/j.cell.2013.09.034

22.

Eckel-Passow JE, Lachance DH, Molinaro AM, Walsh KM, Decker PA, Sicotte H, Pekmezci M, Rice T, Kosel ML, Smirnov IV (2015) Glioma groups based on 1p/19q, IDH, and TERT promoter mutations in tumors. N Engl J Med 372:2499–2508

23.

Bell EH, Pugh SL, McElroy JP, Gilbert MR, Mehta M, Klimowicz AC, Magliocco A, Bredel M, Robe P, Grosu A (2017) Molecular-based recursive partitioning analysis model for glioblastoma in the temozolomide era: a correlative analysis based on NRG oncology RTOG 0525. JAMA Oncol. doi:10.1001/jamaoncol.2016.6020

24.

Grossman SA, Ye X, Piantadosi S, Desideri S, Nabors LB, Rosenfeld M, Fisher J, NABTT CNS Consortium (2010) Survival of patients with newly diagnosed glioblastoma treated with radiation and temozolomide in research studies in the United States. Clin Cancer Res 16:2443–2449. doi:10.1158/1078-0432.CCR-09-3106

25.

Wick W, Platten M, Meisner C, Felsberg J, Tabatabai G, Simon M, Nikkhah G, Papsdorf K, Steinbach JP, Sabel M (2012) Temozolomide chemotherapy alone versus radiotherapy alone for malignant astrocytoma in the elderly: the NOA-08 randomised, phase 3 trial. Lancet Oncol 13:707–715

26.

Malmström A, Grønberg BH, Marosi C, Stupp R, Frappaz D, Schultz H, Abacioglu U, Tavelin B, Lhermitte B, Hegi ME (2012) Temozolomide versus standard 6-week radiotherapy versus hypofractionated radiotherapy in patients older than 60 years with glioblastoma: the Nordic randomised, phase 3 trial. Lancet Oncol 13:916–926

27.

Roa W, Kepka L, Kumar N, Sinaika V, Matiello J, Lomidze D, Hentati D, Guedes de Castro D, Dyttus-Cebulok K, Drodge S (2015) International Atomic Energy Agency randomized phase III study of radiation therapy in elderly and/or frail patients with newly diagnosed glioblastoma multiforme. J Clin Oncol 33:4145–4150

28.

Perry JR, Laperriere N, O'Callaghan CJ, Brandes AA, Menten J, Phillips C, Fay M, Nishikawa R, Cairncross JG, Roa W (2017) Short-course radiation plus temozolomide in elderly patients with glioblastoma. N Engl J Med 376:1027–1037
Ethics declarations
Conflict of interest
None.
Disclosures
MM has consulting relationships with Varian, IBA, Agenus, Remedy, and Insys and serves on the Data Safety Monitoring Board of Monteris. JH has a relationship with ViewRay for which he has received Honoraria and Travel Expenses. TJK has served as a consultant for Varian Medical Systems, and on an advisory board for Abbvie Inc. SNB has received honoraria and speaking fees from Varian and a grant from AstraZeneca.
Electronic supplementary material
Below is the link to the electronic supplementary material.
About this article
Cite this article
Molitoris, J.K., Rao, Y.J., Patel, R.A. et al. Multi-institutional external validation of a novel glioblastoma prognostic nomogram incorporating MGMT methylation. J Neurooncol 134, 331–338 (2017). https://doi.org/10.1007/s11060-017-2529-2
Received:

Accepted:

Published:

Issue Date:
Keywords
Glioblastoma

O6-Methylguanine-DNA methyltransferase

Nomogram

Survival