Abstract
Given prior studies that suggest the use of angiotensin system inhibitors (ASIs) is associated with prolonged overall survival (OS) in glioblastoma (GBM) patients, we evaluated the effect of ASIs in glioma patients receiving chemotherapy and/or bevacizumab (BEV). Using retrospective IRB-approved electronic chart review of newly diagnosed WHO grade 2–4 glioma patients from the Kaiser Permanente Tumor Registry of Northern California, we evaluated the impact of ASIs on OS by Cox proportional hazard model analysis for subgroups who received cytotoxic therapy, cytotoxic therapy with BEV, or BEV alone, as well as those with recurrent GBM (rGBM). Of the 1186 glioma patients who received chemotherapy ASI exposure improved OS (HR 0.82; 95% CI 0.71, 0.93; p = 0.003). When stratified by BEV exposure, a sub-analysis revealed further OS advantage for the BEV group (HR 0.75, 95% CI 0.62, 0.90; p = 0.002). In a second cohort of 181 rGBM patients who received BEV in varying dosages, ASI exposure conferred an OS advantage (HR 0.649; 95% CI 0.46, 0.92; p = 0.016). Moreover, patients with ASI exposure who received low-dose BEV treatment (AUCBEV < 3.6 mg wk/kg) had a significantly longer OS (median = 99 weeks; 95% CI 44.3, 205) than those without ASI (median OS = 55.6 weeks; 95% CI 37.7–73.7; p = 0.032). ASI use is associated with longer OS in glioma patients. Further survival advantage with ASI use was observed in rGBM patients receiving low-dose bevacizumab. These data warrant prospective evaluation of adding ASI to low-dose BEV treatment in GBM patients to improve the outcome of standard therapies.
This is a preview of subscription content, log in to check access.
Access options
Buy single article
Instant access to the full article PDF.
US$ 39.95
Price includes VAT for USA
Subscribe to journal
Immediate online access to all issues from 2019. Subscription will auto renew annually.
US$ 199
This is the net price. Taxes to be calculated in checkout.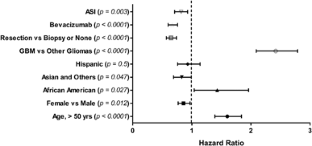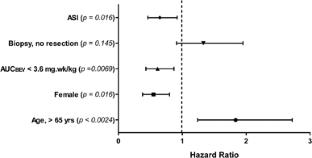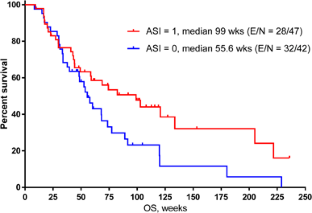 Abbreviations
ACE:

Angiotensin converting enzyme

ARB:

Angiotensin receptor blocker

AT1:

Angiotensin II receptor 1

ASI:

Angiotensin system inhibitor

BEV:

Bevacizumab

CNS:

Central nervous system

GBM:

Glioblastoma

nGBM:

Newly diagnosed glioblastoma

NSCLC:

Non-small-cell lung cancer

OS:

Overall survival

PFS:

Progression free survival

RCC:

Renal cell carcinoma

rGBM:

Recurrent glioblastoma

VEGF:

Vascular endothelial growth factor
References
1.

Stupp R, Mason WP, van den Bent MJ, Weller M, Fisher B, Taphoorn MJ, Belanger K, Brandes AA, Marosi C, Bogdahn U, Curschmann J, Janzer RC, Ludwin SK, Gorlia T, Allgeier A, Lacombe D, Cairncross JG, Eisenhauer E, Mirimanoff RO, European Organisation for R, Treatment of Cancer Brain T, Radiotherapy G, National Cancer Institute of Canada Clinical Trials G (2005) Radiotherapy plus concomitant and adjuvant temozolomide for glioblastoma. N Engl J Med 352:987–996. doi:10.1056/NEJMoa043330

2.

Levin VA, Silver P, Hannigan J, Wara WM, Gutin PH, Davis RL, Wilson CB (1990) Superiority of post-radiotherapy adjuvant chemotherapy with CCNU, procarbazine, and vincristine (PCV) over BCNU for anaplastic gliomas: NCOG 6G61 final report. Int J Radiat Oncol Biol Phys 18:321–324

3.

Lu-Emerson C, Duda DG, Emblem KE, Taylor JW, Gerstner ER, Loeffler JS, Batchelor TT, Jain RK (2015) Lessons from anti–vascular endothelial growth factor and anti–vascular endothelial growth factor receptor trials in patients with glioblastoma. J Clin Oncol. doi:10.1200/jco.2014.55.9575

4.

Conroy S, Wagemakers M, Walenkamp AME, Kruyt FAE, den Dunnen WFA (2017) Novel insights into vascularization patterns and angiogenic factors in glioblastoma subclasses. J Neurooncol 131:11–20. doi:10.1007/s11060-016-2269-8

5.

Huang Y, Yuan J, Righi E, Kamoun WS, Ancukiewicz M, Nezivar J, Santosuosso M, Martin JD, Martin MR, Vianello F, Leblanc P, Munn LL, Huang P, Duda DG, Fukumura D, Jain RK, Poznansky MC (2012) Vascular normalizing doses of antiangiogenic treatment reprogram the immunosuppressive tumor microenvironment and enhance immunotherapy. Proc Natl Acad Sci USA 109:17561–17566. doi:10.1073/pnas.1215397109

6.

Levin VA, Mendelssohn ND, Chan J, Stovall MC, Peak SJ, Yee JL, Hui RL, Chen DM (2015) Impact of bevacizumab administered dose on overall survival of patients with progressive glioblastoma. J Neurooncol 122:145–150. doi:10.1007/s11060-014-1693-x

7.

Lorgis V, Maura G, Coppa G, Hassani K, Taillandier L, Chauffert B, Apetoh L, Ladoire S, Ghiringhelli F (2012) Relation between bevacizumab dose intensity and high-grade glioma survival: a retrospective study in two large cohorts. J Neurooncol 107:351–358. doi:10.1007/s11060-011-0748-5

8.

Carpentier AF, Ferrari D, Bailon O, Ursu R, Banissi C, Dubessy AL, Belin C, Levy C (2012) Steroid-sparing effects of angiotensin-II inhibitors in glioblastoma patients. Eur J Neurol 19:1337–1342. doi:10.1111/j.1468-1331.2012.03766.x

9.

Januel E, Ursu R, Alkhafaji A, Marantidou A, Doridam J, Belin C, Levy-Piedbois C, Carpentier AF (2015) Impact of renin-angiotensin system blockade on clinical outcome in glioblastoma. Eur J Neurol 22:1304–1309. doi:10.1111/ene.12746

10.

Kourilsky A, Bertrand G, Ursu R, Doridam J, Barlog C, Faillot T, Mandonnet E, Belin C, Levy C, Carpentier AF (2016) Impact of angiotensin-II receptor blockers on vasogenic edema in glioblastoma patients. J Neurol 263:524–530. doi:10.1007/s00415-015-8016-9

11.

Diop-Frimpong B, Chauhan VP, Krane S, Boucher Y, Jain RK (2011) Losartan inhibits collagen I synthesis and improves the distribution and efficacy of nanotherapeutics in tumors. Proc Natl Acad Sci USA 108:2909–2914. doi:10.1073/pnas.1018892108

12.

Chauhan VP, Martin JD, Liu H, Lacorre DA, Jain SR, Kozin SV, Stylianopoulos T, Mousa AS, Han X, Adstamongkonkul P, Popovic Z, Huang P, Bawendi MG, Boucher Y, Jain RK (2013) Angiotensin inhibition enhances drug delivery and potentiates chemotherapy by decompressing tumour blood vessels. Nat Commun 4:2516. doi:10.1038/ncomms3516

13.

Menter AR, Carroll NM, Sakoda LC, Delate T, Hornbrook MC, Jain RK, Kushi LH, Quinn VP, Ritzwoller DP (2016) Effect of angiotensin system inhibitors on survival in patients receiving chemotherapy for advanced non-small-cell lung cancer. Clin Lung Cancer. doi:10.1016/j.cllc.2016.07.008

14.

Lombardi G, Zustovich F, Farina P, Fiduccia P, Della Puppa A, Polo V, Bertorelle R, Gardiman MP, Banzato A, Ciccarino P, Denaro L, Zagonel V (2013) Hypertension as a biomarker in patients with recurrent glioblastoma treated with antiangiogenic drugs: a single-center experience and a critical review of the literature. Anticancer Drugs 24:90–97. doi:10.1097/CAD.0b013e32835aa5fd

15.

Jain RK (2014) Antiangiogenesis strategies revisited: from starving tumors to alleviating hypoxia. Cancer Cell 26:605–622. doi:10.1016/j.ccell.2014.10.006

16.

Lu-Emerson C, Duda DG, Emblem KE, Taylor JW, Gerstner ER, Loeffler JS, Batchelor TT, Jain RK (2015) Lessons from anti-vascular endothelial growth factor and anti-vascular endothelial growth factor receptor trials in patients with glioblastoma. J Clin Oncol 33:1197–1213. doi:10.1200/JCO.2014.55.9575

17.

Liu TT, Achrol AS, Mitchell LA, Rodriguez SA, Feroze A, Kim C, Chaudhary N, Gevaert O, Stuart JM, Harsh GR, Chang SD, Rubin DL, Michael IV (2016) Magnetic resonance perfusion image features uncover an angiogenic subgroup of glioblastoma patients with poor survival and better response to antiangiogenic treatment. Neuro Oncol. doi:10.1093/neuonc/now270

18.

Batchelor TT, Gerstner ER, Emblem KE, Duda DG, Kalpathy-Cramer J, Snuderl M, Ancukiewicz M, Polaskova P, Pinho MC, Jennings D, Plotkin SR, Chi AS, Eichler AF, Dietrich J, Hochberg FH, Lu-Emerson C, Iafrate AJ, Ivy SP, Rosen BR, Loeffler JS, Wen PY, Sorensen AG, Jain RK (2013) Improved tumor oxygenation and survival in glioblastoma patients who show increased blood perfusion after cediranib and chemoradiation. Proc Natl Acad Sci USA 110:19059–19064. doi:10.1073/pnas.1318022110

19.

George AJ, Thomas WG, Hannan RD (2010) The renin-angiotensin system and cancer: old dog, new tricks. Nat Rev Cancer 10:745–759. doi:10.1038/nrc2945

20.

McKay RR, Rodriguez GE, Lin X, Kaymakcalan MD, Hamnvik OP, Sabbisetti VS, Bhatt RS, Simantov R, Choueiri TK (2015) Angiotensin system inhibitors and survival outcomes in patients with metastatic renal cell carcinoma. Clin Cancer Res 21:2471–2479. doi:10.1158/1078-0432.CCR-14-2332

21.

Facciorusso A, Del Prete V, Crucinio N, Muscatiello N, Carr BI, Di Leo A, Barone M (2015) Angiotensin receptor blockers improve survival outcomes after radiofrequency ablation in hepatocarcinoma patients. J Gastroenterol Hepatol 30:1643–1650. doi:10.1111/jgh.12988

22.

Murphy JE, Wo JY-L, Ferrone C, Jiang W, Yeap BY, Blaszkowsky LS, Kwak EL, Allen JN, Clark JW, Faris JE, Zhu AX, Goyal L, Mamon HJ, Lillemoe KD, Ryan DP, DeLaney TF, Fernandez-del Castillo C, Boucher Y, Hong TS (2017) TGF-B1 inhibition with losartan in combination with FOLFIRINOX (F-NOX) in locally advanced pancreatic cancer (LAPC): Preliminary feasibility and R0 resection rates from a prospective phase II study. J Clin Oncol 35(suppl 4S):386

23.

Stylianopoulos T, Jain RK (2013) Combining two strategies to improve perfusion and drug delivery in solid tumors. Proc Natl Acad Sci USA 110:18632–18637. doi:10.1073/pnas.1318415110

24.

Rivera E, Arrieta O, Guevara P, Duarte-Rojo A, Sotelo J (2001) AT1 receptor is present in glioma cells; its blockage reduces the growth of rat glioma. Br J Cancer 85:1396–1399. doi:10.1054/bjoc.2001.2102

25.

Arrieta O, Guevara P, Escobar E, Garcia-Navarrete R, Pineda B, Sotelo J (2005) Blockage of angiotensin II type I receptor decreases the synthesis of growth factors and induces apoptosis in C6 cultured cells and C6 rat glioma. Br J Cancer 92:1247–1252. doi:10.1038/sj.bjc.6602483
Acknowledgements
We thank Dr. D. G. Duda for his scientific input. This study was supported, in part, by NIH- P01CA080124 (to R.K.J.) and NIH-F31HL126449 (to M.D.).
Funding
No reagents or funding from these companies were used in these studies.
Ethics declarations
Conflict of interest
V.A.L. received consulting fees from Orbus Therapeutics, Inc., Nativis, Inc., and Bristol-Myers Squibb. R.K.J. received consultant fees from Ophthotech, SPARC, SynDevRx and XTuit. R.K.J owns equity in Enlight, SPARC, SynDevRx and XTuit, and serves on the Board of Directors of XTuit and Boards of Trustees of Tekla Healthcare Investors, Tekla Life Sciences Investors, Tekla Healthcare Opportunities Fund and Tekla World Healthcare Fund. R.K.J only had access to de-identified data.
About this article
Cite this article
Levin, V.A., Chan, J., Datta, M. et al. Effect of angiotensin system inhibitors on survival in newly diagnosed glioma patients and recurrent glioblastoma patients receiving chemotherapy and/or bevacizumab. J Neurooncol 134, 325–330 (2017). https://doi.org/10.1007/s11060-017-2528-3
Received:

Accepted:

Published:

Issue Date:
Keywords
Avastin

Bevacizumab

Drug dose

Angiotensin receptor blockers

Glioma

Glioblastoma

Retrospective analysis