Abstract
Diffuse intrinsic pontine glioma (DIPG), a rare, often fatal childhood brain tumor, remains a major therapeutic challenge. In 2012, investigators, funded by the DIPG Collaborative (a philanthropic partnership among 29 private foundations), launched the International DIPG Registry (IDIPGR) to advance understanding of DIPG. Comprised of comprehensive deidentified but linked clinical, imaging, histopathological, and genomic repositories, the IDIPGR uses standardized case report forms for uniform data collection; serial imaging and histopathology are centrally reviewed by IDIPGR neuro-radiologists and neuro-pathologists, respectively. Tissue and genomic data, and cell cultures derived from autopsies coordinated by the IDIPGR are available to investigators for studies approved by the Scientific Advisory Committee. From April 2012 to December 2016, 670 patients diagnosed with DIPG have been enrolled from 55 participating institutions in the US, Canada, Australia and New Zealand. The radiology repository contains 3558 studies from 448 patients. The pathology repository contains tissue on 81 patients with another 98 samples available for submission. Fresh DIPG tissue from seven autopsies has been sent to investigators to develop primary cell cultures. The bioinformatics repository contains next-generation sequencing data on 66 tumors. Nine projects using data/tissue from the IDIPGR by 13 principle investigators from around the world are now underway. The IDIPGR, a successful alliance among philanthropic agencies and investigators, has developed and maintained a highly collaborative, hypothesis-driven research infrastructure for interdisciplinary and translational projects in DIPG to improve diagnosis, response assessment, treatment and outcome for patients.
Access options
Buy single article
Instant access to the full article PDF.
USD 39.95
Price excludes VAT (USA)
Tax calculation will be finalised during checkout.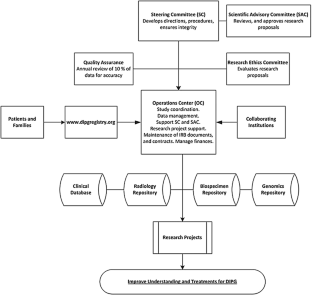 Acknowledgements
We gratefully acknowledge all patients and their families who have supported and contributed to the International DIPG Registry. Supporting foundations including: The Cure Starts Now Foundation, Hope for Caroline Foundation, Julian Boivin Courage for Cures Foundation, Abbie's Army, Michael Mosier Defeat DIPG Foundation, Brooke Healey Foundation, Reflections of Grace Foundation, The Cure Starts Now Australia, Soar with Grace Foundation, Jeffrey Thomas Hayden Foundation, Cure Brain Cancer Foundation, The Jones Family Foundation, Musella Foundation for Brain Tumor Research and Information, The Pray, Hope Believe Foundation, Benny's World, Smiles for Sophie Forever, Aiden's Avengers, Love, Chloe Foundation, A Cure from Caleb Society, Operation Grace White Foundation, Ryan's Hope, American Childhood Cancer Organization, Juliana Rose Donnelly Trust, Joshua's Wish, The Ellie Kavalieros DIPG Research Fund, Voices Against Brain Cancer, Wayland's Warriors, Shelia Jones & Friends and The DIPG Collaborative.
Funding
This research was financially supported by the DIPG Collaborative.
About this article
Cite this article
Baugh, J., Bartels, U., Leach, J. et al. The international diffuse intrinsic pontine glioma registry: an infrastructure to accelerate collaborative research for an orphan disease. J Neurooncol 132, 323–331 (2017). https://doi.org/10.1007/s11060-017-2372-5
Received:

Accepted:

Published:

Issue Date:

DOI: https://doi.org/10.1007/s11060-017-2372-5
Keywords