Abstract
Vestibular schwannoma is a benign neoplasm arising from the Schwann cell sheath of the auditory-vestibular nerve. It most commonly affects both sides in the genetic condition Neurofibromatosis type 2, causing progressive high frequency sensorineural hearing loss. Here, we describe a microsurgical technique and stereotactic coordinates for schwannoma cell grafting in the vestibular nerve region that recapitulates local tumor growth in the cerebellopontine angle and inner auditory canal with resulting hearing loss. Tumor growth was monitored by bioluminescence and MRI in vivo imaging, and hearing assessed by auditory brainstem responses. These techniques, by potentially enabling orthotopic grafting of a variety of cell lines will allow studies on the pathogenesis of tumor-related hearing loss and preclinical drug evaluation, including hearing endpoints, for NF2-related and sporadic schwannomas.
Access options
Buy single article
Instant access to the full article PDF.
US$ 39.95
Tax calculation will be finalised during checkout.
Subscribe to journal
Immediate online access to all issues from 2019. Subscription will auto renew annually.
US$ 119
Tax calculation will be finalised during checkout.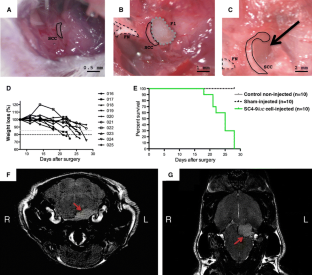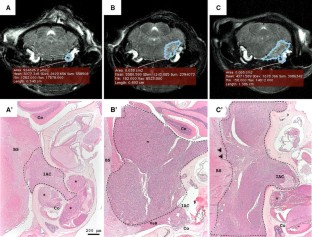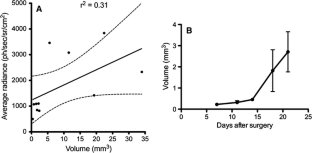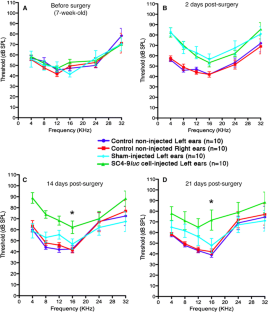 References
1.

Kshettry VR, Hsieh JK, Ostrom QT, Kruchko C, Barnholtz-Sloan JS (2015) Incidence of vestibular schwannomas in the United States. J Neurooncol 124:223–228. doi:10.1007/s11060-015-1827-9

2.

Evans DG, Moran A, King A, Saeed S, Gurusinghe N, Ramsden R (2005) Incidence of vestibular schwannoma and neurofibromatosis 2 in the North West of England over a 10-year period: higher incidence than previously thought. Otol Neurotol 26:93–97

3.

Rouleau GA, Merel P, Lutchman M, Sanson M, Zucman J, Marineau C, Hoang-Xuan K, Demczuk S, Desmaze C, Plougastel B et al (1993) Alteration in a new gene encoding a putative membrane-organizing protein causes neuro-fibromatosis type 2. Nature 363:515–521. doi:10.1038/363515a0

4.

Trofatter JA, MacCollin MM, Rutter JL, Murrell JR, Duyao MP, Parry DM, Eldridge R, Kley N, Menon AG, Pulaski K et al (1993) A novel moesin-, ezrin-, radixin-like gene is a candidate for the neurofibromatosis 2 tumor suppressor. Cell 72:791–800

5.

Bijlsma EK, Merel P, Bosch DA, Westerveld A, Delattre O, Thomas G, Hulsebos TJ (1994) Analysis of mutations in the SCH gene in schwannomas. Genes Chromosom Cancer 11:7–14

6.

Hadfield KD, Smith MJ, Urquhart JE, Wallace AJ, Bowers NL, King AT, Rutherford SA, Trump D, Newman WG, Evans DG (2010) Rates of loss of heterozygosity and mitotic recombination in NF2 schwannomas, sporadic vestibular schwannomas and schwannomatosis schwannomas. Oncogene 29:6216–6221. doi:10.1038/onc.2010.363

7.

Harner SG, Fabry DA, Beatty CW (2000) Audiometric findings in patients with acoustic neuroma. Am J Otol 21:405–411

8.

Tutar H, Duzlu M, Goksu N, Ustun S, Bayazit Y (2012) Audiological correlates of tumor parameters in acoustic neuromas. Eur Arch Otorhinolaryngol. doi:10.1007/s00405-012-1954-2

9.

van de Langenberg R, de Bondt BJ, Nelemans PJ, Dohmen AJ, Baumert BG, Stokroos RJ (2011) Predictors of volumetric growth and auditory deterioration in vestibular schwannomas followed in a wait and scan policy. Otol Neurotol 32:338–344. doi:10.1097/MAO.0b013e3182040d9f

10.

Asthagiri AR, Vasquez RA, Butman JA, Wu T, Morgan K, Brewer CC, King K, Zalewski C, Kim HJ, Lonser RR (2012) Mechanisms of hearing loss in neurofibromatosis type 2. PLoS One 7:e46132. doi:10.1371/journal.pone.0046132

11.

Fisher LM, Doherty JK, Lev MH, Slattery WH (2009) Concordance of bilateral vestibular schwannoma growth and hearing changes in neurofibromatosis 2: neurofibromatosis 2 natural history consortium. Otol Neurotol 30:835–841. doi:10.1097/MAO.0b013e3181b2364c

12.

Mahmud MR, Khan AM, Nadol JB Jr (2003) Histopathology of the inner ear in unoperated acoustic neuroma. Ann Otol Rhinol Laryngol 112:979–986

13.

Warren FM 3rd, Kaylie DM, Aulino JM, Jackson CG, Weissman JL (2006) Magnetic resonance appearance of the inner ear after hearing-preservation surgery. Otol Neurotol 27:393–397

14.

Stankovic KM, Mrugala MM, Martuza RL, Silver M, Betensky RA, Nadol JB Jr, Stemmer-Rachamimov AO (2009) Genetic determinants of hearing loss associated with vestibular schwannomas. Otol Neurotol 30:661–667. doi:10.1097/MAO.0b013e3181a66ece

15.

Evans DG (2009) Neurofibromatosis type 2 (NF2): a clinical and molecular review. Orphanet J Rare Dis 4:16. doi:10.1186/1750-1172-4-16

16.

Plotkin SR, Stemmer-Rachamimov AO, Barker FG 2nd, Halpin C, Padera TP, Tyrrell A, Sorensen AG, Jain RK, di Tomaso E (2009) Hearing improvement after bevacizumab in patients with neurofibromatosis type 2. N Engl J Med 361:358–367. doi:10.1056/NEJMoa0902579

17.

Patel MM, Goyal BR, Bhadada SV, Bhatt JS, Amin AF (2009) Getting into the brain: approaches to enhance brain drug delivery. CNS Drugs 23:35–58. doi:10.2165/0023210-200923010-00003

18.

Giovannini M, Robanus-Maandag E, van der Valk M, Niwa-Kawakita M, Abramowski V, Goutebroze L, Woodruff JM, Berns A, Thomas G (2000) Conditional biallelic Nf2 mutation in the mouse promotes manifestations of human neurofibromatosis type 2. Genes Dev 14:1617–1630

19.

Lallemand D, Manent J, Couvelard A, Watilliaux A, Siena M, Chareyre F, Lampin A, Niwa-Kawakita M, Kalamarides M, Giovannini M (2009) Merlin regulates transmembrane receptor accumulation and signaling at the plasma membrane in primary mouse Schwann cells and in human schwannomas. Oncogene 28:854–865. doi:10.1038/onc.2008.427

20.

Manent J, Oguievetskaia K, Bayer J, Ratner N, Giovannini M (2003) Magnetic cell sorting for enriching Schwann cells from adult mouse peripheral nerves. J Neurosci Methods 123:167–173

21.

Morrison H, Sperka T, Manent J, Giovannini M, Ponta H, Herrlich P (2007) Merlin/neurofibromatosis type 2 suppresses growth by inhibiting the activation of Ras and Rac. Cancer Res 67:520–527. doi:10.1158/0008-5472.CAN-06-1608

22.

Wu M, Wallace MR, Muir D (2005) Tumorigenic properties of neurofibromin-deficient Schwann cells in culture and as syngrafts in Nf1 knockout mice. J Neurosci Res 82:357–367. doi:10.1002/jnr.20646

23.

Rosset A, Spadola L, Ratib O (2004) OsiriX: an open-source software for navigating in multidimensional DICOM images. J Digit Imaging 17:205–216. doi:10.1007/s10278-004-1014-6

24.

Stemmer-Rachamimov AO, Louis DN, Nielsen GP, Antonescu CR, Borowsky AD, Bronson RT, Burns DK, Cervera P, McLaughlin ME, Reifenberger G, Schmale MC, MacCollin M, Chao RC, Cichowski K, Kalamarides M, Messerli SM, McClatchey AI, Niwa-Kawakita M, Ratner N, Reilly KM, Zhu Y, Giovannini M (2004) Comparative pathology of nerve sheath tumors in mouse models and humans. Cancer Res 64:3718–3724. doi:10.1158/0008-5472.CAN-03-4079

25.

Hennigan RF, Moon CA, Parysek LM, Monk KR, Morfini G, Berth S, Brady S, Ratner N (2013) The NF2 tumor suppressor regulates microtubule-based vesicle trafficking via a novel Rac, MLK and p38(SAPK) pathway. Oncogene 32:1135–1143. doi:10.1038/onc.2012.135

26.

Kim JY, Song JJ, Kwon BM, Lee JD (2015) Tanshinone IIA exerts antitumor activity against vestibular schwannoma cells by inhibiting the expression of hypoxia-inducible factor-1alpha. Mol Med Rep 12:4604–4609. doi:10.3892/mmr.2015.3932

27.

Jost SC, Collins L, Travers S, Piwnica-Worms D, Garbow JR (2009) Measuring brain tumor growth: combined bioluminescence imaging-magnetic resonance imaging strategy. Mol Imaging 8:245–253

28.

Sarraf-Yazdi S, Mi J, Dewhirst MW, Clary BM (2004) Use of in vivo bioluminescence imaging to predict hepatic tumor burden in mice. J Surg Res 120:249–255. doi:10.1016/j.jss.2004.03.013

29.

Lee JK, Sobel RA, Chiocca EA, Kim TS, Martuza RL (1992) Growth of human acoustic neuromas, neurofibromas and schwannomas in the subrenal capsule and sciatic nerve of the nude mouse. J Neurooncol 14:101–112

30.

Linskey ME, Martinez AJ, Kondziolka D, Flickinger JC, Maitz AH, Whiteside T, Lunsford LD (1993) The radiobiology of human acoustic schwannoma xenografts after stereotactic radiosurgery evaluated in the subrenal capsule of athymic mice. J Neurosurg 78:645–653. doi:10.3171/jns.1993.78.4.0645

31.

Chang LS, Jacob A, Lorenz M, Rock J, Akhmametyeva EM, Mihai G, Schmalbrock P, Chaudhury AR, Lopez R, Yamate J, John MR, Wickert H, Neff BA, Dodson E, Welling DB (2006) Growth of benign and malignant schwannoma xenografts in severe combined immunodeficiency mice. Laryngoscope 116:2018–2026. doi:10.1097/01.mlg.0000240185.14224.7d

32.

Clark JJ, Provenzano M, Diggelmann HR, Xu N, Hansen SS, Hansen MR (2008) The ErbB inhibitors trastuzumab and erlotinib inhibit growth of vestibular schwannoma xenografts in nude mice: a preliminary study. Otol Neurotol 29:846–853. doi:10.1097/MAO.0b013e31817f7398

33.

Neff BA, Voss SG, Allen C, Schroeder MA, Driscoll CL, Link MJ, Galanis E, Sarkaria JN (2009) Bioluminescent imaging of intracranial vestibular schwannoma xenografts in NOD/SCID mice. Otol Neurotol 30:105–111. doi:10.1097/MAO.0b013e31818b6cea

34.

Giovannini M, Bonne NX, Vitte J, Chareyre F, Tanaka K, Adams R, Fisher LM, Valeyrie-Allanore L, Wolkenstein P, Goutagny S, Kalamarides M (2014) mTORC1 inhibition delays growth of neurofibromatosis type 2 schwannoma. Neuro Oncol 16:493–504. doi:10.1093/neuonc/not242

35.

Walsted A, Nielsen OA, Borum P (1994) Hearing loss after neurosurgery. The influence of low cerebrospinal fluid pressure. J Laryngol Otol 108:637–641

36.

Walsted A, Salomon G, Olsen KS (1991) Low-frequency hearing loss after spinal anesthesia. Perilymphatic hypotonia? Scand Audiol 20:211–215

37.

Walsted A, Salomon G, Olsen KS (1993) Hearing loss after spinal anesthesia. An audiological controlled trial. Ugeskr Laeger 155:3009–3011

38.

Walsted A, Nilsson P, Gerlif J (1996) Cerebrospinal fluid loss and threshold changes. 2. Electrocochleographic changes of the compound action potential after CSF aspiration: an experimental study. Audiol Neurootol 1:256–264

39.

Nam SI, Linthicum FH Jr, Merchant SN (2011) Temporal bone histopathology in neurofibromatosis type 2. Laryngoscope 121:1548–1554. doi:10.1002/lary.21822

40.

Doherty J, Go JL, Linthicum FH Jr (2014) Neurofibromatosis 2 invasion of the internal auditory canal wall: clinical significance. Otol Neurotol 35:1662–1668. doi:10.1097/MAO.0000000000000494

41.

Morlet T, Dubreuil C, Duclaux R, Ferber-Viart C (2003) Preoperative speech and pure-tone audiometry in four types of patients with acoustic neuroma. Am J Otolaryngol 24:297–305

42.

Vater M, Kossl M (2011) Comparative aspects of cochlear functional organization in mammals. Hear Res 273:89–99. doi:10.1016/j.heares.2010.05.018
Acknowledgments
We thank Rosa Sierra and Erica Canal for technical support.
Funding
This study was funded by a Young Investigator Award (N-X.B.) and by the Neurofibromatosis Preclinical Consortium of the Children's Tumor Foundation; Advocure NF2 Inc. and by the House Research Institute.
Ethics declarations
Conflict of Interest
The authors declare that they have no conflict of interest.
About this article
Cite this article
Bonne, NX., Vitte, J., Chareyre, F. et al. An allograft mouse model for the study of hearing loss secondary to vestibular schwannoma growth. J Neurooncol 129, 47–56 (2016). https://doi.org/10.1007/s11060-016-2150-9
Received:

Accepted:

Published:

Issue Date:
Keywords
Neurofibromatosis type 2

Vestibular schwannoma

Auditory brainstem response

Mouse model