Abstract
Once considered a "no man's land" especially when invaded by a diffuse low grade glioma (DLGG), the insula remains to this day a surgical challenge. Surgery for insular DLGG involves consideration of its hidden location under the potentially eloquent operculae, the proximity to vascular tree and high density of functions not only in the insular cortex but also in the white fiber pathways passing under the insular lobe. The natural history of DLGG and the potential benefits and consequences of the surgical approach also need a close look. In the last decade, a better knowledge of the functional anatomy and connectivity of this region, as well as an improvement in surgical techniques as direct stimulation mapping, combined with an increasing literature showing a favorable impact of maximal resection for DLGG, were deciding factors in the paradigmatic shift from expectative treatment to early surgical management. Here, our goal is to discuss the structural and functional aspects of the insula, the specificities of insular and paralimbic DLGG by emphasizing the technical considerations of surgery in this region, as well as its oncological and functional outcomes. In summary, this new strategy based upon early maximal safe surgical resection showed both oncological benefit and preservation of quality of life—or even an improvement thanks to epilepsy relief.
This is a preview of subscription content, log in to check access.
Access options
Buy single article
Instant access to the full article PDF.
US$ 39.95
Price includes VAT for USA
Subscribe to journal
Immediate online access to all issues from 2019. Subscription will auto renew annually.
US$ 199
This is the net price. Taxes to be calculated in checkout.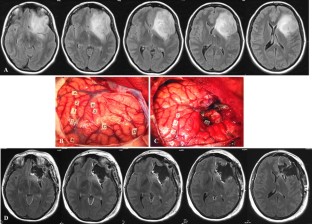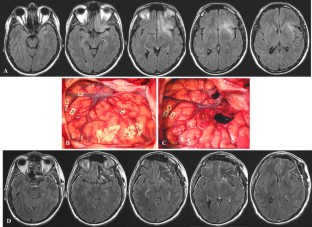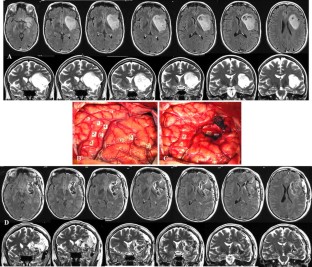 References
1.

Shelley BP, Trimble MR (2004) The insular lobe of reil—its anatomico-functional, behavioural and neuropsychiatric attributes in humans—a review. World J Biol Psychiatry 5:176–200

2.

Ribas GC (2011) The microsurgical anatomy of the cerebral cortex. In: Duffau H (ed) Brain mapping: from neural basis of cognition to surgical applications. Springer Wien, New York, pp 7–41

3.

Nieuwenhuys R (2012) The insular cortex: a review. In: Hofman MA, Falk D (eds) Progress in brain research, Chapter 7, vol 195. Elsevier, Amsterdam, pp 123–163

4.

Türe U, Yaşargil DC, Al-Mefty O, Yaşargil MG (1999) Topographic anatomy of the insular region. J Neurosurg 90:720–733

5.

Duvernoy HM (1991) The human brain. Springer, Wien

6.

Naidich TP, Kang E, Fatterpekar GM, Delman BN, Gultekin SH, Wolfe D, Ortiz O, Yousry I, Weismann M, Yousry TA (2004) The insula: anatomic study and MR Imaging display at 1.5 T. AJNR Am J Neuroradiol 25:222–232

7.

Rey-Dios R, Cohen-Gadol AA (2013) Technical nuances for surgery of insular gliomas: lessons learned. Neurosurg Focus 34(2):E6

8.

Tanriover N, Rhoton AL Jr, Kawashima M, Ulm AJ, Yasuda A (2004) Microsurgical anatomy of the insula and the sylvian fissure. J Neurosurg 100:891–922

9.

Duffau H (2009) A personal consecutive series of surgically treated 51 cases of insular WHO grade II glioma: advances and limitations. J Neurosurg 110:696–708

10.

Duffau H, Moritz-Gasser S, Gatignol P (2009) Functional outcome after language mapping for insular World Health Organization grade II gliomas in the dominant hemisphere: experience with 24 patients. Neurosurg Focus 27(2):E7

11.

Moraga-Amaro R, Stehberg J (2012) The insular cortex and the amygdala: shared functions and interactions. In Ferry B, editor. The Amygdala—a discrete multitasking manager, chapter 9, ISBN 978-953-51-0908-2

12.

Mesulam MM, Mufson EJ (1982) Insula of the old world monkey. I. Architectonics in the insulo-orbito-temporal component of the paralimbic brain. J Comp Neurol 212:1–22

13.

Duffau H, Capelle L, Lopes M, Faillot T, Sichez JP, Fohanno D (2000) The insular lobe: physiopathological and surgical considerations. Neurosurgery 47:801–810

14.

Lang FF, Olansen NE, DeMonte F, Gokaslan ZL, Holland EC, Kalhorn C, Sawaya R (2001) Surgical resection of intrinsic insular tumors: complication avoidance. J Neurosurg 95:638–650

15.

Hentschel SJ, Lang FF (2005) Surgical resection of intrinsic insular tumors. Neurosurgery 57:176–183

16.

Duffau H (2015) Stimulation mapping of white matter tracts to study brain functional connectivity. Nat Rev Neurol 11:255–265

17.

Von Der Heide RJ, Skipper LM, Klobusicky E, Olson IR (2013) Dissecting the uncinate fasciculus: disorders, controversies and a hypothesis. Brain 136:1692–1707

18.

Martino J, Vergani F, Gil Robles S, Duffau H (2010) New insights into the anatomic dissection of the temporal stem with special emphasis on the inferior fronto-occipital fasciculus: implications in surgical approach to left mesiotemporal and temporoinsular structures. Neurosurgery 66:4–12

19.

Duffau H, Capelle L (2004) Preferential brain locations of low-grade gliomas. Cancer 100:2622–2626

20.

Mandonnet E, Capelle L, Duffau H (2006) Extension of paralimbic low grade glioma: toward an anatomical classification based on white matter invasion pattern. J Neurooncol 78:179–185

21.

Kalani MY, Kalani MA, Gwinn R, Keogh B, Tse VC (2009) Embryological development of the human insula and its implications for the spread and resection of insular gliomas. Neurosurg Focus 27(2):E2

22.

Reya T, Morrison SJ, Clarke MF, Weissman IL (2001) Stem cells, cancer, and cancer stem cells. Nature 414:105–111

23.

Capelle L, Fontaine D, Mandonnet E, Taillandier L, Golmard JL, Bauchet L, Pallud J, Peruzzi P, Baron MH, Kujas M, Guyotat J, Guillevin R, Frenay M, Taillibert S, Colin P, Rigau V, Vandenbos F, Pinelli C, Duffau H (2013) Spontaneous and therapeutic prognostic factors in adult hemispheric World Health Organization Grade II gliomas: a series of 1097 cases clinical article. J Neurosurg 118:1157–1168

24.

Smits Smith JS, Chang EF, Lamborn KR, Chang SM, Prados MD, Cha S, Tihan T, Vandenberg S, McDermott MW, Berger MS (2008) Role of extent of resection in the long-term outcome of low-grade hemispheric gliomas. J Clin Oncol 26:1338–13345

25.

Pallud Pallud J, Audureau E, Blonski M, Sanai N, Bauchet L, Fontaine D, Mandonnet E, Dezamis E, Psimaras D, Guyotat J, Peruzzi P, Page P, Gal B, Pa´rraga E, Baron MH, Vlaicu M, Guillevin R, Devaux B, Duffau H, Taillandier L, Capelle L, Huberfeld G (2014) Epileptic seizures in diffuse low-grade gliomas in adults. Brain 137:449–462

26.

Pallud J, Mandonnet E, Duffau H, Kujas M, Galanaud D, Guillevin R, Taillandier L, Capelle L (2006) Prognostic value of initial magnetic resonance imaging growth rates for World Health Organization grade II gliomas. Ann Neurol 60:380–383

27.

Gozé C, Blonski M, Le Maistre G, Bauchet L, Dezamis E, Page P, Varlet P, Capelle L, Devaux B, Taillandier L, Duffau H, Pallud J (2014) Imaging growth and isocitrate dehydrogenase 1 mutation are independent predictors for diffuse low-grade gliomas. Neuro-Oncology 16:1100–1109

28.

Metellus P, Coulibaly B, Colin C, de Paula AM, Vasiljevic A, Taieb D, Barlier A, Boisselier B, Mokhtari K, Wang XW, Loundou A, Chapon F, Pineau S, Ouafik L, Chinot O, Figarella-Branger D (2010) Absence of IDH mutation identifies a novel radiologic and molecular subtype of WHO grade II gliomas with dismal prognosis. Acta Neuropathol 120:719–729

29.

Sanai N, Polley MY, Berger MS (2010) Insular glioma resection: assessment of patient morbidity, survival, and tumor progression. J Neurosurg 112:1–9

30.

Wu AS, Witgert ME, Lang FF, Xiao L, Bekele BN, Meyers CA, Ferson D, Wefel JS (2011) Neurocognitive function before and after surgery for insular gliomas. J Neurosurg 115:1115–1125

31.

Duffau H (2013) Cognitive assessment in glioma patients. J Neurosurg 119:1348–1349

32.

Almairac F, Herbet G, Moritz-Gasser S, de Champfleur NM, Duffau H (2015) The left inferior fronto-occipital fasciculus subserves language semantics: a multilevel lesion study. Brain Struct Funct 220:1983–1995

33.

Gozé C, Rigau V, Gibert L, Maudelonde T, Duffau H (2009) Lack of complete 1p19q deletion in a consecutive series of 12 WHO grade II gliomas involving the insula: a marker of worse prognosis? J Neurooncol 91:1–5

34.

Gozé C, Mansour L, Rigau V, Duffau H (2013) Distinct IDH1/IDH2 mutation profiles in purely insular versus paralimbic WHO Grade II gliomas. J Neurosurg 118:866–872

35.

Yasargil MG, von Ammon K, Cavazos E, Doczi T, Reeves JD, Roth P (1992) Tumours of the limbic and paralimbic systems. Acta Neurochir (Wien) 118:40–52

36.

Duffau H (2013) Diffuse low grade glioma in adults: natural history, interaction with the brain, and new individualized therapeutic strategies. Springer, London

37.

Duffau H, Taillandier L (2015) New concepts in the management of diffuse low-grade glioma: proposal of a multistage and individualized therapeutic approach. Neuro-Oncology 17:332–342

38.

Jakola AS, Myrmel KS, Kloster R, Torp SH, Lindal S, Unsgard G, Solheim O (2012) Comparison of a strategy favoring early surgical resection vs a strategy favoring watchful waiting in low grade gliomas. JAMA 308:1881–1888

39.

Duffau H (2013) The rationale to perform early resection in incidental diffuse low-grade glioma: toward a "preventive surgical neurooncology". World Neurosurg 80:115–117

40.

de Oliveira Lima GL, Zanello M, Mandonnet E, Taillandier L, Pallud J, Duffau H. Incidental diffuse low-grade gliomas: from early detection to preventive neuro-oncological surgery. Neurosurg Rev (in press)

41.

De Witt Hamer PC, Robles SG, Zwinderman AH, Duffau H, Berger MS (2012) Impact of intraoperative stimulation brain mapping on glioma surgery outcome: a meta-analysis. J Clin Oncol 30:2559–2565

42.

Vanaclocha V, Saiz-Sapena N, Garcia-Casasola C (1997) Surgical treatment of insular gliomas. Acta Neurochir 139:1126–1135

43.

Wang P, Wu MC, Chen SJ, Xu XP, Yang Y, Cai J (2012) Microsurgery resection of intrinsic insular tumors via transsylvian surgical approach in 12 cases. Cancer Biol Med 9:44–47

44.

Neuloh G, Pechstein U, Schramm J (2007) Motor tract monitoring during insular glioma surgery. J Neurosurg 106:582–592

45.

Duffau H (2015) Resecting diffuse low grade gliomas to the boundaries of brain functions: a new concept in surgical neuro-oncology. J Neurosurg Sci 59:361–371

46.

Deras P, Moulinié G, Maldonado IL, Moritz-Gasser S, Duffau H, Bertram L (2012) Intermittent general anesthesia with controlled ventilation for asleep-awake-asleep brain surgery: a prospective series of 140 gliomas in eloquent areas. Neurosurgery 71:764–772

47.

Duffau H (2012) A new concepts of diffuse (low-grade) glioma surgery. Adv Tech Stand Neurosurg 38:3–27

48.

Tate MC, Herbet G, Moritz-Gasser S, Tate JE, Duffau H (2014) Probabilistic map of critical functional regions of the human cerebral cortex: Broca's area revisited. Brain 137:2773–2782

49.

Moritz-Gasser S, Herbet G, Duffau H (2013) Mapping the connectivity underlying multimodal (verbal and non-verbal) semantic processing: a brain electrostimulation study. Neuropsychologia 51:1814–1822

50.

Carrabba G, Mandonnet E, Fava E, Capelle L, Gaini SM, Duffau H, Bello L (2008) Transient inhibition of motor function induced by the cavitron ultrasonic surgical aspirator during brain mapping. Neurosurgery 63:E178–E179

51.

Moshel YA, Marcus JD, Parker EC, Kelly PJ (2008) Resection of insular gliomas: the importance of lenticulostriate artery position. J Neurosurg 109:825–834

52.

Martino J, Taillandier L, Moritz-Gasser S, Gatignol P, Duffau H (2009) Re-operation is a safe and effective therapeutic strategy in recurrent WHO grade II gliomas within eloquent areas. Acta Neurochir (Wien) 151:427–436

53.

Schmidt MH, Berger MS, Lamborn KR, Aldape K, McDermott MW, Prados MD, Chang SM (2003) Repeated operations for infiltrative low-grade gliomas without intervening therapy. J Neurosurg 98:1165–1169

54.

Ius T, Pauletto G, Cesselli D, Isola M, Turella L, Budai R, DeMaglio G, Eleopra R, Fadiga L, Lettieri C, Pizzolitto S, Beltrami CA, Skrap M (2015) Second surgery in insular low-grade gliomas. Biomed Res Int 2015:497610

55.

Duffau H (2014) The huge plastic potential of adult brain and the role of connectomics: new insights provided by serial mappings in glioma surgery. Cortex 58:325–337

56.

Duffau H, Taillandier L, Gatignol P, Capelle L (2006) The insular lobe and plasticity lessons from tumor surgery. Clin Neurol Neurosurg 108:543–548

57.

Gil Robles S, Gatignol P, Lehéricy S, Duffau H (2008) Long-term brain plasticity allowing multiple-stages surgical approach for WHO grade II gliomas in eloquent areas: a combined study using longitudinal functional MRI and intraoperative electrical stimulation. J Neurosurg 109:615–624

58.

Ius T, Pauletto G, Isola M, Gregoraci G, Budai R, Lettieri C, Eleopra R, Fadiga L, Skrap M (2014) Surgery for insular low-grade glioma: predictors of postoperative seizure outcome. J Neurosurg 120:12–23

59.

Duffau H, Capelle L, Lopes M, Bitar A, Sichez JP, van Effenterre R (2002) Medically intractable epilepsy from insular low-grade gliomas: improvement after an extended lesionectomy. Acta Neurochir (Wien) 144:563–572

60.

Ghareeb F, Duffau H (2012) Intractable epilepsy in paralimbic Word Health Organization Grade II gliomas: should the hippocampus be resected when not invaded by the tumor? J Neurosurg 116:1226–1234
Electronic supplementary material
Below is the link to the electronic supplementary material.
Supplementary material 1 (MP4 458302 kb)
Supplementary material 2 (MP4 245398 kb)
Supplementary material 3 (MP4 287739 kb)
About this article
Cite this article
Michaud, K., Duffau, H. Surgery of insular and paralimbic diffuse low-grade gliomas: technical considerations. J Neurooncol 130, 289–298 (2016). https://doi.org/10.1007/s11060-016-2120-2
Received:

Accepted:

Published:

Issue Date:
Keywords
Insular lobe

Surgery

Diffuse low-grade glioma

Awake mapping

Functional outcome

Oncological outcome