Abstract
Pediatric tumors of the central nervous system composed of oligoid tumor cells showing diffuse leptomeningeal spread without a primary mass lesion seem to represent a novel tumor entity. The terms "diffuse leptomeningeal glioneural tumor" or—preferably—"disseminated oligodendroglial-like leptomeningeal tumor of childhood" (DOGLT) were proposed. Four patients were identified with clinico-neuropathologic findings compatible with DOGLT and a mean follow-up time of 54 months was determined. Seven different biopsies obtained from the four patients were histologically evaluated. Clinical course, diagnostic measures, histopathologic and radiologic features and treatment suggestions were recorded, on the basis of which diagnostic and therapeutic algorithm was proposed. Patients with DOGLT presented with hydrocephalus as first symptom, requiring neurosurgical therapy. Open arachnoid biopsy was necessary to confirm diagnosis. The oligoid cells in a desmoplastic or focally myxoid matrix showed OLIG2-, MAP2-, S-100 and rare HuC/HuD protein-immunopositivity. IDH1 (R132H)- and CD99-immunohistochemistry was negative in all patients. None of the evaluable biopsies of three patients showed chromosome 1p/19q deletion, neither as isolated nor combined allelic loss. Chemotherapy according to the SIOP-LGG 2004 standard induction and consolidation protocol resulted in complete response and partial response, respectively, in 50 % of the patients. However, after discontinuation of chemotherapy, two patients experienced tumor progression and one of them succumbed to the disease after 19 months. Radiological criteria as well as preliminary treatment results are presented after observation of four clinical cases. Prognosis and long-term clinical courses remain to be observed.
This is a preview of subscription content, log in to check access.
Access options
Buy single article
Instant access to the full article PDF.
US$ 39.95
Price includes VAT for USA
Subscribe to journal
Immediate online access to all issues from 2019. Subscription will auto renew annually.
US$ 199
This is the net price. Taxes to be calculated in checkout.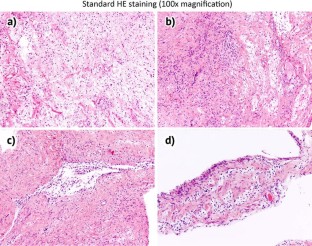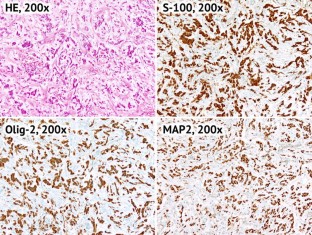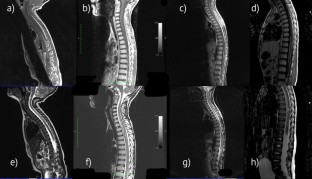 References
1.

Perilongo G, Gardiman M, Bisaglia L, Rigobello L, Calderone M, Battistella A, Burnelli R, Giangaspero F (2002) Spinal low-grade neoplasms with extensive leptomeningeal dissemination in children. Childs Nerv Syst 18:505–512

2.

Gardiman MP, Fassan M, Orvieto E, D'Avella D, Denaro L, Calderone M, Severino M, Scarsello G, Viscardi E, Perilongo G (2010) Diffuse Leptomeningeal Glioneural Tumors: a new entity? Brain Pathol 20:361–366

3.

Louis DN, Ohgaki H, Wiestler OD, Cavenee WK (eds) (2007) WHO Classification of Tumors of the Central Nervous System, 4th edn. IARC, Lyon

4.

Rossi S, Rodriguez FJ, Dei Tos A, Di Paolo F, Bendini M, Jenkins R, Giannini C (2009) Re: diffuse leptomeningeal glioneuronal tumors: a new entity? Brain Pathol 19:745

5.

Cenacchi G, Giangaspero F (2004) Emerging tumor entities and variants of CNS neoplasms. J Neuropath Exp Neurol 63(3):185–192

6.

Rodriguez FJ, Perry A, Rosenblum MK, Krawitz S, Cohen KJ, Lin D, Mosier S, Lin MT, Eberhart CG, Burger PC (2012) Disseminated oligodendroglial-like leptomeningeal tumor of childhood: a distinctive clinicopathologic entity. Acta Neuropathol 124:627–641

7.

Agamanolis DP, Katsetos CD, Klonk CJ, Bartkowski HM, Ganapathy S, Staugaitis SM, Kuerbitz SJ, Patton DF, Talaizadeh A, Cohen BC (2012) An unusual form of superficially disseminated glioma in children: report of 3 cases. J Child Neurol 27:727–733

8.

Schniederjan MJ, Alghamdi S, Castellano-Sanchez A, Mazewksi C, Brahma B, Brat DJ, Brathwaite CD, Janss AJ (2013) Diffuse leptomeningeal neuroepithelial tumor—9 pediatric cases with chromosome 1p/19q deletion status and IDH1 (R132H) immunohistochemistry. Am J Surg Pathol 37:763–771

9.

Lass U, Hartmann C, Capper C, Herold-Mende C, von Deimling A, Meinboom M, Mueller W (2013) Chromogenic in situ hybridization is a reliable alternative to fluorescence in situ hybridization for diagnostic testing of 1p and 19q loss in paraffin-embedded gliomas. Brain Pathol 23:311–318

10.

Bian SX, McAleer MF, Vats TS, Mahajan A, Grosshans DR (2013) Pilocytic astrocytoma with leptomeningeal dissemination. Childs Nerv Syst 29:441–450

11.

Von Hornstein S, Kortmann RD, Pietsch T, Emser A, Warmuth-Metz M, Soerensen N, Straeter R, Graf N, Thieme B, Gnekow AK (2011) Impact of chemotherapy on disseminated low-grade glioma in children and adolescents. Report from the HIT-LGG 1996 trial. Pediatr Blood Cancer 56:1046–1054

12.

Preuss M, Hoffmann KT, Reiss-Zimmermann M, Hirsch W, Merkenschlager A, Meixensberger J, Dengl M (2013) Updated physiology and pathophysiology of CSF circulation: the pulsatile vector theory. Childs Nerv Syst 29:2307–2310

13.

Rekate HL, Nadkarni TD, Wallace D (2008) The importance of the cortical subarachnoid space in understanding hydrocephalus. J Neurosurg Pediatr 2(1):1–11

14.

Gardiman MP, Fassan M, Nozza P, Orvieto E, Garrè ML, Milanaccio C, Severino M, Perilongo G, Giangaspero F (2012) Diffuse leptomeningeal glioneuronal tumors: clinico-pathological follow-up. Pathologica 104:428–431
Acknowledgments
The study group thanks the neuropathologic colleagues who provided the first biopsy results and granted reviewing of the specimens: Prof. Dr. med. Till Acker, Department of Neuropathology, University Gießen und Prof. Dr. med. Markus Bergmann, Department of Clinical Neuropathology, Klinikum Bremen-Mitte as well as Dr. Talal Aklan and Prof. Dr. Irina Berger, Department of Pathology, Klinikum Nordhessen GmbH, Kassel. Furthermore we want to thank Prof. Dr. Veit Braun, Department of Neurosurgery Siegen, for providing data and support of the study. The present study has not been funded or sponsored by third parties.
Conflict of interest
All authors have no conflict of interest in publication of this manuscript.
About this article
Cite this article
Preuss, M., Christiansen, H., Merkenschlager, A. et al. Disseminated oligodendroglial cell-like leptomeningeal tumors: preliminary diagnostic and therapeutic results for a novel tumor entity. J Neurooncol 124, 65–74 (2015). https://doi.org/10.1007/s11060-015-1735-z
Received:

Accepted:

Published:

Issue Date:
Keywords
Diffuse leptomeningeal neuroepithelial tumor

Leptomeningeal gliomatosis

Disseminated oligodendroglial-like leptomeningeal tumor

Diffuse leptomeningeal glioneuronal tumor

Hydrocephalus