Abstract
Glioblastoma multiforme (GBM) has nearly uniformly fatal with a median survival of less than 2 years. While there have not been any novel anti-GBM therapeutics approved for many years, there has been the gradual accumulation of clinical data suggesting that the widely used anti-convulsant agent, valproic acid (VPA) may significantly prolong survival in GBM patients. This pre-clinical study aimed to determine the potential clinical utility of VPA in the treatment of GBM. Primary GBM cells were treated with VPA as a monotherapy and in combination with temozolomide and irradiation. At clinically achievable concentrations, VPA was shown to be effective as a monotherapy agent in the five primary lines tested. VPA was then used as a sensitizing agent to in vitro radiation and showed significant augmentation of in vitro irradiation therapy. In addition, when VPA, radiation and temozolomide were combined an additive, rather than synergistic effect was noted. Gene expression profiling demonstrated close clustering of triple treated cells with VPA mono-treated cells while untreated cells clustered closer with TMZ-irradiation dual treated cells. These microarray data suggest a dominant role of VPA at the gene expression level when combining these different treatment options. Moreover, in an in vivo tumor transplantation model, we were able to demonstrate an increase in animal survival when cells were pre-treated with irradiation-VPA and when triple treated. These findings provide a significant rationale for the investigation of VPA in the treatment of GBM patients.
This is a preview of subscription content, log in to check access.
Access options
Buy single article
Instant access to the full article PDF.
US$ 39.95
Price includes VAT for USA
Subscribe to journal
Immediate online access to all issues from 2019. Subscription will auto renew annually.
US$ 199
This is the net price. Taxes to be calculated in checkout.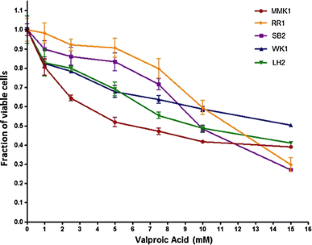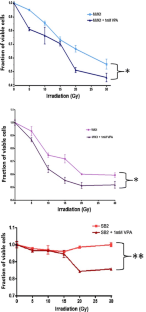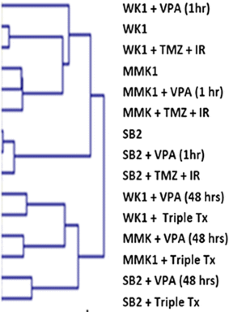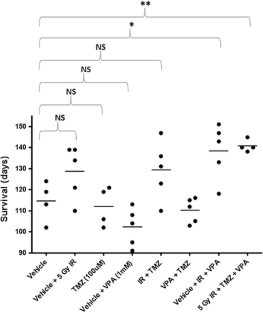 References
1.

Johnson DR, O'Neill BP (2012) Glioblastoma survival in the United States before and during the temozolomide era. J Neurooncol 107(2):359–364

2.

Gottlicher M, Minucci S, Zhu P, Kramer OH, Schimpf A, Giavara S et al (2001) Valproic acid defines a novel class of HDAC inhibitors inducing differentiation of transformed cells. EMBO J 20(24):6969–6978

3.

Jung M, Velena A, Chen B, Petukhov PA, Kozikowski AP, Dritschilo A (2005) Novel HDAC inhibitors with radiosensitizing properties. Radiat Res 163(5):488–493

4.

Galanis E, Jaeckle KA, Maurer MJ, Reid JM, Ames MM, Hardwick JS et al (2009) Phase II trial of vorinostat in recurrent glioblastoma multiforme: a north central cancer treatment group study. J Clin Oncol 27(12):2052–2058

5.

Felix FH, Trompieri NM, de Araujo OL, da Trindade KM, Fontenele JB (2011) Potential role for valproate in the treatment of high-risk brain tumors of childhood-results from a retrospective observational cohort study. Pediatr Hematol Oncol 28(7):556–570

6.

Weller M (2013) Are we ready for a randomized trial of valproic acid in newly diagnosed glioblastoma? Neuro-oncology 15(7):809–810

7.

Kerkhof M, Dielemans JC, van Breemen MS, Zwinkels H, Walchenbach R, Taphoorn MJ et al (2013) Effect of valproic acid on seizure control and on survival in patients with glioblastoma multiforme. Neuro-oncology 15(7):961–967

8.

Vredenburgh JJ, Desjardins A, Herndon JE 2nd, Dowell JM, Reardon DA, Quinn JA et al (2007) Phase II trial of bevacizumab and irinotecan in recurrent malignant glioma. Clin Cancer Res 13(4):1253–1259

9.

Vredenburgh JJ, Desjardins A, Herndon JE 2nd, Marcello J, Reardon DA, Quinn JA et al (2007) Bevacizumab plus irinotecan in recurrent glioblastoma multiforme. J Clin Oncol 25(30):4722–4729

10.

Gilbert MR, Sulman EP, Mehta MP (2014) Bevacizumab for newly diagnosed glioblastoma. N Engl J Med 370(21):2048–2049

11.

Chinot OL, Wick W, Mason W, Henriksson R, Saran F, Nishikawa R et al (2014) Bevacizumab plus radiotherapy-temozolomide for newly diagnosed glioblastoma. N Engl J Med 370(8):709–722

12.

Cohen MH, Johnson JR, Pazdur R (2005) Food and Drug Administration Drug approval summary: temozolomide plus radiation therapy for the treatment of newly diagnosed glioblastoma multiforme. Clin Cancer Res 11(19 Pt 1):6767–6771

13.

Stevens MF, Hickman JA, Langdon SP, Chubb D, Vickers L, Stone R et al (1987) Antitumor activity and pharmacokinetics in mice of 8-carbamoyl-3-methyl-imidazo[5,1-d]-1,2,3,5-tetrazin-4(3H)-one (CCRG 81045; M & B 39831), a novel drug with potential as an alternative to dacarbazine. Cancer Res 47(22):5846–5852

14.

Brennand J, Margison GP (1986) Reduction of the toxicity and mutagenicity of alkylating agents in mammalian cells harboring the Escherichia coli alkyltransferase gene. Proc Natl Acad Sci USA 83(17):6292–6296

15.

Hegi ME, Diserens AC, Gorlia T, Hamou MF, de Tribolet N, Weller M et al (2005) MGMT gene silencing and benefit from temozolomide in glioblastoma. N Engl J Med 352(10):997–1003

16.

Stupp R, Mason WP, van den Bent MJ, Weller M, Fisher B, Taphoorn MJ et al (2005) Radiotherapy plus concomitant and adjuvant temozolomide for glioblastoma. N Engl J Med 352(10):987–996

17.

Stupp R, Hegi ME, Mason WP, van den Bent MJ, Taphoorn MJ, Janzer RC et al (2009) Effects of radiotherapy with concomitant and adjuvant temozolomide versus radiotherapy alone on survival in glioblastoma in a randomised phase III study: 5-year analysis of the EORTC-NCIC trial. Lancet Oncol 10(5):459–466

18.

Frosina G (2009) DNA repair and resistance of gliomas to chemotherapy and radiotherapy. Mol Cancer Res 7(7):989–999

19.

Phiel CJ, Zhang F, Huang EY, Guenther MG, Lazar MA, Klein PS (2001) Histone deacetylase is a direct target of valproic acid, a potent anticonvulsant, mood stabilizer, and teratogen. J Biol Chem 276(39):36734–36741

20.

Chen Y, Tsai YH, Tseng SH (2012) Valproic acid affected the survival and invasiveness of human glioma cells through diverse mechanisms. J Neurooncol 109(1):23–33

21.

Zhou Y, Xu Y, Wang H, Niu J, Hou H, Jiang Y (2014) Histone deacetylase inhibitor, valproic acid, radiosensitizes the C6 glioma cell line. Oncol Lett 7(1):203–208

22.

Chen J, Ghazawi FM, Bakkar W, Li Q (2006) Valproic acid and butyrate induce apoptosis in human cancer cells through inhibition of gene expression of Akt/protein kinase B. Mol Cancer 5:71

23.

Van Nifterik KA, Van den Berg J, Slotman BJ, Lafleur MV, Sminia P, Stalpers LJ (2012) Valproic acid sensitizes human glioma cells for temozolomide and gamma-radiation. J Neurooncol 107(1):61–67

24.

Peterson GM, Naunton M (2005) Valproate: a simple chemical with so much to offer. J Clin Pharm Ther 30(5):417–421

25.

Day BW, Stringer BW, Al-Ejeh F, Ting MJ, Wilson J, Ensbey KS et al (2013) EphA3 maintains tumorigenicity and is a therapeutic target in glioblastoma multiforme. Cancer Cell 23(2):238–248

26.

Tusher VG, Tibshirani R, Chu G (2001) Significance analysis of microarrays applied to the ionizing radiation response. Proc Natl Acad Sci USA 98(9):5116–5121

27.

Engelhard HH, Duncan HA, Kim S, Criswell PS, Van Eldik L (2001) Therapeutic effects of sodium butyrate on glioma cells in vitro and in the rat C6 glioma model. Neurosurgery 48(3):616–624 discussion 24–5

28.

Ji Q, Shi X, Lin R, Mao Y, Zhai X, Lin Q et al (2010) Participation of lipid transport and fatty acid metabolism in valproate sodium-induced hepatotoxicity in HepG2 cells. Toxicol In Vitro 24(4):1086–1091

29.

Hu W, Sorrentino C, Denison MS, Kolaja K, Fielden MR (2007) Induction of cyp1a1 is a nonspecific biomarker of aryl hydrocarbon receptor activation: results of large scale screening of pharmaceuticals and toxicants in vivo and in vitro. Mol Pharmacol 71(6):1475–1486

30.

Dokmanovic M, Marks PA (2005) Prospects: histone deacetylase inhibitors. J Cell Biochem 96(2):293–304

31.

Xu WS, Parmigiani RB, Marks PA (2007) Histone deacetylase inhibitors: molecular mechanisms of action. Oncogene 26(37):5541–5552

32.

Friedmann I, Atmaca A, Chow KU, Jager E, Weidmann E (2006) Synergistic effects of valproic acid and mitomycin C in adenocarcinoma cell lines and fresh tumor cells of patients with colon cancer. J Chemother 18(4):415–420

33.

Thelen P, Schweyer S, Hemmerlein B, Wuttke W, Seseke F, Ringert RH (2004) Expressional changes after histone deacetylase inhibition by valproic acid in LNCaP human prostate cancer cells. Int J Oncol 24(1):25–31

34.

Olsen CM, Meussen-Elholm ET, Roste LS, Tauboll E (2004) Antiepileptic drugs inhibit cell growth in the human breast cancer cell line MCF7. Mol Cell Endocrinol 213(2):173–179

35.

Debeb BG, Xu W, Mok H, Li L, Robertson F, Ueno NT et al (2010) Differential radiosensitizing effect of valproic acid in differentiation versus self-renewal promoting culture conditions. Int J Radiat Oncol Biol Phys 76(3):889–895

36.

Li XN, Shu Q, Su JM, Perlaky L, Blaney SM, Lau CC (2005) Valproic acid induces growth arrest, apoptosis, and senescence in medulloblastomas by increasing histone hyperacetylation and regulating expression of p21Cip1, CDK4, and CMYC. Mol Cancer Ther 4(12):1912–1922

37.

Li XN, Parikh S, Shu Q, Jung HL, Chow CW, Perlaky L et al (2004) Phenylbutyrate and phenylacetate induce differentiation and inhibit proliferation of human medulloblastoma cells. Clin Cancer Res 10(3):1150–1159

38.

Chen X, Wong JY, Wong P, Radany EH (2011) Low-dose valproic acid enhances radiosensitivity of prostate cancer through acetylated p53-dependent modulation of mitochondrial membrane potential and apoptosis. Mol Cancer Res 9(4):448–461

39.

Nyskohus LS, Watson AJ, Margison GP, Le Leu RK, Kim SW, Lockett TJ et al (2013) Repair and removal of azoxymethane-induced O6-methylguanine in rat colon by O6-methylguanine DNA methyltransferase and apoptosis. Mutat Res 758(1–2):80–86

40.

Weller M, Gorlia T, Cairncross JG, van den Bent MJ, Mason W, Belanger K et al (2011) Prolonged survival with valproic acid use in the EORTC/NCIC temozolomide trial for glioblastoma. Neurology 77(12):1156–1164

41.

Barker CA, Bishop AJ, Chang M, Beal K, Chan TA (2013) Valproic acid use during radiation therapy for glioblastoma associated with improved survival. Int J Radiat Oncol Biol Phys 86(3):504–509

42.

Masoudi A, Elopre M, Amini E, Nagel ME, Ater JL, Gopalakrishnan V et al (2008) Influence of valproic acid on outcome of high-grade gliomas in children. Anticancer Res 28(4C):2437–2442

43.

Felix FH, de Araujo OL, da Trindade KM, Trompieri NM, Fontenele JB (2014) Retrospective evaluation of the outcomes of children with diffuse intrinsic pontine glioma treated with radiochemotherapy and valproic acid in a single center. J Neurooncol 116(2):261–266
Acknowledgements
RBWH Department of Neurosurgery, RBWH patients with GBM consenting for brain cancer research on resected tissue, Rotary Rockhampton, RBWH Division of Cancer Care and RBWH Foundation for funding the brain biobank at QIMR. Experiments were approved by the human ethics committee of the Queensland Institute of Medical Research (QIMR) and Royal Brisbane and Women's Hospital (RBWH).
Conflict of interest
Authors have no conficts of interest to declare.
Funding
Royal Brisbane and Women's Hospital Foundation, Rotary Rockhampton, Cancer Council Queensland.
Electronic supplementary material
Below is the link to the electronic supplementary material.
About this article
Cite this article
Hosein, A.N., Lim, Y.C., Day, B. et al. The effect of valproic acid in combination with irradiation and temozolomide on primary human glioblastoma cells. J Neurooncol 122, 263–271 (2015). https://doi.org/10.1007/s11060-014-1713-x
Received:

Accepted:

Published:

Issue Date:
Keywords
Glioblastoma

Valproic acid

Radiosensitisation