Abstract
Pilocytic astrocytoma is a WHO grade 1 brain tumor common in children. Relatively little is known about the behavior of pilocytic astrocytomas in adult patients, largely due to the rarity of pilocytic astrocytoma in this population. Some data suggest that adults share the excellent prognosis seen in children, while other reports suggest more aggressive tumor behavior in adult patients. Patients diagnosed with pilocytic astrocytoma between 1973 and 2008 were identified in the National Cancer Institute Surveillance, Epidemiology, and End Results Program database. Age-group specific survival was analyzed with overall, expected, and cancer-specific survival rates. Further survival analyses were performed with the Kaplan–Meier method and Cox Proportional Hazards models. 3,066 patients with pilocytic astrocytoma were identified, including 865 patients aged 20 years and older. Survival rates declined significantly with age, from 96.5% 60-month survival in patients 5–19 years (95% CI 95.3–97.4) to 52.9% 60-month survival in adult patients 60+ years of age (95% CI 38.4–65.5), with a corresponding decrease in relative and cancer-specific survival rates. Gross total resection was a positive prognostic indicator in adults, while patients receiving radiation had shorter survival regardless of extent of resection. Pilocytic astrocytoma is associated with higher mortality in adult patients than in children and teens, and survival decreases with increasing age in adults. The morbidity of pilocytic astrocytoma in adults provides rationale for future trials of adjuvant treatment in high-risk patients.
Access options
Buy single article
Instant access to the full article PDF.
US$ 39.95
Tax calculation will be finalised during checkout.
Subscribe to journal
Immediate online access to all issues from 2019. Subscription will auto renew annually.
US$ 119
Tax calculation will be finalised during checkout.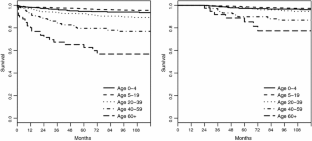 References
1.

Central Brain Tumor Registry of the United States (CBTRUS). CBTRUS Statistical report: primary brain and central nervous system tumors diagnosed in the United States in 2004–2007. http://www.cbtrus.org/2011-NPCR-SEER/WEB-0407-Report-3-3-2011.pdf. Accessed September 1, 2011

2.

Dirven CM, Mooij JJ, Molenaar WM (1997) Cerebellar pilocytic astrocytoma: a treatment protocol based upon analysis of 73 cases and a review of the literature. Childs Nerv Syst 13:17–23

3.

Bell D, Chitnavis BP, Al-Sarraj S, Connor S, Sharr MM, Gullan RW (2004) Pilocytic astrocytoma of the adult–clinical features, radiological features and management. Br J Neurosurg 18:613–616

4.

Ellis JA, Waziri A, Balmaceda C, Canoll P, Bruce JN, Sisti MB (2009) Rapid recurrence and malignant transformation of pilocytic astrocytoma in adult patients. J Neurooncol 95:377–382

5.

Favre J, Deruaz JP, de Tribolet N (1993) Pilocytic cerebellar astrocytoma in adults: case report. Surg Neurol 39:360–364

6.

Stuer C, Vilz B, Majores M, Becker A, Schramm J, Simon M (2007) Frequent recurrence and progression in pilocytic astrocytoma in adults. Cancer 110:2799–2808

7.

Brown PD, Buckner JC, O'Fallon JR, Iturria NL, Brown CA, O'Neill BP, Scheithauer BW, Dinapoli RP, Arusell RM, Abrams RA, Curran WJ, Shaw EG (2004) Adult patients with supratentorial pilocytic astrocytomas: a prospective multicenter clinical trial. Int J Radiat Oncol Biol Phys 58:1153–1160

8.

Garcia DM, Fulling KH (1985) Juvenile pilocytic astrocytoma of the cerebrum in adults. A distinctive neoplasm with favorable prognosis. J Neurosurg 63:382–386

9.

Kano H, Kondziolka D, Niranjan A, Flickinger JC, Lunsford LD (2009) Stereotactic radiosurgery for pilocytic astrocytomas part 1: outcomes in adult patients. J Neurooncol 95:211–218

10.

Claus EB, Black PM (2006) Survival rates and patterns of care for patients diagnosed with supratentorial low-grade gliomas: data from the SEER program, 1973–2001. Cancer 106:1358–1363

11.

Iwamoto FM, Cooper AR, Reiner AS, Nayak L, Abrey LE (2009) Glioblastoma in the elderly: the memorial Sloan-Kettering cancer center experience (1997–2007). Cancer 115:3758–3766

12.

Smoll NR (2011) Relative survival of childhood and adult medulloblastomas and primitive neuroectodermal tumors (PNETs). Cancer. doi:10.1002/cncr.26387

13.

National Cancer Institute (2011) About the surveillance, epidemiology, and end results (SEER) program. http://www.seer.cancer.gov/about/. Accessed May 10, 2011

14.

Surveillance, epidemiology, and end results (SEER) program (www.seer.cancer.gov) SEER*Stat database: incidence: SEER 17 Regs research data + hurricane katrina impacted Louisiana cases, Nov 2010 Sub (1973–2008 varying): Linked To County Attributes - Total U.S., 1969–2009 Counties, National Cancer Institute, DCCPS, Surveillance Research Program, Cancer Statistics Branch, released April 2011, based on the November 2010

15.

Howlader N, Ries LA, Mariotto AB, Reichman ME, Ruhl J, Cronin KA (2010) Improved estimates of cancer-specific survival rates from population-based data. J Natl Cancer Inst 102:1584–1598

16.

Surveillance research program N: SEER Cause-specific death classification: SEER Recodes. National Cancer Institute, Bethesda

17.

Surveillance research program, National Cancer Institute (2011) SEER*Stat software (seer.cancer.gov/seerstat) version 7.0.5

18.

Ederer F, Axtell LM, Cutler SJ (1961) The relative survival rate: a statistical methodology. Natl Cancer Inst Monogr 6:101–121

19.

Ederer F, Heise H (1959) Instructions to IBM 650 programmers in processing survival computations. Methodological Note 10, End results section. National Cancer Institute, Bethesda

20.

Ishkanian A, Laperriere NJ, Xu W, Millar BA, Payne D, Mason W, Sahgal A (2011) Upfront observation versus radiation for adult pilocytic astrocytoma. Cancer 117:4070–4079

21.

Kayama T, Tominaga T, Yoshimoto T (1996) Management of pilocytic astrocytoma. Neurosurg Rev 19:217–220

22.

R Development Core Team (2011). R: A language and environment for statistical computing. R Foundation for Statistical Computing, Vienna, Austria. ISBN 3-900051-07-0, URL http://www.R-project.org/

23.

Forsyth PA, Shaw EG, Scheithauer BW, O'Fallon JR, Layton DD Jr, Katzmann JA (1993) Supratentorial pilocytic astrocytomas. A clinicopathologic, prognostic, and flow cytometric study of 51 patients. Cancer 72:1335–1342

24.

Stupp R, Mason WP, van den Bent MJ, Weller M, Fisher B, Taphoorn MJ, Belanger K, Brandes AA, Marosi C, Bogdahn U, Curschmann J, Janzer RC, Ludwin SK, Gorlia T, Allgeier A, Lacombe D, Cairncross JG, Eisenhauer E, Mirimanoff RO (2005) Radiotherapy plus concomitant and adjuvant temozolomide for glioblastoma. N Engl J Med 352:987–996

25.

Rodriguez FJ, Scheithauer BW, Burger PC, Jenkins S, Giannini C (2010) Anaplasia in pilocytic astrocytoma predicts aggressive behavior. Am J Surg Pathol 34:147–160

26.

Rodriguez EF, Scheithauer BW, Giannini C, Rynearson A, Cen L, Hoesley B, Gilmer-Flynn H, Sarkaria JN, Jenkins S, Long J, Rodriguez FJ (2011) PI3K/AKT pathway alterations are associated with clinically aggressive and histologically anaplastic subsets of pilocytic astrocytoma. Acta Neuropathol 121:407–420
Acknowledgments
None.
Conflict of interest
The authors declare that they have no conflict of interest.
About this article
Cite this article
Johnson, D.R., Brown, P.D., Galanis, E. et al. Pilocytic astrocytoma survival in adults: analysis of the Surveillance, Epidemiology, and End Results Program of the National Cancer Institute. J Neurooncol 108, 187–193 (2012). https://doi.org/10.1007/s11060-012-0829-0
Received:

Accepted:

Published:

Issue Date:
Keywords
Pilocytic astrocytoma

Adult

Mortality

SEER program

Survival