Abstract
With the exception of radiation-induced tumors, benign meningiomas that are known to have developed within a defined time period are extremely rare. We have genetically characterized two cases of radiographically defined de novo, sporadic meningiomas—a 5-cm, left parasagittal tumor in a 61-year-old male and a 2.3-cm, right falx tumor in a 53-year-old female. Neither tumor was observed during MRIs performed for unrelated complaints 49 and 28 months before surgery, respectively. Both tumors were totally resected, and histopathological examination revealed WHO grade I meningiomas. In both cases, the MIB-1 staining indices were high for grade I meningioma (5.6% for case 1 and 9.1% for case 2), and abnormal accumulation of p53 were observed by immunohistochemistry. The two tumors shared losses of chromosome arms 1p and 7p by comparative genomic hybridization. The tumor suppressor merlin, product of the NF2 gene, was not detected in either tumor. These abnormalities found in common in both of the de novo meningiomas likely to play significant roles in the pathogenesis and/or rapid development of meningiomas. Moreover, taken together with previous studies, our findings indicate that the combined loss of 1p and 7p may play a critical role in the tumorigenesis of de novo, aggressive meningiomas.
This is a preview of subscription content, log in to check access.
Access options
Buy single article
Instant access to the full article PDF.
US$ 39.95
Price includes VAT for USA
Subscribe to journal
Immediate online access to all issues from 2019. Subscription will auto renew annually.
US$ 199
This is the net price. Taxes to be calculated in checkout.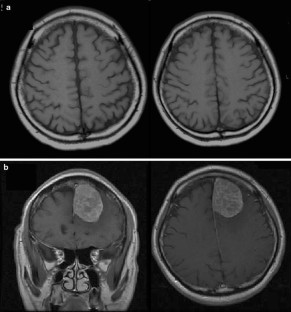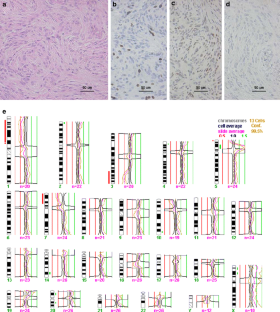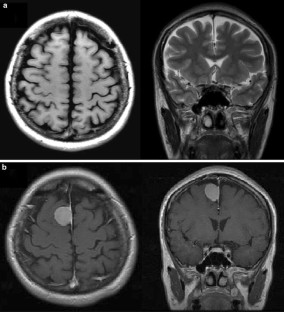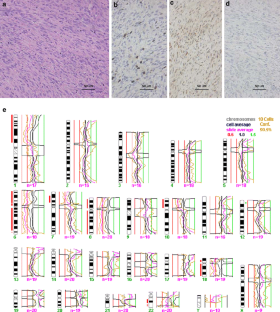 References
1.

Brain Tumor Resistry of Japan (2009) Report of Brain Tumor Registry of Japan in 1984–2000. Neurol Med Chir (Tokyo) 49:1–96

2.

Central Brain Tumor Registry of the United States (2011) CBTRUS Statistical Report: Primary Brain and Central Nervous System Tumors Diagnosed in the United States in 2004–2007. http://www.cbtrus.org. Accessed on 29 Aug 2011

3.

Louis DN, Ogaki H, Wiestler OD, Cavenee WK (2007) WHO Classification of Tumours of the Central Nervous System. IARC, Lyon

4.

Ohba S, Yoshida K, Hirose Y, Ikeda E, Kawase T (2009) Early malignant transformation of a petroclival meningothelial meningioma. Neurosurg Rev 32:495–499. doi:10.1007/s10143-009-0207-3

5.

Saitoh Y, Oku Y, Izumoto S, Go J (1989) Rapid growth of a meningioma during pregnancy: relationship with estrogen and progesterone receptors–case report. Neurol Med-Chir 29:440–443

6.

Karamitopoulou E, Perentes E, Tolnay M, Probst A (1998) Prognostic significance of MIB-1, p53, and bcl-2 immunoreactivity in meningiomas. Hum Pathol 29:140–145

7.

Amatya VJ, Takeshima Y, Sugiyama K, Kurisu K, Nishisaka T, Fukuhara T, Inai K (2001) Immunohistochemical study of Ki-67 (MIB-1), p53 protein, p21WAF1, and p27KIP1 expression in benign, atypical, and anaplastic meningiomas. Hum Pathol 32:970–975. doi:10.1053/hupa.2001.27119

8.

Weber RG, Bostrom J, Wolter M, Baudis M, Collins VP, Reifenberger G, Lichter P (1997) Analysis of genomic alterations in benign, atypical, and anaplastic meningiomas: toward a genetic model of meningioma progression. Proc Natl Acad Sci USA 94:14719–14724

9.

Rempel SA, Schwechheimer K, Davis RL, Cavenee WK, Rosenblum ML (1993) Loss of heterozygosity for loci on chromosome 10 is associated with morphologically malignant meningioma progression. Cancer Res 53:2386–2392

10.

Ueki K, Wen-Bin C, Narita Y, Asai A, Kirino T (1999) Tight association of loss of merlin expression with loss of heterozygosity at chromosome 22q in sporadic meningiomas. Cancer Res 59:5995–5998

11.

Ruttledge MH, Xie YG, Han FY, Peyrard M, Collins VP, Nordenskjold M, Dumanski JP (1994) Deletions on chromosome 22 in sporadic meningioma. Genes Chromosom Cancer 10:122–130

12.

Hitotsumatsu T, Iwaki T, Kitamoto T, Mizoguchi M, Suzuki SO, Hamada Y, Fukui M, Tateishi J (1997) Expression of neurofibromatosis 2 protein in human brain tumors: an immunohistochemical study. Acta Neuropathol 93:225–232

13.

Lee JH, Sundaram V, Stein DJ, Kinney SE, Stacey DW, Golubic M (1997) Reduced expression of schwannomin/merlin in human sporadic meningiomas. Neurosurgery 40:578–587

14.

Al-Mefty O, Kadri PA, Pravdenkova S, Sawyer JR, Stangeby C, Husain M (2004) Malignant progression in meningioma: documentation of a series and analysis of cytogenetic findings. J Neurosurg 101:210–218. doi:10.3171/jns.2004.101.2.0210

15.

Menon AG, Rutter JL, von Sattel JP, Synder H, Murdoch C, Blumenfeld A, Martuza RL, von Deimling A, Gusella JF, Houseal TW (1997) Frequent loss of chromosome 14 in atypical and malignant meningioma: identification of a putative 'tumor progression' locus. Oncogene 14:611–616. doi:10.1038/sj.onc.1200853

16.

Perry A, Gutmann DH, Reifenberger G (2004) Molecular pathogenesis of meningiomas. J Neurooncol 70:183–202. doi:10.1007/s11060-004-2749-0

17.

Simon M, von Deimling A, Larson JJ, Wellenreuther R, Kaskel P, Waha A, Warnick RE, Tew JM Jr, Menon AG (1995) Allelic losses on chromosomes 14, 10, and 1 in atypical and malignant meningiomas: a genetic model of meningioma progression. Cancer Res 55:4696–4701

18.

Cai DX, Banerjee R, Scheithauer BW, Lohse CM, Kleinschmidt-Demasters BK, Perry A (2001) Chromosome 1p and 14q FISH analysis in clinicopathologic subsets of meningioma: diagnostic and prognostic implications. J Neuropathol Exp Neurol 60:628–636

19.

Ozaki S, Nishizaki T, Ito H, Sasaki K (1999) Comparative genomic hybridization analysis of genetic alterations associated with malignant progression of meningioma. J Neurooncol 41:167–174

20.

Bello MJ, de Campos JM, Kusak ME, Vaquero J, Sarasa JL, Pestana A, Rey JA (1994) Allelic loss at 1p is associated with tumor progression of meningiomas. Genes Chromosom Cancer 9:296–298

21.

Henn W, Niedermayer I, Ketter R, Reichardt S, Freiler A, Zang KD (2003) Monosomy 7p in meningiomas: a rare constituent of tumor progression. Cancer Genet Cytogenet 144:65–68

22.

Rajcan-Separovic E, Maguire J, Loukianova T, Nisha M, Kalousek D (2003) Loss of 1p and 7p in radiation-induced meningiomas identified by comparative genomic hybridization. Cancer Genet Cytogenet 144:6–11

23.

Ohba S, Kobayashi M, Horiguchi T, Onozuka S, Yoshida K, Ohira T, Kawase T (2011) Long-term surgical outcome and biological prognostic factors in patients with skull base meningiomas. J Neurosurg 114:1278–1287. doi:10.3171/2010.11.JNS10701
Acknowledgments
We thank Ms. Kiyomi Koide and Ms. Naoko Tsuzaki for their technical assistance.
Conflict of interest
No conflict of interest is declared for all authors.
About this article
Cite this article
Kitamura, Y., Sasaki, H. & Yoshida, K. Molecular and genetic profiles of radiographically defined de novo meningiomas. J Neurooncol 108, 37–44 (2012). https://doi.org/10.1007/s11060-012-0797-4
Received:

Accepted:

Published:

Issue Date:
Keywords
De novo meningioma

Genetic profiling

Chromosome 1p

Chromosome 7p

p53

Merlin