Abstract
The standard-of-care treatment for newly diagnosed glioblastoma changed in 2005, when radiation therapy plus temozolomide chemotherapy replaced radiation therapy alone. It is not yet clear how this change in treatment has influenced patient survival in routine clinical practice, or if a survival benefit extends to patients older than those enrolled in the trial. Data from the Surveillance, Epidemiology, and End Results (SEER) Program was analyzed to compare survival of adult glioblastoma patients diagnosed from 2000–2003 to patients diagnosed from 2005–2008, in order to evaluate pre-temozolomide and post-temozolomide periods. The Kaplan–Meier method and Cox proportional hazards models were used. 6,673 patients with glioblastoma diagnosed from 2000–2003 and 7,259 patients diagnosed from 2005–2008 were identified. Median survival times of all patients diagnosed in the 2000–2003 and 2005–2008 periods were 8.1 and 9.7 months, respectively. Amongst patients treated with surgery and a radiation-containing regimen, median survival was 12.0 months in 2000–2003 and 14.2 months in 2005–2008. In the temozolomide era, median survival times ranged from a high of 31.9 months in patients age 20–29 to a low of 5.6 months in patients age 80 and older. The survival of patients with newly diagnosed glioblastoma improved from 2000–2003 to 2005–2008, likely due to temozolomide use. However, median survival time after glioblastoma diagnosis in the SEER population remains well under one year, largely driven by poor prognosis in elderly patients.
Access options
Buy single article
Instant access to the full article PDF.
US$ 39.95
Tax calculation will be finalised during checkout.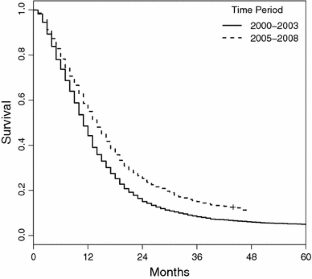 References
1.

Central Brain Tumor Registry of the United States (CBTRUS). CBTRUS Statistical Report: Primary Brain and Central Nervous System Tumors Diagnosed in the United States in 2004–2007. Available at: http://www.cbtrus.org/2011-NPCR-SEER/WEB-0407-Report-3-3-2011.pdf. Accessed 10 May 2011

2.

Stupp R, Mason WP, van den Bent MJ, Weller M, Fisher B, Taphoorn MJ, Belanger K, Brandes AA, Marosi C, Bogdahn U, Curschmann J, Janzer RC, Ludwin SK, Gorlia T, Allgeier A, Lacombe D, Cairncross JG, Eisenhauer E, Mirimanoff RO (2005) Radiotherapy plus concomitant and adjuvant temozolomide for glioblastoma. N Engl J Med 352:987–996

3.

Stupp R, Hegi ME, Mason WP, van den Bent MJ, Taphoorn MJ, Janzer RC, Ludwin SK, Allgeier A, Fisher B, Belanger K, Hau P, Brandes AA, Gijtenbeek J, Marosi C, Vecht CJ, Mokhtari K, Wesseling P, Villa S, Eisenhauer E, Gorlia T, Weller M, Lacombe D, Cairncross JG, Mirimanoff RO (2009) Effects of radiotherapy with concomitant and adjuvant temozolomide versus radiotherapy alone on survival in glioblastoma in a randomised phase III study: 5-year analysis of the EORTC-NCIC trial. Lancet Oncol 10:459–466

4.

DeAngelis LM (2005) Chemotherapy for brain tumors—a new beginning. N Engl J Med 352:1036–1038

5.

Joseph G, Dohan D (2009) Diversity of participants in clinical trials in an academic medical center: the role of the 'Good Study Patient?'. Cancer 115:608–615

6.

Katz JN, Wright J, Levy BA, Baron JA, Losina E (2011) Departures from community equipoise may lead to incorrect inference in randomized trials. J Clin Epidemiol 64:280–285

7.

Wright JR, Crooks D, Ellis PM, Mings D, Whelan TJ (2002) Factors that influence the recruitment of patients to phase III studies in oncology: the perspective of the clinical research associate. Cancer 95:1584–1591

8.

Wright JR, Whelan TJ, Schiff S, Dubois S, Crooks D, Haines PT, DeRosa D, Roberts RS, Gafni A, Pritchard K, Levine MN (2004) Why cancer patients enter randomized clinical trials: exploring the factors that influence their decision. J Clin Oncol 22:4312–4318

9.

Chaichana KL, Halthore AN, Parker SL, Olivi A, Weingart JD, Brem H, Quinones-Hinojosa A (2011) Factors involved in maintaining prolonged functional independence following supratentorial glioblastoma resection. Clinical article. J Neurosurg 114:604–612

10.

Kappelle AC, Postma TJ, Taphoorn MJ, Groeneveld GJ, van den Bent MJ, van Groeningen CJ, Zonnenberg BA, Sneeuw KC, Heimans JJ (2001) PCV chemotherapy for recurrent glioblastoma multiforme. Neurology 56:118–120

11.

Hegi ME, Diserens AC, Gorlia T, Hamou MF, de Tribolet N, Weller M, Kros JM, Hainfellner JA, Mason W, Mariani L, Bromberg JE, Hau P, Mirimanoff RO, Cairncross JG, Janzer RC, Stupp R (2005) MGMT gene silencing and benefit from temozolomide in glioblastoma. N Engl J Med 352:997–1003

12.

Glare P, Virik K, Jones M, Hudson M, Eychmuller S, Simes J, Christakis N (2003) A systematic review of physicians' survival predictions in terminally ill cancer patients. BMJ 327:195–198

13.

Vigano A, Dorgan M, Bruera E, Suarez-Almazor ME (1999) The relative accuracy of the clinical estimation of the duration of life for patients with end of life cancer. Cancer 86:170–176

14.

National Cancer Institute. About the Surveillance, Epidemiology, and End Results (SEER) Program. Available at: http://www.seer.cancer.gov/about/. Accessed 10 May 2011

15.

Surveillance, Epidemiology, and End Results (SEER) Program (www.seer.cancer.gov) SEER*Stat Database: Incidence—SEER 17 Regs Research Data + Hurricane Katrina Impacted Louisiana Cases, Nov 2010 Sub (1973–2008 varying)—Linked To County Attributes—Total U.S., 1969–2009 Counties, National Cancer Institute, DCCPS, Surveillance Research Program, Cancer Statistics Branch, released April 2011, based on the November 2010 submission

16.

Stupp R, Mason WP, Van Den Bent MJ, Weller M, Fisher B, Taphoorn M, Brandes AA, Cairncross G, Lacombe D, Mirimanoff RO (2004) Concomitant and adjuvant temozolomide (TMZ) and radiotherapy (RT) for newly diagnosed glioblastoma multiforme (GBM). Conclusive results of a randomized phase III trial by the EORTC Brain & RT Groups and NCIC Clinical Trials Group. J Clin Oncol 22, No 14S (July 15 Supplement)

17.

Surveillance Research Program, National Cancer Institute SEER*Stat software (seer.cancer.gov/seerstat) version 7.0.4

18.

Tabatabai G, Stupp R (2009) Primetime for antiangiogenic therapy. Curr Opin Neurol 22:639–644

19.

Deorah S, Lynch CF, Sibenaller ZA, Ryken TC (2006) Trends in brain cancer incidence, survival in the United States: Surveillance, Epidemiology, End Results Program, 1973 to 2001. Neurosurg Focus 20:E1

20.

Vredenburgh JJ, Desjardins A, Herndon JE 2nd, Marcello J, Reardon DA, Quinn JA, Rich JN, Sathornsumetee S, Gururangan S, Sampson J, Wagner M, Bailey L, Bigner DD, Friedman AH, Friedman HS (2007) Bevacizumab plus irinotecan in recurrent glioblastoma multiforme. J Clin Oncol 25:4722–4729
Conflict of interest
No conflicts of interests or financial disclosures by either author.
About this article
Cite this article
Johnson, D.R., O'Neill, B.P. Glioblastoma survival in the United States before and during the temozolomide era. J Neurooncol 107, 359–364 (2012). https://doi.org/10.1007/s11060-011-0749-4
Received:

Accepted:

Published:

Issue Date:
Keywords
Glioblastoma

Survival

Temozolomide

Prognosis

Elderly