Abstract
Numerous studies have increasingly suggested that medical history and lifestyle factors could be involved in the increase of cancer risk in adults. The issue whether psychological factors can influence the development of cancer has been discussed for many years. In the field of brain cancer, psychological stress has not so far been investigated. We conducted a French case–control pilot study with 122 adult incident cases and 122 controls free of any cancer diagnosis, matched for age and gender, to investigate links between malignant primitive brain tumours (MPBT) and medical history, private habits and psychological stress. Data were collected through self-administered questionnaires, and person-to-person interviews. To complete the psychological stress assessment, 100-mm visual analog scales were used. After adjustment for confounders, we found no significant effect of head trauma, aspartame, tobacco or alcohol consumption, place (rural or urban) of residence, sociodemographic data, and experience of psychological stress at work/home. Our results showed a significant association between MPBT risk and major life events over the past 5 years before diagnosis (OR = 1.90, 95% CI 1.13–3.20), family histories of cancer (OR = 1.90, 95% CI 1.12–3.22), fresh vegetable and fruit intake (OR = 0.29, 95% CI 0.09–0.95), and skipped meals several times per week (OR = 0.35, 95% CI 0.16–0.77). The present study suggests the role of genetic factors in glioma risk, and also suggests that an acute and sudden psychological stress might influence MPBT appearance. Additional large clinical studies are needed to confirm these findings.
Access options
Buy single article
Instant access to the full article PDF.
USD 39.95
Price excludes VAT (USA)
Tax calculation will be finalised during checkout.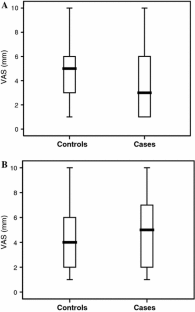 References
McKean-Cowdin R, Razavi P, Preston-Martin S (2008) Brain tumours. In: International encyclopedia of public health. Elsevier Inc., pp 338–347

Chakrabarti I, Cockburn M, Cozen W, Wang YP, Preston-Martin S (2005) A population-based description of glioblastoma multiforme in Los Angeles County 1974–1999. Cancer 104:2798–2806

Hess KR, Broglio KR, Bondy ML (2004) Adult glioma incidence trends in the United States 1977–2000. Cancer 101:2293–2299

Preston-Martin S, Lewis S, Winkelmann R, Borman B, Auld J, Pearce N (1993) Descriptive epidemiology of primary cancer of the brain, cranial nerves, and cranial meninges in New Zealand 1948–88. Cancer Causes Control 4:529–538

Fisher JL, Schwartzbaum JA, Wrensch M, Wiemels JL (2007) Epidemiology of brain tumors. Neurol Clin 25(4):867–890

Fleury A, Menegoz F, Grosclaude P, Daures JP, Henry-Amar M, Raverdy N et al (1997) Descriptive epidemiology of cerebral gliomas in France. Cancer 79:1195–1202

Polednak AP (1996) Interpretation of secular increases in incidence rates for primary brain cancer in Connecticut adults 1965–1988. Neuroepidemiology 15:51–56

Louis DN, Von Deimling A (1995) Hereditary tumor syndromes of the nervous system: overview and rare syndromes. Brain Pathol 5:145–151

Kimmelman A, Liang BC (2001) Familial neurogenic tumor syndromes. Hematol Oncol Clin North Am 15:1073–1084

Hill DA, Inskip PD, Selker RG, Shapiro WR, Fine HA, Black PM et al (2003) Cancer in first-degree relatives and risk of glioma in adults. Cancer Epidemiol Biomarkers Prev 12:1443–1448

Hu J, Johnson KC, Mao Y, Guo L, Zhao X, Jia X et al (1998) Risk factors for glioma in adults: a case–control study in northeast China. Cancer Detect Prev 22:100–108

Inskip PD, Mellemkjaer L, Gridley G, Olsen JH (1998) Incidence of intracranial tumors following hospitalization for head injuries (Denmark). Cancer Causes Control 9:109–116

Houben MP, Louwman WJ, Tijssen CC, Teepen JL, Van Duijn CM, Coebergh JW (2004) Hypertension as a risk for glioma? Evidence from a population-based study of comorbidity in glioma patients. Ann Oncol 15:1256–1260

Schlehofer B, Blettner M, Preston-Martin S, Niehoff D, Wahrendorf J, Arslan A et al (1999) Role of medical history in brain tumour development. Results from the international adult brain tumour study. Int J Cancer 82:155–160

Schwartzbaum J, Jonsson F, Ahlbom A, Preston-Martin S, Malmer B, Lönn S et al (2005) Prior hospitalization for epilepsy, diabetes, and stroke and subsequent glioma and meningioma risk. Cancer Epidemiol Biomarkers Prev 14:643–665

Jennifer M, Connelly MD (2007) Environmental risk factors for brain tumours. Curr Neurol Neurosci Rep 7:208–214

Benson VS, Pirie K, Green J, Casabonne D, Beral V (2008) Lifestyle factors and primary glioma and meningioma tumors in the million study cohort. Br J Cancer 99:185–190

Demers PA, Vaughan TL, Schomme RR (1991) Occupation, socioeconomic status, and brain tumor mortality: a death certificate-based case-control study. J Occup Med 33:1001–1006

Wender M, Pruchnik-Grabowska D, Kowal P, Tokarz E (1985) On the fine structure of the distribution of primary nervous system neoplasms in Western Poland. Neuroepidemiology 4:39–47

Butchko HH, Stargel WW, Comer CP, Mayhew DA, Benninger C, Blackburn GL et al. (2002) Aspartame: review of safety. Regul Toxicol Pharmacol 35:S1–93 (review)

Belpoggi F, Soffritti M, Padovani M, Degli Esposti D, Lauriola M, Minardi F (2006) Results of long-term carcinogenicity bioassay on Sprague-Dawley rats exposed to aspartame administered in feed. Ann NY Acad Sci 1076:559–577

Hu J, La Vecchia C, Negri E, Chatenoud L, Bosetti C, Jia X et al (1999) Diet and brain cancer in adults: a case-control study in northeast China. Int J Cancer 81:20–23

Lee M, Wrensch M, Miike R (1999) Dietary and tobacco risk factors for adult onset glioma in the San Francisco Bay Area (California, USA). Cancer Causes Control 8:13–24

Efird JT, Friedman GD, Sidney S, Klatsky A, Habel LA, Udaltsova NV et al (2004) The risk for malignant primary adult-onset glioma in a large, multiethnic, managed-care cohort: cigarette smoking and other lifestyle behaviours. J Neurooncol 68:57–69

Preston-Martin S, Mack W (1991) Gliomas and meningiomas in men in Los Angeles County: investigation of exposures to N-nitroso compounds. IARC Sci Publ 105:197–203

Brenner AV, Linet MS, Fine HA, Inskip PD (2002) History of allergies and autoimmune diseases and risk of brain tumors in adults. Int J Cancer 99:252–259

Schoemaker MJ, Swerdlow AJ, Hepworth SJ, McKinney PA, van Tongeren M, Muir KR (2006) History of allergies and risk of glioma in adults. Int J Cancer 119:2165–2172

Wiemels JL, Wilson D, Patil C, Patoka J, McCoy L, Rice T, Schwartzbaum J, Heimberger A, Sampson JH, Chang S, Prados M, Wiencke JK, Wrensch M (2009) IgE, allergy, and risk of glioma: update from the San Francisco Bay Area Adult Glioma Study in the temozolomide era. Int J Cancer 125(3):680–687

Nielsen NR, Zhang ZF, Kristensen TS, Netterstrøm B, Schnohr P, Grønbaek M (2005) Self reported stress and risk of breast cancer: prospective cohort study. BMJ 331:548

Kruk J, Aboul-Enein HY (2004) Psychological stress and the risk of breast cancer: a case-control study. Cancer Detect Prev 28:399–408

Romano C, Janiri L, Botta A, De Giovanni L, Di nicola M, Santoro PE (2007) Evaluation of neoplasia's prevalence as a consequence of stressful events in working and extraworking ambit. G Ital Med Lav Ergon 29:678–681

Kojima M, Wakai K, Tokudome S, Tamakoshi K, Toyoshima H, Watanabe Y et al (2005) Perceived psychologic stress and colorectal cancer mortality: findings from the Japan collaborative cohort study. Psychosom Med 67:72–77

Spinelli S, Chinot O, Cabaniols C, Giorgi R, Alla P, Lehucher-Michel MP (2010) Occupational and environmental risk factors for brain cancer: a case-control pilot study in France. Press Med 39:35–44

Daumas-Duport C, Beuvon F, Varlet P (2000) Gliomas: WHO and Sainte-Anne Hospital classification. Ann Pathol 20:413–428

Castera L, Constant A, Bernard PH (2006) Psychological impact of chronic hepatitis C: comparison with other stressful life events and chronic diseases. World J Gastroenterol 12:1545–1550

Kleinman L, Zodet MW, Hakim Z, Aledort J, Barker C, Chan K et al (2000) Psychometric evaluation of the fatigue severity scale use in chronic hepatitis C. Qual Life Res 9:499–508

Karasek R, Brisson C, Kawakami N, Houtman I, Bongers P, Amick B (1998) The job content questionnaire (JCQ): an instrument for internationally comparative assessments of psychosocial job characteristics. J Occup Health Psychol 3:322–355

Siegriest J (1996) Adverse health effects of high-effort/low reward conditions. J Occup Health Psychol 1:27–41

INRS. Le stress au travail. http://www.inrs.fr/inrs-pub/inrs01.nsf/IntranetObject-accesParReference/Dossier%20Stress/$File/Visu.html. Accessed 31 Oct 2007

Holmes TH, Rahe RH (1967) The Social Readjustment Rating Scale. J Psychosom Res 11(2):213–218. doi:10.1016/0022-3999(67)90010-4

Hemminki K, Li X, Collins VP (2001) Parental cancer as a risk factor for brain tumors (Sweden). Cancer Causes Control 12:195–199

Wrensch M, Lee M, Miike R, Newman B, Barger G, Davis R et al (1997) Familial and personal medical history of cancer and nervous system conditions among adults with glioma and controls. Am J Epidemiol 145:581–593

Wrensch M, Miike R, Lee M, Neuhaus J (2000) Are prior head injuries or diagnostic X-rays associated with gliomas in adults? The effects of control selection bias. Neuroepidemiology 19:234–244

Lesgards JF, Lassarre M, Stocker P, Lesgards G, Lanteaume A, Durand P, Prost M, Lehucher-Michel MP (2002) Assessment of lifestyle effects on the overall antioxidant capacity of healthy subjects. Environ Health Perspect 110(5):479–486

Hercberg S, Galan P, Preziosi P, Bertrais S, Mennen L, Malvy D et al (2004) The SU.VI.MAX Study: a randomized, placebo-controlled trial of the health effects of antioxidant vitamins and minerals. Arch Intern Med 164:2335–2342

Pereira RA, Koifman S (2001) Association between dietary factors and brain tumors in adults: a review. Cad Saude Publica 17:1313–1334

Holick CN, Giovannucci EL, Rosner B, Stampfer MJ, Michaud DS (2007) Prospective study of cigarette smoking and adult glioma: dosage, duration, and latency. Neuro Oncol 9:326–334

Wrensch M, Bondy ML, Wiencke J (1993) Environmental risk factors for primary malignant brain tumors: a review. J Neurooncol 17:47–64

Rosch PJ (1984) Stress and cancer. In: Cooper CL (ed) Psychosocial stress and cancer. Wiley, New York

Peteet JR (1986) Psychological factors in the causation and course of cancer. In: Day SB (ed) Cancer, stress, death, 2nd edn. Plenum, New York

Temoshock L, Heller BW (1984) On Comparing apples, oranges and fruit salad: a methodological overview of medical outcome studies in psychosocial oncology. In: Cooper CL (ed) Psychosocial stress and cancer. Wiley, Chichester

Van Loon AJ, Tijhuis M, Surtees PG, Ormel J (2000) Lifestyle risk factors for cancer: the relationship with psychosocial work environment. Int J Epidemiol 29:785–792

Dalton SO, Boesen EH, Ross L, Schapiro IR, Johansen C (2002) Mind and cancer, do psychological factors cause cancer? Eur J Cancer 38:1313–1323

Grassen B (2004) Psychological factors and cancer development: evidence after 30 years of research. Clin Psychol Rev 24:315–328
Acknowledgments
We thank Pr B. Alliez, Pr F. Grisoli and Pr H. Dufour for their reception in their service, Paul Lewakowski for English preparation of the manuscript and Monique Douroux for technical help assistance.
About this article
Cite this article
Cabaniols, C., Giorgi, R., Chinot, O. et al. Links between private habits, psychological stress and brain cancer: a case–control pilot study in France. J Neurooncol 103, 307–316 (2011). https://doi.org/10.1007/s11060-010-0388-1
Received:

Accepted:

Published:

Issue Date:

DOI: https://doi.org/10.1007/s11060-010-0388-1
Keywords