Epidemiology and etiology of meningioma
Open Access
Invited Review
Abstract
Although most meningiomas are encapsulated and benign tumors with limited numbers of genetic aberrations, their intracranial location often leads to serious and potentially lethal consequences. They are the most frequently diagnosed primary brain tumor accounting for 33.8% of all primary brain and central nervous system tumors reported in the United States between 2002 and 2006. Inherited susceptibility to meningioma is suggested both by family history and candidate gene studies in DNA repair genes. People with certain mutations in the neurofibromatosis gene (NF2) have a very substantial increased risk for meningioma. High dose ionizing radiation exposure is an established risk factor for meningioma, and lower doses may also increase risk, but which types and doses are controversial or understudied. Because women are twice as likely as men to develop meningiomas and these tumors harbor hormone receptors, an etiologic role for hormones (both endogenous and exogenous) has been hypothesized. The extent to which immunologic factors influence meningioma etiology has been largely unexplored. Growing emphasis on brain tumor research coupled with the advent of new genetic and molecular epidemiologic tools in genetic and molecular epidemiology promise hope for advancing knowledge about the causes of intra-cranial meningioma. In this review, we highlight current knowledge about meningioma epidemiology and etiology and suggest future research directions.
Keywords
Meningioma 
Epidemiology 
Etiology 
Risk factor 
Ionizing radiation 
Hormones 
Epidemiologic research on meningioma
Compared to the malignant glial tumors, meningiomas are relatively understudied with regards to etiologic risk factors. The challenges to meningioma research are several: (i) as a relatively rare disease, large or multicenter studies are necessary for sufficient numbers; (ii) the long latency of meningioma of 20–30 years or more, exhibited most evidentially in studies with known doses of ionizing radiation [1], makes exposure ascertainment difficult due to recall bias; (iii) the prevalence of subclinical disease in up to 2.8% of the population, as suggested by autopsy studies [2, 3], indicates that the pool of susceptible persons are much larger than those with clinically confirmed diagnoses; and (iv) the problem of detection bias—many meningiomas are discovered incidentally via MRIs for conditions such as head trauma or sinus problems. These incidentally discovered meningiomas, and a significant portion of primarily discovered meningiomas are managed "conservatively," meaning by observation and not surgical removal. One way epidemiologists can minimize detection bias is to only ascertain cases who have undergone surgical removal and pathological confirmation, ensuring that cases have clinically-significant meningioma. Only a few epidemiologic studies of intracranial tumors to date have been adequately powered to study separately risk factors for meningioma. These include the large European cohorts such as the Interphone [4], and the Million Women Study in the United Kingdom [5]. Several large European country- or region-specific case–control studies were spawned from the Interphone study [6, 7, 8]. In 2002, The Benign Brain Tumor Cancer Registries Amendment Act (H.R. 5204) was passed, mandating registration of benign brain tumors such as meningioma in the United States. This legislation has and will continue to enhance reporting of both incidence rates and survival times for patients with meningioma. Before this act, meningioma mortality rate estimates were hampered by incomplete reporting and potential selection biases with respect to the individuals who were included in the databases, as well as limited follow-up information. The better quality of new information affords exceptional opportunities to the research and clinical communities in the coming years.
Population statistics
The prevalence of pathologically-confirmed meningioma is estimated to be approximately 97.5/100,000 in the United States with over 170,000 individuals currently diagnosed with this tumor [
9
]. Since a proportion of meningiomas are not surgically managed, these estimates are low. In addition, autopsy and imaging studies have estimated subclinical meningioma rates of up to 2.8% in women [
2
,
3
]. Data from the Central Brain Tumor Registry of the United States (CBTRUS) demonstrates a more than twofold higher incidence among females [age-adjusted incidence rate (per 100,000 person years) of 8.36 and 3.61 for females and males, respectively] [
9
]. The female:male ratio of approximately 2:1 may be inverted for rare pre-pubertal meningiomas [
10
,
11
]. Atypical and malignant meningiomas comprise a small fraction of the total (~5%) and have a slight male predominance. Reported rates for Black Non-Hispanics are slightly higher (6.67) than for White Non-Hispanic and Hispanics (5.90 and 5.94, respectively) [
9
]. Age-specific incidence rates (Fig. 
1
) reveal increasing risk with age in both men and women. Increasing risk of meningioma over the past several decades noted in CBTRUS [
9
] may be an artifact of increasingly accurate reporting of this disease.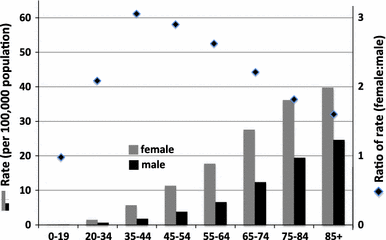 Molecular etiology
Meningioma cells exhibit a striking similarity to arachnoid cap cells, which are the likely tumor cell of origin. Despite the fact that meningioma has a benign pathophysiology in 95% of cases, like carcinoma it always results from a clonal outgrowth derived from a single cell as exemplified by cytogenetic and array-comparative genomic hybridization (array-CGH) studies [12, 13]. Sporadic meningiomas are typically associated with one or more focal chromosomal deletion(s), and atypical and malignant grades tend to have multiple chromosomal copy number alterations consistent with the acquisition of "mutator" mutations which foster genomic instability [14]. Deletion and inactivation of NF2 on chromosome 22 is a predominant feature in sporadic meningiomas, and biallelic deletions are common [13]. Additional genes are likely involved as well, since loss of NF2 occurs in only 1/3 of patients who exhibit loss of heterozygosity of chromosome 22 [15]. Additional genomic regions which are recurrently lost in meningiomas include 14q, 1p, 6q, and 18q [16]. Although in one study, familial meningiomas did not demonstrate inherited copy number alterations, such families typically have a germline defect in NF2 or other predispositing mutations [14]. Indeed, meningiomas are reported in families of several cancer predisposition syndromes including those involving the genes NF1, PTCH, CREBBP, VHL, PTEN, and CDKN2A (reviewed in [17]). Epigenetic aberrations in meningioma have not been thoroughly assessed, but one study suggests that DNA methylation events may impact meningioma biology more significantly than DNA copy number mutations [18]. Clearly, complexity of genetic aberrations in meningioma increases with tumor grade [19]. A relatively small number of mutations may be necessary for most meningiomas; however their slow growth makes long latency an issue, lending difficulty in identifying the source and timing of the initiating mutations, presenting a further complication for epidemiology studies.
Molecular epidemiology
In the most recent and largest study to date of genetic polymorphisms and meningioma risk, Interphone study investigators reported a statistically significant association with meningioma for 12 SNPs drawn from DNA repair genes [52]. These investigators examined 1,127 tagging SNPs selected to capture most of the common variation in 136 DNA repair genes as well as an additional 388 putative functional SNPs. These included 69 nonsynonymous coding SNPs that may identify functional changes in expressed proteins. A total of 631 cases and 637 controls drawn from five case/control series from the Interphone Study were genotyped. The Interphone study is a case/control project initially designed to examine the relationship between cell phone use and the risk of brain tumors, including meningioma. Study subjects are primarily Western European background. The group reported a novel and biologically intriguing association between meningioma risk and three variants in the gene that encodes breast cancer susceptibility gene 1-interacting protein 1 (BRIP1) (17q22). The most significant was SNP rs4968451 that maps to intron 4 of the gene (OR 1.61, 95% CI 1.26–2.06 heterozygotes, OR 2.33, 95% CI 1.25–4.34 homozygotes). The BRIP1 gene is involved in the repair of DNA double-strand breaks by homologous recombination in a manner that depends on its association with BRCA1. Defects in BRIP1 are linked to breast cancer susceptibility (as well as Fanconi anemia), leading researchers to speculate that the reported association between breast cancer and meningioma risk may be due to similar defects in DNA repair genes rather than/in addition to the previously assumed shared hormonal risk factors (such as hormone replacement therapy). This group also reported a statistically significant association between four variants in the ATM gene, a member of the phosphatidylinositol-3 kinase family known to be involved in homologous and non-homologous DNA break repair, and meningioma risk. Previous groups have also noted significant associations between ATM variants for meningioma as well as breast cancer [23, 61]. These findings are again of interest in light of the associations between ionizing radiation and meningioma risk as well as between breast cancer and meningioma risk.
Additional candidate genes studies have suggested a role for genes in apoptotic pathways [62], and as discussed above, immune regulatory pathways [58] and meningioma risk. Earlier studies examined variants in phase II metabolic genes, which would impact response to environmental or occupational chemical exposures; a meta-analysis of these studies implicates a potential role for the detoxifying enzyme GSTT1 in modulating meningioma risk (OR = 1.95, 95% CI 1.02–3.79) [63]. The lack of replication/confirmation and low number of variants assessed in candidate genes studies distracts from knowledge on the true genetic susceptibility of meningioma, which awaits results from agnostic genome-wide association studies.
Directions for future studies
Because of its "benign" nature, research in meningioma epidemiology and etiology has lagged behind that for more malignant intracranial neoplasms. The study of risk factors for meningioma remains challenging, and there are currently few large-scale studies. The two main known risk factors—genetic predisposition and high dose radiation exposures—account for a small proportion of cases. Although a role for hormones is possible given the gender distribution of meningiomas, little specific or consistent data exist on hormonal risk factors. Epidemiologic tools may be used to collect and define appropriate subject data from well-characterized source populations, being mindful of detection or diagnostic bias in patient ascertainment, in an effort to delineate risk factors both for the overall group of meningioma patients as well as for specific subgroups. High quality follow-up data for sufficient time periods must be collected on meningioma patients to obtain representative estimates of sex- and age-specific rates for recurrence, quality of life and overall survival. In addition to the collection of data on environmental risk factors such as hormone use, new projects will need to consider the inclusion of information on relevant genetic variants derived from ongoing whole genome and gene pathway scans. In addition to exploring environmental and genetic factors for meningioma risk separately, the interaction between the two must be examined. For example, the integration of environmental risk factors such as oral contraceptive use or radiation exposure with information on genetic polymorphisms in steroid hormone or DNA repair genes may help researchers to understand the complex relationship between genetic susceptibility and environmental exposures in the development of meningioma. Given the large numbers of subjects needed to study such gene-environment interactions, especially within defined subsets of meningioma such as the rare atypical and malignant subtypes, collaborative, multi-center efforts between a variety of researchers will be needed, including experts from such fields as neurosurgery, epidemiology, genetics, statistics, and neuropathology.
Meningioma epidemiology and etiology will benefit from the increased size and quality of disease reporting to cancer registries, facilitated in the USA by the Benign Brain Tumors Act of 2002. This act has resulted in the formation of a multicenter meningioma consortium, which is matched by several large studies in Europe. These studies will facilitate a rapid and thorough investigation into the genetic susceptibility factors for meningioma via genome-wide association and whole genome sequencing in the near future. The collection of blood and tumor material must accompany such studies to facilitate the rational classification of the disease into etiologic subtypes to further specify genetic, immunologic, and environmental risk factors. Exposure assessments will continue to hinder progress in meningioma case–control studies, which are hampered by information bias because of poor or differential recall by study subjects, and the lack of verifiable biomarkers of exposure since information is obtained in retrospect. Future large cohort studies may help to ameliorate this problem, and large linked health databases may help study iatrogenic risk factors such as diagnostic and therapeutic ionizing radiation, and therapeutic hormone use.
Notes
Acknowledgments
This work was supported by NIH R01 grants CA109745, CA109468, CA109461, CA108473, CA109475, CA52689, CA097257, the Brain Science Foundation, and the Meningioma Mommas.
Open Access
This article is distributed under the terms of the Creative Commons Attribution Noncommercial License which permits any noncommercial use, distribution, and reproduction in any medium, provided the original author(s) and source are credited.