Abstract
Objective Hypericin-mediated photodynamic therapy (PDT) is receiving greater interest as a potential treatment for a variety of tumors and nonmalignant disorders. PDT involves systemic administration of a photosensitizer that selectively accumulates within tumor tissue followed by focal light activation. In the presence of molecular oxygen, a photochemical reaction generates a reactive oxygen species that induces apoptosis in target cells. The purpose of this preclinical study was to evaluate the efficacy of hypericin-mediated PDT for treatment of pituitary adenoma in a rodent model. Methods Wistar-Furth rats were implanted with a pituitary adenoma rat cell line, GH4C1. Tumor masses were allowed to develop over 28 days; rats with tumors of comparable sizes were then assigned to three treatment groups: control (neither hypericin nor light); light only; and hypericin and light. Hypericin was administered in four doses (1 mg/kg) at 28-h intervals prior to light exposure, wherein those rats treated with light were exposed to a light source four hours after the last hypericin dose. Tumor size was measured up to 12 days after treatment. Results Over the short interval examined, hypericin-mediated PDT was not effective against large tumors greater than 1 cm3, but this treatment significantly slowed tumor growth for tumors less than 1 cm3. Histological evaluation and TUNEL assay of the treated tumor identified apoptotic clusters on the periphery of the PDT-treated specimens. Conclusions Hypericin-mediated PDT shows promise in its effectiveness in the treatment of residual small tumor rests.
Access options
Buy single article
Instant access to the full article PDF.
US$ 39.95
Tax calculation will be finalised during checkout.
Subscribe to journal
Immediate online access to all issues from 2019. Subscription will auto renew annually.
US$ 119
Tax calculation will be finalised during checkout.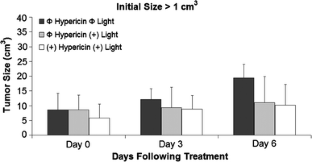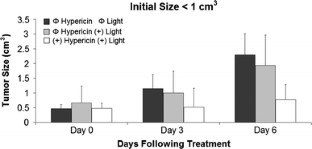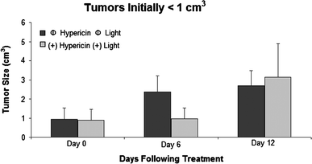 References
1.

Dougherty TJ, Gomer CJ, Henderson BW, Jori G, Kessel D, Korbelik M, Moan J, Peng Q (1998) Photodynamic therapy. J Natl Cancer Inst 90:889–905

2.

Delaey E, Vandenbogaerde A, Merlevede W, de Witte P (2000) Photocytotoxicity of hypericin in normoxic and hypoxic conditions. J Photochem Photobiol B 56:19–24

3.

Piette J, Volanti C, Vantieghem A, Matroule JY, Habraken Y, Agostinis P (2003) Cell death and growth arrest in response to photodynamic therapy with membrane-bound photosensitizers. Biochem Pharmacol 66:1651–1659

4.

Agostinis P, Assefa Z, Vantieghem A, Vandenheede JR, Merlevede W, De Witte P (2000) Apoptotic and anti-apoptotic signaling pathways induced by photodynamic therapy with hypericin. Adv Enzyme Regul 40:157–182

5.

Assefa Z, Vantieghem A, Declercq W, Vandenabeele P, Vandenheede JR, Merlevede W, de Witte P, Agostinis P (1999) The activation of the c-Jun N-terminal kinase and p38 mitogen-activated protein kinase signaling pathways protects HeLa cells from apoptosis following photodynamic therapy with hypericin. J Biol Chem 274:8788–8796

6.

Hamilton HB, Hinton DR, Law RE, Gopalakrishna R, Su YZ, Chen ZH, Weiss MH, Couldwell WT (1996) Inhibition of cellular growth and induction of apoptosis in pituitary adenoma cell lines by the protein kinase C inhibitor hypericin: potential therapeutic application. J Neurosurg 85:329–334

7.

Fingar VH (1996) Vascular effects of photodynamic therapy. J Clin Laser Med Surg 14:323–328

8.

Fingar VH, Taber SW, Haydon PS, Harrison LT, Kempf SJ, Wieman TJ (2000) Vascular damage after photodynamic therapy of solid tumors: a view and comparison of effect in pre-clinical and clinical models at the University of Louisville. In Vivo 14:93–100

9.

Korbelik M (1996) Induction of tumor immunity by photodynamic therapy. J Clin Laser Med Surg 14:329–334

10.

Korbelik M, Cecic I (1999) Contribution of myeloid and lymphoid host cells to the curative outcome of mouse sarcoma treatment by photodynamic therapy. Cancer Lett 137:91–98

11.

Korbelik M, Sun J, Payne PW (2003) Activation of poly(adenosine diphosphate-ribose) polymerase in mouse tumors treated by photodynamic therapy. Photochem Photobiol 78:400–406

12.

Chen B, Roskams T, Xu Y, Agostinis P, de Witte PA (2002) Photodynamic therapy with hypericin induces vascular damage and apoptosis in the RIF-1 mouse tumor model. Int J Cancer 98:284–290

13.

Vandenbogaerde AL, Kamuhabwa A, Delaey E, Himpens BE, Merlevede WJ, de Witte PA (1998) Photocytotoxic effect of pseudohypericin versus hypericin. J Photochem Photobiol B 45:87–94

14.

Agostinis P, Vantieghem A, Merlevede W, de Witte PA (2002) Hypericin in cancer treatment: more light on the way. Int J Biochem Cell Biol 34:221–241

15.

Chung PS, Rhee CK, Kim KH, Paek W, Chung J, Paiva MB, Eshraghi AA, Castro DJ, Saxton RE (2000) Intratumoral hypericin and KTP laser therapy for transplanted squamous cell carcinoma. Laryngoscope 110:1312–1316

16.

Chen B, de Witte PA (2000) Photodynamic therapy efficacy and tissue distribution of hypericin in a mouse P388 lymphoma tumor model. Cancer Lett 150:111–117

17.

Liu CD, Kwan D, Saxton RE, McFadden DW (2000) Hypericin and photodynamic therapy decreases human pancreatic cancer in vitro and in vivo. J Surg Res 93:137–143

18.

Pogue BW, O'Hara JA, Demidenko E, Wilmot CM, Goodwin IA, Chen B, Swartz HM, Hasan T (2003) Photodynamic therapy with verteporfin in the radiation-induced fibrosarcoma-1 tumor causes enhanced radiation sensitivity. Cancer Res 63:1025–1033

19.

Marks PV, Furneaux C, Shivvakumar R (1992) An in vitro study of the effect of photodynamic therapy on human meningiomas. Br J Neurosurg 6:327–332

20.

Halberg FE, Sheline GE (1987) Radiotherapy of pituitary tumors. Endocrinol Metab Clin North Am 16:667–684

21.

Bieri S, Sklar C, Constine L, Bernier J (1997) [Late effects of radiotherapy on the neuroendocrine system]. Cancer Radiother 1:706–716

22.

Marks PV (1995) Adjuvant therapy for pituitary adenomas: the possible role of photodynamic therapy. Ann R Coll Surg Engl 77:308–312

23.

Hockel M, Schlenger K, Hockel S, Vaupel P (1999) Hypoxic cervical cancers with low apoptotic index are highly aggressive. Cancer Res 59:4525–4528

24.

Thomas C, MacGill RS, Miller GC, Pardini RS (1992) Photoactivation of hypericin generates singlet oxygen in mitochondria and inhibits succinoxidase. Photochem Photobiol 55:47–53

25.

Ehrenberg B, Anderson JL, Foote CS (1998) Kinetics and yield of singlet oxygen photosensitized by hypericin in organic and biological media. Photochem Photobiol 68:135–140

26.

Kessel D, Luo Y (1999) Photodynamic therapy: a mitochondrial inducer of apoptosis. Cell Death Differ 6:28–35

27.

Vantieghem A, Xu Y, Declercq W, Vandenabeele P, Denecker G, Vandenheede JR, Merlevede W, de Witte PA, Agostinis P (2001) Different pathways mediate cytochrome c release after photodynamic therapy with hypericin. Photochem Photobiol 74:133–142

28.

Lavie G, Mazur Y, Lavie D, Meruelo D (1995) The chemical and biological properties of hypericin-a compound with a broad spectrum of biological activities. Med Res Rev 15:111–119

29.

Thomas C, Pardini RS (1992) Oxygen dependence of hypericin-induced phototoxicity to EMT6 mouse mammary carcinoma cells. Photochem Photobiol 55:831–837

30.

Blank M, Mandel M, Hazan S, Keisari Y, Lavie G (2001) Anti-cancer activities of hypericin in the dark. Photochem Photobiol 74:120–125
Acknowledgments
The authors thank Kristin Kraus for her editorial guidance in preparing this paper and Carolyn Pedone for her direction and assistance with cell culture and tissue preparation.
About this article
Cite this article
Cole, C.D., Liu, J.K., Sheng, X. et al. Hypericin-mediated photodynamic therapy of pituitary tumors: preclinical study in a GH4C1 rat tumor model. J Neurooncol 87, 255–261 (2008). https://doi.org/10.1007/s11060-007-9514-0
Received:

Accepted:

Published:

Issue Date:
Keywords
Hypericin

Photodynamic therapy

Pituitary tumor