Abstract
The asbestos mining industry has deeply transformed the landscapes of southern Quebec, leaving behind about 800 million tonnes of tailings and waste rock (overburden) in large piles near former mining towns. Some environmental issues arising from these landscapes (e.g., wind and water erosion) have been successfully addressed by covering the piles by mixing by-products to create technosols, which are then seeded with grasses. Yet, no attempt at afforestation had been made thus far because these environments are thought to impose too many constraints on tree establishment and growth. We developed two experimental plantations at a decommissioned asbestos mine in southern Quebec, on waste rocks and on tailings, to test the performance of eight tree species/clones/provenances planted on two types of technosols. Both were constructed from mixtures of municipal biosolids and deinking sludge and configured in small windrows. Soil texture, apparent bulk density, element composition, including carbon, nitrogen and some metals, as well as soil temperature, water potential and volumetric water content were assessed, together with seedling survival and growth (diameter and height). Leaf specific surface area, nutrients, water use efficiency (δ13C) and gas exchange (i.e., net photosynthetic assimilation rate, Anet, and stomatal conductance to water vapour, gsw) were evaluated for three hybrid poplar clones (Populus spp.) during the third growing season. Hybrid poplar clones had significantly higher survival (87–94%) after three years than planted conifers (10–56%) that were tested, although dry planting conditions could have exerted adverse effects on conifers. The conifer species exhibiting the highest survival rates (46–56%) was white spruce (Picea glauca). Average growth rates of hybrid poplar clones were 45 cm y−1, with some tree heights reaching over 300 cm after three years. Clone DN × M-915508 appears to be more drought-tolerant than other clones being tested. Phosphorus and potassium were the most growth-limiting nutrients. Few differences were apparent between technosols; results suggest that the addition of Class B contaminated soils to the main mixture of by-products has benefits with respect to tree survival and growth. Our study demonstrates a promising technology for reclamation through afforestation of asbestos mines in southern Quebec. Some treatments should be added to limit plant competition within the first few years as a means of augmenting survival and growth, whereas limited technosol volume and accompanying low moisture and nutrient availability could compromise mid- to long-term growth of trees.
This is a preview of subscription content,
to check access.
Access this article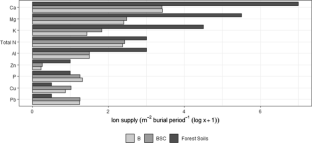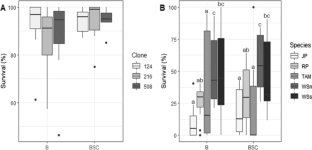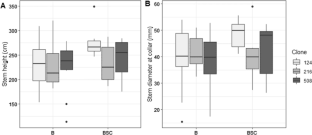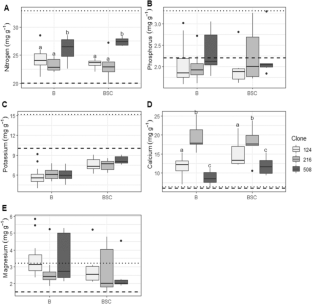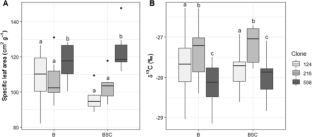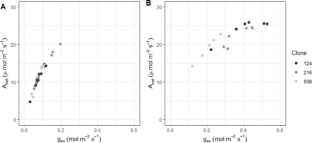 References
Ahmad Z, Anjum S, Waraich EA, Ayub MA, Ahmad T, Tariq RMS, Ahmad R, Iqbal MA (2018) Growth, physiology, and biochemical activities of plant responses with foliar potassium application under drought stress–a review. J Plant Nutr 41(13):1734–1743. https://doi.org/10.1080/01904167.2018.1459688

Antonelli PM, Fraser LH, Gardner WC, Broersma K, Karakatsoulis J, Phillips ME (2018) Long term carbon sequestration potential of biosolids-amended copper and molybdenum mine tailings following mine site reclamation. Ecol Eng 117:38–49. https://doi.org/10.1016/j.ecoleng.2018.04.001

Arnold G, Van Diest A (1993) Response of a Scots pine (Pinus sylvestris) stand to application of phosphorus, potassium, magnesium, and lime. 3. Foliar nutrient concentrations and stand development. Neth J Agric Sci 41:291–307. https://doi.org/10.18174/njas.v41i4.636

Attia Z, Domec J-C, Oren R, Way DA, Moshelion M (2015) Growth and physiological responses of isohydric and anisohydric poplars to drought. J Exp Bot 66(14):4373–4381. https://doi.org/10.1093/jxb/erv195

Bai DS, Yang X, Lai JL, Wang YW, Zhang Y, Luo XG (2022) In situ restoration of soil ecological function in a coal gangue reclamation area after 10 years of elm/poplar phytoremediation. J Environ Manag 305:114400. https://doi.org/10.1016/j.jenvman.2021.114400

Balandier P, Collet C, Miller JH, Reynolds PE, Zedaker SM (2006) Designing forest vegetation management strategies based on the mechanisms and dynamics of crop tree competition by neighbouring vegetation. Forestry 79(1):3–27. https://doi.org/10.1093/forestry/cpi056

Bates D, Mächler M, Bolker B, Walker S (2015) Fitting linear mixed-effects models using lme4. J Stat Softw 67(1):1–48. https://doi.org/10.18637/jss.v067.i01

Beaulieu M (2021) Guide d'intervention—protection des sols et réhabilitation des terrains contaminés. Ministère de l'Environnement et de la lutte contre les changements climatiques, Québec. Retrieved from: https://www.environnement.gouv.qc.ca/sol/terrains/guide-intervention/guide-intervention-protection-rehab.pdf

Bélanger N, Palma Ponce G, Brais S (2021) Contrasted growth response of hybrid larch (Larix × marschlinsii), jack pine (Pinus banksiana) and white spruce (Picea glauca) to wood ash application in northwestern Quebec, Canada. iForest 14(2):155–165. https://doi.org/10.3832/ifor3597-014

Bilodeau-Gauthier S, Paré D, Messier C, Bélanger N (2011) Juvenile growth of hybrid poplars on acidic boreal soil determined by environmental effects of soil preparation, vegetation control, and fertilization. For Ecol Manag 261(3):620–629. https://doi.org/10.1016/j.foreco.2010.11.016

Bilodeau-Gauthier S, Palma Ponce G, Miquel J-C, Lafleur B, Brais S, Bélanger N (2022) Growth and foliar nutrition of a hybrid poplar clone following the application of a mixture of paper mill biosolids and lime mud. Can J for Res 52(1):117–128. https://doi.org/10.1139/cjfr-2021-0086

Borišev M, Pajević S, Nikolić N, Pilipović A, Arsenov D, Župunski M (2018) Mine site restoration using silvicultural approach. In: Vara Prasad MN, de Campos Favas PJ, Kumar Maiti S (eds) Bio-geotechnologies for mine site rehabilitation. Elsevier, pp 115–130. https://doi.org/10.1016/B978-0-12-812986-9.00007-5

Boivin P, Brunet D, Gascuel-Odoux C (1990) Densité apparente d'échantillons de sol: méthode de la poche plastique. Bull GFHN 28:59–71

Borges CS, Weindorf DC, Carvalho GS, Guilherme LRG, Takayama T, Curi N, Lima GJEO, Ribeiro BT (2020) Foliar elemental analysis of Brazilian crops via portable X-ray fluorescence spectrometry. Sensors 20:2509. https://doi.org/10.3390/s20092509

Bourgault MH, Gagne M, Valcke M (2014) Lung cancer and mesothelioma risk assessment for a population environmentally exposed to asbestos. Int J Hyg Environ Health 217(2-3):340–346. https://doi.org/10.1016/j.ijheh.2013.07.008

Bradshaw AD (1997) The importance of soil ecology. In: Urbanska KM, Webb NR, Edwards PJ (eds) Restoration ecology and sustainable development. Cambridge University Press, pp 33–64

Burdett AN (1990) Physiological processes in plantation establishment and the development of specifications for forest planting stock. Can J for Res 20(4):415–427. https://doi.org/10.1139/x90-059

Bureau d'audiences publiques sur l'environnement (2020) L'état des lieux et la gestion de l'amiante et des résidus miniers amiantés. Québec. Rapport d'enquête et d'audience publique no. 351

Camberato JJ, Gagnon B, Angers DA, Chantigny MH, Pan WL (2006) Pulp and paper mill by-products as soil amendments and plant nutrient sources. Can J Soil Sci 86(4):641–653. https://doi.org/10.4141/s05-120

Camiré C, Brazeau M (1998) Culture des genres Populus et Larix au Québec : sols, exigences nutritionnelles et productivité. Québec: Ministère des Ressources naturelles, Direction de l'environnement forestier, Québec. Rapport C-122

Carabassa V, Domene X, Díaz E, Alcañiz JM (2019) Mid-term effects on ecosystem services of quarry restoration with Technosols under Mediterranean conditions: 10-year impacts on soil organic carbon and vegetation development. Restor Ecol 28(4):960–970. https://doi.org/10.1111/rec.13072

Casselman CN, Fox TR, Burger JA, Jones AT, Galbraith JM (2006) Effects of silvicultural treatments on survival and growth of trees planted on reclaimed mine lands in the Appalachians. For Ecol Manag 223(1–3):403–414. https://doi.org/10.1016/j.foreco.2005.12.020

Ciccarese L, Mattsson A, Pettenella D (2012) Ecosystem services from forest restoration: thinking ahead. New for 43(5–6):543–560. https://doi.org/10.1007/s11056-012-9350-8

Cline ET, Nguyen QT, Rollins L, Gawel JE (2012) Metal stress and decreased tree growth in response to biosolids application in greenhouse seedlings and in situ Douglas-fir stands. Environ Pollut 160(1):139–144. https://doi.org/10.1016/j.envpol.2011.09.012

Coleman M, Tolsted D, Nichols T, Johnson W, Wene E, Houghtaling T (2006) Post-establishment fertilization of Minnesota hybrid poplar plantations. Biomass Bioenergy 30(8–9):740–749. https://doi.org/10.1016/j.biombioe.2006.01.001

Coll L, Messier C, Delagrange S, Berninger F (2007) Growth, allocation and leaf exchanges of hybrid poplar plants in their establishment phase on previously forested sites: effect of different vegetation management techniques. Ann for Sci 64:275–285. https://doi.org/10.1051/forest:2007005

Cooke JA, Johnson MS (2002) Ecological restoration of land with particular reference to the mining of metals and industrial minerals: a review of theory and practice. Environ Rev 10(1):41–71. https://doi.org/10.1139/a01-014

De Carvalho JM, Ramos SJ, Furtini Neto AE, Gastauer M, Caldeira CF, Siqueira JO, Silva MLS (2018) Influence of nutrient management on growth and nutrient use efficiency of two plant species for mineland revegetation. Restor Ecol 26(2):303–310. https://doi.org/10.1111/rec.12572

De Souza S, Tremblay A (2012) Compilation géologique—Thetford Mines. Map retrieved from: https://gq.mines.gouv.qc.ca/documents/EXAMINE/CG21L03201201/CG21L03201201PLAN.pdf

DesRochers A, van den Driessche R, Thomas BR (2007) The interaction between nitrogen source, soil pH, and drought in the growth and physiology of three poplar clones. Can J Bot 85(11):1046–1057. https://doi.org/10.1139/b07-062

Diem B, Godbold D (1993) Potassium, calcium and magnesium antagonism in clones of Populus trichocarpa. Plant Soil 155–156:411–414

Drake L (1986) Survival and growth of conservation shrubs and trees, with thin cover reclamation on acid substrate, Iowa, USA. Environ Geochem Health 8(3):62–67. https://doi.org/10.1007/BF02311023

Dusart N, Vaultier MN, Olry JC, Buré C, Gérard J, Jolivet Y, Le Thiec D (2019) Altered stomatal dynamics of two Euramerican poplar genotypes submitted to successive ozone exposure and water deficit. Environ Pollut 252:1687–1697. https://doi.org/10.1016/j.envpol.2019.06.110

Environment and Climate Change Canada (2021) Canadian Climate Normals 1981–2010 Station Data. Retrieved from: https://climate.weather.gc.ca/climate_normals/index_e.html

Faubert P, Bélisle CL, Bertrand N, Bouchard S, Chantigny MH, Paré MC, Rochette P, Ziadi N, Villeneuve C (2019) Land application of pulp and paper mill sludge may reduce greenhouse gas emissions compared to landfilling. Resour Conserv Recycl 150:104415. https://doi.org/10.1016/j.resconrec.2019.104415

Felix E, Tilley DR, Felton G, Flamino E (2008) Biomass production of hybrid poplar (Populus spp.) grown on deep-trenched municipal biosolids. Ecol Eng 33(1):8–14. https://doi.org/10.1016/j.ecoleng.2007.10.009

Fortier J, Gagnon D, Truax B, Lambert F (2010) Nutrient accumulation and carbon sequestration in 6-year-old hybrid poplars in multiclonal agricultural riparian buffer strips. Agric Ecosyst Environ 137(3–4):276–287. https://doi.org/10.1016/j.agee.2010.02.013

Fortier J, Bigué B, Morissette S, Couture S (2011) Le Guide de populiculture au Québec : guide pratique sur la culture du peuplier hybride au Québec. Réseau Ligniculture Québec. Retrieved from https://www.foretprivee.ca/wp-content/uploads/2023/01/Guide-populiculture-au-Quebec-Reseau-ligniculture-Quebec.pdf

Franklin JA, Zipper CE, Burger JA, Skousen JG, Jacobs DF (2012) Influence of herbaceous ground cover on forest restoration of eastern US coal surface mines. New for 43(5–6):905–924. https://doi.org/10.1007/s11056-012-9342-8

Gagnon V, Rodrigue-Morin M, Migneault M, Tardif A, Garneau L, Lalonde S, Shipley B, Bellenger J-P, Roy S (2020) Survival, growth and element translocation by 4 plant species growing on acidogenic gold mine tailings in Québec. Ecol Eng 151:105855. https://doi.org/10.1016/j.ecoleng.2020.105855

Gardner WC, Broersma K, Naeth A, Chanasyk D, Jobson A (2010) Influence of biosolids and fertilizer amendments on physical, chemical and microbiological properties of copper mine tailings. Can J Soil Sci 90(4):571–583. https://doi.org/10.4141/cjss09067

Gomez GA, Singer MJ, Powers RF, Horwath WR (2002) Soil compaction effects on water status of ponderosa pine assessed through 13C/12C. Tree Physiol 22:459–467. https://doi.org/10.1093/treephys/22.7.459

Grimond L (2022) Boisement d'une ancienne mine de chrysotile du sud du Québec: essais de divers types de technosols et d'essences ligneuses. M.Sc. thesis, Département de géographie, Université de Montréal

Grossnickle SC (2005) Importance of root growth in overcoming planting stress. New for 30(2–3):273–294. https://doi.org/10.1007/s11056-004-8303-2

Grossnickle SC (2012) Why seedlings survive: influence of plant attributes. New for 43(5–6):711–738. https://doi.org/10.1007/s11056-012-9336-6

Guittonny-Larchevêque M, Pednault C (2016) Substrate comparison for short-term success of a multispecies tree plantation in thickened tailings of a boreal gold mine. New for 47(5):763–781. https://doi.org/10.1007/s11056-016-9543-7

Guittonny-Larcheveque M, Bussiere B, Pednault C (2016) Tree-substrate water relations and root development in tree plantations used for mine tailings reclamation. J Environ Qual 45(3):1036–1045. https://doi.org/10.2134/jeq2015.09.0477

Hansen EA (1994) A guide for determining when to fertilize hybrid poplar plantations. U.S. Department of Agriculture, Forest Service, North Central Forest Experiment Station, St. Paul, MN. Research Paper NC-319

Harris JA (2003) Measurements of the soil microbial community for estimating the success of restoration. Eur J Soil Sci 54(4):801–808. https://doi.org/10.1046/j.1351-0754.2003.0559.x

Havlin JL, Beaton JD, Tisdale SL, Nelson WL (2005) Soil fertility and fertilizers: an introduction to nutrient management. 7th ed. Prentice Hall

Hawkesford M, Horst W, Kichey T, Lambers H, Schjoerring J, Møller IS, White P (2012) Functions of macronutrients. In: Marschner P (ed) Marschner's mineral nutrition of higher plants. Elsevier, pp 135–189

Hinsinger P (2001) Bioavailability of soil inorganic P in the rhizosphere as affected by root-induced chemical changes: a review. Plant Soil 237:173–195. https://doi.org/10.1023/A:1013351617532

Hothorn T, Bretz F, Westfall P (2008) Simultaneous inference in general parametric models. Biom J 50(3):346–363. https://doi.org/10.1002/bimj.200810425

Jacques O, Pienitz R (2021) Asbestos mining waste impacts on the sedimentological evolution of the Becancour chain of lakes, southern Quebec (Canada). Sci Total Environ 807:151079. https://doi.org/10.1016/j.scitotenv.2021.151079

Kelty MJ, Menalled FD, Carlton MM (2004) Nitrogen dynamics and red pine growth following application of pelletized biosolids in Massachusetts, USA. Can J for Res 34(7):1477–1487. https://doi.org/10.1139/x04-039

Kong X, Peng P, Li L, Zhang K, Hu Z, Wang X, Zhao G (2022) Wind lodging-associated yield loss is reduced by wheat genetic diversity. Eur J Agron 133:126441. https://doi.org/10.1016/j.eja.2021.126441

Krol A, Mizerna K, Bozym M (2020) An assessment of pH-dependent release and mobility of heavy metals from metallurgical slag. J Hazard Mater 384:121502. https://doi.org/10.1016/j.jhazmat.2019.121502

Kronzucker HJ, Siddiqi MY, Glass AD (1997) Conifer root discrimination against soil nitrate and the ecology of forest succession. Nature 385:59–61. https://doi.org/10.1038/385059a0

Kuyek J (2003) Asbestos mining in Canada. Paper presented at the International Ban Asbestos Conference, Ottawa. Retrieved from: https://miningwatch.ca/sites/default/files/asbestos_mining_in_canada_0.pdf

Labrecque M, Teodorescu TI (2005) Field performance and biomass production of 12 willow and poplar clones in short-rotation coppice in southern Quebec (Canada). Biomass Bioenergy 29(1):1–9. https://doi.org/10.1016/j.biombioe.2004.12.004

Larcheveque M, Maurel M, Desrochers A, Larocque GR (2011) How does drought tolerance compare between two improved hybrids of balsam poplar and an unimproved native species? Tree Physiol 31(3):240–249. https://doi.org/10.1093/treephys/tpr011

Larchevêque M, Desrochers A, Bussière B, Cimon D (2015) Planting trees in soils above non-acid-generating wastes of a boreal gold mine. Ecoscience 21(3–4):217–231. https://doi.org/10.2980/21-(3-4)-3697

Larney FJ, Angers DA (2012) The role of organic amendments in soil reclamation: a review. Can J Soil Sci 92(1):19–38. https://doi.org/10.4141/cjss2010-064

Larocque GR (1999) Performance and morphological response of the hybrid poplar DN-74 (Populus deltoides × nigra) under different spacings on a 4-year rotation. Ann for Sci 56:275–287. https://doi.org/10.1051/forest:19990402

Lévesque A, Bélanger N, Poder TG, Filotas É, Dupras J (2020) From white to green gold: digging into public expectations and preferences for ecological restoration of asbestos mines in southeastern Quebec, Canada. Extr Ind Soc 7(4):1411–1423. https://doi.org/10.1016/j.exis.2020.10.006

Loide V (2004) About the effect of the contents and ratios of soil's available calcium, potassium and magnesium in liming of acid soils. Agron Res 2(1):71–82

Macdonald SE, Landhäusser SM, Skousen J, Franklin J, Frouz J, Hall S, Jacobs DF, Quideau S (2015) Forest restoration following surface mining disturbance: challenges and solutions. New for 46(5–6):703–732. https://doi.org/10.1007/s11056-015-9506-4

Majumder R, Livesley SJ, Gregory D, Arndt SK (2014) Biosolid stockpiles are a significant point source for greenhouse gas emissions. J Environ Manag 143:34–43. https://doi.org/10.1016/j.jenvman.2014.04.016

Malagoli M, Dal Canal A, Quaggiotti S, Pegoraro P, Bottacin A (2000) Differences in nitrate and ammonium uptake between Scots pine and European larch. Plant Soil 221:1–3. https://doi.org/10.1023/A:1004720002898

Marier M (2016) De la grève de l'amiante au lobby pro-chrysotile—La question de l'amiante chez les syndicats québécois de l'amiante, 1973–1983. M.A. thesis, Département d'histoire, Université de Montréal

Marron N, Dreyer E, Boudouresque E, Delay D, Petit J-M, Demotte FM, Brignolas F (2003) Impact of successive drought and re-watering cycles on growth and specific leaf area of two Populus × canadensis (Moench) clones, 'Dorskamp' and 'Luisa_Avanzo.' Tree Physiol 23:1225–1235. https://doi.org/10.1093/treephys/23.18.1225

Martín-Moreno C, Martín Duque JF, Nicolau Ibarra JM, Hernando Rodríguez N, Sanz Santos MÁ, Sánchez Castillo L (2016) Effects of topography and surface soil cover on erosion for mining reclamation: the experimental spoil heap at El Machorro Mine (Central Spain). Land Degrad Dev 27(2):145–159. https://doi.org/10.1002/ldr.2232

Messier C, Coll L, Poitras-Larivière A, Bélanger N, Brisson J (2009) Resource and non-resource root competition effects of grasses on early- versus late-successional trees. J Ecol 97(3):548–554. https://doi.org/10.1111/j.1365-2745.2009.01500.x

Nadeau MB, Laur J, Khasa DP (2018) Mycorrhizae and rhizobacteria on Precambrian rocky gold mine tailings: I. Mine-adapted symbionts promote white spruce health and growth. Front Plant Sci 9:1267. https://doi.org/10.3389/fpls.2018.01267

Ochoa-Hueso R, Delgado-Baquerizo M, Risch A, Ashton L, Augustine D, Bélanger N, 71 other authors (in press). Bioavailability of macro and micronutrients across global topsoils: Main drivers and global change impacts. Global Biogeochemical Cycles, 2022GB007680R

Onwuchekwa NE, Zwiazek JJ, Quoreshi A, Khasa DP (2014) Growth of mycorrhizal jack pine (Pinus banksiana) and white spruce (Picea glauca) seedlings planted in oil sands reclaimed areas. Mycorrhiza 24(6):431–441. https://doi.org/10.1007/s00572-014-0555-x

Pérez-Harguindeguy N, Díaz S, Garnier E, Lavorel S, Poorter H, Jaureguiberry P, Bret-Harte MS, Cornwell WK, Craine JM, Gurvich DE, Urcelay C, Veneklaas EJ, Reich PB, Poorter L, Wright IJ, Ray P, Enrico L, Pausas JG, de Vos AC, Buchmann N, Funes G, Quétier F, Hodgson JG, Thompson K, Morgan HD, ter Steege H, van der Heijden MGA, Sack L, Blonder B, Poschlod P, Vaieretti MV, Conti G, Staver AC, Aquino S, Cornelissen JHC (2013) New handbook for standardised measurement of plant functional traits worldwide. Aust J Bot 61(3):167–234. https://doi.org/10.1071/bt12225

Perreault L, Brais S, Bélanger N, Quideau SA (2017) Soil and seedling response to dehydrated septic tank sludge versus forest floor additions at a disturbed site. Can J Soil Sci 98:114–127. https://doi.org/10.1139/cjss-2017-0073

Pinno BD, Bélanger N (2009) Competition control in juvenile hybrid poplar plantations across a range of site productivities in central Saskatchewan, Canada. New for 37(2):213–225. https://doi.org/10.1007/s11056-008-9118-3

Pinno BD, Thomas BR, Bélanger N (2009) Predicting the productivity of a young hybrid poplar clone under intensive plantation management in northern Alberta, Canada using soil and site characteristics. New for 39(1):89–103. https://doi.org/10.1007/s11056-009-9157-4

Quinkenstein A, Jochheim H (2016) Assessing the carbon sequestration potential of poplar and black locust short rotation coppices on mine reclamation sites in Eastern Germany—Model development and application. J Environ Manag 168:53–66. https://doi.org/10.1016/j.jenvman.2015.11.044

Quoreshi AM, Piché Y, Khasa DP (2007) Field performance of conifer and hardwood species 5 years after nursery inoculation in the Canadian prairie provinces. New for 35(3):235–253. https://doi.org/10.1007/s11056-007-9074-3

Rey F, Ballais J-L, Marre A, Rovéra G (2004) Rôle de la végétation dans la protection contre l'érosion hydrique de surface. C R Geosci 336(11):991–998. https://doi.org/10.1016/j.crte.2004.03.012

Rietveld WJ (1989) Transplanting stress in bareroot conifer seedlings: its development and progression to establishment. North J Appl for 6(3):99–107. https://doi.org/10.1093/njaf/6.3.99

Rocha Martins WD, Roque Lima MD, de Oliveira Barros Junior U, Sousa Viilas-Boas Amorim L, de Assis Oliveira F, Schwartz G (2020) Ecological methods and indicators for recovering and monitoring ecosystems after mining: a global literature review. Ecol Eng 145:105707. https://doi.org/10.1016/j.ecoleng.2019.105707

Screiber SG, Hamann A, Hacke UG, Thomas BR (2013) Sixteen years of winter stress: amn assessment of cold hardiness, growth performance and survival of hybrid poplar clones at a boreal planting site. Plant Cell Environ 36(2):419–428. https://doi.org/10.1111/j.1365-3040.2012.02583.x

Schreier H (1987) Asbestos fibres introduce trace metals into streamwater and sediments. Environ Pollut 43:229–242. https://doi.org/10.1016/0269-7491(87)90159-X

Setter TL, Laureles EV, Mazaredo AM (1997) Lodging reduces yield of rice by self-shading and reductions in canopy photosynthesis. Field Crops Res 49:95–106. https://doi.org/10.1016/S0378-4290(96)01058-1

Silim S, Nash R, Reynard D, White B, Schroeder W (2009) Leaf gas exchange and water potential responses to drought in nine poplar (Populus spp.) clones with contrasting drought tolerance. Trees 23:959–969. https://doi.org/10.1007/s00468-009-0338-8

Souch CA, Williams S (1998) Growth, productivity and water use in three hybrid poplar clones. Tree Physiol 18(12):829–835. https://doi.org/10.1093/treephys/18.12.829

Théroux Rancourt G, Éthier G, Pépin S (2015) Greater efficiency of water use in poplar clones having a delay in response of mesophyll conductance to drought. Tree Physiol 35:172–184. https://doi.org/10.1093/treephys/tpv006

Thiffault N (2004) Stock type in intensive silviculture: a (short) discussion about roots and size. For Chron 80(4):463–468. https://doi.org/10.5558/tfc80463-4

Thiffault N, Lafleur B, Roy V, DeBlois J (2012) Large planting stock type and mechanical release effects on the establishment success of Picea glauca plantations in Quebec, Canada. Int J for Res. https://doi.org/10.1155/2012/617392

Tremblay P-Y, Thiffault E, Pinno BD (2019) Effects of land reclamation practices on the productivity of young trembling aspen and white spruce on a reclaimed oil sands mining site in northern Alberta. New for 50(6):911–942. https://doi.org/10.1007/s11056-019-09705-0

Truax B, Gagnon D, Fortier J, Lambert F (2012) Yield in 8 year-old hybrid poplar plantations on abandoned farmland along climatic and soil fertility gradients. For Ecol Manag 267:228–239. https://doi.org/10.1016/j.foreco.2011.12.012

Urgoiti J, Messier C, Keeton WS, Reich PB, Gravel D, Paquette A (2022) No complementarity no gain—Net diversity effects on tree productivity occur once complementarity emerges during early stand development. Ecol Lett 25(4):851–862. https://doi.org/10.1111/ele.13959

Watkinson AD, Lock AS, Beckett PJ, Spiers G (2017) Developing manufactured soils from industrial by-products for use as growth substrates in mine reclamation. Restor Ecol 25(4):587–594. https://doi.org/10.1111/rec.12464

Watson WT (2005) Influence of tree size on transplant establishment and growth. HortTechnology 15:118–122. https://doi.org/10.21273/HORTTECH.15.1.0118

Xu F, Vaziriyeganeh M, Zwiazek JJ (2020) Effects of pH and mineral nutrition on growth and physiological responses of trembling aspen (Populus tremuloides), jack pine (Pinus banksiana), and white spruce (Picea glauca) seedlings in sand culture. Plants 9(6):682. https://doi.org/10.3390/plants9060682

Zhang W, Calvo-Polanco M, Chen ZC, Zwiazek JJ (2013) Growth and physiological responses of trembling aspen (Populus tremuloides), white spruce (Picea glauca) and tamarack (Larix laricina) seedlings to root zone pH. Plant Soil 373(1–2):775–786. https://doi.org/10.1007/s11104-013-1843-5

Zhang W, Xu F, Zwiazek JJ (2015) Responses of jack pine (Pinus banksiana) seedlings to root zone pH and calcium. Environ Exp Bot 111:32–41. https://doi.org/10.1016/j.envexpbot.2014.11.001
Acknowledgements
This work was supported by a grant to N. Bélanger and D. Rivest (2019-GS-262, 733) through Fonds de recherche du Québec – Nature et technologies (FRQNT), Fonds de recherche du Québec – Société et culture (FRQSC), and Fonds vert of the Quebec Government in collaboration with Viridis Environnement and Granilake. We thank Dominic Bélanger for assistance with soil chemical analyses. We acknowledge Charlène Mélançon, Theodore Stathopoulos, Justin Bélanger, Alexandre Collin, Joannie Beaulne, Sharlène Laberge, Maude Giguère and Joseph Mino-Roy for their help in the field and sample preparation in the laboratory. Special thanks to J. Mino-Roy for preparing the map in Supplementary information 6 as well as to Sébastien Hue, Isabelle Fréchette, Olivier Nadeau and Janin Nadeau (Viridis Environnement) and Michel Vallée (Granilake) for providing site access and helping with field logistics. Finally, we thank William F.J. Parsons for the English revision of the manuscript.
Ethics declarations
Conflict of interest
The authors have no competing interests, or other interests that might be perceived to influence the results and/or discussion reported in this paper.
Additional information
Publisher's Note
Springer Nature remains neutral with regard to jurisdictional claims in published maps and institutional affiliations.
Supplementary Information
Below is the link to the electronic supplementary material.
Rights and permissions
Springer Nature or its licensor (e.g. a society or other partner) holds exclusive rights to this article under a publishing agreement with the author(s) or other rightsholder(s); author self-archiving of the accepted manuscript version of this article is solely governed by the terms of such publishing agreement and applicable law.
About this article
Cite this article
Grimond, L., Rivest, D., Bilodeau-Gauthier, S. et al. Novel soil reconstruction leads to successful afforestation of a former asbestos mine in southern Quebec, Canada. New Forests (2023). https://doi.org/10.1007/s11056-023-09989-3
Received:

Accepted:

Published:

DOI: https://doi.org/10.1007/s11056-023-09989-3
Keywords