Abstract
In temperate monsoon climate zones, which feature low precipitation in winter and spring, summer planting of Pinus tabuliformis Carr. seedlings may improve site restoration. The application of moderate water stress to improve seedling drought resistance may be an option to harden summer-plant seedlings. The objective of this study was to assess the effect of watering intensity and duration of acclimation treatments on seedling morphology and physiology attributes in the nursery and on the field performance of Pinus tabuliformis. We applied three watering intensities at 45%, 60%, 75% (control) of container capacity (CC) in the nursery for three durations (2, 3 and 4 weeks) during early summer and then correspondingly outplanted in three dates across July (i.e., 11th, 18th, and 27th). We measured seedling morphology, non-structural carbohydrates (TNC) and nitrogen (N) concentrations in the nursery, and in the field. Additionally, we measured field mortality and plant growth for three years. Drought hardening led to greater bud set and TNC reserves, along with lower shoot-to-root mass ratio (S/R). Longer drought hardening duration produced seedlings with larger stem volume, lower S/R and lower N concentration, but with greater root mass and bud set. Field mortality primarily occurred in the winter, with the three-week drought hardening causing increased winter mortality but enhanced field growth. Mortality during the first winter was negatively related to shoot TNC reserves but positively related to seedling field growth measured at the beginning of the fall, cold season. Mortality during the second winter was negatively related to seedling size but positively related to S/R measured at the end of second growing season. In contrast, drought hardening intensity had no effect on outplanting mortality and only a minor effect on field growth. Field growth in subsequent growing seasons was directly related to the size of the plant, N and TNC content at the beginning of the first fall cold season. This study demonstrates that higher TNC reserves were associated with smaller stem volume during the first growing season, suggesting a trade-off between growth and TNC storage. This suggests that under non-stressed conditions the TNC concentration and growth of seedlings before winter strongly affected their mortality during winter. Study results suggest that summer planting of P. tabuliformis container seedlings is feasible without the application of drought hardening acclimation treatments in geographic locations typically having summer rains. Optimizing the outplanting date during the summer and initial seedling size appear to be critical for good mid-term growth and low winter mortality.
Access options
Buy single article
Instant access to the full article PDF.
US$ 39.95
Tax calculation will be finalised during checkout.
Subscribe to journal
Immediate online access to all issues from 2019. Subscription will auto renew annually.
US$ 79
Tax calculation will be finalised during checkout.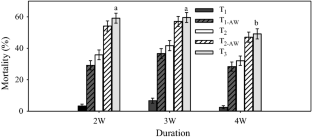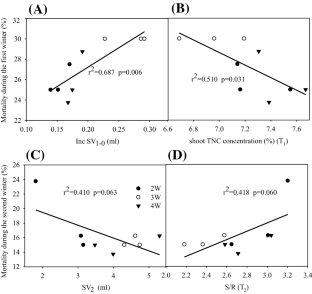 Data availability
The datasets generated during and/or analyzed during the current study are available from the first (Na Luo) and/or corresponding author (Guolei Li) on reasonable request.
References
Apostol KG, Jacobs DF, Wilson BC, Salifu KF, Dumroese RK (2007) Growth, gas exchange, and root respiration of Quercus rubra seedlings exposed to low root zone temperatures in solution culture. For Ecol Manag 253:89–96. https://doi.org/10.1016/j.foreco.2007.04.054

Bannister P, Neuner G (2001) Frost resistance and the distribution of conifers. In: Bigras FJ, Colombo SJ (eds) Conifer cold hardiness. Kluwer Academic Publishers, Dordrecht, pp 3–22

Bigras FJ, Ryyppö A, Lindström A, Stattin E (2001) Cold acclimation and deacclimation of shoots and roots of conifer seedlings. In: Bigras FJ, Colombo SJ (eds) Conifer cold hardiness. Springer, Dordrecht, pp 57–88

Bloom AJ, Chapin FS, Mooney HA (1985) Resource limitation in plants—an economic analogy. Annu Rev Ecol Syst 16:363–392. https://doi.org/10.1146/annurev.ecolsys.16.1.363

Burdett AN (1990) Physiological processes in plantation establishment and the development of specifications for forest planting stock. Can J for Res 20:415–427. https://doi.org/10.1139/x90-059

Charrier G, Ngao J, Saudreau M, Améglio T (2015) Effects of environmental factors and management practices on microclimate, winter physiology, and frost resistance in trees. Front Plant Sci 6:1–18. https://doi.org/10.3389/fpls.2015.00259

Chirino E, Vilagrosa A, Cortina J, Valdecantos A, Fuentes D, Trubat R, Luis V, Puértolas J, Bautista S, Baeza M, Peñuelas J, Vallejo V (2009) Ecological restoration in degraded drylands: the need to improve the seedling quality and site conditions in the field. In: Grossberg SP (ed) Forest management. Nova Science Publishers, pp 85–158

Cuesta B, Villar-Salvador P, Puertolas J, Jacobs DF, Benayas JMR (2010) Why do large, nitrogen rich seedlings better resist stressful transplanting conditions? A physiological analysis in two functionally contrasting Mediterranean forest species. For Ecol Manag 260:71–78. https://doi.org/10.1016/j.foreco.2010.04.002

Dumroese RK, Pinto JR, Montville ME (2015) Using container weights to determine irrigation needs: a simple method. Native Plants J 16: 67–71. https://www.muse.jhu.edu/article/578515

Fernández-Pérez L, Villar-Salvador P, Martínez-Vilalta J, Toca A, Zavala MA (2018) Distribution of pines in the Iberian Peninsula agrees with species differences in foliage frost tolerance, not with vulnerability to freezing-induced xylem embolism. Tree Physiol 38:507–516. https://doi.org/10.1093/treephys/tpx171

Galiano L, Timofeeva G, Saurer M, Siegwolf R, Martinez-Vilalta J, Hommel R, Gessler A (2017) The fate of recently fixed carbon after drought release: towards unravelling C storage regulation in Tilia platyphyllos and Pinus sylvestris. Plant Cell Environ 40:1711–1724. https://doi.org/10.1111/pce.12972

Greer DH, Robinson LA, Hall AJ, Klages K, Donnison H (2000) Frost hardening of Pinus radiata seedlings: effects of temperature on relative growth rate, carbon balance and carbohydrate concentration. Tree Physiol 20:107–114. https://doi.org/10.1093/treephys/20.2.107

Grossnickle SC (2012) Why seedlings survive: influence of plant attributes. New for 43:711–738. https://doi.org/10.1007/s11056-012-9336-6

Grossnickle SC, Folk RS (2003) Spring versus summer spruce stocktypes of western Canada: nursery development and field performance. West J Appl for 18:267–275. https://doi.org/10.1093/wjaf/18.4.267

Grossnickle SC, MacDonald JE (2018) Why seedlings grow: influence of plant attributes. New for 49:1–34. https://doi.org/10.1007/s11056-017-9606-4

Hansen J, Moller I (1975) Percolation of starch and soluble carbohydrates from plant tissue for quantitative determination with anthrone. Anal Biochem 68:87–94. https://doi.org/10.1016/0003-2697(75)90682-x

Hofer D, Suter M, Buchmann N, Lüscher A (2017) Severe water deficit restricts biomass production of Lolium perenne L. and Trifolium repens L. and causes foliar nitrogen but not carbohydrate limitation. Plant Soil 421:367–380. https://doi.org/10.1007/s11104-017-3439-y

Huang JB, Hammerbacher A, Weinhold A, Reichelt M, Gleixner G, Behrendt T, van Dam NM, Sala A, Gershenzon J, Trumbore S, Hartmann H (2019) Eyes on the future—evidence for trade-offs between growth, storage and defense in Norway spruce. New Phytol 222:144–158. https://doi.org/10.1111/nph.15522

Jarrell WM, Beverly RB (1981) The dilution effect in plant nutrition studies. In: Brady NC (ed) Advances in agronomy. Academic Press, pp 197–224

Körner C (2003) Carbon limitation in trees. J Ecol 91:4–17. https://doi.org/10.1046/j.1365-2745.2003.00742.x

Landhausser SM, Lieffers VJ (2012) Defoliation increases risk of carbon starvation in root systems of mature aspen. Trees Struct Funct 26:653–661. https://doi.org/10.1007/s00468-011-0633-z

Landhausser SM, Pinno BD, Lieffers VJ, Chow PS (2012) Partitioning of carbon allocation to reserves or growth determines future performance of aspen seedlings. For Ecol Manag 275:43–51. https://doi.org/10.1016/j.foreco.2012.03.010

Landis TD, Tinus R, McDonald SE, Barnett JP (1989) The container tree nursery manual, volume 4: seedling nutrition and irrigation. U.S. Department of Agriculture, Forest Service, Washington, DC

Landis TD, Tinus RW, Barnett JP (1999) Seedling developments: the establishment, rapid growth and hardening phases. In: Landis TD, Tinus RW, Barnett JP (eds) The container tree nursery manual. U.S. Department of Agriculture, Forest Service, Washington, DC, pp 125–161

Lopez-Matas M-A, Nuñez P, Soto A, Allona I, Casado R, Collada C, Guevara M-A, Aragoncillo C, Gomez L (2004) Protein cryoprotective activity of a cytosolic small heat shock protein that accumulates constitutively in chestnut stems and is up-regulated by low and high temperatures. Plant Physiol 134:1708–1717. https://doi.org/10.1104/pp.103.035857

Luo N, Villar-Salvador P, Li G, Wang J (2021) The dark side of nursery photoperiod reduction on summer plantation performance of a temperate conifer: high winter mortality mediated by reduced seedling carbohydrate and nitrogen storage. For Ecol Manag 491:119171. https://doi.org/10.1016/j.foreco.2021.119171

Macey DE, Arnott JT (1986) The effect of moderate moisture and nutrient stress on bud formation and growth of container-grown white spruce seedlings. Can J for Res 16:949–954. https://doi.org/10.1139/x86-168

Millard P, Grelet G-A (2010) Nitrogen storage and remobilization by trees: ecophysiological relevance in a changing world. Tree Physiol 30:1083–1095. https://doi.org/10.1093/treephys/tpq042

Morin X, Améglio T, Ahas R, Kurz-Besson C, Lanta V, Lebourgeois F, Miglietta F, Chuine I (2007) Variation in cold hardiness and carbohydrate concentration from dormancy induction to bud burst among provenances of three European oak species. Tree Physiol 27:817–825. https://doi.org/10.1093/treephys/27.6.817

Muller B, Pantin F, Genard M, Turc O, Freixes S, Piques M, Gibon Y (2011) Water deficits uncouple growth from photosynthesis, increase C content, and modify the relationships between C and growth in sink organs. J Exp Bot 62:1715–1729. https://doi.org/10.1093/jxb/erq438

Oliet J, Ortiz de Urbina E, Sanchez-Pinillos M, Tardio-Cerrillo G (2019) Matching seedling size to planting conditions: interactive response with soil moisture. iForest Biogeosci for 12:220–225. https://doi.org/10.3832/ifor2801-012

Palacios G, Navarro Cerrillo RM, del Campo A, Toral M (2009) Site preparation, stock quality and planting date effect on early establishment of Holm oak (Quercus ilex L.) seedlings. Ecol Eng 35:38–46. https://doi.org/10.1016/j.ecoleng.2008.09.006

Pinto JR, Marshall JD, Dumroese RK, Davis AS, Cobos DR (2012) Photosynthetic response, carbon isotopic composition, survival, and growth of three stock types under water stress enhanced by vegetative competition. Can J for Res 42:333–344. https://doi.org/10.1139/x11-189

Poorter H, Niklas KJ, Reich PB, Oleksyn J, Poot P, Mommer L (2012) Biomass allocation to leaves, stems and roots: meta-analyses of interspecific variation and environmental control. New Phytol 193:30–50. https://doi.org/10.1111/j.1469-8137.2011.03952.x

Sakai A, Larcher W (1987) Frost survival of plants. Springer, Berlin

Salifu KF, Jacobs DF, Birge ZKD (2009) Nursery nitrogen loading improves field performance of bareroot oak seedlings planted on abandoned mine lands. Restor Ecol 17:339–349. https://doi.org/10.1111/j.1526-100X.2008.00373.x

Seifert JR, Jacobs DF, Selig MF (2006) Influence of seasonal planting date on field performance of six temperate deciduous forest tree species. For Ecol Manag 223:371–378. https://doi.org/10.1016/j.foreco.2005.11.019

Sevanto S, McDowell NG, Dickman LT, Pangle R, Pockman WT (2014) How do trees die? A test of the hydraulic failure and carbon starvation hypotheses. Plant Cell Environ 37:153–161. https://doi.org/10.1111/pce.12141

Shi W, Grossnickle SC, Li G, Su S, Liu Y (2018) Fertilization and irrigation regimes influence on seedling attributes and field performance of Pinus tabuliformis Carr. Forestry 92:97–107. https://doi.org/10.1093/forestry/cpy035

Timmer VR (1996) Exponential nutrient loading: a new fertilization technique to improve seedling performance on competitive sites. New for 13:275–295. https://doi.org/10.1023/A:1006502830067

Uemura M, Steponkus PL (2003) Modification of the intracellular sugar content alters the incidence of freeze-induced membrane lesions of protoplasts isolated from Arabidopsis thaliana leaves. Plant Cell Environ 26:1083–1096. https://doi.org/10.1046/j.1365-3040.2003.01033.x

Uscola M, Villar-Salvador P, Gross P, Maillard P (2015) Fast growth involves high dependence on stored resources in seedlings of Mediterranean evergreen trees. Ann Bot 115:1001–1013. https://doi.org/10.1093/aob/mcv019

van den Driessche R (1991) Influence of container nursery regimes on drought resistance of seedlings following planting. I. Survival and growth. Can J for Res 21:555–565. https://doi.org/10.1139/x91-077

Villar-Salvador P, Puértolas J, Cuesta B, Peñuelas JL, Uscola M, Heredia-Guerrero N, Rey Benayas JM (2012) Increase in size and nitrogen concentration enhances seedling survival in Mediterranean plantations. insights from an ecophysiological conceptual model of plant survival. New for 43:755–770. https://doi.org/10.1007/s11056-012-9328-6

Villar-Salvador P, Uscola M, Jacobs DF (2015) The role of stored carbohydrates and nitrogen in the growth and stress tolerance of planted forest trees. New for 46:813–839. https://doi.org/10.1007/s11056-015-9499-z

Wang J, Li G, Pinto J, Liu J, Shi W, Liu Y (2015) Both nursery and field performance determine suitable nitrogen supply of nursery-grown, exponentially fertilized Chinese pine. Silva Fenn 49:1–13. https://doi.org/10.14214/sf.1295

Wang J, Villar-Salvador P, Li G, Liu Y (2019) Moderate water stress does not inhibit nitrogen remobilization, allowing fast growth in high nitrogen content Quercus variabilis seedlings under dry conditions. Tree Physiol 39:650–660. https://doi.org/10.1093/treephys/tpy130

Weiser CJ (1970) Cold Resistance and Injury in Woody Plants: knowledge of hardy plant adaptations to freezing stress may help us to reduce winter damage. Science 169:1269–1278. https://doi.org/10.1126/science.169.3952.1269

Wu S, Wu Y, Wen J (2019) Future changes in precipitation characteristics in China. Int J Climatol 39:3558–3573. https://doi.org/10.1002/joc.6038

Young E, Hanover JW (1978) Effects of temperature, nutrient, and moisture stresses on dormancy of blue spruce seedlings under continuous light. For Sci 24:458–467. https://doi.org/10.1093/forestscience/24.4.458
Acknowledgements
We gratefully acknowledge the editor and reviewers for helpful comments on the manuscript.
Funding
The study was supported by the Fundamental Research Funds for the Central Universities (2017PT02); the National Key Research and Development Program of China (2017YFD0600501).
Ethics declarations
Conflict of interest
The authors declare that they have no conflicts of interest.
Additional information
Publisher's Note
Springer Nature remains neutral with regard to jurisdictional claims in published maps and institutional affiliations.
Supplementary Information
Below is the link to the electronic supplementary material.
About this article
Cite this article
Luo, N., Grossnickle, S.C. & Li, G. The effect of nursery drought preconditioning on summer plantation performance of Pinus tabuliformis: high winter mortality mediated by trade off between seedling carbohydrate and field growth. New Forests (2021). https://doi.org/10.1007/s11056-021-09857-y
Received:

Accepted:

Published:
Keywords
Nursery acclimation

Watering duration

Watering intensity

Drought preconditioning

Seedling attributes

Summer planting

Field performance