Abstract
In the tropical low deciduous forest, seed size has been recognized as a functional trait that can contribute to the development of restoration strategies due to its influence on the processes of germination, survival and growth of seedlings. The objective of this study was to evaluate the effect of seed size on the seedling emergence and establishment of seedlings of Ceiba aesculifolia in pastures and remnants of tropical low deciduous forest in central Veracruz, Mexico. Three seed sizes were evaluated: small (120–218 mg), medium (219–316 mg) and large (317–414 mg). Seedling emergence rate was estimated, height, foliar production, stem thickness and insect herbivory were measured monthly in the seedlings. Seedling emergence differed significantly among seed sizes. The large seeds emerged at 40% in the pastures and 24% in the forest remnants, while the medium seeds presented 20 and 27% in these sites, respectively. The small seeds emerged similarly in the pasture (33%) and forest remnant (28%) sites. In the pastures, regardless of seed size, the seedlings presented significantly higher growth rates and foliar production, as well as an increase in the percentage of herbivory. At the end of the study, there was no difference in seedling survival between seed sizes or sites. The results suggest that the seed size only influences the seedling emergence, while the growth and responses to herbivory depend on their functional traits to face the environmental conditions of the sites. Finally, the ecological and management implications for future restoration programs are discussed.
This is a preview of subscription content, log in to check access.
Access options
Buy single article
Instant access to the full article PDF.
US$ 39.95
Price includes VAT for USA
Subscribe to journal
Immediate online access to all issues from 2019. Subscription will auto renew annually.
US$ 99
This is the net price. Taxes to be calculated in checkout.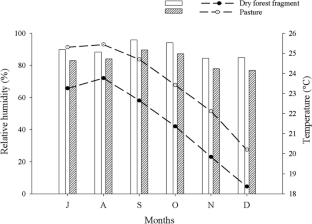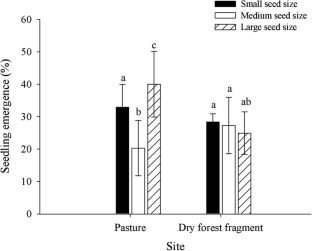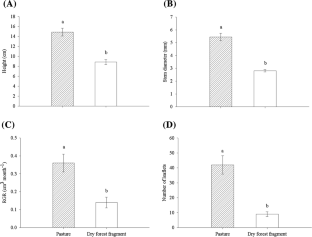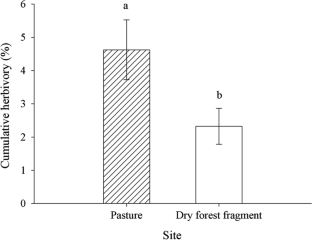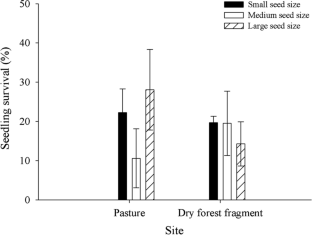 References
Álvarez-Aquino C, Williams-Linera G (2012) Seedling survival and growth of tree species: site condition and seasonality in tropical dry forest restoration. Bot Sci 90:341–351. https://doi.org/10.17129/botsci.395

Banda-R K, Delgado-Salinas A, Dexter KG, Linares-Palomino R, Oliveira-Filho A, Prado D, Pullan M, Quintana C, Riina R, Rodríguez MGM, Weintritt J, Acevedo-Rodríguez P, Adarve J, Álvarez E, Aranguren B, Arteaga JC, Aymard G, Castaño A, Ceballos-Mago N, Cogollo Á, Cuadros H, Delgado F, Devia W, Dueñas H, Fajardo L, Fernández Á, Fernández MÁ, Franklin J, Freid EH, Galetti LA, Gonto R, González MR, Graveson R, Helmer EH, Idárraga Á, López R, Marcano-Vega H, Martínez OG, Maturo HM, McDonald M, McLaren K, Melo O, Mijares F, Mogni V, Molina D, del Moreno NP, Nassar JM, Neves DM, Oakley LJ, Oatham M, Olvera-Luna AR, Pezzini FF, Dominguez OJR, Ríos ME, Rivera O, Rodríguez N, Rojas A, Särkinen T, Sánchez R, Smith M, Vargas C, Villanueva B, Pennington RT (2016) Plant diversity patterns in neotropical dry forests and their conservation implications. Science 80:353. https://doi.org/10.1126/science.aaf5080

Baraloto C, Forget PM, Goldberg DE (2005) Seed mass, seedling size and neotropical tree seedling establishment. J Ecol 93:1156–1166. https://doi.org/10.1111/j.1365-2745.2005.01041.x

Bhadouria R, Singh R, Srivastava P, Raghubanshi AS (2016) Understanding the ecology of tree-seedling growth in dry tropical environment: a management perspective. Energy Ecol Environ 1:296–309. https://doi.org/10.1007/s40974-016-0038-3

Bhadouria R, Srivastava P, Singh R, Tripathi S, Singh H, Raghubanshi AS (2017) Tree seedling establishment in dry tropics: an urgent need of interaction studies. Environ Syst Decis 37:88–100. https://doi.org/10.1007/s10669-017-9625-x

Bond WJ, Honing M, Maze KE (1999) Seed size and seedling emergence: an allometric relationship and some ecological implications. Oecologia 120:132–136. https://doi.org/10.1007/s004420050841

Calderón P, Margarita E, Nava F (2004) La familia Bombacaceae en la cuenca del río balsas, México. Polibotánica 71–102. https://www.encb.ipn.mx/assets/files/encb/docs/polibotanica/revistas/pb17/bomba.pdf

Castillo-Campos G (2007) La selva baja caducifolia en una corriente de lava volcánica en el centro de Veracruz: lista florística de la flora vascular. Bol Soc Bot México 80:77–104

Chachalis D, Reddy KN (2000) Factors affecting Campsis radicans seed germination and seedling emergence. Weed Sci 48:212–216. https://doi.org/10.1614/0043-1745(2000)048%5b0212:FACRSG%5d2.0.CO;2

Challenger A, Dirzo R (2009) Factores de cambio y estado de la biodiversidad. In: Dirzo R, González R, March I (eds) Capital Natural de México, vol. II: Estado de conservación y tendencias de cambio. Comisión Nacional para el Conocimiento y Uso de la Biodiversidad, México, pp 37–73

Chapin FS, Bret-Harte MS, Hobbie SE, Zhong H (1996) Plant functional types as predictors of transient responses of arctic vegetation to global change. J Veg Sci 7:347–358. https://doi.org/10.2307/3236278

Daws MI, Crabtree LM, Dalling JW, Mullins CE, Burslem DFRP (2008) Germination responses to water potential in neotropical pioneers suggest large-seeded species take more risks. Ann Bot 102:945–951. https://doi.org/10.1093/aob/mcn186

Diaz S, Cabido M (1997) Plant functional types and ecosystem function in relation to global change. J Veg Sci 8:463–474. https://doi.org/10.2307/3237198

Díaz S, Cabido M (2001) Vive la différence: plant functional diversity matters to ecosystem processes. Trends Ecol Evol 16:646–655. https://doi.org/10.1016/S0169-5347(01)02283-2

Dirzo R, Domínguez CA (1995) Plant–herbivore interactions in mesoamerican tropical dry forests. In: Bullock SH, Mooney HA, Medina E (eds) Seasonally dry tropical forests. Cambridge University Press, Cambridge, pp 304–325. https://doi.org/10.1017/CBO9780511753398.012

El Atta HA, Aref IM, Ahmed AI (2016) Seed size effects on the response of seedlings of Acacia asak (Forssk.) Willd. to water stress. Pak J Bot 48:439–446

Encino-Ruiz L, Lindig-Cisneros R, Gómez-Romero M, Blanco-García A (2013) Desempeño de tres especies arbóreas del bosque tropical caducifolio en un ensayo de restauración ecológica. Bot Sci 91:107–114

Fenner M, Thompson K (2005) The ecology of seeds. Cambridge University Press, New York

Ferreira WN, de Lacerda CF, da Costa RC, Medeiros Filho S (2015) Effect of water stress on seedling growth in two species with different abundances: the importance of stress resistance syndrome in seasonally dry tropical forest. Acta Bot Brasil 29:375–382. https://doi.org/10.1590/0102-33062014abb0045

Forcella F, Benech Arnold RL, Sanchez R, Ghersa CM (2000) Modelling seedling emergence. Field Crops Res 67:123–139. https://doi.org/10.1016/S0378-4290(00)00088-5

Galindo-Rodriguez C, Roa-Fuentes LL (2017) Seed desiccation tolerance and dispersal in tropical dry forests in Colombia: implications for ecological restoration. For Ecol Manage 404:289–293. https://doi.org/10.1016/j.foreco.2017.08.042

García E (1973) Modificaciones al sistema de clasificación climática de Köppen. Instituto de Geografía. Universidad Nacional Autonoma de Mexico, Mexico

Gómez-Aparicio L, Zamora R, Gómez JM, Hodar JA, Castro J, Baraza E (2004) Applying plant facilitation to forest restoration: a meta-analysis of use of shrubs as nurse plants. Ecol Appl 14:1128–1138. https://doi.org/10.1890/03-5084

Green PT, Juniper PA (2004) Seed mass, seedling herbivory and the reserve effect in tropical rainforest seedlings. Funct Ecol 18:539–547. https://doi.org/10.1111/j.0269-8463.2004.00881.x

Griscom HP, Ashton MS (2011) Restoration of dry tropical forests in Central America: a review of pattern and process. For Ecol Manage 261:1564–1579. https://doi.org/10.1016/j.foreco.2010.08.027

Gyimah R, Nakao T (2007) Early growth and photosynthetic responses to light in seedlings of three tropical species differing in successional strategies. New For 33:217–236. https://doi.org/10.1007/s11056-006-9028-1

Hanley ME (1998) Seedling herbivory, community composition and plant life history traits. Persct Plant Ecol Evol Syst 1:191–205. https://doi.org/10.1078/1433-8319-00058

Hanson PE (2011) Insect diversity in seasonally dry tropical forests. In: Dirzo R, Young HS, Mooney HA, Ceballos G (eds) Seasonally dry tropical forests. Island Press, Washington, pp 71–84. https://doi.org/10.5822/978-1-61091-021-7

Hardwick K, Healey JR, Elliott S, Blakesley D (2004) Research needs for restoring seasonal tropical forests in Thailand: accelerated natural regeneration. New For 27:285–302. https://doi.org/10.1023/b:nefo.0000022228.08887.d2

Harms KE, Dalling JW (1997) Damage and herbivory tolerance through resprouting as an advantage of large seed size in tropical trees and lianas. J Trop Ecol 13:617. https://doi.org/10.1017/S0266467400010750

Huante P, Rincon E, Acosta I (1995) Nutrient availability and growth rate of 34 woody species from a tropical deciduous forest in Mexico. Funct Ecol 9:849–858. https://doi.org/10.2307/2389982

Jiménez-Alfaro B, Silveira FAO, Fidelis A, Poschlod P, Commander LE (2016) Seed germination traits can contribute better to plant community ecology. J Veg Sci 27:637–645. https://doi.org/10.1111/jvs.12375

Kaydan D, Yagmur M (2008) Germination, seedling growth and relative water content of shoot in different seed sizes of triticale under osmotic stress of water and NaCl. Afr J Biotech 7:2862–2868. https://doi.org/10.5897/AJB08.512

Khan ML (2004) Effects of seed mass on seedling success in Artocarpus heterophyllus L., a tropical tree species of north-east India. Acta Oecol 25:103–110. https://doi.org/10.1016/j.actao.2003.11.007

Khurana E, Singh JS (2000) Influence of seed size on seedling growth of Albizia procera under different soil water levels. Ann Bot 86:1185–1192. https://doi.org/10.1006/anbo.2000.1288

Khurana E, Singh JS (2001a) Ecology of seed and seedling growth for conservation and restoration of tropical dry forest: a review. Environ Conserv 28:39–52. https://doi.org/10.1017/S0376892901000042

Khurana E, Singh JS (2001b) Ecology of tree seed and seedlings: implications for tropical forest conservation and restoration. Curr Sci 80:748–757. https://doi.org/10.1177/0263276402019004003

Kidson R, Westoby M (2000) Seed mass and seedling dimensions in relation to seedling establishment. Oecologia 125:11–17. https://doi.org/10.1007/PL00008882

Kitajima K (1992) Relationship between photosynthesis and thickness of cotyledons for tropical tree species. Funct Ecol 6(582):589. https://doi.org/10.2307/2390056

Kitajima K, Fenner M (2000) Ecology of seedling regeneration. In: Fenner M (ed) Seeds, the ecology of regeneration in plant communities. CABI Publishing, Wallingford, pp 331–359. https://doi.org/10.1079/9780851994321.0331

Kraft TS, Wright SJ, Turner I, Lucas PW, Oufiero CE, Noor MN, Sun IF, Dominy NJ (2015) Seed size and the evolution of leaf defences. J Ecol. https://doi.org/10.1111/1365-2745.12407

Landergott U, Gugerli F, Hoebee SE, Finkeldey R, Holderegger R (2012) Effects of seed mass on seedling height and competition in European white oaks. Flora 207:721–725. https://doi.org/10.1016/j.flora.2012.09.001

López-Barrera F, Manson RH, Landgrave R (2014) Identifying deforestation attractors and patterns of fragmentation for seasonally dry tropical forest in central Veracruz, Mexico. Land Use Policy 41:274–283. https://doi.org/10.1016/j.landusepol.2014.06.004

Macera LG, Pereira SR, Souza ALT (2017) Survival and growth of tree seedlings as a function of seed size in a gallery forest under restoration. Acta Bot Brasilica 31:539–545. https://doi.org/10.1590/0102-33062017abb0075

Mack A (1998) An advantage of large seed size: tolerating rather than succumbing to seed predators. Biotropica 30:604–608. https://doi.org/10.1111/j.1744-7429.1998.tb00100.x

Markesteijn L, Poorter L (2009) Seedling root morphology and biomass allocation of 62 tropical tree species in relation to drought- and shade-tolerance. J Ecol 97:311–325. https://doi.org/10.1111/j.1365-2745.2008.01466.x

Massad TJ, Chambers JQ, Rolim SG, Jesus RM, Dyer LA (2011) Restoration of pasture to forest in Brazils Mata Atlantica: the roles of herbivory, seedling defenses, and plot design in reforestation. Restor Ecol 19:257–267. https://doi.org/10.1111/j.1526-100X.2010.00683.x

Merino-Martin L, Courtauld C, Commander L, Turner S, Lewandrowski W, Stevensbc J (2017) Interactions between seed functional traits and burial depth regulate germination and seedling emergence under water stress in species from semi-arid environments. J Arid Environ 147:25–33. https://doi.org/10.1016/j.jaridenv.2017.07.018

Meyer SE, Carlson SL (2001) Achene mass variation in Ericameria nauseosus (Asteraceae) in relation to dispersal ability and seedling fitness. Funct Ecol 15:274–281. https://doi.org/10.1046/j.1365-2435.2001.00520.x

Miles L, Newton AC, DeFries RS, Ravilious C, May I, Blyth S, Kapos V, Gordon JE (2006) A global overview of the conservation status of tropical dry forests. J Biogeogr 33:491–505. https://doi.org/10.1111/j.1365-2699.2005.01424.x

Moles AT, Westoby M (2004) Seedling survival and seed size: a synthesis of the literature. J Ecol 92:372–383. https://doi.org/10.1111/j.0022-0477.2004.00884.x

Murali KS (1997) Patterns of seed size, germination and seed viability of tropical tree species in southern India. Biotropica 29:271–279. https://doi.org/10.1111/j.1744-7429.1997.tb00428.x

Murphy PG, Lugo E (1986) Ecology of tropical dry forest. Annu Rev Ecol Evol Syst 17:67–88. https://doi.org/10.1146/annurev.es.17.110186.000435

Niembro-Rocas A, Vázquez-Torres M, Sánchez-Sánchez O (2010) Árboles de Veracruz: 100 especies para la reforestación estratégica. Comisión organizadora del Estado de Veracruz para la Conmemoración de la Independencia Nacional y de la Revolución Mexicana. Gobierno del Estado de Veracruz

Norden N, Daws MI, Antoine C, Gonzalez MA, Garwood NC, Chave J (2009) The relationship between seed mass and mean time to germination for 1037 tree species across five tropical forests. Funct Ecol 23:203–210. https://doi.org/10.1111/j.1365-2435.2008.01477.x

Padilla FM, Pugnaire FI (2006) The role of nurse plants in the restoration of degraded environments. Fron Ecol Environ 4:196–202. https://doi.org/10.1890/1540-9295(2006)004%5b0196:TRONPI%5d2.0.CO;2

Paz H (2003) Root/Shoot allocation and root architecture in seedlings: variation among forest sites, microhabitats, and ecological group. Biotropica 35:318–332. https://doi.org/10.1646/02120

Paz H, Pineda-García F, Pinzón-Pérez LF (2015) Root depth and morphology in response to soil drought: comparing ecological groups along the secondary succession in a tropical dry forest. Oecologia 179:551–561. https://doi.org/10.1007/s00442-015-3359-6

Pereira SR, Laura VA, Souza ALT (2013) Establishment of Fabaceae tree species in a tropical pasture: influence of seed size and weeding methods. Restor Ecol 21:67–74. https://doi.org/10.1111/j.1526-100X.2011.00858.x

Pineda-García F, Paz H, Tinoco-Ojanguren C (2011) Morphological and physiological differentiation of seedlings between dry and wet habitats in a tropical dry forest. Plant, Cell Environ 34:1536–1547. https://doi.org/10.1111/j.1365-3040.2011.02351.x

Poorter L, Bongers F (2006) Leaf traits are good predictors of plant performance across 53 rain forest species. Ecology 87:1733–1743. https://doi.org/10.1890/0012-9658(2006)87%5b1733:LTAGPO%5d2.0.CO;2

Price PW (1992) Insect ecology. Wiley, Hoboken

Pywell RF, Bullock JM, Roy DB, Warman LIZ, Walker KJ, Rothery P (2003) Plant traits as predictors of performance in ecological restoration. J Appl Ecol 40:65–77

R Core Team (2016) R: a language and environment for statistical computing. R Foundation for Statistical Computing, Vienna, Austria. http://www.R-project.org/

Ruiz-Guerra B, Nieves-Silva E, Guevara R (2017) The role of leaf traits and bird-mediated insect predation on patterns of herbivory in a semiarid environment in central Mexico. Bot Sci 95:189–201. https://doi.org/10.17129/botsci.812

Sánchez-Sanchez O, Hernández-Zepeda C (2004) Estudio morfológico de plántulas de la familia Bombacaceae en Quintana Roo México. For Veracruzana 6:1–6

Sánchez-Velásquez L, Quintero-Gradilla S, Aragón-Cruz F, Pineda-López MR (2004) Nurses for Brosimum alicastrum reintroduction in secondary tropical dry forest. For Ecol Manage 198:4. https://doi.org/10.1016/j.foreco.2004.02.064

Sandel B, Corbin JD, Krupa M (2011) Using plant functional traits to guide restoration: a case study in California coastal grassland. Ecosphere 2:1–16. https://doi.org/10.1890/ES10-00175.1

Sarukhán J, Koleff P, Carabias J, Soberón J, Dirzo R, Llorente-Bousquets J, Halffter G, González R, March I, Mohar A, Anta S, de la Maza J (2009) Capital Natural de México. Síntesis: Conocimiento actual y perspectivas de sustentabilidad. Comisión Nacional para el Conocimiento y Uso de la Biodiversidad, México. https://doi.org/10.1017/CBO9781107415324.004

Seiwa K, Kikuzawa K (1991) Phenology of tree seedlings in relation to seed size. Can J Bot 69:532–538. https://doi.org/10.1139/b91-072

Soriano D, Orozco-Segovia A, Márquez-Guzmán J, Kitajima K, Gamboa-de Buen A, Huante P (2011) Seed reserve composition in 19 tree species of a tropical deciduous forest in Mexico and its relationship to seed germination and seedling growth. Ann Bot 107:939–951. https://doi.org/10.1093/aob/mcr041

Suárez-Vidal E, Sampedro L, Zas R (2017) Is the benefit of larger seed provisioning on seedling performance greater under abiotic stress? Environ Exp Bot 134:45–53. https://doi.org/10.1016/j.envexpbot.2016.11.001

Valle-Díaz O, Blanco-García A, Bonfil C, Paz H, Lindig-Cisneros R (2009) Altitudinal range shift detected through seedling survival of Ceiba aesculifolia in an area under the influence of an urban heat island. For Ecol Manage 258:1511–1515. https://doi.org/10.1016/j.foreco.2009.07.001

Velázquez-Rosas N, Ruiz-Guerra B, Sánchez-Coronado ME, Gamboa De Buen A, Orozco-Segovia A (2017) Morphological variation in fruits and seeds of Ceiba aesculifolia and its relationship with germination and seedling biomass. Bot Sci 95:1–11. https://doi.org/10.17129/botsci.636

Vieira DLM, Scariot A (2006) Principles of natural regeneration of tropical dry forests for restoration. Restor Ecol 14:11–20. https://doi.org/10.1111/j.1526-100X.2006.00100.x

Westoby M, Leishman M, Lord J (1996) Comparative ecology of seed size and dispersal. Philos Trans R Soc B Biol S 351:1309–1318

Williams-Linera G, Alvarez-Aquino C (2010) Tropical dry forest landscape restoration in central Veracruz, México. Ecol Res 28:259–261. https://doi.org/10.3368/er.28.3.259
Acknowledgements
We thank to T. Velázquez Escamilla, E. Gutiérrez Fernández, A. and H. Martínez for providing technical and fieldwork support.
Funding
This work was supported by a scholarship to I. Martínez-González provided by Consejo Nacional de Ciencia y Tecnología (CONACyT) (443580).
Additional information
Publisher's Note
Springer Nature remains neutral with regard to jurisdictional claims in published maps and institutional affiliations.
About this article
Cite this article
Martínez-González, I., Sánchez-Velázquez, L.R., Ruiz-Guerra, B. et al. The role of seed size in the emergence and survival of seedlings in contrasting environments: the case of Ceiba aesculifolia. New Forests (2020). https://doi.org/10.1007/s11056-020-09806-1
Received:

Accepted:

Published:
Keywords
Tropical dry forest

Seed mass

Seed ecology

Functional trait

Insect herbivory