Abstract
In Turkey, current wood production does not meet the demand of wood-products, and this gap is expected to be larger in the near future. It is necessary to increase the productivity and growth efficiency of current forests and to expand the extension of forest plantations, including areas where drought is the main climatic constraint. Even though researchers are currently working on hybridization programs to improve the quality and productivity of poplar cultivars, there are still large gaps in the understanding of the effects of drought on the performance and physiology of these cultivars. We analyzed the effects of water stress on growth and phenology of eight cultivars of black poplar (Populus nigra), two cultivars of the hybrid P. × euramericana, and one cultivar of eastern cottonwood (P. deltoides). The objective was to identify the cultivars better-adapted to dry conditions in semiarid areas of Turkey. Cuttings of the eleven cultivars were grown under two contrasting watering regimes (well-watered and water-stressed). Tree height and ground line diameter were periodically measured along with phenological traits such as bud break, leaf loss, and infection by Cytospora chrysosperma, a common fungal disease in Turkey. Results from this study may help forest managers select better-adapted poplar cultivars for semiarid conditions. According to our results, we consider that cultivars 'I-214' and 'Kocabey' may be adequate alternatives, and cultivars 'Ata-1', 'Gazi', and 'Geyve' may not be preferred for planting under water-limited areas in Turkey and similar regions of the Mediterranean basin.
Access options
Buy single article
Instant access to the full article PDF.
US$ 39.95
Tax calculation will be finalised during checkout.
Subscribe to journal
Immediate online access to all issues from 2019. Subscription will auto renew annually.
US$ 79
Tax calculation will be finalised during checkout.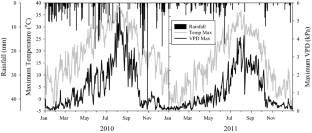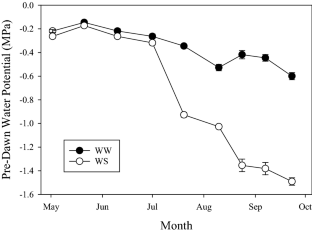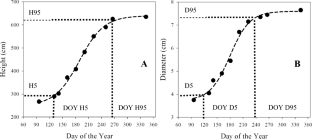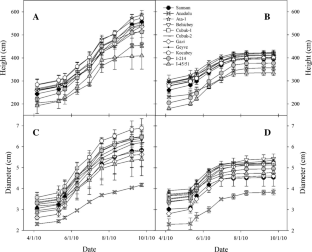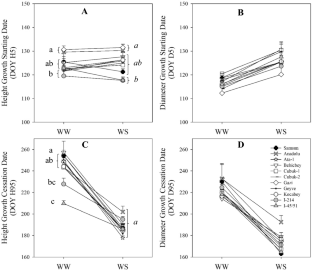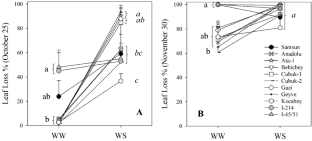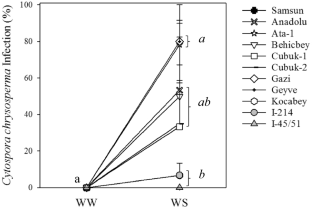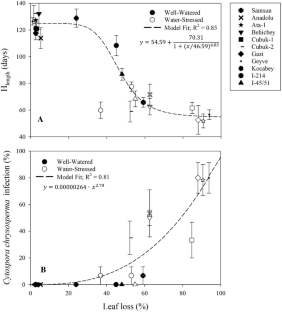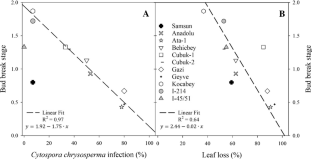 References
Aktaş H, Şimşek Z (2010) Researches on the virulence of Cytospora chrysosperma "Pers" Fr. and reactions of various poplar cultivars. Kastamonu Univ J For Fac 10:117–124

Baquedano FJ, Valladares F, Castillo FJ (2008) Phenotypic plasticity blurs ecotypic divergence in the response of Quercus coccifera and Pinus halepensis to water stress. Eur J For Res 127:495–506

Birler AS (2014) Poplar cultivation in Turkey. Republic of Turkey Ministry of Forestry and Water Affairs, Directorate General of Forestry, Poplar and Fast Growing Forest Trees Research Institute, İzmit. ISSN: 1300-95X

Brignolas F, Thierry C, Guerrier G, Boudouresque É (2000) Compared water deficit response of two Populus × euramericana clones, Luisa Avanzo and Dorskamp. Ann For Sci 57:261–266

Bussotti F, Pollastrini M, Holland V, Brueggemann W (2015) Functional traits and adaptive capacity of European forests to climate change. Environ Exp Bot 111:91–113. https://doi.org/10.1016/j.envexpbot.2014.11.006

Deacon NJ, Grossman JJ, Cavender-Bares J (2019) Drought and freezing vulnerability of the isolated hybrid aspen Populus × smithii relative to its parental species, P. tremuloides and P. grandidentata. Ecol Evol 9(14):8062–8074

FAO (2016) Poplars and other fast-growing trees—renewable resources for future green economies. Synthesis of country progress reports. 25th Session of the International Poplar Commission, Berlin, Federal Republic of Germany, 13–16 September 2016. Working paper IPC/15. Forestry Policy and Resources Division, FAO, Rome. http://www.fao.org/forestry/ipc2016/en/

Fichot R, Brignolas F, Cochard H, Ceulemans R (2015) Vulnerability to drought-induced cavitation in poplars: synthesis and future opportunities. Plant Cell Environ 38(7):1233–1251

Guet J, Fichot R, Lédée C, Laurans F, Cochard H, Delzon S, Brignolas F (2015) Stem xylem resistance to cavitation is related to xylem structure but not to growth and water-use efficiency at the within-population level in Populus nigra L. J Exp Bot 66:4643–4652

Howe GT, Aitken SN, Neale DB, Jermstad KD, Wheeler NC, Chen TH (2003) From genotype to phenotype: unraveling the complexities of cold adaptation in forest trees. Can J Bot 81(12):1247–1266

Isık F, Toplu F (2004) Variation in juvenile traits of natural black poplar (Populus nigra L.) clones in Turkey. New For 27:175–187

Kahraman T, Küçükosmanoğlu Kahraman F, Karakaya S, Karahan F, Ünsal G, Karatay H, Toplu F (2011) Black poplar (Populus nigra L.) breeding studies in Turkey 'Nursery Stage Results'. Technical bulletin no: 210 Poplar and Fast Growing Forest Trees Research Institute İzmit/Turkey. ISSN 1300-395X

Kepley J, Jacobi WR (2000) Pathogenicity of Cytospora fungi on six hardwood species. J Arboric 26:326–333

Kızılelma Y, Çelik MA, Karabulut M (2015) İç Anadolu Bölgesinde sıcaklık ve yağışların trend analizi (Trend analyses of temperature and precipitations in Central Anatolia). Türk Coğrafya Dergisi (Turk Geogr Rev) 64:1–10

Kramer PJ, Kozlowski TT (1960) Physiology of trees. Mc Graw-Hill, New York

Lloret A, Badenes ML, Ríos G (2018) Modulation of dormancy and growth responses in reproductive buds of temperate trees. Front Plant Sci 9:1368

Mazzoleni S, Dickman DI (1988) Differential physiological and morphological responses of two hybrid Populus clones to water stress. Tree Physiol 4:61–70

McIntyre GA, Jacobi WR, Ramaley AW (1996) Factors affecting Cytospora canker occurrence on aspen. J Arboric 22:229–233

Monclus R, Dreyer E, Villar M, Delmotte FM, Delay D, Petit JM, Barbaroux C, Thiec DL, Bréchet C, Brignolas F (2006) Impact of drought on productivity and water use efficiency in 29 genotypes of Populus deltoides × Populus nigra. New Phytol 169:765–777

Myers S (2000) Outside equity. J Finance 55(3):1005–1037

Nahar K, Hasanuzzaman M, Alam M, Fujita M (2015) Glutathione-induced drought stress tolerance in mung bean: coordinated roles of the antioxidant defense and methylglyoxal detoxification systems. AoB Plants 7:plv069

Özel HB, Ertekin M, Tunçtaner K (2010) Genetic variation in growth traits and morphological characteristics of eastern cottonwood (Populus deltoides Bartr.) hybrids at nursery stage. Sci Res Essays 5(9):962–969

Pallardy SG, Kozlowski TT (1981) Water relations of Populus clones. Ecology 62:159–169

Pinheiro JC, Bates DM (2000) Mixed-effects models in S and S-plus. Springer series in statistics and computing. Springer, New York

Reich PB, Borchert R (1984) Water stress and tree phenology in a tropical dry forest in the lowlands of Costa Rica. J Ecol 72:61–74

Rhodenbaugh EJ, Pallardy SG (1993) Water stress, photosynthesis and early growth patterns of cuttings of three Populus clones. Tree Physiol 13:213–226

Rohde A, Bastien C, Boerjan W (2011) Temperature signals contribute to the timing of photoperiodic growth cessation and bud set in poplar. Tree Physiol 31:472–482

Sinclair WA, Lyon HH, Johnson WT (1987) Diseases of trees and shrubs. Cornell University Press, Ithaca

Souch CA, Stephens W (1998) Growth, productivity and water use in three hybrid poplar clones. Tree Physiol 18:829–835

Stanton BJ, Serapiglia MJ, Smart LB (2014) The domestication and conservation of Populus and Salix genetic resources. In: Isebrands JG, Richardson J (eds) Poplars and willows: trees for society and the environment, FAO and CABI, Wallingford, UK. pp 124-176 ISBN: 978 1 78064 108 9 (CABI) ISBN: 978 92 5 107185 4 (FAO)

Strong T, Hansen EA (1991) Response of three Populus species to drought. USDA-FS research paper NC-302

Tschaplinski TJ, Tuskan GA (1994) Water-stress tolerance of black cottonwood and eastern cottonwood clones and four of their hybrid progeny. II. Metabolites and inorganic ions that constitute osmotic adjustment. Can J For Res 24:681–687

Tschaplinski TJ, Tuskan GA, Gunderson GA (1994) Water-stress tolerance of black cottonwood and eastern cottonwood clones and four of their hybrid progeny. I. Growth, water relations and gas exchange. Can J For Res 24:346–371

Tschaplinski TJ, Tuskan GA, Gebre GM, Todd DE (1998) Drought resistance of two hybrid Populus clones grown in large-scale plantation. Tree Physiol 24:346–371

Tunçtaner K (1998) Conservation of genetic resources of black poplar (Populus nigra L.) in Turkey. In: Zencirci N, Kaya Z, Anikster Y, Adams WT (eds) Proceedings of the international symposium on in situ conservation of plant genetic diversity, Ankara, Turkey: Central Research Institute for Field Crops, pp 265–270

Tunçtaner K, Özel HB (2008) Adaptation of some poplar clones to the lake district Turkey. Turk J For 9(1):61–71

Uluer K, Gurer M, Guler N (1998) Investigation into prevention against disease caused by Cytospora chrysosperma (Pers.) Fr. in poplar. Poplar and Fast Growing Forest Trees Research Institute. Technical Bulletin No 186. Izmit, Turkey

Velioğlu E, Akgül S (2016) Poplars and willows in Turkey: country progress report of the National Poplar Commission (period: 2012–2015). General Directorate of Forestry (OGM). http://www.fao.org/forestry/44815-024ab7e7e11724649175884915e8150d4.pdf. Accessed 10 Oct 2019

Yin C, Wang X, Duan B, Luo J, Li C (2005) Early growth, dry matter allocation and water use efficiency of two sympatric Populus species as effected by water stress. Environ Exp Bot 53:315–322

Zhang X, Zang R, Li C (2004) Population differences in physiological and morphological adaptations of Populus davidiana seedlings in response to progressive drought stress. Plant Sci 166:791–797
Acknowledgements
We thank F. Alptekin Karahan and Ercan Özyurek, from the Central Anatolia Forestry Research Institute, and Bahadır N. Sanlı from the General Directorate of Forestry for their help during fieldwork.
Additional information
Publisher's Note
Springer Nature remains neutral with regard to jurisdictional claims in published maps and institutional affiliations.
About this article
Cite this article
Semerci, A., Guevara, C.A. & Gonzalez-Benecke, C.A. Water availability effects on growth and phenology of 11 poplar cultivars growing in semiarid areas in Turkey. New Forests 52, 411–430 (2021). https://doi.org/10.1007/s11056-020-09802-5
Received:

Accepted:

Published:

Issue Date:
Keywords
Growth parameters

Populus

Water stress

Phenology

Cultivar selection