Abstract
Gene flow from an experimental plot of genetically modified eucalypt was studied by measuring pollen dispersal at various distances from the pollen donor up to a maximum distance of 1592 m. Spontaneous seedling establishment around mother trees, the potential receptors of GM pollen, was also verified. All trees analyzed in this study were identified as compatible for crossing with the pollen donor and their flowering time frame showed at least two weeks synchronism with GM pollen donors. As reported in previous studies, pollination occurred at short distances then declined rapidly within 200 m. The results obtained are consistent with data from other reports in different conditions. In the current study, only two GM seedlings out of 574 were detected at distances greater than 300 m from source (one at 400 and the other at 857 m), in rates varying from zero to 1.5% until 857 m, and null above this. Although effective GM crossings were found in compatible trees around the pollen donors, no spontaneous seedling establishment was observed.
Access options
Buy single article
Instant access to the full article PDF.
US$ 39.95
Tax calculation will be finalised during checkout.
Subscribe to journal
Immediate online access to all issues from 2019. Subscription will auto renew annually.
US$ 79
Tax calculation will be finalised during checkout.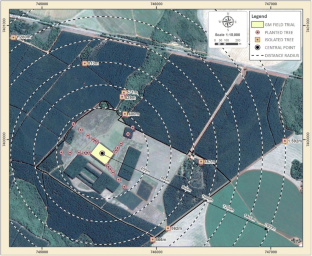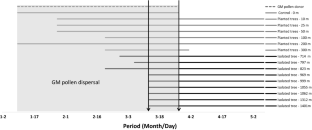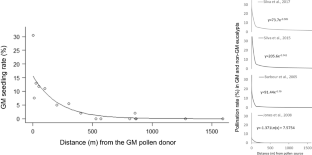 References
Assis, TF, Abad JIM, Aguiar AM (2015) Melhoramento genético de eucalipto. In: Shumacher MV, Vieira M (eds) Silvicultura do eucalipto no Brasil. p 308

Barbour RC, Potts BM, Vaillancourt RE (2005) Pollen dispersal from exotic eucalyptus plantations. Cons Genet 6:253–257

Birtchnell MJ, Gibson M (2006) Long-term flowering patterns of melliferous eucalyptus (Myrtaceae) species. Aust J Bot 54:745–754. https://doi.org/10.1071/BT05160

Booth TH (2014) Modern tree colonizers from Australia into the rest of the world. In: Prins HHT, Gordon IJ (eds) Invasion biology and ecological theory: insights from a continent in transformation. Cambridge University Press, pp 304–323

Bullock JM, González LM, Tamme R, Götzenberger L, White SM, Pärtel M, Hooftman DAP (2016) A synthesis of empirical plant dispersal kernels. J Ecol 105:6–19. https://doi.org/10.1111/1365-2745.12666

Callaham MA, Stanturf JA, Hammond WJ, Rockwood DL, Wenk ES, O'Brien JJ (2013) Survey to evaluate escape of Eucalyptus spp. seedlings from plantations in southeastern USA. Int J For Res. https://doi.org/10.1155/2013/946374

Delaporte KL, Conran JG, Sedgley M (2001) Interspecific hybridization within eucalyptus (Myrtaceae): subgenus Symphyomyrtus, sections Bisectae and Adnataria. Int J Plant Sci 162:1317–1326

Fernandes P, Máguas C, Correia O, González-Moreno P (2018) What drives Eucalyptus globulus natural establishment outside plantations? The relative importance of climate, plantation and site characteristics. Biol Invasions 20:1129–1146. https://doi.org/10.1007/s10530-017-1614-y

Ferreira M. 2015. A aventura dos eucaliptos, in: Schumacher, M.V, Viera, M. (Eds.), Silvicultura do Eucalipto no Brasil, Santa Maria—RS, pp 13–48.

Forsyth GG, Richardson DM, Brown PJ, van Wilgen BW (2004) A rapid assessment of the invasive status of Eucalyptus species in two South African provinces. S Afr J Sci 100:75–77

Grattapaglia D, Sederoff R (1994) Genetic linkage maps of Eucalyptus grandis and Eucalyptus urophylla using a pseudo-testcross: mapping strategy and RAPD markers. Genetics 137:1121–1137

Grattapaglia D, Vaillancourt RE, Shepherd M et al (2012) Progress in Myrtaceae genetics and genomics: Eucalyptus as the pivotal genus. Tree Genet Genomes 8:463–508. https://doi.org/10.1007/s11295-012-0491-x

Häggman H, Raybould A, Borem A, Fox T, Handley L, Hertzberg M, Lu M-Z, Macdonald P, Oguchi T, Pasquali G, Pearson L, Peter G, Quemada H, Séguin A, Tattersall K, Ulian E, Walter C, McLean M (2013) Genetically engineered trees for plantation forests: key considerations for environmental risk assessment. Plant Biotechnol J Sep 11(7): 785–798. https://doi.org/10.1111/pbi.12100

Harfouche A, Meilan R, Altman A (2011) Tree genetic engineering and applications to sustainable forestry and biomass production. Trends Biotechnol 29:9–17. https://doi.org/10.1016/j.tibtech.2010.09.003

Jones ME, Shepherd M, Henry R, Deves A (2008) Pollen flow in Eucalyptus grandis determined by paternity analysis using microsatellite markers. Tree Genet Genom 4:37–47

Klein EK, Lavigne C, Picault H, Renard M, Gouyon PH (2006) Pollen dispersal of oilseed rape: estimation of the dispersal function and effects of field dimension. J Appl Ecol 43:141–151. https://doi.org/10.1111/j.1365-2664.2005.01108.x

Larcombe MJ, Silva JS, Vaillancourt RE, Potts BM (2013) Assessing the invasive potential of Eucalyptus globulus in Australia: quantification of wildling establishment from plantations. Biol Invas 15:2763–2781. https://doi.org/10.1007/s10530-013-0492-1

Lavigne C, Klein EK, Mari J-F, Le Ber F, Adamczyk K (2008) How do genetically modified (GM) crops contribute to background levels of GM pollen in an agricultural landscape? J Appl Ecol 45:1104–1113. https://doi.org/10.1111/j.1365-2664.2008.01504.x

Miolaro LG, Gonçalves AN, Mendes JCT, Moreira RM, Silva PHM (2017) Spontaneous regeneration of eucalypts from seed production areas. Biol Invas 19:1733. https://doi.org/10.1007/s10530-017-1397-1

Myburg AA, Potts BM, Marques C, Kisrst M, Gion JM, Grattapaglia D, Grima-Pettenat J (2007) Eucalypts. In: Kole C (ed) Genome mapping and molecular breeding in plants. Springer, Berlin, pp 115–160

Nature Biotechnology (2015) Brazil approves transgenic eucalyptus. Nat Biotechnol 33:577. https://doi.org/10.1038/nbt0615-577c

Nicolle D (2018) Classification of the eucalypts (Angophora, Corymbia and Eucalyptus) Version 3. https://www.dn.com.au/Classification-Of-The-Eucalypts.pdf

Nicolle D (2019) Classification of the eucalypts (Angophora, Corymbia and Eucalyptus) Version 4. http://www.dn.com.au/Classification-Of-The-Eucalypts.pdf

Osakabe Y, Kajita S, Osakabe K (2011) Genetic engineering of woody plants: current and future targets in a stressful environment. Physiol Plant 142:105–117. https://doi.org/10.1111/j.1399-3054.2011.01451

Pacheco IA, Kageyama PY, Wiendl EM, Berti Filho E (1986) Estudo da dispersão de pólen de Eucalyptus saligna Smith por abelhas Apis mellifera L. utilizando-se o radio fósforo 32P. Scientia Forestalis 34:47–52

Pupin S, Sebbenn AM, Cambuim J, Silva AM, Zaruma DUG, Silva PHM, Rosse LN, Souza IC, Marino CL, Moraes MLT (2019) Effects of pollen contamination and non-random mating on inbreeding and outbreeding depression in a seedling seed orchard of Eucalyptus urophylla. For Ecol Manage 437:272–281. https://doi.org/10.1016/j.foreco.2019.01.050

Richardson DM, Rejmánek M (2011) Trees and shrubs as invasive alien species—a global review. Div Dist 17:788–809

Ritter M, Yost J (2009) Diversity, reproduction, and potential for invasiveness of eucalyptus in California. Madron˜o 56:155–167. https://doi.org/10.3120/0024-9637-56.3.155

Shani Z, Dekel M, Tsabary G, Goren R, Shoseyov O (2004) Growth enhancement of transgenic poplar plants by overexpression of Arabidopsis thaliana endo-1,4–glucanase (cel1). Mol Breeding 14:321–330

Shani Z, Dekel M, Roiz L, Horowitz M, Kolosovski N, Lapidot S, Alkan S, Koltai H, Tsabary G, Goren R, Shoseyov O (2006) Expression of endo-1,4-β-glucanase (cel1) in Arabidopsis thaliana is associated with plant growth, xylem development and cell wall thickening. Plant Cell Rep 25:1067–1074

Silva PHM, Poggiani F, Sebbenn AM, Mori ES (2011) Can Eucalyptus invade native forest fragments close to commercial stands? For Ecol Manage 261:2075–2080. https://doi.org/10.1016/j.foreco.2011.03.001

Silva PHM, Sebbenn AM, Grattapaglia D (2015) Pollen-mediated gene flow across fragmented clonal stands of hybrid eucalypts in an exotic environment. For Ecol Manage 356:293–298. https://doi.org/10.1016/j.foreco.2014.12.005

Silva PHM, Bouillet J-P, de Paula RC (2016) Assessing the invasive potential of commercial Eucalyptus species in Brazil: Germination and early establishment. For Ecol Manage 374:129–135. https://doi.org/10.1016/j.foreco.2016.05.007

Silva PHM, Sebbenn AM, Grattapaglia D, Conti JL Jr (2017) Realized pollen flow and wildling establishment from a genetically modified eucalypt field trial in Southeastern Brazil. For Ecol Manage 385:161–166. https://doi.org/10.1016/j.foreco.2016.11.043

Southerton SG, Birt P, Porter J, Ford HA (2004) Review of gene movement by bats and birds and its potential significance for eucalypt plantation forestry. Aust Forestry 67(1):44–53

Ziller SR, Dechoum MS, Zenni RD (2018) Predicting invasion risk of 16 species of eucalypts using a risk assessment protocol developed for Brazil. Austral Ecol. https://doi.org/10.1111/aec.12649
Acknowledgements
The authors would like to express their sincere gratitude to Eugenio César Ulian (in memoriam) for his key role in the conception of the study and enthusiastic help with analyses and evaluation. The authors also acknowledge Michael James May's assistance with early critical reading and Sara El Kadri's language proofreading. The supported by research fellowship granted by the National Council of Technological and Scientific Development (CNPq n. 302891/2019-6) to the first author.
Additional information
Publisher's Note
Springer Nature remains neutral with regard to jurisdictional claims in published maps and institutional affiliations.
Electronic supplementary material
Below is the link to the electronic supplementary material.
About this article
Cite this article
da Silva, P.H.M., Abrahão, O.S. Gene flow and spontaneous seedling establishment around genetically modified eucalypt plantations. New Forests 52, 349–361 (2021). https://doi.org/10.1007/s11056-020-09800-7
Received:

Accepted:

Published:

Issue Date:
Keywords
Genetically modified (GM) tree

GM pollen flow

GM wildling establishment

Isolated trees