Abstract
Seed dormancy is an adaptive mechanism that allows seed germination under suitable environmental conditions. Germination of stored dormant seeds proceeds after dormancy breaking induced by stratification. To improve understanding of dormancy breaking in beechnuts, we: investigated effects of moisture content and temperature during storage; analysed contents of abscisic acid, abscisic acid metabolites and indole-3-acetic acid in embryonic axes during storage and stratification; and histochemically localized storage proteins in embryogenic axes and cotyledons of beechnut embryos. The results show that storage conditions can affect the nuts' abscisic acid contents, but not the stratification process. In addition, dormancy breaking is linked to a reduction in abscisic acid contents and depth of dormancy is not influenced by either of these storage factors. Detected changes that correlated most strongly with dormancy breaking were a big increase in abscisic acid-glucosyl ester levels and accompanying reduction in the abscisic acid-glucosyl ester to abscisic acid ratio. We detected extremely low concentrations of other abscisic acid metabolites-neophaseic, phaseic and dihydrophaseic acids—in non-dormant stored beechnuts, but somewhat higher concentrations during dormancy. No relationships between changes in indole-3-acetic acid levels with either storage conditions or dormancy breaking were detected. Changes in distributions of storage proteins were related to the seeds' moisture content during storage and stratification rather than seed dormancy. We conclude that increases in endogenous abscisic acid-glucosyl ester levels and abscisic acid-glucosyl ester to abscisic acid ratios are good markers of depth of dormancy and/or effectiveness of stratification in beechnuts.
Access options
Buy single article
Instant access to the full article PDF.
US$ 39.95
Tax calculation will be finalised during checkout.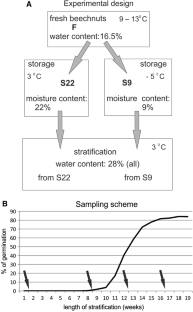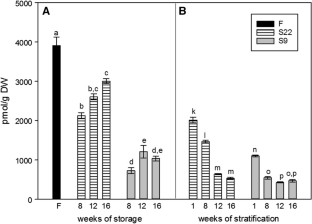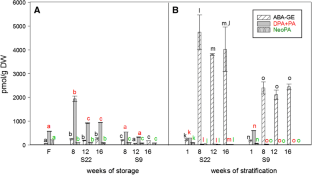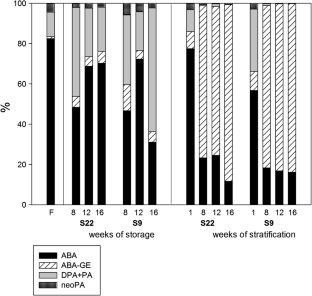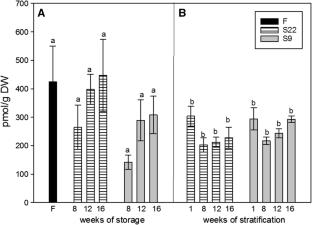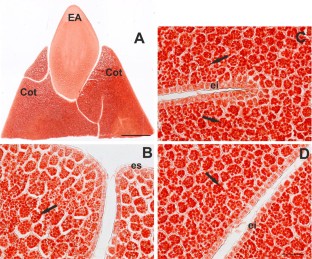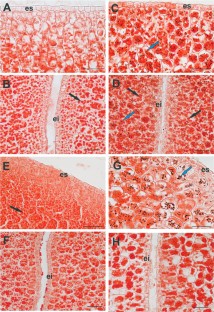 References
Arc E, Sechet J, Corbineau F, Rajjou L, Marion-Poll A (2013) ABA crosstalk with ethylene and nitric oxide in seed dormancy and germination. Front Plant Sci 4. https://doi.org/10.3389/fpls.2013.00063

Barthe P, Garello G, Bianco-Trinchant J, le Page-Degivry MT (2000) Oxygen availability and ABA metabolism in Fagus sylvatica seeds. Plant Growth Regul 30(2):185–191. https://doi.org/10.1023/a:1006327532275

Batlla D, Benech-Arnold RL (2010) Predicting changes in dormancy level in natural seed soil banks. Plant Mol Biol 73(1–2):3–13. https://doi.org/10.1007/s11103-010-9601-z

Bezdeckova L, Reznickova J (2013) Harvest, storage and pre-sowing treatment of Fagus sylvatica seeds Certifikovaná metodika. Lesnický průvodce. https://doi.org/10.12657/denbio.071.004

Bezdeckova L, Prochazkova Z, Matejka K (2014) Practical implications of inconsistent germination and viability results in testing stored Fagus sylvatica seeds. Dendrobiology 71:35–47. https://doi.org/10.12657/denbio.071.004

Bosco R, Caser M, Ghione GG, Mansuino A, Giovannini A, Scariot V (2015) Dynamics of abscisic acid and indole-3-acetic acid during the early-middle stage of seed development in Rosa hybrida. Plant Growth Regul 75(1):265–270. https://doi.org/10.1007/s10725-014-9950-8

Chiwocha SDS, Cutler AJ, Abrams SR, Ambrose SJ, Yang J, Ross ARS, Kermode AR (2005) The etr1-2 mutation in Arabidopsis thaliana affects the abscisic acid, auxin, cytokinin and gibberellin metabolic pathways during maintenance of seed dormancy, moist-chilling and germination. Plant J 42(1):35–48. https://doi.org/10.1111/j.1365-313X.2005.02359.x

Collada C, Allona I, Aragoncillo P, Aragoncillo C (1993) Development of protein bodies in cotyledons of Fagus sylvatica. Physiol Plant 89(2):354–359. https://doi.org/10.1034/j.1399-3054.1993.890217.x

Corbineau F, Xia Q, Bailly C, El-Maarouf-Bouteau H (2014) Ethylene, a key factor in the regulation of seed dormancy. Front Plant Sci 5. https://doi.org/10.3389/fpls.2014.00539

Deng ZJ, Hu XF, Ai XR, Yao L, Deng SM, Pu X, Song SQ (2016) Dormancy release of Cotinus coggygria seeds under a precold moist stratification: an endogenous abscisic acid/gibberellic acid and comparative proteomic analysis. New For 47:105–118. https://doi.org/10.1007/s11056-015-9496-2

Eliasova K, Pesek B, Vondrakova Z (2015) Storage compounds, ABA and fumarase in Fagus sylvatica embryos during stratification. Dendrobiology 74:25–33. https://doi.org/10.12657/denbio.074.003

Feurtado JA, Ambrose SJ, Cutler AJ, Ross ARS, Abrams SR, Kermode AR (2004) Dormancy termination of western white pine (Pinus monticola Dougl. Ex D. Don) seeds is associated with changes in abscisic acid metabolism. Planta 218(4):630–639

Finkelstein R, Reeves W, Ariizumi T, Steber C (2008) Molecular aspects of seed dormancy. Annu Rev Plant Biol 59:387–415. https://doi.org/10.1146/annurev.arplant.59.032607.092740

Graeber K, Nakabayashi K, Miatton E, Leubner-Metzger G, Soppe WJJ (2012) Molecular mechanisms of seed dormancy. Plant Cell Environ 35(10):1769–1786

Gutmann M, vonAderkas P, Label P, Lelu MA (1996) Effects of abscisic acid on somatic embryo maturation of hybrid larch. J Exp Bot 47(305):1905–1917

Jadhav AS, Taylor DC, Giblin M, Ferrie AMR, Ambrose SJ, Ross ARS, Nelson KM, Zaharia LI, Sharma N, Anderson M, Fobert PR, Abrams SR (2008) Hormonal regulation of oil accumulation in Brassica seeds: Metabolism and biological activity of ABA, 7 '-, 8 '- and 9 '-hydroxy ABA in microspore derived embryos of B. napus. Phytochemistry 69(15):2678–2688. https://doi.org/10.1016/j.phytochem.2008.08.010

Job C, Rajjou L, Lovigny Y, Belghazi M, Job D (2005) Patterns of protein oxidation in Arabidopsis seeds and during germination. Plant Physiol 138(2):790–802. https://doi.org/10.1104/pp.105.062778

Kalemba EM, Pukacka S (2014) Carbonylated proteins accumulated as vitality decreases during long-term storage of beech (Fagus sylvatica L.) seeds. Trees Struct Funct 28(2):503–515

Kermode AR (2005) Role of abscisic acid in seed dormancy. J Plant Growth Regul 24(4):319–344. https://doi.org/10.1007/s00344-005-0110-2

Kleczkowski K, Schell J (1995) Phytohormone conjugates—nature and function. Crit Rev Plant Sci 14(4):283–298. https://doi.org/10.1080/07352689509382361

Koussa T, Cherrad M, Bertrand A, Broquedis M (1998) Comparison of the contents of starch, soluble carbohydrates and abscisic acid of latent buds and internodes during the vegetative cycle of grapevine. Vitis 37(1):5–10

Kucera B, Cohn MA, Leubner-Metzger G (2005) Plant hormone interactions during seed dormancy release and germination. Seed Sci Res 15(4):281–307. https://doi.org/10.1079/ssr2005218

Lee KH, Piao HL, Kim HY, Choi SM, Jiang F, Hartung W, Hwang I, Kwak JM, Lee IJ, Hwang I (2006) Activation of glucosidase via stress-induced polymerization rapidly increases active pools of abscisic acid. Cell 126(6):1109–1120. https://doi.org/10.1016/j.cell.2006.07.034

Leon-Lobos P, Ellis RH (2002) Seed storage behaviour of Fagus sylvatica and Fagus crenata. Seed Sci Res 12(1):31–37. https://doi.org/10.1079/SSR200195

LePageDegivry MT, Garello G, Barthe P (1997) Changes in abscisic acid biosynthesis and catabolism during dormancy breaking in Fagus sylvatica embryo. J Plant Growth Regul 16(2):57–61. https://doi.org/10.1007/pl00006978

Lepper P, Pitzen H, Heyder J, Schmitt HP (1994) Influence of selected storage conditions on viability and metabolism of beech nuts. Forstwissenschaftliches Centralblatt 113(5):302–318. https://doi.org/10.1007/bf02936706

Liu X, Zhang H, Zhao Y, Feng Z, Li Q, Yang H-Q, Luan S, Li J, He Z-H (2013) Auxin controls seed dormancy through stimulation of abscisic acid signaling by inducing ARF-mediated ABI3 activation in Arabidopsis. Proc Natl Acad Sci USA 110(38):15485–15490. https://doi.org/10.1073/pnas.1304651110

Ma YL, Cao J, He JH, Chen QQ, Li XF, Yang Y (2018) Molecular mechanism for the regulation of ABA homeostasis during plant development and stress responses. Int J Mol Sci. https://doi.org/10.3390/ijms19113643

Nambara E, Marion-Poll A (2003) ABA action and interactions in seeds. Trends Plant Sci 8(5):213–217. https://doi.org/10.1016/s1360-1385(03)00060-8

Nambara E, Okamoto M, Tatematsu K, Yano R, Seo M, Kamiya Y (2010) Abscisic acid and the control of seed dormancy and germination. Seed Sci Res 20(2):55–67. https://doi.org/10.1017/s0960258510000012

Nonogaki H (2014) Seed dormancy and germination - emerging mechanisms and new hypotheses. Front Plant Sci 5. https://doi.org/10.3389/fpls.2014.00233

Ondzighi-Assoume CA, Chakraborty S, Harris JM (2016) Environmental nitrate stimulates abscisic acid accumulation in Arabidopsis root tips by releasing it from inactive stores. Plant Cell 28(3):729–745. https://doi.org/10.1105/tpc.15.00946

Pawlowski TA (2007) Proteomics of European beech (Fagus sylvatica L.) seed dormancy breaking: influence of abscisic and gibberellic acids. Proteomics 7(13):2246–2257. https://doi.org/10.1002/pmic.200600912

Pawlowski TA, Staszak AM (2016) Analysis of the embryo proteome of sycamore (Acer pseudoplatanus L.) seeds reveals a distinct class of proteins regulating dormancy release. J Plant Physiol 195:9–22. https://doi.org/10.1016/j.jplph.2016.02.017

Prochazkova Z, Bezdeckova L (2008) Effects of moisture content, storage temperature and type of storage bag on the germination and viability of stored European beech (Fagus sylvatica L.) seeds. J For Sci 54(7):287–293

Pukacka S, Ratajczak E (2005) Production and scavenging of reactive oxygen species in Fagus sylvatica seeds during storage at varied temperature and humidity. J Plant Physiol 162(8):873–885. https://doi.org/10.1016/j.jplph.2004.10.012

Pukacka S, Ratajczak E (2014) Factors influencing the storability of Fagus sylvatica L. seeds after release from dormancy. Plant Growth Regul 72(1):17–27. https://doi.org/10.1007/s10725-013-9832-5

Pukacka S, Hoffmann SK, Goslar J, Pukacki PM, Wojkiewicz E (2003) Water and lipid relations in beech (Fagus sylvatica L.) seeds and its effect on storage behaviour. Biochimica Et Biophysica Acta-Gen Subj 1621(1):48–56. https://doi.org/10.1016/s0304-4165(03)00046-1

Pukacka S, Malec M, Ratajczak E (2011) ROS production and antioxidative system activity in embryonic axes of Quercus robur seeds under different desiccation rate conditions. Acta Physiol Plant 33(6):2219–2227. https://doi.org/10.1007/s11738-011-0761-5

Rajjou L, Debeaujon I (2008) Seed longevity: survival and maintenance of high germination ability of dry seeds. CR Biol 331(10):796–805. https://doi.org/10.1016/j.crvi.2008.07.021

Ratajczak E, Kalemba EM, Pukacka S (2015) Age-related changes in protein metabolism of beech (Fagus sylvatica L.) seeds during alleviation of dormancy and in the early stage of germination. Plant Physiol Biochem 94:114–121. https://doi.org/10.1016/j.plaphy.2015.06.003

Rodriguez-Gacio MdC, Matilla-Vazquez MA, Matilla AJ (2009) Seed dormancy and ABA signaling: the breakthrough goes on. Plant Signal Behav 4(11):1035–1049

Rosello PL, Vigliocco AE, Andrade AM, Riera NV, Calafat M, Molas ML, Alemano SG (2016) Differential hormonal and gene expression dynamics in two inbred sunflower lines with contrasting dormancy level. Plant Physiol Biochem 102:133–140. https://doi.org/10.1016/j.plaphy.2016.02.021

Sari AO, Oguz B, Bilgic A (2006) Breaking seed dormancy of laurel (Laurus nobilis L). New For 31(3):403–408. https://doi.org/10.1007/s11056-005-8678-8

Sauter A, Dietz KJ, Hartung W (2002) A possible stress physiological role of abscisic acid conjugates in root-to-shoot signalling. Plant Cell Environ 25(2):223–228. https://doi.org/10.1046/j.1365-3040.2002.00747.x

Shu K, Liu XD, Xie Q, He ZH (2016) Two faces of one seed: hormonal regulation of dormancy and germination. Mol Plant 9(1):34–45. https://doi.org/10.1016/j.molp.2015.08.010

Tuan PA, Kumar R, Rehal PK, Toora PK, Ayele BT (2018) Molecular mechanisms underlying abscisic acid/gibberellin balance in the control of seed dormancy and germination in cereals. Front Plant Sci 9. https://doi.org/10.3389/fpls.2018.00668

Verslues PE, Zhu JK (2007) New developments in abscisic acid perception and metabolism. Curr Opin Plant Biol 10:447–452. https://doi.org/10.1016/j.pbi.2007.08.004

Zhang J, Wang H, Liao S, Cui K (2019) Appropriate ultra-low seed moisture content stabilizes the seed longevity of Calocedrus macrolepis, associated with changes in endogenous hormones, antioxidant enzymes, soluble sugars and unsaturated fatty acids. New For 50:455–468. https://doi.org/10.1007/s11056-018-9670-4

Zhao GW, Jiang XW (2014) Roles of gibberellin and auxin in promoting seed germination and seedling vigor in Pinus massoniana. For Sci 60(2):367–373. https://doi.org/10.5849/forsci.12-143
Acknowledgements
This research was supported by the Ministry of Agriculture of the Czech Republic (Project designation QI102A256) and Ministry of Education, Youth and Sports of the Czech Republic (Project designation LTC 17030). Authors are grateful to Zdenka Procházková for all her suggestions and assistance in this Project and to Sees-editing Ltd. for linguistic editing of the manuscript.
Ethics declarations
Conflict of interest
The authors declare that they have no conflict of interest.
Additional information
Publisher's Note
Springer Nature remains neutral with regard to jurisdictional claims in published maps and institutional affiliations.
Electronic supplementary material
Below is the link to the electronic supplementary material.
Detail results of statistical treatments. One-way ANOVA results and Tukey test of the means comparison was used. All data obtained in experimental variants for each phytohormone/metabolite were calculated and summarized in separated tables. Fresh – F (pre-storage) seeds; seeds with 22% of moisture content (S22); seeds with 9% of moisture content (S9) (XLSX 40 kb)
About this article
Cite this article
Vondráková, Z., Pešek, B., Malbeck, J. et al. Dormancy breaking in Fagus sylvatica seeds is linked to formation of abscisic acid-glucosyl ester. New Forests 51, 671–688 (2020). https://doi.org/10.1007/s11056-019-09751-8
Received:

Accepted:

Published:

Issue Date:
Keywords
ABA

ABA-metabolites

Beechnuts

Dormancy

Stratification