Abstract
Willow biomass yields from short-rotation coppice bioenergy systems have been reported across multiple rotations in Europe, USA, and eastern Canada, but data are lacking for the Canadian Prairies. The goal of this study was to evaluate the second rotation biomass yields and stem growth for 30 willow cultivars established in Saskatchewan, Canada in 2007, and coppiced at the end of the first growing season. Detailed stem measurements were collected and all biomass was harvested at the end of the 2010 (first rotation data) and 2013 (second rotation data) growing seasons. The average 3-year cumulative biomass production across all cultivars was 8.1 oven-dry (OD) Mg ha−1 in the second rotation (ranging from 0.6 to 21.3 OD Mg ha−1). The three highest yielding cultivars were Taberg, Tully Champion, and Otisco, with annual production of 6.4–7.1 OD Mg ha−1 year−1 in biomass, which was an increase by 12–44% from the first rotation, and more than double the average for all 30 cultivars (2.7 OD Mg ha−1 year−1), and had an average stool-within-plot survival rate of 81–94%. The 20 lowest clones suffered from higher mortality, which resulted in lower biomass production in the second rotation. These data suggest that the top 10 willow cultivars have a promising potential as a bioenergy source, but more data are needed from the third and successive rotations before a sustainable biomass industry could be established in the Canadian Prairies.
Access options
Buy single article
Instant access to the full article PDF.
US$ 39.95
Tax calculation will be finalised during checkout.
Subscribe to journal
Immediate online access to all issues from 2019. Subscription will auto renew annually.
US$ 79
Tax calculation will be finalised during checkout.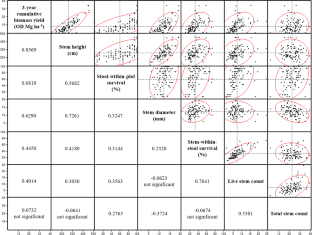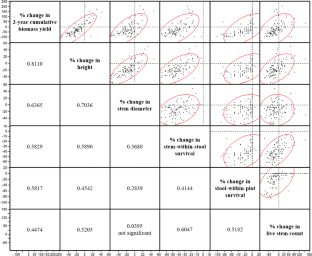 References
Agriculture and Agri-Food Canada Soil Landscapes of Canada (SLC) Working Group (2010) Soil Landscapes of Canada v3.2 (digital map and database at 1:1 million scale). http://sis.agr.gc.ca/cansis/nsdb/slc/index.html. Accessed 18 Jan 2018

Agriculture Canada (1998) The Canadian system of soil classification, Third edition. Soil Classification Working Group, Agriculture and Agri-Food Canada, Publication 1646

Amichev BY, Kurz WA, Smyth C, Van Rees KCJ (2012) The carbon implications of large-scale afforestation of agriculturally marginal land with short-rotation willow in Saskatchewan. Glob Change Biol Bioenergy 4(1):70–87

Amichev BY, Hangs RD, Konecsni SM et al (2014) Willow short-rotation production systems in Canada and Northern United States: a review. Soil Sci Soc Am J 78:S168–S182. https://doi.org/10.2136/sssaj2013.08.0368nafsc

Amichev BY, Hangs RD, Belanger N et al (2015) First-rotation yields of 30 short-rotation willow cultivars in Central Saskatchewan, Canada. BioEnergy Res 8:292–306

Arevalo CBM, Volk TA, Bevilacqua E, Abrahamson L (2007) Development and validation of aboveground biomass estimations for four Salix clones in central New York. Biomass Bioenergy 31:1–12

Aust C, Schweier J, Brodbeck F et al (2014) Land availability and potential biomass production with poplar and willow short rotation coppices in Germany. GCB Bioenergy 6:521–533. https://doi.org/10.1111/gcbb.12083

Aylott MJ, Casella E, Farrall K, Taylor G (2010) Estimating the supply of biomass from short-rotation coppice in England, given social, economic and environmental constraints to land availability. Biofuels 1:719–727

Caputo J, Balogh SB, Volk TA et al (2014) Incorporating uncertainty into a life cycle assessment (LCA) model of short-rotation willow biomass (Salix spp.) crops. BioEnergy Res 7:48–59

Corredor AH, Van Rees K, Vujanovic V (2012) Changes in root-associated fungal assemblages within newly established clonal biomass plantations of Salix spp. For Ecol Manag 282:105–114

Corredor AH, Van Rees K, Vujanovic V (2014) Host genotype and health status influence on the composition of the arbuscular mycorrhizal fungi in Salix bioenergy plantations. For Ecol Manag 314:112–119

Dimitriou I, Aronsson P (2005) Willows for energy and phytoremediation in Sweden. Unasylva 56:47–50

(EC-NCD) Environment Canada—National Climate Data and Information Archive (2008) Climate data online: 1840–2008. http://climate.weather.gc.ca/historical_data/search_historic_data_e.html. Accessed 18 Jan 2018

Ens J, Farrell RE, Bélanger N (2013) Early effects of afforestation with willow (Salix purpurea, "Hotel") on soil carbon and nutrient availability. Forests 4:137–154

Fabio ES, Volk TA, Miller RO et al (2017) Genotype × environment interaction analysis of North American shrub willow yield trials confirms superior performance of triploid hybrids. GCB Bioenergy 9:445–459

Fontana M, Lafleur B, Labrecque M et al (2016) Maximum annual potential yields of Salix miyabeana SX67 in Southern Quebec and effects of coppicing and stool age. BioEnergy Res. https://doi.org/10.1007/s12155-016-9752-0

Heinsoo K, Sild E, Koppel A (2002) Estimation of shoot biomass productivity in Estonian Salix plantations. For Ecol Manag 170:67–74

Hosseini-Nasabnia Z, Van Rees K, Vujanovic V (2016) Preventing unwanted spread of invasive fungal species in willow (Salix spp.) plantations. Can J Plant Pathol. https://doi.org/10.1080/07060661.2016.1228697

Karp A, Hanley SJ, Trybush SO et al (2011) Genetic improvement of willow for bioenergy and biofuels. J Integr Plant Biol 53:151–165

Kopp RF, Abrahamson LP, White EH et al (2001) Willow biomass production during ten successive annual harvests. Biomass Bioenergy 20:1–7

Labrecque M, Teodorescu TI (2003) High biomass yield achieved by Salix clones in SRIC following two 3-year coppice rotations on abandoned farmland in southern Quebec, Canada. Biomass Bioenergy 25:135–146

Lindegaard KN, Parfitt RI, Donaldson G et al (2001) Comparative trials of elite Swedish and UK biomass willow varieties. Asp Appl Biol 65:183–192

Lisein J, Pierrot-Deseilligny M, Bonnet S, Lejeune P (2013) A photogrammetric workflow for the creation of a forest canopy height model from small unmanned aerial system imagery. Forests 4:922–944

Moukoumi J, Farrell R, Van Rees KCJ et al (2012) Intercropping Caragana arborescens with Salix miyabeana to satisfy nitrogen demand and maximize growth. Bioenergy Res 5:719–732

Nissim WG, Pitre FE, Teodorescu TI, Labrecque M (2013) Long-term biomass productivity of willow bioenergy plantations maintained in southern Quebec, Canada. Biomass Bioenergy 56:361–369

Nordh N-E (2005) Long term changes in stand structure and biomass production in short rotation willow coppice. Doctoral Dissertation, Department of Crop Production Ecology, Swedish University of Agricultural Sciences

Nordh N-E, Verwijst T (2004) Above-ground biomass assessments and first cutting cycle production in willow (Salix sp.) coppice—a comparison between destructive and non-destructive methods. Biomass Bioenergy 27:1–8

Sleight NJ, Volk TA, Johnson GA et al (2016) Change in Yield between first and second rotations in willow (Salix spp.) biomass crops is strongly related to the level of first rotation yield. BioEnergy Res 9:270–287

Tharakan PJ, Volk TA, Nowak CA, Abrahamson LP (2005) Morphological traits of 30 willow clones and their relationship to biomass production. Can J For Res 35:421–431

Verwijst T (1996a) Stool mortality and development of a competitive hierarchy in a Salix viminalis coppice system. Biomass Bioenergy 10:245–250

Verwijst T (1996b) Cyclic and progressive changes in short-rotation willow coppice systems. Biomass Bioenergy 11:161–165

Volk TA, Abrahamson LP, Nowak CA et al (2006) The development of short-rotation willow in the northeastern United States for bioenergy and bioproducts, agroforestry and phytoremediation. Biomass Bioenergy 30:715–727

Volk TA, Abrahamson LP, Cameron KD et al (2011) Yields of willow biomass crops across a range of sites in North America. Asp Appl Biol 112:67–74

Wang Z, MacFarlane DW (2012) Evaluating the biomass production of coppiced willow and poplar clones in Michigan, USA, over multiple rotations and different growing conditions. Biomass Bioenergy 46:380–388

Zsuffa L (1990) Genetic improvement of willows for energy plantations. Biomass 22:35–47
Acknowledgements
We thank SUNY-ESF and the Canadian Wood Fibre Centre for the shrub willow cultivar planting stock. We recognize the funding from the Saskatchewan Forest Centre Forest Development Fund, Natural Science and Engineering Research Council (NSERC) of Canada, and the AFIF Chair in Agroforestry and Afforestation at the University of Saskatchewan. We also thank our collaborators: ForestFirst, Nipawin Biomass Ethanol New Generation Co-operative Ltd. and BIOCAP. Many thanks to those who assisted with the establishment of this trial, maintenance, and harvesting: H. Ahmed, M. Cooke, B. Ewen, C. Fatteicher, J. Fisher, D. Jackson, T. King, S. Poppy, D. Richman, D. Sanscartier, A. Smith, R. Urton, K. Woytiuk, J. Ens, S. Konecsni, and C. Stadnyk.
About this article
Cite this article
Amichev, B.Y., Volk, T.A., Hangs, R.D. et al. Growth, survival, and yields of 30 short-rotation willow cultivars on the Canadian Prairies: 2nd rotation implications. New Forests 49, 649–665 (2018). https://doi.org/10.1007/s11056-018-9650-8
Received:

Accepted:

Published:

Issue Date:
Keywords
Salix sp.

Biomass supply

Fast-growing crops

Stem growth

Willow survival

Biomass yield indicators