Abstract
We compared growth performance and survival of three hybrid poplar clones (Walker, Northwest and Okanese) planted as cuttings into five different Styroblock® containers (412A, 415D, 512A, 515A, 615A) with increasing cavity volume and decreasing cavity density under commercial growing conditions at two nurseries in central Alberta, Canada. After 175 days of growth, our results showed considerable variation in growth traits among container types while survival was generally high with an overall average of 89 %. Initial cutting diameter appeared to be an important predictor of survival and our results showed that a cutting diameter of ≥7.5 mm increased survival rates of the tested hybrid poplar planting stock. Furthermore, containers with larger cavity volume and lower cavity density had a strong positive influence on growth and survival across nurseries (R 2 = 0.96). Growth trait interactions with container type showed that container 512A (cavity volume: 220 ml; cavity depth: 12 cm) resulted in more diameter growth across clones. Cavities with a depth of 15 cm (415D, 515A, 615A) resulted in higher root:shoot ratios than cavities with a depth of only 12 cm (412A, 512A), irrespective of cavity volume or cavity density. Lastly, our study identified Okanese as a well-rounded clone with great growth potential both above and below ground. From an operational standpoint, we found container types 512A and 515A the most cost-effective choices under the assumption that nursery space and budgets are limiting factors.
Access options
Buy single article
Instant access to the full article PDF.
US$ 39.95
Tax calculation will be finalised during checkout.
Subscribe to journal
Immediate online access to all issues from 2019. Subscription will auto renew annually.
US$ 79
Tax calculation will be finalised during checkout.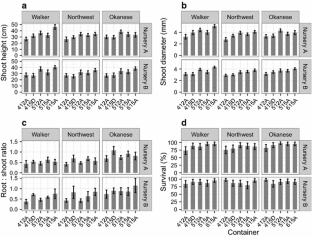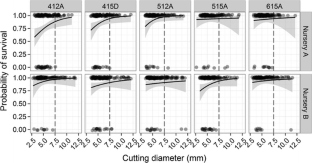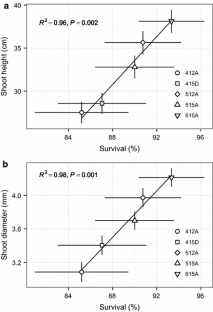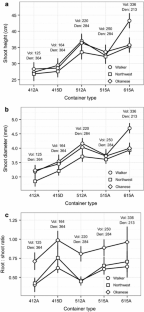 References
Anderson JA, Luckert MK (2007) Can hybrid poplar save industrial forestry in Canada?: a financial analysis in Alberta and policy considerations. For Chron 83:92–104

Anderson JA, Long A, Luckert M (2014) A financial analysis of establishing poplar plantations for carbon offsets using Alberta and British Columbia's afforestation protocols. Can J For Res 45:207–216

Bates D, Mächler M, Bolker B, Walker S (2014) Fitting linear mixed-effects models using lme4. arXiv:1406.5823

Bayley AD, Kietzka JW (1997) Stock quality and field performance of Pinus patula seedlings produced under two nursery growing regimes during seven different nursery production periods. New For 13:341–356

Block RMA, Knight JD, Booth NWH, van Rees KCJ (2009) Nursery stock type, nitrogen fertilization and shoot pruning effects on the growth of juvenile hybrid poplar in Saskatchewan. Can J Plant Sci 89:289–301

Cai T, Price DT, Orchansky AL, Thomas BR (2011) Carbon, water, and energy exchanges of a hybrid poplar plantation during the first five years following planting. Ecosystems 14:658–671

Cooke JEK, Rood SB (2007) Trees of the people: the growing science of poplars in Canada and worldwide. Botany 85:1103–1110

DesRochers A, Thomas BR (2003) A comparison of pre-planting treatments on hardwood cuttings of four hybrid poplar clones. New For 26:17–32

DesRochers A, Van den Driessche R, Thomas BR (2006) NPK fertilization at planting of three hybrid poplar clones in the boreal region of Alberta. For Ecol Manag 232:216–225

DesRochers A, Van Den Driessche R, Thomas BR (2007) The interaction between nitrogen source, soil pH, and drought in the growth and physiology of three poplar clones This article is one of a selection of papers published in the Special Issue on Poplar Research in Canada. Botany 85:1046–1057

Dickmann DI, Phipps H, Netzer DA (1992) Cutting diameter influences early survival and growth of several Populus clones. USDA Forest Service, North Central Forest Experiment Station, St. Paul, Minnesota, Research Note NC-261

Druege U (2009) Involvement of carbohydrates in survival and adventitious root formation of cuttings within the scope of global horticulture. In: Niemi K, Scagel C (eds) Adventitious root formation of forest trees and horticultural plants-from genes to applications. Research Signpost, Kerala, 187–208

Duryea ML, Landis TD (1984) Forest nursery manual: production of bareroot seedlings. Martinus Nijhoff/Dr W. Junk Publishers, The Hague

Grossnickle SC, Major JE, Folk RS (1994) Interior spruce seedlings compared with emblings produced from somatic embryogenesis. I. Nursery development, fall acclimation, and over-winter storage. Can J For Res 24:1376–1384

Haissig BE (1982) Carbohydrate and amino acid concentrations during adventitious root primordium development in Pinus banksiana Lamb. cuttings. For Sci 28:813–821

Haissig BE (1984) Carbohydrate accumulation and partitioning in Pinus banksiana seedlings and seedling cuttings. Physiol Plant 61:13–19

Hansen EA, Tolsted DN (1981) Effect of cutting diameter and stem or branch position on establishment of a difficult-to-root clone of a Populus alba hybrid. Can J For Res 11:723–727

Henkel-Johnson D (2013) Factors regulating tree-herb competition in young hybrid poplar plantations. Department of Renewable Resources, MSc. University of Alberta, Edmonton

Jarvis JM (1968) Silviculture and management of natural poplar stands. Growth and Utilization of Poplars in Canada. Minister of Forestry and Rural Development, Ottawa Dep. Publ, pp 70–77

Johnston M, Kulshreshtha S, Baumgartner T (2001) Agroforestry in the prairie landscape: opportunities for climate change mitigation through carbon sequestration. Prairie Forum 25:195–213

Johnston M, Kulshreshtha S, Baumgartner T (2002) Carbon sequestration on privately owned marginal agricultural lands: an ecological—economic analysis of afforestation in Saskatchewan. In: Shaw CH, Apps MJ (eds) The role of boreal forests and forestry in the global carbon budget. Northern Forestry Centre, Canadian Forest Service, Edmonton, Alberta, pp 73–82

Kalcsits LA, Silim S, Tanino K (2009) Warm temperature accelerates short photoperiod-induced growth cessation and dormancy induction in hybrid poplar (Populus× spp.). Trees 23:971–979

Landhäusser SM, Rodriguez-Alvarez J, Marenholtz EH, Lieffers VJ (2012) Effect of stock type characteristics and time of planting on field performance of aspen (Populus tremuloides Michx.) seedlings on boreal reclamation sites. New For 43:679–693

Larocque GR, DesRochers A, Larchevêque M, Tremblay F, Beaulieu J, Mosseler A, Major JE, Gaussiran S, Thomas BR, Sidders D (2013) Research on hybrid poplars and willow species for fast-growing tree plantations: its importance for growth and yield, silviculture, policy-making and commercial applications. For Chron 89:32–41

LeBoldus JM, Blenis PV, Thomas BR (2007) Evaluating the interaction between genotype and water stress in the hybrid poplar-Septoria musiva pathosystem This note is one of a selection of papers published in the Special Issue on Poplar Research in Canada. Botany 85:1098–1102

Lenth RV (2015) Lsmeans: least-squares means. R package version 2.20-23. http://CRAN.R-project.org/package=lsmeans

Lindquist CH, Cram WH, Howe IAG (1977) Walker poplar. Can J Plant Sci 57:1019

LUF (2013) Land-use framework region plans progress report—a review of our progress in 2013. Government of Alberta, Edmonton, Alberta

Navratil S, Rochon GC (1981) Enhanced root and shoot development of poplar cuttings induced by Pisolithus inoculum. Can J For Res 11:844–848

Nelson EA, Lavender DP (1979) The chilling requirement of western hemlock seedlings. For Sci 25:485–490

Neumann PD, Krogman NT, Krahn HJ, Thomas BR (2007) 'My Grandfather Would Roll Over in His Grave': family farming and tree plantations on farmland*. Rural Sociol 72:111–135

Poorter H, Bühler J, van Dusschoten D, Climent J, Postma JA (2012) Pot size matters: a meta-analysis of the effects of rooting volume on plant growth. Funct Plant Biol 39:839–850

R Core Team (2015) R: a language and environment for statistical computing. R Foundation for Statistical Computing, Vienna, Austria. http://www.R-project.org/

Riemenschneider DE (1997) Breeding and nursery propagation of cottonwood and hybrid poplars for use in intensively cultured plantations. In: Landis TD, Thompson JR, technical coordinators. National proceedings, forest and conservation nursery associations. Portland (OR): USDA Forest Service, Pacific Northwest Research Station. General Technical Report PNWGTR-419, pp 38–42

Robison DJ, Raffa KF (1996) Importance of cutting diameter and method of production on early growth hybrid poplar. Tree Plant Notes 47:76–80

Saurette DD, Chang SX, Thomas BR (2008) Land-use conversion effects on CO2 emissions: from agricultural to hybrid poplar plantation. Ecol Res 23:623–633

Schneider RR (2002) Alternative futures: Alberta's boreal forest at the crossroads. Federation of Alberta Naturalists. Alberta Centre for Boreal Research, Alberta

Schneider RR, Hamann A, Farr D, Wang X, Boutin S (2009) Potential effects of climate change on ecosystem distribution in Alberta. Can J For Res 39:1001–1010

Schreiber SG, Hacke UG, Hamann A, Thomas BR (2011) Genetic variation of hydraulic and wood anatomical traits in hybrid poplar and trembling aspen. New Phytol 190:150–160

Schreiber SG, Hacke UG, Chamberland S, Lowe CW, Kamelchuk D, Bräutigam K, Campbell MM, Thomas BR (2016) Leaf size serves as a proxy for xylem vulnerability to cavitation in plantation trees. Plant, Cell Environ 39:272–281

Schroeder WR, Walker DS (1990) Effect of cutting position on rooting and shoot growth of two poplar clones. New For 4:281–289

Schroeder W, Soolanayakanahally R, Lindquist C (2013) Okanese poplar. Can J Plant Sci 93:1281–1283

Silim S, Nash R, Reynard D, White B, Schroeder W (2009) Leaf gas exchange and water potential responses to drought in nine poplar (Populus spp.) clones with contrasting drought tolerance. Trees 23:959–969

SRD (2009) Alberta Forest genetic resource management and conservation standards (FGRMS). Alberta Sustainable Resource Development, Government of Alberta, Edmonton, Alberta

Stanturf JA, van Oosten C, Netzer DA, Coleman MD, Portwood CJ (2001) Ecology and silviculture of poplar plantations. In: Dickmann DI, Isebrands JG, Eckenwalder JE, Richardson J (eds) Poplar culture in North America. NRC Research Press, National Research Council of Canada, Ottawa, pp 153–206

Switzer GL, Nelson LE (1963) Effects of nursery fertility and density on seedling characteristics, yield, and field performance of loblolly pine (Pinus taeda L.). Soil Sci Soc Am J 27:461–464

Talbot P, Thompson SL, Schroeder W, Isabel N (2011) An efficient single nucleotide polymorphism assay to diagnose the genomic identity of poplar species and hybrids on the Canadian prairies. Can J For Res 41:1102–1111

Thompson BE (1985) Seedling morphological evaluation: what you can tell by looking. Proceedings: evaluating seedling quality: principles, procedures, and predictive abilities of major tests. Forest Research Laboratory, Oregon State University, Corvallis

van Kooten GC, Krcmar-Nozic E, Stennes B, van Gorkom R (1999) Economics of fossil fuel substitution and wood product sinks when trees are planted to sequester carbon on agricultural lands in western Canada. Can J For Res 29:1669–1678

Veierskov B (1988) Relations between carbohydrates and adventitious root formation. In: Davis TD, Haissig BE, Sankhla N (eds) Adventitious root formation in cuttings. Dioscorides Press, Portland

Verwijst T, Lundkvist A, Edelfeldt S, Forkman J, Nordh N-E (2012) Effects of clone and cutting traits on shoot emergence and early growth of willow. Biomass Bioenergy 37:257–264

Vigl F, Rewald B (2014) Size matters?—the diverging influence of cutting length on growth and allometry of two Salicaceae clones. Biomass Bioenergy 60:130–136

Wang Y, Hogg EH, Price DT, Edwards J, Williamson T (2014) Past and projected future changes in moisture conditions in the Canadian boreal forest. For Chron 90:678–691

Wickham H (2009) ggplot2: elegant graphics for data analysis. Springer Science & Business Media, New York

Wickham H (2011) The split-apply-combine strategy for data analysis. J Stat Softw 40:1–29

Wilson BC, Jacobs DF (2006) Quality assessment of temperate zone deciduous hardwood seedlings. New For 31:417–433

Zalasky H, Fenn OK, Lindquist CH (1968) Reactions of poplars to infections by Septoria musiva and Diplodia tumefaciens and to injury by frost in Manitoba and Saskatchewan. Plant Dis Report 52:829–833
Acknowledgments
The authors would like to thank Alberta-Pacific Forest Industries Inc., (Al-Pac) for financial support of this work and Joanna Ramsum from Al-Pac and Dan McCurdy and Larry Lafleur from Coast to Coast Reforestation for their time and effort on this trial. We would also like to acknowledge all the summer students employed by Al-Pac who assisted with harvesting and washing of all plant materials, as well as two anonymous reviewers who provided helpful comments on a previous version of the manuscript.
Ethics declarations
Conflict of interest
None.
Additional information
Barb R. Thomas and Stefan G. Schreiber have contributed equally to the study.
Electronic supplementary material
Below is the link to the electronic supplementary material.
About this article
Cite this article
Thomas, B.R., Schreiber, S.G. & Kamelchuk, D.P. Impact of planting container type on growth and survival of three hybrid poplar clones in central Alberta, Canada. New Forests 47, 815–827 (2016). https://doi.org/10.1007/s11056-016-9546-4
Received:

Accepted:

Published:

Issue Date:
Keywords
Boreal forest

Cavity density

Cavity volume

Nursery production

Okanese

Styroblock