Abstract
We have evaluated the effects of improving substrate fertility on the growth and reproduction of a P. halepensis plantation in a restored limestone quarry on a stony calcareous regolith (R plots). The natural substrate was supplemented by adding a 0.2 m layer of a fine textured soil (RS plots) or a sewage sludge amended soil (RSS plots). The treatments were performed when the pines were 7 years old, and tree growth (height and trunk and canopy diameter) was monitored over the subsequent 12 years. The reproductive status of the trees was also measured when the pines were 20 years old. Tree growth was proportional to the amount of soil nutrients: 12 years after treatment the mean height of the R, RS and RSS trees was 1.5, 3.1 and 6.2 m respectively and growth increases over the baseline were 76, 264 and 632%. The treatment also affected the age of onset of reproduction (15, 11 and 9 years, respectively), the average number of cones per tree (12, 43 and 61), and the amount of seeds per cone (37, 52 and 72), but did not modify the germination percentage of pine seeds (ca 71.5%). Soil organic carbon increased proportionally to the vegetation development, contributing to carbon sequestration. These results suggest that improving the nutritional status of the soil not only improves the growth of trees, but it also ameliorates their reproductive ability (earlier reproduction onset and larger seed crop size). Implications for soil restoration through afforestation are also discussed.
Access options
Buy single article
Instant access to the full article PDF.
US$ 39.95
Tax calculation will be finalised during checkout.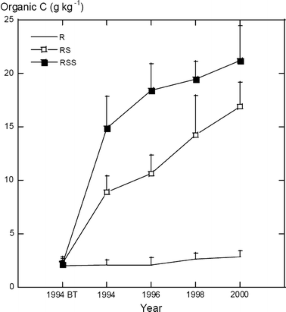 References
Barberá GG, Martínez-Fernández F, Álvarez-Rogel J, Albadalejo J, Castillo V (2005) Short- and intermediate-term effects of site and plant preparation techniques on reforestation of a Mediterranean semiarid ecosystem with Pinus halepensis Mill. New For 29:177–198

Bellot J, Maestre FT, Chirino E, Hernández N, de Urbina JO (2004) Afforestation with Pinus halepensis reduces native shrub performance in a Mediterranean semiarid area. Acta Oecol 25:7–15

Boyle M, Paul EA (1989) Carbon and nitrogen mineralization kinetics in soil previously amended with sewage sludge. Soil Sci Soc Am J 53:99–101

Bramryd T (2001) Effects of liquid and dewatered sewage sludge applied to a Scots pine stand (Pinus sylvestris L.) in Central Sweden. Forest Ecol Manag 147:197–216

Braun S, Thomas VFD, Quiring R, Flückiger W (2009) Does nitrogen deposition increase forest production? The role of phosphorus. Environ Pollut. doi:10.1016/j.envpol.2009.11.030

Caravaca F, Garcia C, Hernández MT, Roldán A (2002) Aggregate stability changes after organic amendment and mycorrhizal inoculation in the afforestation of a semiarid site with Pinus halepensis. Appl Soil Ecol 19:199–208

Comerford NB, Lamson NI, Leaf AL (1980) Measurement and interpretation of growth responses of Pinus resinosa Ait. to K-fertilization. Forest Ecol Manag 2:253–267

Conroy JP, Milham PJ, Bevege DI, Barlow EWR (1990) Influence of phosphorus deficiency on the growth response of four families of Pinus radiata seedlings to CO2-enriched atmospheres. Forest Ecol Manag 30:175–188

Crous JW, Morris AR, Scholes MC (2008) Growth and foliar nutrient response to recent applications of phosphorus (P) and potassium (K) and to residual P and K fertiliser applied to the previous rotation of Pinus patula at Usutu, Swaziland. Forest Ecol Manag 256:712–721

De las Heras J, Martínez-Sánchez JJ, González-Ochoa AI, Ferrandis P, Herranz JM (2002) Establishment of Pinus halepensis Mill. saplings following fire: effects of competition with shrub species. Acta Oecol 23:91–97

Debosz K, Petersen SO, Kure LK, Ambus P (2002) Evaluating effects of sewage sludge and household compost on soil physical, chemical and microbiological properties. Appl Soil Ecol 19:237–248

Díaz-Zorita M, Grosso GA (2000) Effect of soil texture, organic carbon and water retention on the compactability of soils from the Argentinean pampas. Soil Till Res 54:121–126

Eugenio M, Lloret F (2006) Effects of repeated burning on Mediterranean communities of the northeastern Iberian Peninsula. J Veg Sci 17:755–764

Everett CJ, Palm-Leis H (2009) Availability of residual phosphorus fertilizer for loblolly pine. Forest Ecol Manag 258:2207–2213

Fernández JM, Hernández D, Plaza C, Polo A (2007) Organic matter in degraded agricultural soils amended with composted and thermally-dried sewage sludges. Sci Total Environ 378:75–80

Fletcher P, Beckett PHT (1987) The chemistry of heavy metals in digested sewage sludge—I. Copper (II) complexation with soluble organic matter. Water Resour 21:1153–1161

Fuentes D, Valdecantos A, Cortina J, Vallejo VR (2007) Seedling performance in sewage sludge-amended degraded mediterranean woodlands. Ecol Eng 31:281–291

Garcia C, Hernandez T, Roldan A, Albadalejo J, Castillo V (2000) Organic amendment and mycorrhizal inoculation as a practice in afforestation of soils with Pinus halepensis Miller: effect on their microbial activity. Soil Biol Biochem 32:1173–1181

Goubitz S, Werger MJA, Shmida A, Ne'eman G (2002) Cone abortion in Pinus halepensis: the role of pollen quantity, tree size and cone location. Oikos 97:125–133

Goubitz S, Nathan R, Roitemberg R, Shmida A, Ne'eman G (2004) Canopy seed bank structure in relation to: fire, tree size and density. Plant Ecol 173:191–201

Guerrero C, Gómez I, Moral R, Mataix-Solera J, Mataix-Beneyto J, Hernández T (2001) Reclamation of a burned forest soil with municipal waste compost: macronutrient dynamic and improved vegetation cover recovery. Bioresource Technol 76:221–227

Henkin Z, Noy-Meir I, Kafkafi U, Seligman N, Gutman M (1994) Soil phosphorus in a managed Mediterranean woodland ecosystem: herbage response and cattle grazing effects. Agric Ecosyst Environ 47:299–311

Insam H, Merschak P (1997) Nitrogen leaching from forest soil cores after amending organic recycling products and fertilizers. Waste Manage Res 15:277–292

IUSS-ISRIC-FAO (2006) World reference base for soil resources. World soil resources reports, 103. Food and Agriculture Organization of the United Nations, Rome

Jiménez P, Ortiz O, Tarrasón D, Guinovart M, Bonmatí M (2007) Effect of differently post-treated dewatered sewage sludge on β-glucosidase activity, microbial biomass carbon, basal respiration and carbohydrates contents of soils from limestone quarries. Biol Fert Soils 44:393–398

Kimetu JM, Lehmann J, Ngoze SO, Mugendi DN, Kinyangi JM, Riha S, Verchot L, Recha JW, Pell AN (2008) Reversibility of soil productivity decline with organic matter of differing quality along a degradation gradient. Ecosystems 11:726–739

Krogstad T, Sogn TA, Asdal A, Sæbø A (2005) Influence of chemically and biologically stabilized sewage sludge on plant-available phosphorous in soil. Ecol Eng 25:51–60

Lacey ST, Ryan PJ (2000) Cumulative management impacts on soil physical properties and early growth of Pinus radiata. Forest Ecol Manag 138:321–333

Laik R, Kumar K, Das DK, Chaturvedi OP (2009) Labile soil organic matter pools in a calciorthent after 18 years of afforestation by different plantations. Appl Soil Ecol 42:71–78

Larchevêque M, Ballini C, Korboulewsky N, Montès N (2006) The use of compost in afforestation of Mediterranean areas: effects on soil properties and young tree seedlings. Sci Total Environ 369:220–230

Lazcano C, Sampedro L, Zas R, Domínguez J (2010) Vermicompost enhances germination of the maritime pine (Pinus pinaster Ait.). New Forests 39:387–400. doi:10.1007/s11056-009-9178-z

Le Thiec D, Manninen S (2003) Ozone and water deficit reduced growth of Aleppo pine seedlings. Plant Physiol Bioch 41:55–63

Lexer MJ, Hönninger K (1998) Estimating physical soil parameters for sample plots of large-scale forest inventories. Forest Ecol Manag 111:231–247

Maestre FT, Cortina J, Bautista S, Bellot J (2003) Does Pinus halepensis facilitate the establishment of shrubs in Mediterranean semi-arid afforestations? Forest Ecol Manag 176:147–160

Masciandaro G, Ceccanti B (1999) Assessing soil quality in different agro-ecosystems through biochemical and chemico-structural properties of humic substances. Soil Till Res 51:129–137

Merino A, Edeso JM (1999) Soil fertility rehabilitation in young Pinus radiata D. Don. plantations from northern Spain after intensive site preparation. Forest Ecol Manag 116:83–91

Michopoulos P, Baloutsos G, Economou A, Nikolis N (2004) Effects of nitrogen deposition on nitrogen cycling in an Aleppo pine stand in Athens, Greece. Sci Total Environ 313:211–218

Milroy SP, Asseng S, Poole ML (2008) Systems analysis of wheat production on low water-holding soils in a Mediterranean-type environment II. Drainage and nitrate leaching. Field Crop Res 107:211–220

Moreno JL, García C, Hernández T, Pascual JA (1996) Transference of heavy metals from a calcareous soil amended with sewage-sludge compost to barley plants. Bioresource Technol 55:251–258

Moreno-Peñaranda R, Lloret F, Alcañiz JM (2004) Effects of sewage sludge on plant community composition in restored limestone quarries. Restor Ecol 12:290–296

Moya D, De las Heras J, López-Serrano FR, Leone V (2008) Optimal intensity and age of management in young Aleppo pine stands for post-fire resilience. Forest Ecol Manag 255:3270–3280

Ndufa JK, Shepherd KD, Buresh RJ, Jama B (1999) Nutrient uptake and growth of young trees in a P-deficient soil: tree species and phosphorus effects. Forest Ecol Manag 122:231–241

Ne'eman G, Goubitz S, Nathan R (2004) Reproductive traits of Pinus halepensis in the light of fire–a critical review. Plant Ecol 171:69–79

Núñez MR, Calvo L (2000) Effect of hight temperatures on seed germination of Pinus sylvestris and Pinus halepensis. Forest Ecol Manag 131:183–190

Ojeda G, Alcañiz JM, Ortiz O (2003) Runoff and losses by erosion in soils amended with sewage sludge. Land Degrad Dev 14:563–573

Ojeda G, Tarrasón D, Ortiz O, Alcañiz JM (2006) Nitrogen losses in runoff waters from a loamy soil treated with sewage sludge. Agr Ecosyst Environ 117:49–56

Ostos JC, López-Garrido R, Murillo JM, López R (2008) Substitution of peat for municipal solid waste- and sewage sludge-based composts in nursery growing media: effects on growth and nutrition of the native shrub Pistacia lentiscus L. Bioresource Technol 99:1793–1800

Palacios G, Navarro Cerrillo RM, del Campo A, Toral M (2009) Site preparation, stock quality and planting date effect on early establishment of Holm oak (Quercus ilex L.) seedlings. Ecol Eng 35:38–46

Parat C, Chaussod R, Lévêque J, Andreux F (2005) Long-term effects of metal-containing farmyard manure and sewage sludge on soil organic matter in a fluvisol. Soil Biol Biochem 37:673–679

Pausas JG, Bladé C, Valdecantos A, Seva JP, Fuentes D, Alloza JA, Vilagrosa A, Bautista S, Cortina J, Vallejo R (2004a) Pines and oaks in the restoration of Mediterranean landscapes of Spain: new perspectives for an old practice—a review. Plant Ecol 171:209–220

Pausas JG, Ribeiro E, Vallejo R (2004b) Post-fire regeneration variability of Pinus halepensis in the eastern Iberian Peninsula. Forest Ecol Manag 203:251–259

Querejeta JI, Roldán A, Albaladejo J, Castillo V (2001) Soil water availability improved by site preparation in a Pinus halepensis afforestation under semiarid climate. Forest Ecol Manag 149:115–128

Radersma S, Lusiana B, van Noordwijk M (2005) Simulation of soil drying induced phosphorus deficiency and phosphorus mobilization as determinants of maize growth near tree lines on a Ferralsol. Field Crop Res 91:171–184

Rasool R, Kukal SS, Hira GS (2008) Soil organic carbon and physical properties as affected by long-term application of FYM and inorganic fertilizers in maize–wheat system. Soil Till Res 101:31–36

Rawls WJ, Pachepsky YA, Ritchie JC, Sobecki TM, Bloodworth H (2003) Effect of soil organic carbon on soil water retention. Geoderma 116:61–76

Reeves DW (1997) The role of soil organic matter in maintaining soil quality in continuous cropping systems. Soil Till Res 43:131–167

Salvatore R, Moya D, Pulido L, Lovreglio R, López-Serrano FR, De las Heras J, Leone V (2010) Morphological and anatomical differences in Aleppo pine seeds from serotinous and non-serotinous cones. New Forests 39:329–341. doi:10.1007/s11056-009-9174-3

Sardans J, Peñuelas J (2007) Drought changes phosphorus and potassium accumulation patterns in an evergreen Mediterranean forest. Funct Ecol 21:191–201

Sardans J, Rodà F, Peñuelas J (2004) Phosphorus limitation and competitive capacities of Pinus halepensis and Quercus ilex subsp. rotundifolia on different soils. Plant Ecol 174:305–317

Snowdon P, Waring HD (1990) Growth responses by Pinus radiata to combinations of superphosphate, urea and thinning type. Forest Ecol Manag 30:313–325

Sort X, Alcañiz JM (1999) Effects of sewage sludge amendment on soil aggregation. Land Degrad Dev 10:3–12

Tapias R, Gil L, Fuentes-Utrilla P, Pardos JA (2001) Canopy seed banks in Mediterranean pines of southeastern Spain: a comparison between Pinus halepensis Mill., P. pinaster Ait., P. nigra Arn. and P. pinea L. J Ecol 89:629–638

Tapias R, Climent J, Pardos JA, Gil L (2004) Life histories of Mediterranean pines. Plant Ecol 171:53–68

Tarrasón D, Ojeda G, Ortiz O, Alcañiz JM (2008) Differences on nitrogen availability in a soil amended with fresh, composted and thermally-dried sewage sludge. Bioresource Technol 99:252–259

Taylor JM, Sikora LJ, Tester CF, Parr JF (1978) Decomposition of sewage sludge compost in soil: II. Phosphorus and sulfur transformations. J Environ Qual 7:119–123

Thanos CA, Daskalakou EN (2000) Reproduction in Pinus halepensis and P. brutia. In: Ne'eman G, Trabaud L (eds) Ecology, biogeography and management of Pinus halepensis and P. brutia ecosystems in the Mediterranean basin. Backhuys Publishers, Leiden, pp 79–90

Toribio M, Romanyà J (2006) Leaching of heavy metals (Cu, Ni and Zn) and organic matter after sewage sludge application to Mediterranean forest soils. Sci Total Environ 363:11–21

Turner MG, Turner DM, Romme WH, Tinker DB (2007) Cone production in young post-fire Pinus contorta stands in Greater Yellowstone (USA). Forest Ecol Manag 242:119–126

Valdecantos A, Cortina J, Vallejo VR (2011) Differential field response of two Mediterranean tree species to inputs of sewage sludge at the seedling stage. Ecol Eng 37:1350–1359. doi:10.1016/j.ecoleng.2011.03.017

Varelides C, Kritikos T (1995) Effect of site preparation intensity and fertilization on Pinus pinaster survival and height growth on three sites in northern Greece. Forest Ecol Manag 73:111–115

Verkaik I, Espelta JM (2006) Post-fire regeneration thinning, cone production, serotiny and regeneration age in Pinus halepensis. Forest Ecol Manag 231:155–163

Yoneyama T, Yoshida T (1978) Nitrogen mineralization of sewage sludges in soil. Soil Sci Plant Nutr 24:139–144

Zech W, Drechsel P (1992) Multiple mineral deficiencies in forest plantations in Liberia. Forest Ecol Manag 48:121–143

Zedler PH (1995) Are some plants born to burn? Trends Ecol Evol 10:393–395

Zornoza R, Mataix-Solera J, Guerrero C, Arcenegui V, Mataix-Beneyto J, Gómez I (2008) Validating the effectiveness and sensitivity of two soil quality indices based on natural forest soils under Mediterranean conditions. Soil Biol Biochem 40:2079–2087
Acknowledgments
The authors wish to thank the interest and help given by Mr. Ferran de Lucas, head of the mining company Canteras de Lucas (Alcover, Alt Camp, Catalonia). This work was partially funded by the Department of Environment of the Government of Catalonia and by the Spanish Ministry of Science and Innovation (Ref. AGL2009-12343).
About this article
Cite this article
Ortiz, O., Ojeda, G., Espelta, J.M. et al. Improving substrate fertility to enhance growth and reproductive ability of a Pinus halepensis Mill. afforestation in a restored limestone quarry. New Forests 43, 365–381 (2012). https://doi.org/10.1007/s11056-011-9286-4
Received:

Accepted:

Published:

Issue Date:
Keywords
Afforestation

Soil rehabilitation

Organic amendment

Pinus halepensis

Reproduction

Sewage sludge