Abstract
Time to first root in cuttings varies under different environmental conditions and understanding these differences is critical for optimizing propagation of commercial forestry species. Temperature environment (15, 25, 30 or 35 ± 2°C) had no effect on the cellular stages in root formation of the Slash × Caribbean Pine hybrid over 16 weeks as determined by histology. Initially callus cells formed in the cortex, then tracheids developed and formed primordia leading to external roots. However, speed of development followed a growth curve with the fastest development occurring at 25°C and slowest at 15°C with rooting percentages at week 12 of 80 and 0% respectively. Cutting survival was good in the three cooler temperature regimes (>80%) but reduced to 59% at 35°C. Root formation appeared to be dependant on the initiation of tracheids because all un-rooted cuttings had callus tissue but no tracheids, irrespective of temperature treatment and clone.
This is a preview of subscription content, log in to check access.
Access options
Buy single article
Instant access to the full article PDF.
US$ 39.95
Price includes VAT for USA
Subscribe to journal
Immediate online access to all issues from 2019. Subscription will auto renew annually.
US$ 99
This is the net price. Taxes to be calculated in checkout.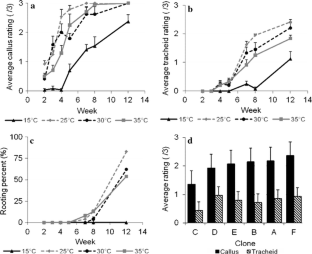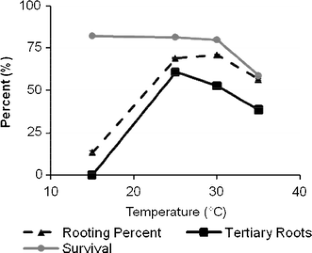 References
Aimers-Halliday J, Menzies MI, Faulds T et al (2003) Nursery systems to control maturation in Pinus radiata cuttings comparing hedging and serial propagation. N Z J Sci 33:135–155

Alegre J, Toledo JL, Martinez A et al (1998) Rooting ability of Dorycnium spp under different conditions. Sci Hortic 76:123–129. doi:10.1016/S0304-4238(98)00129-0

Bredmose N, Kristiansen K, Nielsen B (2004) Propagation temperature, PPFD, auxin treatment, cutting size and cutting position affect root formation axillary bud growth and shoot development in miniature rose (Rosa hybrida L.) plants and alter homogeneity. J Hortic Sci Biotechnol 79:458–465

Callaway RM, King L (1996) Temperature-driven variation in substrate oxygenation and the balance of competition and facilitation. Ecol 77:1189–1195. doi:10.2307/2265588

Cameron RJ, Thomson GV (1969) The vegetative propagation of Pinuc radiata: root initiation in cuttings. Bot Gaz 130:242–251. doi:10.1086/336498

Correa LDR, Fett-Neto AG (2004) Effects of temperature on adventitious root development in micro cuttings of Eucalyptus saligna Smith and Eucalyptus globulus Labill. J Therm Biol 29:315–325. doi:10.1016/j.jtherbio.2004.05.006

Dungey HS (2001) Pine hybrids—a review of their use performance and genetics. For Ecol and Manag 148:243–258

Garrido G, Cano EA, Acosta M, Sanchez-Bravo J (1998) Formation and growth of roots in carnation cuttings: influence of cold storage period and auxin treatment. Sci Hortic 74:219–231. doi:10.1016/S0304-4238(98)00078-8

Garrido G, Ramon Guerrero J, Angel Cano E et al (2002) Origin and basipetal transport of the IAA responsible for rooting of carnation cuttings. Physiol Plant 114:303–312. doi:10.1034/j.1399-3054.2002.1140217.x

Geneve RL, Hackett WP, Swanson BT (1998) Adventitious root formation in de-bladed petiols from juvenile and mature phases in English Ivy. J Am Soc Hortic Sci 113:6310–6635

Ginzburg C (1967) Organization of the adventitious root apex in Tamarix aphylla. Am J Bot 54:4–8. doi:10.2307/2440882

Harding KJ, Copley TR (2000) Review of wood property variation in queensland grown trials of Pinus elliottii var elliottii × Pinus caribaea var hondurensis hybrids. In: Dungey HS, Dieters MJ, Nikles DG (eds) Symposium on hybrid breeding and genetics. QFRI/CRC-SPF, Noosa Lakes Resort, Queensland, Australia

Horgan K, Skudder D, Holden G (1997) Clonal storage and rejuvenation. IUFRO 97 genetics of radiata pine, vol 203. FRI Bulletin, Rotorua, New Zealand, pp 273–280

Howard BW, Nahlawi N (1965) Factors affecting the rooting of plum hardwood cuttings. J Hortic Sci 44:303–310

Kristiansen K, Bredmose N, Nielsen B (2005) Influence of propagation temperature, photosynthetic photon flux density, auxin treatment and cutting position on root formation, axillary bud growth and shoot development in Schlumbergera 'Russian Dancer'. J Hortic Sci Biotechnol 80:297–302

Maini JS, Horton KW (1966) Vegetative propagation of Populus Spp1. Influence of temperature on formation and initial growth of aspen suckers. Can J Bot 44:1183

Mitchell RG (2002) The effect of bottom heat on rooting Pinus patula and Pinus elliottii × Pinus caribaea stem cuttings in South Africa. Sth Afr For J 2:1–25

Nikles DG (1996) The first 50 years of the evolution of forest tree improvement in Queensland. In: Dieters MJ, Matheson AC, Nikles DG, Harwood CE, Walker SM (eds) Tree improvement for sustainable tropical forestry. QFRI-IUFRO, Caloundra, Queensland, Australia, pp 51–64

Nikles DG (2000) Experience with some Pinus hybrids in Queensland, Australia. In: Dungey HS, Dieters MJ, Nikles DG (eds) Hybrid breeding and genetics of forest trees. Proceedings of QFRI/CRC-SPF Symposium, Noosa, Queensland, Australia

Santelices R, Cabello A (2006) Effect of indolebutyric acid, bottom heat, substrate and parent tree on rooting capacity of Nothofagus glauca (Phil.) Krasser stem cuttings. Rev Chil Hist Nat 79:55–64

Schier GA (1974) Vegetative propagation of aspen: clonal variation in suckering from root cuttings and in rooting of sucker cuttings. Can J Res 4:565–567. doi:10.1139/x74-084

Stenvall N, Haapala T, Aarlahti S, Pulkkinen P (2005) The effect of soil temperature and light on sprouting and rooting of root cuttings of hybrid aspen clones. Can J Res 35:2671–2678. doi:10.1139/x05-183

Tsipouridis C, Thomidis T (2004) Rooting of 'GF677' (almond × peach hybrid) hardwood cuttings in relation to hydrogen hyperoxide, moisture content, oxygen concentration, temperature and pH of substrate. J Exp Ag 44:801–805. doi:10.1071/EA03059

Ying CC, Bagley WT (1977) Variation in rooting capabilities of Populus deltoides. Silvae Genet 26:204–207

Zhou J, Wu H, Collet GF (1992) Histological study of initiation and development in vitro of adventitious roots in mini cuttings of apple rootstocks of M 26 and EMLA 9. Physiol Plant 84:433–440. doi:10.1111/j.1399-3054.1992.tb04687.x
Acknowledgments
We wish to thank Forestry Plantations Queensland for supporting this work with both cash and in kind resources and Santi Krisantini for providing valuable assistance with the preparation of the manuscript.
About this article
Cite this article
Rasmussen, A., Smith, T.E. & Hunt, M.A. Cellular stages of root formation, root system quality and survival of Pinus elliottii var. elliottii × P. caribaea var. hondurensis cuttings in different temperature environments. New Forests 38, 285 (2009). https://doi.org/10.1007/s11056-009-9147-6
Received:

Accepted:

Published:
Keywords
Propagation

Stem anatomy

Root anatomy

Callus

Cuttings

Cortex

Abiotic

Pinus