Abstract
In this paper, geographic information system, remote sensing and geostatistics were used to regionalize the potential natural aquifer recharge, especially in areas where data are scarce. Based on this, potential groundwater recharge zones were delineated using a combined analytical hierarchy process—multicriteria overlay analysis, to recognize favorable areas for natural recharge and to suggest suitable managed aquifer recharge (MAR) facilities to increase groundwater resources, within a regional complex hydrogeological system, belonging to the Jeffara of Medenine basin. The results show that the potential recharge sectors, covering 31% of the total area, are located mainly within Koutine, Ksar Chrarif, Sahel El Ababsa, and Mareth zones, which are characterized by a high infiltration capacity index favoring water percolation. These sectors are suitable for the implementation of MAR facilities that would offer a sustainable groundwater supply and increase recharge to the groundwater system. The obtained results were validated using receiver operating characteristic curve and correlations with 56 piezometric data. Such findings revealed that the proposed methodology assured good prediction and could, thus, be performed accurately in such arid regions to ensure optimum management of groundwater resources.
Access options
Buy single article
Instant access to the full article PDF.
USD 39.95
Price excludes VAT (USA)
Tax calculation will be finalised during checkout.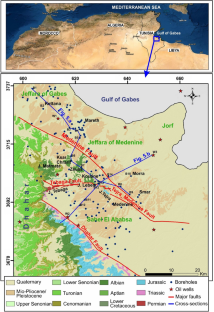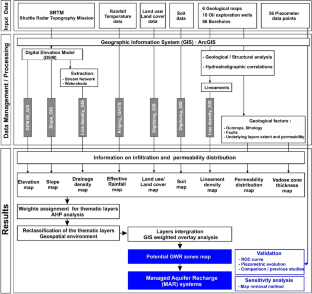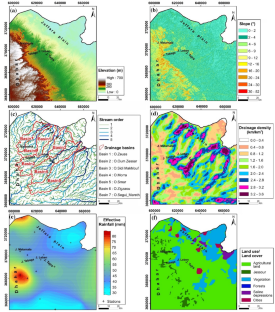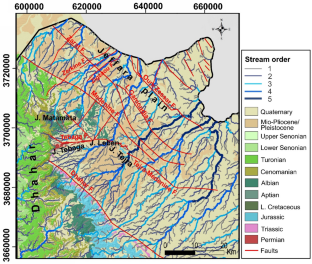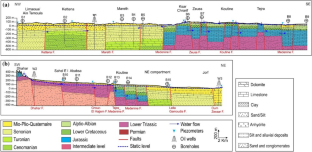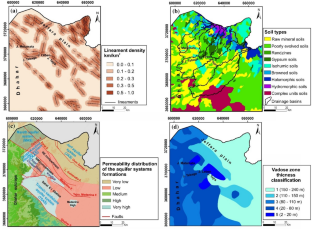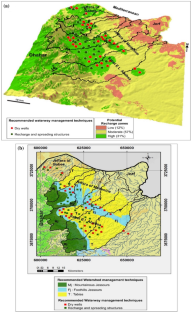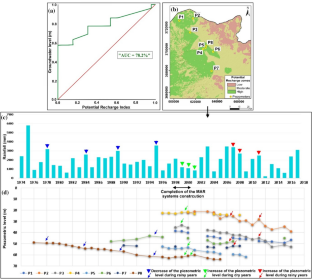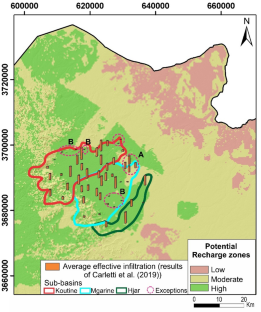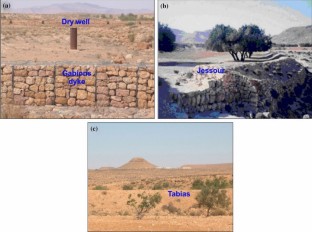 References
Ben Ouezdou, H. (1983). Etude morphologique et stratigraphique des formations quaternaires des alentours du Golfe de Gabès. Thèse 3ème Cycle, Fac. Lettres et Sc. Humaines, Tunis. Revue Des Sciences De La Terre, 1(165), 139–157.

Ben Ouezdou, H., Zouari, H., & El Ouhaichi, L. (1999). Cartes géologiques au 1/100000 et notices explicatives des feuilles N° 75 de Gabès et N°83 de Mareth. Publications, Service Géologique National, Tunisie.

Ben Youssef, M., & Peybernes, B. (1986). Données micropaléontologiques et biostratigraphiques nouvelles sur le Crétacé inférieur marin du Sud-Tunisien. Journal of African Earth Sciences, 5(3), 217–231.

Benjmel, K., Amraoui, F., Boutaleb, S., Ouchchen, M., Tahiri, A., & Touab, A. (2020). Mapping of groundwater potential zones in crystalline terrain using remote sensing, GIS techniques, and multicriteria data analysis (case of the Ighrem Region, Western Anti-Atlas, Morocco). Water, 12(2), 471.

Besbes, M., & de Marsily, G. (1984). From infiltration to recharge: Use of a parametric transfer function. Journal of Hydrology, 74(3–4), 271–293.

Bouaziz, S. (1995). Cartes géologiques au 1/100000 et notices explicatives des feuilles N°92 de Medenine et N°100 de Kirchaou. Publications, Service Géologique National, Tunisie.

Burollet, P. F. (1967). General geology of Tunisia. In Guidebook to the geology and history of Tunisia (pp. 51–58). Petroleum Exploration Society of Libya. Ninth Annual Field Conference.

Busson, G. (1967). Le Mésozoïque saharien 1ère partie : l'extrême-Sud tunisien. Edition C.N.R.S., France, Service Géologique, 8, 194.

Busson, G. (1972). Principes, méthodes et résultats d'une étude stratigraphique du Mésozoique Saharien. Mémoires Du Muséum National D'histoire Naturelle, 26(Série C), 1950–1992.

Carletti, A., Canu, S., Motroni, A., & Ghiglieri, G. (2019). A combined methodology for estimating the potential natural aquifer recharge in an arid environment. Hydrological Sciences Journal, 64(14), 1727–1745.

Castany, G. (1954). L'accident Sud tunisien, son âge et ses relations avec l'accident Sud atlasique d'Algérie. Comptes Rendus De L'académie Des Sciences, 238(8), 916–918.

Caumon, G., Jessell, M., de Kemp, E., Nemeth, B., Peron, G., & Schetselaar, E. (2016). Introduction to special section: Building complex and realistic geological models from sparse data. Interpretation, 4(3), 1A-Y1.

Chihi, H., Bedir, M., & Belayouni, H. (2013). Variogram identification aided by a structural framework for improved geometric modeling of faulted reservoirs: Jeffara basin, Southeastern Tunisia. Natural Resources Research, 22(2), 139–161.

Chihi, H., & de Marsily, G. (2009). Simulating non-stationary seismic facies distribution in a prograding shelf environment. Gas Science and Technology - Revue d'IFP Energies Nouvelles, Institut Français Du Pétrole, 64(4), 451–467.

Chihi, H., de Marsily, G., Belayouni, H., & Yahyaoui, H. (2015). Relationship between tectonic structures and hydrogeochemical compartmentalization in aquifers: Example of the Jeffara of Medenine system, south–east Tunisia. Journal of Hydrology: Regional Studies, 4(part B), 410–430.

Chihi, H., de Marsily, G., Bourges, M., & Sbeaa, M. (2016). A constrained geostatistical approach for efficient multilevel aquifer system characterization. Journal of Water Resource and Hydraulic Engineering, 5(3), 80–95.

Chihi, H., Jeannée, N., Yahayoui, H., Belayouni, H., & Bedir, M. (2014). Geostatistical optimization of water reservoir characterization case of the Jeffra de Medenine aquifer system (SE Tunisia). Desalination and Water Treatment, 52(10–12), 2009–1016.

Chihi, H., Tesson, M., Galli, A., de Marsily, G., & Ravenne, C. (2007). Geostatistical modelling (3D) of the stratigraphic unit surfaces of the Gulf of Lion western margin (Mediterranean Sea) based on seismic profiles. Bulletin De La Societe Geologique De France, 178(1), 25–39.

de Marsily, G. (2010). L'eau et ses grands enjeux au XXIe siècle : Effets sur la zone aride. Sécheresse, 21(1), 12–21.

de Marsily, G. (2021). Will we soon run out of water? Annals of Nutrition and Metabolism, 76(1), 10–16.

DGRE (2016). Annuaire de l'exploitation des nappes de la Tunisie. Rapport interne. (DGRE : « Direction Générale des ressources en Eau » General Directorate of Water Resources, Tunis.

Doligez, B., Le Ravalec, M., Bouquet, S., Adelinet, M., & Garner, D. (2015). A review of three geostatistical techniques for realistic geological reservoir modeling integrating multi-scale data. Bulletin of Canadian Petroleum Geology, 63(4), 277–286.

El Rabia, A., Inoubli, M. H., Ouaja, M., Abidi, O., Sebei, K., & Jlailia, A. (2018). Salt tectonics and its effect on the structural and sedimentary evolution of the Jeffara Basin, Southern Tunisia. Tectonophysics, 38, 617–649.

Gabtni, H., Jallouli, K., & Mickuse, L. (2009). Deep structure and crustal configuration of the Jeffara basin (Southern Tunisia) based on regional gravity, seismic reflection and borehole data: How to explain a gravity maximum within a large sedimentary basin. Journal of Geodynamics, 4(2–3), 142–152.

Ghiglieri, G., Barbieri, G., & Vernier, A. (2006). Studio sulla gestione sostenibile delle risorse idriche: dall'analisi conoscitiva alle strategie di salvaguardia e tutela. Sustainable water resources management: knowledge and protection criteria, Italy: ENEA. ISBN 88-8286-147-3, 550.

Gogu, R. C., & Dassargues, A. (2000). Sensitivity analysis for the EPIK method of vulnerability assessment in a small karstic aquifer, southern Belgium. Hydrogeology Journal, 8(3), 337–345.

Hammami, M. A., Chihi, H., Ben Mammou, A., & Yahyaoui, H. (2018). Aquifer structure identification through geostatistical integration of geological parameters: Case of the Triassic sandstone aquifer system (SE Tunisia). Arabian Journal of Geosciences, 11(11), 248.

IBM Corp Released. (2019). IBM SPSS Statistics for Windows, Version 26.0. Armonk, NY: IBM Corp.

INM, National Institute of Meteorology. (2015). Climate data report for the period 2005–2015.

ISATIS. (2020). Geovariances Technical references Fontainebleau France 2020.

Jaafarzadeh, M. S., Tahmasebipour, N., Haghizadeh, A., Pourghasemi, H. R., & Rouhani, H. (2021). Groundwater recharge potential zonation using an ensemble of machine learning and bivariate statistical models. Scientific Reports, 11(1), 5587.

Jedoui, Y., & Perthuisot, J. P. (1997). Carte géologique au 1/100000 et notices explicatives de la feuilles N° 84 d'Ajim. Publications, Service Géologique National, Tunisie.

Kadam, A. S. (2016). Determination of infiltration rate for site selection of artificial water recharge: An experimental study. International Journal of Science and Research, 5(6), 2319–7064.

Lodwick, W. A., Monson, W., & Svoboda, L. (1990). Attribute error and sensitivity analysis of map operations in geographical information systems: Suitability analysis. International Journal of Geographical Information Systems, 4(4), 413–428.

Madani, A., & Niyazi, B. (2015). Groundwater potential mapping using remote sensing techniques and weights of evidence GIS model: A case study from Wadi Yalamlam basin, Makkah Province, Western Saudi Arabia. Environmental Earth Sciences, 74(6), 5129–5142.

Naghibi, S. A., Pourghasemi, H. R., & Dixon, B. (2015). GIS-based groundwater potential mapping using boosted regression tree, classification and regression tree, and random forest machine learning models in Iran. Environmental Monitoring and Assessment, 188(44), 1–27.

Nigussie, W., Hailua, B. T., & Azagegna, T. (2019). Mapping of groundwater potential zones using sentinel satellites (−1 SAR and -2A MSI) images and analytical hierarchy process in Ketar watershed, Main Ethiopian Rift. Journal of African Earth Sciences, 160, 1–17.

Nsiah, E., Appiah-Adjei, E. K., & Adjei, K. A. (2018). Hydrogeological delineation of groundwater potential zones in the Nabogo basin, Ghana. Journal of African Earth Sciences, 143, 1–9.

Ouessar, M. (2007). Hydrological impacts of rainwater harvesting in wadi Oum Zessar watershed (Southern Tunisia). Thesis (Ph.D.). Ghent University. Faculty of Bioscience Engineering, Ghent, Belgium, 154. ISBN 978-90-5989-192-0

Ouessar, M., Yahyaoui, H., Ouled Belgacem, A., & Boufalgha, M. (2006). Aménagements et techniques de lutte contre la désertification: inventaire et bilan. In D. Genin, H. Guillaume, M. Ouessar, A. Ouled Belgacem, B. Romagny, M. Sghaier, & H. Taamallah (Eds.), Entre la désertification et le développement : la Jeffara tunisienne (CERES Editions, pp. 147–16). Tunis, Tunisia.

Renard, P., Straubhaar, J., Caers, J., & Mariethoz, G. (2011). Conditioning facies simulations with connectivity data. Mathematical Geosciences, 43(8), 879–903.

Saaty, T. L. (1980). The analytic hierarchy process: Planning, priority setting, resource allocation (2nd ed.). New York: McGraw-Hill International Book Company.

Saaty, T. L. (1990). How to make a decision: The analytic hierarchy process. European Journal of Operational Research, 48(1), 9–2.

Santoro, M. (1970). Sulla applicabilità della formula di Turc per il calcolo dell'evapotraspirazione effettiva in Sicilia. I Convegno Internazionale Acque Sotterranee IAH, Palermo, Italy.

Shaban, A., Khawlie, M., & Abdallah, C. (2006). Use of remote sensing and GIS to determine recharge potential zones: The case of Occidental Lebanon. Hydrogeology Journal, 14(4), 433–443.

Shahid, S., Nath, S. K., & Ray, J. (2000). Groundwater potential modeling in softrock using a GIS. International Journal of Remote Sensing, 21(9), 1919–1924.

Soussi, M., Niedźwiedzki, G., Tałanda, M., Dróżdż, D., Sulej, T., Boukhalfa, K., Mermer, J., & Błażejowski, B. (2016). Middle Triassic (Anisian Ladinian) Tejra red beds and Late Triassic (Carnian) carbonate sedimentary records of southern Tunisia, Saharan Platform: Biostratigraphy, sedimentology and implication on regional stratigraphic correlations. Marine and Petroleum Geology, 79, 222–256.

Strahler, A. N. (1964). Quantitative geomorphology of drainage basins and channel networks. In V. T. Chow (Ed.), Handbook of applied hydrology (pp. 4–11). McGraw Hill Book Company.

Swets, J. A. (1988). Measuring the accuracy of diagnostic systems. Science, 240(4857), 1285–1293.

Taamallah, H., Genin, D., Guillaume, H., Hajji, A., Ouled Belgacem, A., Picouët, M., & Romagny, B. (2003). Environnement et société dans la Jeffara : un état des lieux. In IRA-IRD, La désertification dans la Jeffara, Sud-Est tunisien : pratiques et usages des ressources, techniques de lutte et devenir des populations rurales. Rapport scientifique de synthèse du programme Jeffara (pp. 21–68). IRA-IRD-CRDA Médenine et Gabès.

Turc, L. (1954). The water balance of soils. Relation between precipitation, evaporation and flow. Annales Agronomiques, 5, 491–569.

Yahyaoui, H., Chaieb, H., & Ouessar, M. (2002). Impact des travaux de conservation des eaux et des sols sur la recharge de la nappe de Zeuss-Koutine. In J. de Graff & M. Ouessar (Eds.), Water harvesting in Mediterranean zones: an impact assessment and economic evaluation. Tropical Resources Management Papers (pp. 71–86). The Netherlands: Wageningen University.

Zouari, H., Kamoun, Y., Regaya, K., Amouri, M., Mamou, A., & El Ouhaichi, L. (1996). Carte géologique au 1/100 000 et notice explicative de la feuille N° 91 de Matmata. Publications, Service Géologique National, Tunisie.
Acknowledgments
This work was part of the project Geomodeling and Natural Resources Characterization, undertaken in the Georesources Laboratory of the Center for Water Research and Technologies. The authors would like to thank the Tunisian National Oil Company (ETAP) for providing seismic and petroleum-well data, and the General Directorate of Water Resources (DGRE) for providing borehole data. The authors wish to acknowledge gratefully Ghislain de Marsily for his comments on the first version of this paper. Lastly, a special thank is accorded to the editor and two anonymous reviewers for their insightful suggestions and helpful comments on an earlier version of this paper.
Funding
Ministry of Higher Education and Scientific Research, Tunisia.
Ethics declarations
Conflict of Interest
The authors declare that they have no conflict of interest.
About this article
Cite this article
Mezni, I., Chihi, H., Hammami, M.A. et al. Regionalization of Natural Recharge Zones Using Analytical Hierarchy Process in an Arid Hydrologic Basin: A Contribution for Managed Aquifer Recharge. Nat Resour Res 31, 867–895 (2022). https://doi.org/10.1007/s11053-022-10023-0
Received:

Accepted:

Published:

Issue Date:

DOI: https://doi.org/10.1007/s11053-022-10023-0
Keywords