Abstract
Mercury is one of the priority metals classified as a human carcinogen, according to the U.S. Environmental Protection Agency and the International Agency for Research on Cancer. This metallic element has a high degree of toxicity, is known to induce multiple organs damage, and has severe adverse effects on human health and the environment, even at low levels of exposure. It has many forms in soil, such as inorganic mercury. In this work, two types of tripeptides: proline-cysteine-histidine (PCH) and γ-L-glutamyl-L-cysteinyl-glycine (glutathione, GSH), were individually immobilized onto gold nanoparticles (AuNPs) surfaces with 20 nm in size via covalent coupling. In a monoligand system, only a particular tripeptide-AuNPs will be used as capturing agents for Hg2+, while in a heteroligand system, two different tripeptide-AuNPs will be used simultaneously in a mixture. Both tripeptides formed stable complexes with soft and hard metal ions. The interaction of heteroligand enhances the sensitivity and selectivity of the plasmonic sensor for Hg2+. This system was incorporated with β-mercaptoethanol (BME), which acts as a spacer between the surface-bound ligand. The heteroligand PCH/GSH-AuNPs was found to be more effective compared to both monoligand systems PCH-AuNPs and GSH-AuNPs with absorbance reading (A730/A524) of 0.808, 0.373 and 0.609, respectively. Upon the addition of metal ions, the red-to-blue color change and the degree of AuNPs aggregation formed by the heteroligand system were doubled when compared to the monoligand system. The finding was supported by absorption spectra, Transmission Electron Microscopy (TEM) analysis, and Dynamic Light Scattering (DLS) spectroscopy. The limit of detection (LOD) for Hg2+ detection was 25 parts per billion (ppb). The heteroligand system was further validated by conjugating tripeptides onto different sizes of AuNPs (20 nm and 100 nm). This new approach can constitute a more effective detecting system targeting small molecules.
Access options
Buy single article
Instant access to the full article PDF.
USD 39.95
Price excludes VAT (USA)
Tax calculation will be finalised during checkout.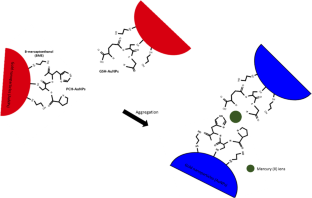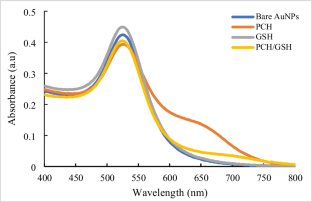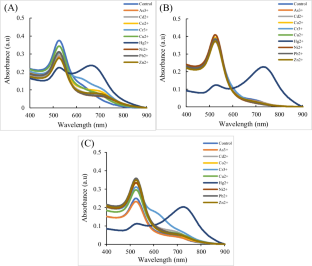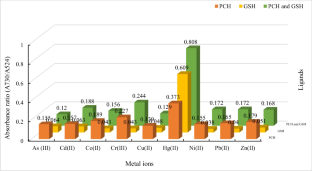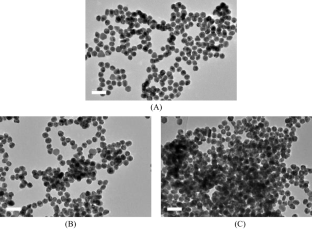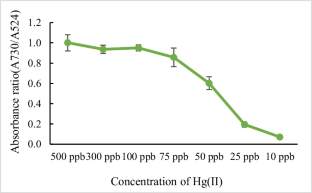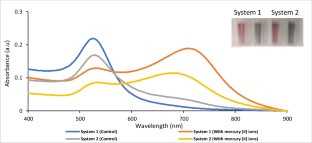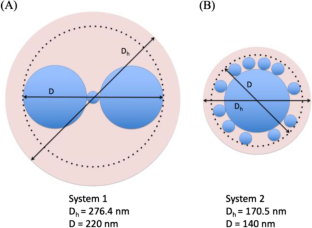 References
Pehlivan E, Ozkan AM, Dinç S, Parlayici S (2009) Adsorption of Cu2+ and Pb2+ ion on dolomite powder. J Hazard Mater 167:1044–1049

Gautam PK, Gautam RK, Banerjee S, Chattopadhyaya MC, Pandey JD (2016) Heavy metals in the environment: fate, transport, toxicity and remediation technologies. Heavy metals: Sources Toxicity and Remediation Techniques pp 101–130

Christopher A, Baňares B, Lourdes M, Alvares C (2015) Detection of the presence and concentration of heavy metals in selected rivers in the Province of Samar. Int J Res-Granthaalayah 9:70–86

Burratti L, Ciotta E, Bolli E, Kaciulis S, Casalboni M, De Matteis F, Garzón-Manjón A, Scheu C, Pizzoferratoa R, Prosposito P (2019) Fluorescence enhancement induced by the interaction of silver nanoclusters with lead ions in water. Colloids Surf A 579:123634

Priyadarshini E, Pradhan N (2017) Gold nanoparticles as efficient sensors in colorimetric detection of toxic metal ions: A Review. Sens Actuators, B Chem 238:888–902

Tangahu BV, Abdullah SRS, Basri H, Idris M, Anuar N, Mukhlisin M (2011) A review on heavy metals (As, Pb, and Hg) uptake by plants through phytoremediation. Int J Chem Eng 2011:939161. https://doi.org/10.1155/2011/939161

Fitzgerald WF, Lamborg CH, Hammerschmidt CR (2007) Marine biogeochemical cycling of mercury. Chem Rev 107(2):641–662

Li F, Kefeng X, Aiwu W, Fucong L, Jingyuan G, Luxi Z, Huaiwei Z, Weitao S, Yun-Long H, Cangtao Z, Chundong W, Shuangchen R (2019) High selective detection of mercury (II) ions by thioether side groups on metal-organic frameworks. Anal Chim Acta 1081:51–58

Shouting Z, Dongxu Z, Xuehong Z, Denghui S, Zhonghua X, Duoliang S, Xiaoquan L (2017) Ultratrace Naked-Eye Colorimetric Detection of Hg2+ in Wastewater and Serum Utilizing Mercury-Stimulated Peroxidase Mimetic Activity of Reduced Graphene Oxide-PEI-Pd Nanohybrids. Anal Chem 89(6):3538–3544

Jun H, Fengjuan C, Junxia S, Fu X, Baodui W (2018) Porous Wood Members-Based Amplified Colorimetric Sensor for Hg2+ Detection through Hg2+-Triggered Methylene Blue Reduction Reactions. Anal Chem 90(7):4909–4915

Barbara G, Wojciech D, Aneta HB (2020) Mercury in the terrestrial environment: A review. Environ Sci Eur 32:128

Liuwei W, Deyi H, Yining C, Yong Sik O, Filip MGT, Jörg R, David O (2020) Remediation of mercury contaminated soil, water, and air: A review of emerging materials and innovative technologies. Environ Int 134:105281

Bannon DI, Chisolm JJ (2001) Anodic stripping voltammetry compared with graphite furnace atomic absorption spectrophotometry for blood lead analysis. Clin Chem 47:1703–1704

Ríos SEG, Peñuela GA, Botero CMR (2017) Method validation for the determination of mercury, cadmium, lead, arsenic, copper, iron, and zinc in fish through Microwave-Induced Plasma Optical Emission Spectrometry (MIP OES). Food Anal Methods 10:3407–3414

Yamakawa A, Moriya K, Yoshinaga J (2017) Determination of isotopic composition of atmospheric mercury in urban-industrial and coastal regions of Chiba, Japan, using cold vapor multi-collector inductively coupled plasma mass spectrometry. Chem Geol 448:84–92

Turkevich J, Stevenson PC, Hillier JA (1951) A Study of the Nucleation and Growth Processes in the Synthesis of Colloidal Gold. Discuss Faraday Soc 11:55–75

Frens G (1973) Controlled Nucleation for the Regulation of the Particle Size in Monodisperse Gold Suspensions. Nat Phys Sci 241:20–22

Dykman L, Khlebtsov N (2019) Methods for chemical synthesis of colloidal gold. Russ Chem Rev 88(3):229

Chen C (2020) Optical Biosensors: an exhaustive and comprehensive review. Analyst 145(5)

Khan AU, Zhao S, Liu G (2016) Key Parameter Controlling the Sensitivity of Plasmonic Metal Nanoparticles: Aspect Ratio. J Phys Chem C 120(34):19353

Salimi F, Kiani M, Karami C, Taher MA (2018) Colorimetric sensor of detection of Cr (III) and Fe (II) ions in aqueous solutions using gold nanoparticles modified with methylene blue. Optik 158:813–825

Besra L, Liu M (2007) A review on fundamentals and applications of electrophoretic deposition (EPD). Prog Mater Sci 52:1–61

Elena AE, Mark MJR, Nico S, Gert SG, Joke AB, Aimee LB, Alexander K (2020) One Peptide for Them All: Gold Nanoparticles of Different Sizes Are Stabilized by a Common Peptide Amphiphile. ACS Nano 14(5):5874–5886

Yang Y, Yildiz UH, Peh J, Liedberg B (2015) Ternary DNA chip based on a novel thymine spacer group chemistry. Colloids Surf B 125:270–276

Maruccio G, Primiceri E, Marzo P, Arima V, Torre AD, Rinaldi R, Pellegrino T, Krahne R, Cingolani R (2009) A nanobiosensor to detect single hybridization events. Analyst 134:2458–2461

Chai F, Wang C, Wang T, Li L, Su Z (2010) Colorimetric detection of Pb2+ using glutathione functionalized gold nanoparticles. ACS Appl Mater Interfaces 2:1466–1470

Manjumeena R, Duraibabu D, Rajamuthuramalingam T, Venkatesan R, Kalaichelvan PT (2015) Highly responsive glutathione functionalized green AuNP probe for precise colorimetric detection of Cd2+ contamination in the environment. RSC Adv 85:69124–69133

Bjørklund G, Crisponi G, Nurchi VM, Cappai R, Djordjevic AB, Aaseth J (2019) A review on coordination properties of thiol-containing chelating agents towards mercury, cadmium, and lead. Molecules 24(18):3247

Yu CJ, Tseng WL (2008) Colorimetric detection of mercury (II) in a high- salinity solution using gold nanoparticles capped with 3-mercaptopropionate acid and adenosine monophosphate. Langmuir 24(21):12717–12722

Ali M, Zayed D, Ramadan W, Kamel OA, Shehab M, Ebrahim S (2019) Synthesis, characterization and cytotoxicity of polyethylene glycol encapsulated CdTe quantum dots. Int Nano Lett 9:61–71

Chow E, Goading JJ (2006) Peptide modified electrodes as electrochemical metal ion sensors. Electroanalysis 18:1437–1448

Guo Y, Zhang Y, Shao H, Wang Z, Wang X, Jiang X (2014) Label-free colorimetric detection of cadmium ions in rice samples using gold nanoparticles. Anal Chem 86:8530–8534

Pei KL, Sooriyaarachchi M, Sherrell DA, George GN, Gailer J (2011) Probing the coordination behavior of Hg2+, CH3Hg+, and Cd2+ towards mixtures of two biological thiols by HPLC-ICP-AES. J Inorg Biochem 105:375–381

Harford C, Sarkar B (1997) Amino terminal Cu (II)- and Ni (II)- binding (ATCUN) motif of proteins and peptides: metal binding, DNA cleavage, and other properties. Acc Chem Res 30:123–130

Saunders CDL (2009) Isolation of lead-amino acid and mercury-amino acid complexes with characterization in the solid state, the solution state, and the gas phase (PhD's thesis). Dalhousie University, Halifax, Nova Scotia, Canada

Berne BJ, Pecora R (1977) Dynamic light scattering with applications to chemistry, biology and physics. J Chem Educ 54(10):A430

Clarke SP (2013) Development of hierarchical magnetic nanocomposite materials for biomedical applications

Guo Y, Wang Z, Qu W, Shao H, Jiang X (2011) Colorimetric detection of mercury, lead and copper ions simultaneously using protein-functionalized gold nanoparticles. Biosens Bioelectron 26(10):4064–4069

Mudarikwa LV, Nyoni MS, Munyuki G, Nyoni S (2020) Development of a colorimetric probe for the semi-quantitative detection of mercury levels in water. Results Chem 2:100076

Kim YR, Mahajan RK, Kim JS, Kim H (2010) Highly sensitive gold nanoparticle-based colorimetric sensing of mercury (II) through simple ligand exchange reaction in aqueous media. ACS Appl Mater Interfaces 2(1):292–295

MacCuspie RI, Rogers K, Patra M, Suo Z, Allen AJ, Martin MN, Hackley VA (2011) Challenges for physical characterization of silver nanoparticles under pristine and environmentally relevant conditions. J Environ Monit 13:1212–1226

Bailey JK, Mecartney ML (1992) Formation of colloidal silica particles from alkoxides. Colloids Surf 63:151–161
Funding
This work was supported financially by Geran Putra Berimpak UPM/700–1/2/GPPI/2017/9541700.
Ethics declarations
Conflict of interest
The authors have declared that there is no conflict of interest.
Additional information
Publisher's note
Springer Nature remains neutral with regard to jurisdictional claims in published maps and institutional affiliations.
This article is part of the topical collection: Nanoarchitectonics for Functional Particles and Materials
Guest Editor: Katsuhiko Ariga
Supplementary information
Below is the link to the electronic supplementary material.
Rights and permissions
Springer Nature or its licensor (e.g. a society or other partner) holds exclusive rights to this article under a publishing agreement with the author(s) or other rightsholder(s); author self-archiving of the accepted manuscript version of this article is solely governed by the terms of such publishing agreement and applicable law.
About this article
Cite this article
Ismail, K.S.I.K., Tajudin, A.A., Ikeno, S. et al. Heteroligand nanoarchitectonics of functionalized gold nanoparticle for Hg2+ detection. J Nanopart Res 24, 253 (2022). https://doi.org/10.1007/s11051-022-05628-8
Received:

Accepted:

Published:

DOI: https://doi.org/10.1007/s11051-022-05628-8
Keywords
Gold nanoparticles

Heteroligand system

Hg2+

Spacer

Pollutants