Abstract
Surface functionalized magnetic nanoparticles represent a potentially highly valuable new suite of technologies for the selective recovery of metals from the aqueous phase, due to their ability to be manipulated and then recovered using an externally applied magnetic field. Ionic liquids are ideal candidates for such surface functionalization for a range of reasons, including their enhanced selectivity, low water consumption, and high chemical stability. Herein the removal of Ag+ onto [MTESPIm]+[Cl]− on Fe3O4@SiO2 has been investigated as a function of pH, exposure time, nanosorbent concentration, and type of stripping agent. The Ag+ removal was recorded to fit the Langmuir isotherm indicating monolayer formation, with a saturation capacity of 23.69 mg/g. Optimum conditions for the selective removal of Ag+ in preference to Cu2+ and Pb2+ were recorded at pH 3, exposure time ranging between 0 and 15 min, and at the highest nanosorbent dose tested (80 mg nanosorbent/10 mL of adsorbate solution) Moreover, thiourea outperformed both HNO3 and HCl for the stripping of sorbed Ag+, with optimum efficacy at 0.6 M. Overall, the results indicate that [MTESPIm]+[Cl]− on Fe3O4@SiO2 is a highly adaptable and efficient agent for the selective recovery of Ag from the aqueous phase.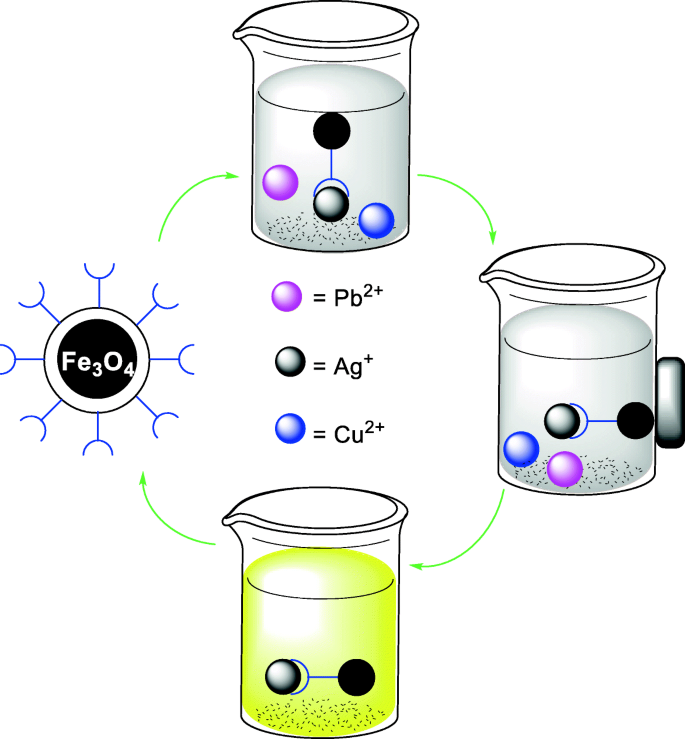 Access options
Buy single article
Instant access to the full article PDF.
USD 39.95
Price excludes VAT (USA)
Tax calculation will be finalised during checkout.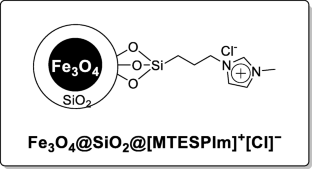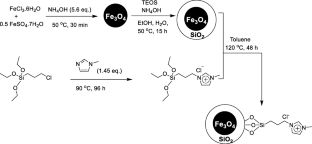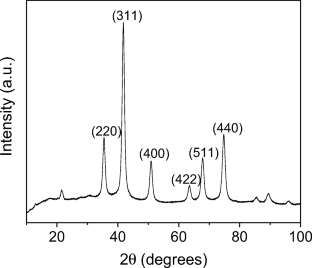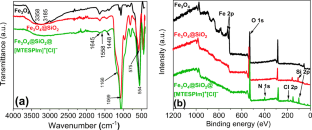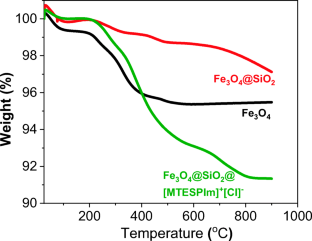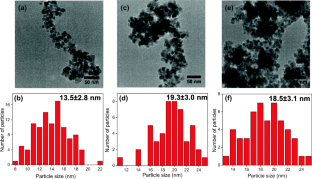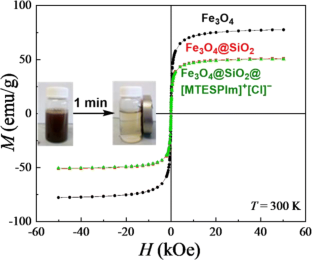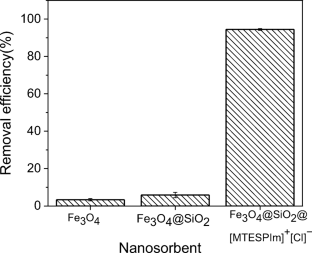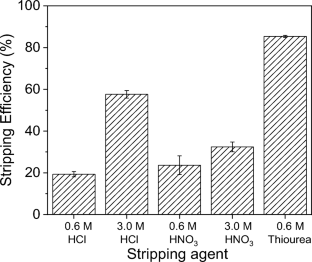 References
Abbas M, Rao BP, Islam MN, Naga SM, Takahashi M, Kim C (2014) Highly stable-silica encapsulating magnetite nanoparticles (Fe 3O4/SiO2) synthesized using single surfactantless-polyol process. Ceram Int 40(1 PART B):1379–1385. https://doi.org/10.1016/j.ceramint.2013.07.019

Abdolmohammad-Zadeh H, Javan Z (2015) Silica-coated Mn3O4 nanoparticles coated with an ionic liquid for use in solid phase extraction of silver(I) ions prior to their determination by AAS. Microchim Acta 182:1447–1456. https://doi.org/10.1007/s00604-015-1468-x

Ahlatcı F, Koç E, Yazici EY, Celep O, Deveci H (2016) Sulphide precipitation of gold and silver from thiosulphate leach solutions. XV. International Mineral Processing Symposium and Exhibition (IMPS), no. October: 750–60

Avarmaa K, Klemettinen L, O'Brien H, Taskinen P (2019) Urban mining of precious metals via oxidizing copper smelting. Miner Eng 133(January):95–102. https://doi.org/10.1016/j.mineng.2019.01.006

Azgomi N, Mokhtary M (2015) Nano-Fe3O4@SiO2 supported ionic liquid as an efficient catalyst for the synthesis of 1,3-thiazolidin-4-ones under solvent-free conditions. J Mol Catal A Chem 398:58–64. https://doi.org/10.1016/j.molcata.2014.11.018

Banaei A, Vojoudi H, Karimi S, Bahar S, Pourbasheer E (2015) Synthesis and characterization of new modified silica coated magnetite nanoparticles with bisaldehyde as selective adsorbents of Ag(i) from aqueous samples. RSC Adv 5(101):83304–83313. https://doi.org/10.1039/c5ra11765h

Beigzadeh P, Moeinpour F (2016) Fast and efficient removal of silver (I) from aqueous solutions using aloe Vera Shell ash supported Ni0.5Zn0.5Fe2O4magnetic nanoparticles. Trans Nonferrous Met Soc China (Engl Ed) 26(8):2238–2246. https://doi.org/10.1016/S1003-6326(16)64341-8

Butterman BWC, Hilliard HE (2005) Mineral commodity profiles: silver, Virginia https://pubs.usgs.gov/of/2004/1251/2004-1251.pdf

Chen J, Wang Y, Ding X, Huang Y, Kaijia X (2014) Magnetic solid-phase extraction of proteins based on Hydroxy functional ionic liquid-modified magnetic nanoparticles. Anal Methods 6(20):8358–8367. https://doi.org/10.1039/c4ay01786b

Crane RA, Scott TB (2012) Nanoscale zero-valent iron: future prospects for an emerging water treatment technology. J Hazard Mater 211–212:112–125. https://doi.org/10.1016/j.jhazmat.2011.11.073

Crane RA, Sinnett DE, Cleall PJ, Sapsford DJ (2017) Physicochemical composition of wastes and co-located environmental designations at legacy mine sites in the south west of England and Wales: implications for their resource potential. Resour Conserv Recycl 123:117–134. https://doi.org/10.1016/j.resconrec.2016.08.009

Crane RA, Sapsford DJ, Aderibigbe AD (2019) Applications of engineered nanomaterials in the recovery of metals from wastewater. In: Macaskie LE, Sapsford DJ, Mayes WM (eds) Resource Recovery from Wastes: Towards a Circular Economy. RSC, pp 266–286

Daubinet A, Kaye PT (2002) Designer Ligands. VIII. Thermal and microwave-assisted synthesis of silver(I)-selective ligands. Synth Commun 32(20):3207

Ditsch A, Laibinis PE, Wang DIC, Alan Hatton T (2005) Controlled clustering and enhanced stability of polymer-coated magnetic nanoparticles. Langmuir 21(13):6006–6018. https://doi.org/10.1021/la047057+

Dupont D, Brullot W, Bloemen M, Verbiest T, Binnemans K (2014) Selective uptake of rare earths from aqueous solutions by EDTA-functionalized magnetic and nonmagnetic nanoparticles. ACS Appl Mater Interfaces 6(7):4980–4988. https://doi.org/10.1021/am406027y

Fan L, Song J, Bai W, Wang S, Zeng M, Li X, Yang Z, Li H, Haiwei L (2016) Chelating capture and magnetic removal of non-magnetic heavy metal substances from soil. Sci Rep 6(February):1–9. https://doi.org/10.1038/srep21027

Filippousi M, Angelakeris M, Katsikini M, Paloura E, Efthimiopoulos I, Wang Y, Zamboulis D, Van Tendeloo G (2014) Surfactant effects on the structural and magnetic properties of iron oxide nanoparticles. J Phys Chem C 118(29):16209–16217. https://doi.org/10.1021/jp5037266

Garkoti C, Shabir J, Mozumdar S (2017) An Imidazolium based ionic liquid supported on Fe3O4@SiO2 nanoparticles as an efficient heterogeneous catalyst for N-formylation of amines. New J Chem 41(17):9291–9298. https://doi.org/10.1039/c6nj03985e

Hufschmid R, Hamed A, Matthew Ferguson R, Gonzales M, Teeman E, Brush LN, Browning ND, Krishnan KM (2015) Synthesis of phase-pure and monodisperse iron oxide nanoparticles by thermal decomposition. Nanoscale 7(25):11142–11154. https://doi.org/10.1039/c5nr01651g

Jalilian R, Taheri A (2018) Synthesis and application of a novel core-shell-shell magnetic ion imprinted polymer as a selective adsorbent of trace amounts of silver ions. E-Polymers 18(2):123–134. https://doi.org/10.1515/epoly-2017-0108

Karimi MA, Hatefi-Mehrjardi A, Mohammadi SZ, Mohadesi A, Mazloum-Ardakani M, Kabir AA, Kazemipour M, Afsahi N (2012) Solid phase extraction of trace amounts of silver (I) using dithizone-immobilized alumina-coated magnetite nanoparticles prior to determination by flame atomic absorption spectrometry. Int J Environ Anal Chem 92(12):1325–1340. https://doi.org/10.1080/03067319.2011.563385

Kazemi E, Shabani AMH, Dadfarnia S (2015) Synthesis and characterization of a nanomagnetic ion imprinted polymer for selective extraction of silver ions from aqueous samples. Microchim Acta 182(5–6):1025–1033. https://doi.org/10.1007/s00604-014-1430-3

Khoobi M, Delshad TM, Vosooghi M, Alipour M, Hamadi H, Alipour E, Hamedani MP, Sadat ebrahimi SE, Safaei Z, Foroumadi A, Shafiee A (2015) Polyethyleneimine-modified superparamagnetic Fe3O4 nanoparticles: an efficient, reusable and water tolerance nanocatalyst. J Magn Magn Mater 375:217–226. https://doi.org/10.1016/j.jmmm.2014.09.044

Kim M, Hwang S, Jong Sung Y (2007) Novel ordered Nanoporous graphitic C3N4 as a support for Pt-Ru anode catalyst in direct methanol fuel cell. J Mater Chem 17(17):1656–1659. https://doi.org/10.1039/b702213a

Kim M, Seo JH, Zhao D, Liu SC, Kim K, Lim K, Zhou W, Waks E, Ma Z (2017) Transferrable single crystalline 4H-SiC nanomembranes. J Mater Chem C 5(2):264–268. https://doi.org/10.1039/c6tc04480h

Korin E, Froumin N, Cohen S (2017) Surface analysis of nanocomplexes by X-ray photoelectron spectroscopy (XPS). ACS Biomater Sci Eng 3(6):882–889. https://doi.org/10.1021/acsbiomaterials.7b00040

Lasheen MR, El-Sherif IY, Sabry DY, El-Wakeel ST, El-Shahat MF (2014) Removal and recovery of Cr (VI) by magnetite nanoparticles. Desalin Water Treat 52(34–36):6464–6473. https://doi.org/10.1080/19443994.2013.822158

Mahdavian AR, Mirrahimi MAS (2010) Efficient separation of heavy metal cations by anchoring polyacrylic acid on superparamagnetic magnetite nanoparticles through surface modification. Chem Eng J 159(1–3):264–271. https://doi.org/10.1016/j.cej.2010.02.041

Miller DJ, Biesinger MC, McIntyre NS (2002) Interactions of CO2 and CO at fractional atmosphere pressures with iron and iron oxide surfaces: one possible mechanism for surface contamination? Surf Interface Anal 33:299–305. https://doi.org/10.1002/sia.1188

Naka K, Narita A, Tanaka H, Chujo Y, Morita M, Inubushi T, Nishimura I, Hiruta J, Shibayama H, Koga M, Ishibashi S, Seki J, Kizaka-Kondoh S, Hiraoka M (2008) Biomedical applications of imidazolium cation-modified iron oxide nanoparticles. Polym Adv Technol 19:1421–1429. https://doi.org/10.1002/pat.1218

Neamtu J, Verga N (2011) Magnetic nanoparticles for magneto-resonance imaging and targeted drug delivery. Digest J Nanomater Biostruct 6(3):969–978

Ozkaya T, Baykal A, Kavas H, Köseoǧlu Y, Toprak MS (2008) A novel synthetic route to Mn3O4 nanoparticles and their magnetic evaluation. Phys B Condens Matter 403(19–20):3760–3764. https://doi.org/10.1016/j.physb.2008.07.002

Pearson RG (1968) Hard and soft acids and bases, HSAB, part I: fundamental principles. J Chem Educ 45(9):581–587. https://doi.org/10.1021/ed045p581

Philipse AP, Van Bruggen MPB, Pathmamanoharan C (1994) Magnetic silica dispersions: preparation and stability of surface-modified silica particles with a magnetic core. Langmuir 10(1):92–99. https://doi.org/10.1021/la00013a014

Puig J, Hoppe CE, Fasce LA, Pérez CJ, Piñeiro-Redondo Y, Bañobre-López M, López-Quintela MA, Rivas J, Williams RJJ (2012) Superparamagnetic nanocomposites based on the dispersion of oleic acid-stabilized magnetite nanoparticles in a diglycidylether of bisphenol A-based epoxy matrix: magnetic hyperthermia and shape memory. J Phys Chem C 116:13421–13428. https://doi.org/10.1021/jp3026754

Qian L, Sun J, Hou C, Yang J, Li Y, Lei D, Yang M, Zhang S (2017) Immobilization of BSA on ionic liquid functionalized magnetic Fe3O4 nanoparticles for use in surface imprinting strategy. Talanta 168(January):174–182. https://doi.org/10.1016/j.talanta.2017.03.044

Sahan M, Kucuker MA, Demirel B, Kuchta K, Hursthouse A (2019) Determination of metal content of waste mobile phones and estimation of their recovery potential in Turkey. Int J Environ Res Public Health 16(5). https://doi.org/10.3390/ijerph16050887

Sajjadifar S, Zolfigol MA, Tami F (2019) Application of 1-methyl imidazole-based ionic liquid-stabilized silica-coated Fe 3 O 4 as a novel modified magnetic nanocatalyst for the synthesis of pyrano[2,3-d]pyrimidines. J Chin Chem Soc 66(3):307–315. https://doi.org/10.1002/jccs.201800171

Salviano LB, da Silva Cardoso TM, Silva GC, Dantas MSS, de Mello Ferreira A (2018) Microstructural assessment of magnetite nanoparticles (Fe3O4) obtained by chemical precipitation under different synthesis conditions. Mater Res 21(2):2–8. https://doi.org/10.1590/1980-5373-mr-2017-0764

Seddon KR, Stark A, Torres M-j (2000) Influence of Chloride, water, and organic solvents on the physical properties of ionic liquids. 72(12):2275–2287

Shamsipur M, Hashemi B, Dehdashtian S, Mohammadi M, Gholivand MB, Garau A, Lippolis V (2014) Silver ion imprinted polymer nanobeads based on a Aza-thioether crown containing a 1,10-phenanthroline subunit for solid phase extraction and for voltammetric and potentiometric silver sensors. Anal Chim Acta 852:223–235. https://doi.org/10.1016/j.aca.2014.09.028

Shimojo K, Goto M (2004) Solvent extraction and stripping of silver ions in room-temperature ionic liquids containing calixarenes. Anal Chem 76(17):5039–5044. https://doi.org/10.1021/ac049549x

Sun Y, Ding X, Zheng Z, Xu C, Hu X, Peng Y (2007) Surface initiated ATRP in the synthesis of iron oxide/polystyrene core/shell nanoparticles. Eur Polym J 43:762–772. https://doi.org/10.1016/j.eurpolymj.2006.10.021

Taillades G, Sarradin J (2004) High performance anode for thin film lithium ion batteries. J Power Sources 125(2):199–205. https://doi.org/10.1016/j.jpowsour.2003.07.004

Virolainen S, Tyster M, Haapalainen M, Sainio T (2015) Ion exchange recovery of silver from concentrated base metal-chloride solutions. Hydrometallurgy 152:100–106. https://doi.org/10.1016/j.hydromet.2014.12.011

Vojoudi H, Badiei A, Banaei A, Bahar S, Karimi S, Ziarani GM, Ganjali MR (2017) Extraction of gold, palladium and silver ions using organically modified silica-coated magnetic nanoparticles and silica gel as a sorbent. Microchim Acta 184(10):3859–3866. https://doi.org/10.1007/s00604-017-2414-x

Wahajuddin A, Arora S (2012) Superparamagnetic iron oxide nanoparticles: magnetic nanoplatforms as drug carriers. Int J Med 7:3445–3471

Wei Y, Li Y, Tian A, Fan Y, Wang X (2013) Ionic liquid modified magnetic microspheres for isolation of heme protein with high binding capacity. J Mater Chem B 1(15):2066–2071. https://doi.org/10.1039/c3tb00576c

Xu J, Caixia J, Sheng J, Wang F, Zhang Q, Sun G, Sun M (2013) Synthesis and characterization of magnetic nanoparticles and its application in lipase immobilization. Bull Kor Chem Soc 34(8):2408–2412. https://doi.org/10.5012/bkcs.2013.34.8.2408

Yang F, Shen R, Long Y, Sun X, Tang F, Cai Q, Yao S (2011) Magnetic microsphere confined ionic liquid as a novel sorbent for the determination of chlorophenols in environmental water samples by liquid chromatography. J Environ Monit 13(2):440–445. https://doi.org/10.1039/c0em00389a

Yin X, Long J, Yu X, Luo X (2017) Recovery of silver from wastewater using a new magnetic photocatalytic ion-imprinted polymer. ACS Sustain Chem Eng 5(3):2090–2097. https://doi.org/10.1021/acssuschemeng.6b01871

Zhou H, Yang L, Li W, Shou Q, Xu P, Li W, Wang F, Yu P, Liu H (2012) Improving the stability of immobilized penicillin G acylase via the modification of supports with ionic liquids. Ind Eng Chem Res 51(12):4582–4590. https://doi.org/10.1021/ie202745c
Funding
The authors would like to thank The UK Commonwealth Scholarship Commission for funding the research under grant number NGCS-2015-448.
Ethics declarations
Conflict of interest
The authors declare that they have no conflict of interest.
Additional information
Publisher's note
Springer Nature remains neutral with regard to jurisdictional claims in published maps and institutional affiliations.
About this article
Cite this article
Aderibigbe, A.D., Crane, R.A., Lees, M.R. et al. Selective uptake of Ag(I) from aqueous solutions using ionic liquid-modified iron oxide nanoparticles. J Nanopart Res 22, 216 (2020). https://doi.org/10.1007/s11051-020-04944-1
Received:

Accepted:

Published:

DOI: https://doi.org/10.1007/s11051-020-04944-1
Keywords
Selective silver recovery

Ionic liquid

Iron oxide nanoparticle

Surface functionalization

Soft donor